In a world where creativity knows no bounds, one trend has sparked a magical transformation in digital design - glowing text. With its captivating radiance and mesmerizing allure, glowing text has taken the design industry by storm, captivating viewers and breathing life into ordinary words.
Whether it's for enchanting social media posts like TikTok glowing lyrics videos or eye-catching logos, the illuminating allure of glowing text has become an essential tool for artists and marketers alike. Looking for ways to create glowing text effortlessly? Keep reading and uncover the secrets of making glowing text with three handy tools.
Free and Customizable Glowing Text Video Template for You: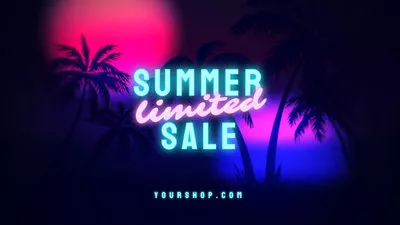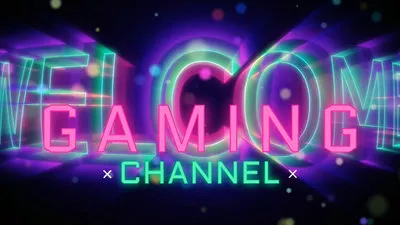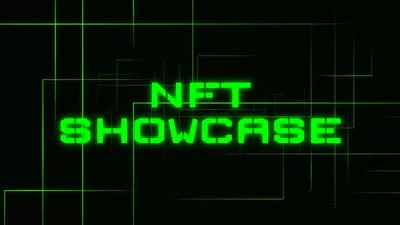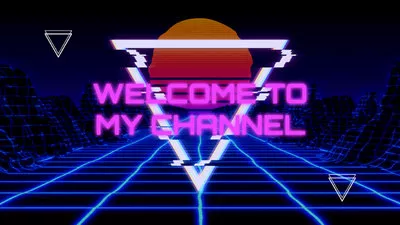 #1. How to Make Glowing Text Effect Online
Say goodbye to making text glow with complex processes! Now with the help of FlexClip, you can create glowing text in one-click operation, regardless of your editing experience. What's more, it has various animation effects and multiple font presets that you can use to create creative videos like trending glowing TikTok lyrics video or glowing typography videos with ease.
Need inspiration for creating a glowing text video? Browse FlexClip's inbuilt template library with 6000+ templates to spark your creativity. Looking to make album covers with glowing text effects? Edit it on FlexClip and save it in a JPG format. Produce the same Photoshop-quality glowing text effect but no complex editing procedure is needed!
The Best Glowing Text Maker Online - FlexClip
Key Features of FlexClip:
Hundreds of text presets with animations and styles for creating glowing text effects.
Millions of royalty-free video backgrounds, photos and sound effects you can use in the glowing text effect video.
AI-driven tools like
text-to-video
, AI image generator, text-to-speech, auto subtitle generator, etc to simply your video creation process.
Able to extract glowing text images from your videos in one-click operation.
Fast sharing to popular social media platforms like YouTube and TikTok.
How to Make Glowing Text Online Using FlexClip
Step 1
Go to FlexClip's editor page and import the video or photo you want to create glowing text, then add the media resources to the timeline.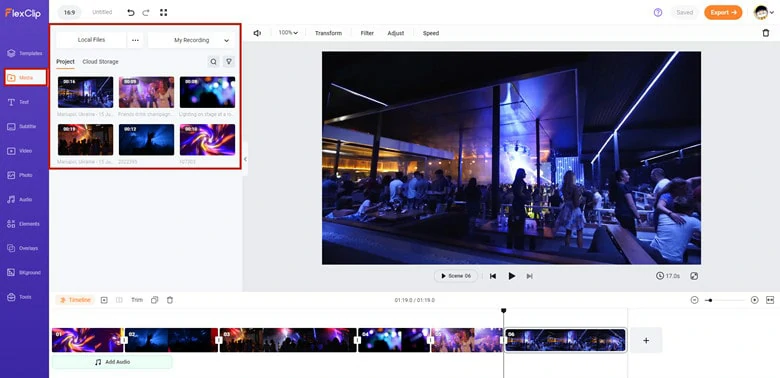 Upload the Footage You Want to Add Glowing Text
Step 2
Here you can enter your text with a basic text design and adjust the text style to glowing. Or select from massive text style presets with glowing text effect to showcase your information.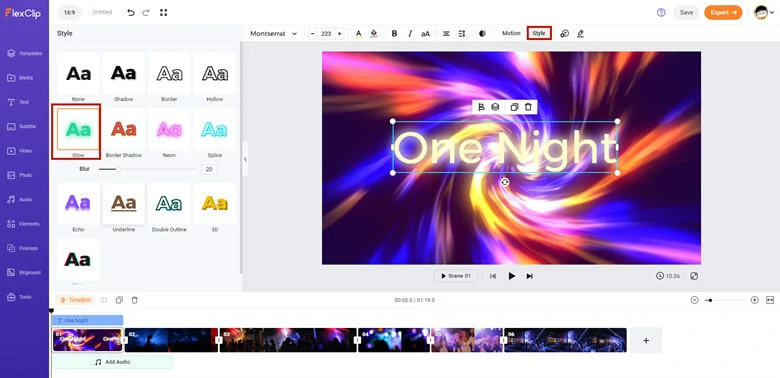 Add Glowing Text to Your Footage
Well if you're making glowing text for targeted themes, such as wedding, promo and social media, why not use a stylish text design and then change the text style to glowing? In FlexClip's text preset stock, you can always find a satisfying pre-made design.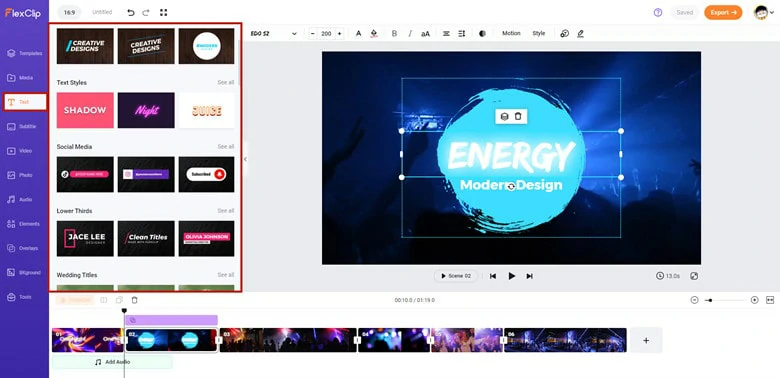 Stylish Text Design in FlexClip
Step 3
Let's bring your glowing text to life! Select your glowing text and find the Motion option on the toolbar, then animate your glowing text with fade, bounce, typewriter, wave, etc effects to the glowing letters or the whole text combination.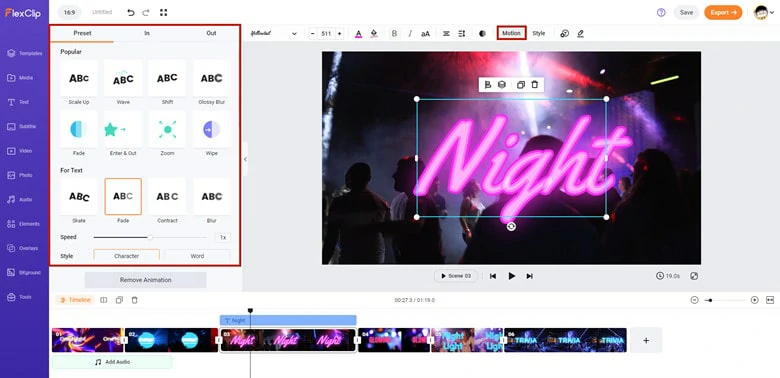 Make Your Glowing Text Animated
Step 4
Now it's your magical time! Level up your glowing text video with eye-catching transitions, music, funny GIFs, mask & frames, etc to make it stand out.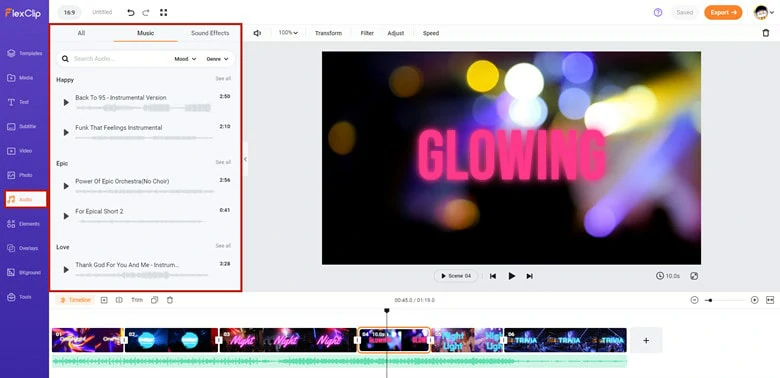 Perfect Your Glowing Text Video with Other Elements
Step 5
When you finish edits, tap on Export icon to download or post your glowing text video on YouTube.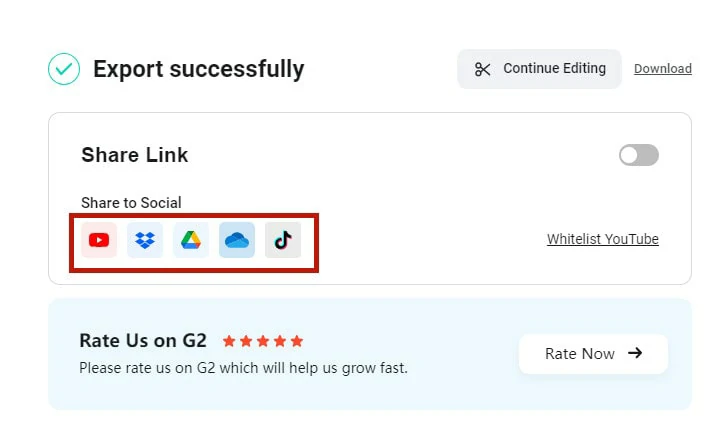 Download or Share Your Glowing Text Video
#2. How to Create Glowing Font Text on Desktop
Photoshop is the top-notch graphic editing software that helps millions of users craft breathtaking images. Thanks to its powerful and flexible features, you can edit any details of your images while keeping their original quality. As for creating glowing font text, Photoshop offers multiple ways with complete control over all the parameters that graphic professionals embrace. Here we'll take you through the most straightforward way! Let's see how it works now!
How to Create Glowing Font Text in Photoshop
How to Create Neon Glow Text Effect on Image Using Photoshop
The super easy and quick way to add glow to text in Photoshop is using layers, a technique to make light sources in your image look more realistic. Follow the step below to start adding glowing text in Photoshop.
Step 1
Double-click on the layer that contains the text you want to glow in Photoshop and the Layer Style will pop up with multiple layer style options. Here we take the Outer Glow effect as an example.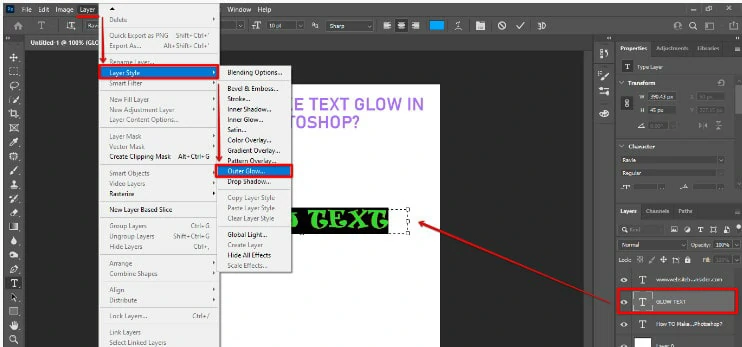 Open Layers Operation Panel in Photoshop
Step 2
Then let's set some parameters for the glow text. Firstly you can change the color using the Color Picker or directly input an RGB value to apply one specific color. If you want text to have more color, go to the gradient thumbnail and choose a gradient from the Gradient Picker.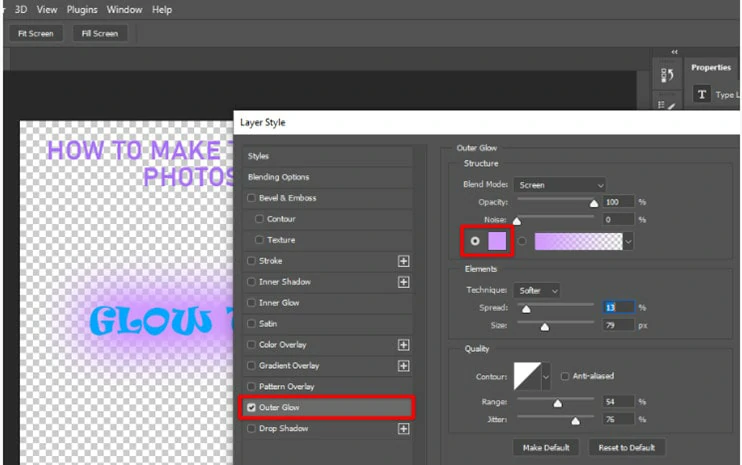 Change the Color of Your Glowing Text
Step 3
Control how translucent your glow text will be by adjusting the Opacity value. A low opacity value will result in a subtle glow, while a high opacity degree will make the glow text look more intense.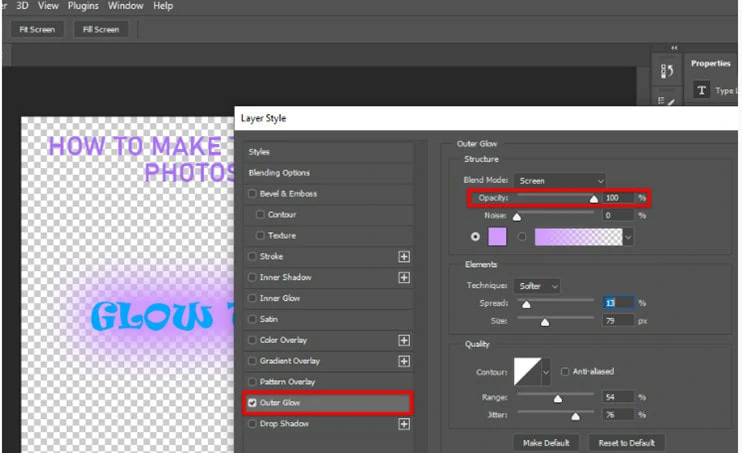 Adjust the Opacity Value of Your Glowing Text
Step 4
Next configure the Noise and Spread to determine how diffuse and wide the glow will be, respectively.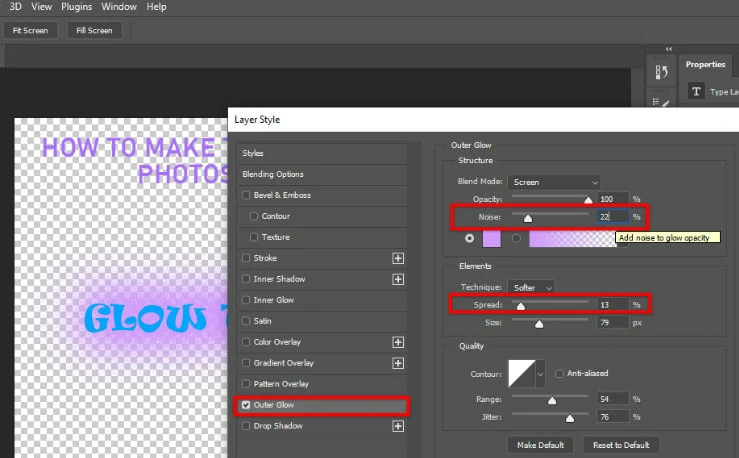 Make Setting of Noise and Spread Parameter
Step 5
Want a bigger glow effect? Shift to the Size panel and move the slidebar to edit how  large the radius of the glow will be.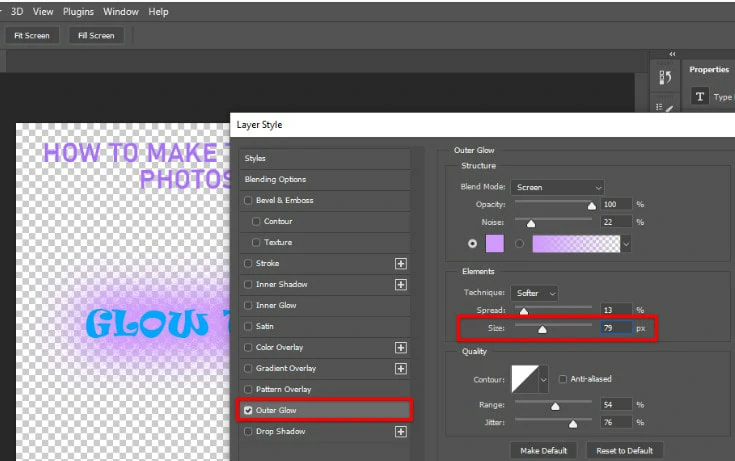 Change the Size of Your Glowing Text
Step 6
Finally, you have to choose from Technique options to decide the way of rendering your glowing text in Photoshop. Once you've set all of your parameters, tap on OK to save all your changes and preview the result.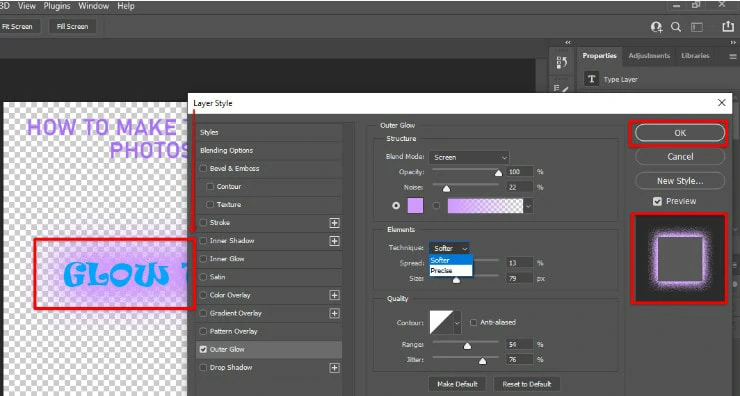 Save Changes and Export Glowing Text Image
#3. How to Make Text Glow on Mobile Phone
CapCut is a treasure box for mobile users to unbox the magic of video editing, even the beginner can create stunning videos in minutes. Whether you need a source of media content or want to do creative editing, this timeline-based video editor will lend you a hand with high flexibility and easy operation. When it comes to making glow text, there is also a workaround for you to reach the goal in seconds. Let's see it right now!
How to Create Glowing Font Text in CapCut
How to Make Text Glow on Mobile Phone Using CapCut
Step 1
To get started, install CapCut software on your Android or iOS phone. Then launch the application and tap Create a New Project.
Step 2
Add a new background and then tap on Text and type in the text you want to make it glow.
Step 3
After that, ahead to the Style and find the Glow button where you can select from two pre-made options. Also, change the intensity value as you want.
Step 4
Don't forget to pair your glow text with some animation effects. After that, tap on the Export icon and it's ready for you to go.
How to Create Glowing Font Text in CapCut
The Bottom Line
That's all for how to make glowing text on your computer and mobile phone. By the way, if you prefer a tool that assists you in creating glowing text in video and making glow text in your photo, FlexClip is your best bet. Now it's your turn!