Summary: This blog main talks how to use the copyrighted music legally - getting permission to use the music, including when and why you need to get the permission, and how to get permission to use a song. Besides, it also shows you some alternatives to obtain permission to use music. Follow us and get more.
When making a video, most of us love adding music to perfect it. One thing must be noticed here, that is if you use the music without permission in your video, you could end up in hot water.
So how to get rights to use a song? Contact those famous artists like Bruno Mars, Lady Gaga, or Taylor Swift? It seems almost impossible!
Then how do you go about getting permission to use music? Check out this guide, walking you through how to use copyrighted music in your video legally.
Depict video: Get Permission to Use a Song
Also Read: Top Happy Birthday Video Song - Birthday Music with Sincere Wishes >
Part 1 When & Why You Need the Permission to Use a Song?
First of all, be aware of that when you need permission to use the music. It much depends on the way that you are planning to use it. Is it going to be in a private or public platform? For personal use or commercial use?
If you are simply making a video to enjoy with your friends or family, you're on the safe side. You won't need to get rights.
If you want to put the video on YouTube or share it on social media or use a piece of music in your business or client video, you should be prepared to do it lawfully, get the permission then legally use the copyrighted music.
Why should you take the music copyright seriously?
Let's take a look at what happens if you use the copyrighted music illegally? - You must be asked to take it down and even face more severe consequences.
Take an example for using the copyrighted music without getting permission on YouTube:
You will get a copyright strike against your account or make the audio in your video muted. Any ad money might be given to the copyright holder, or worse, you could get sued.
Part 2 The Trick Part in Music Copyright You Need to Know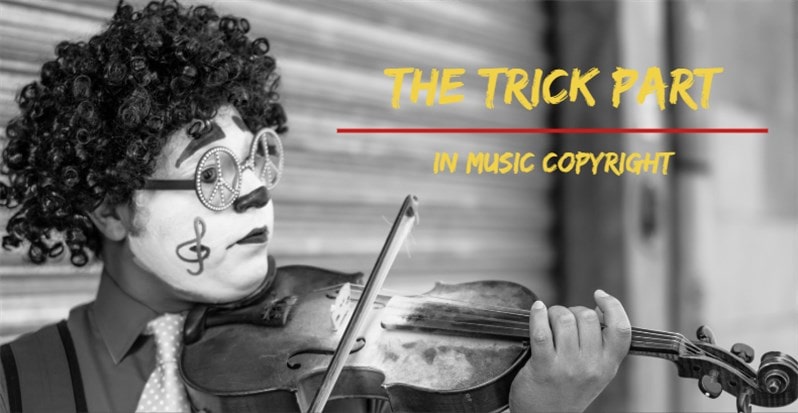 Image Board: The Trick Part in Music Copyright
When it comes to music copyright, there are two distinct copyrighted works: the musical composition (the lyrics and musical score) and the sound recording (what you actually hear).
When you only need to use the musical composition of the song, you need a synchronization license("sync" license); while it doesn't give you the right to use the sound recording. You'll need a master use license in order to use that recording.
So if you want to use a recorded song in your video, you must get two licenses: the sync license to use the musical composition of the song and the master license to use the recording of that song.
Part 3 How to Get Permission to Use a Song - Detailed Steps
Here are the detailed steps on how to get permission to use the music in your video, let's check out
Step 1 Find the Copyright Owner of the Song
As we mentioned in the introduction, it is almost impossible to get in touch with those famous artists. So tracking down the owner and successfully contacting them is the most challenging part of getting permission. But a good place to start is with the music publisher or the record company.
Several music rights organizations can provide contact information to a music publisher. ASCAP, BMI, or SESAC are the main organizations which offer music licenses for many popular songs. You can search for publisher and label information using the sites below:
You can find more information about Performance rights organization in Wikipedia.
Step 2 Negotiate Permission Agreement Once You Found Contracts
After you track down the copyright holder, it time to contact them to negotiate the permission agreement. You need to consider the following points of agreement:
Some basic information about yourself;
License type;
Duration of the song;
Where the license can be applied;
How long you want to use the music;
Cost;
Note

How much does it cost to get the license for a song?
- It can vary widely. The cost for a song from a small independent artist might be less than $100, while the music from a famous artist or label can charge for thousands of dollars. Besides, some licenses might also charge you a percentage of revenue.
Step 3 Get Your Permission Agreement in Writing
Finally, turning the agreement into a written format. Relying on an oral agreement is almost always a mistake. There may be some misunderstanding which can lead to disputes.
Part 4 Alternatives to Getting Permission to Use a Song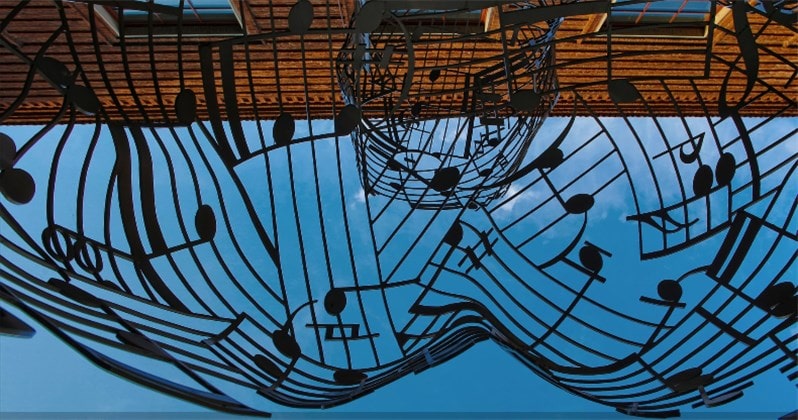 Image Board: Alternatives to Getting Permission to Use a Song
Tracking down the copyright owner's contact information and negotiating the license may be not quick or easy. Besides, getting the permission to use a famous commercial music track in your video may cost you a small fortune, not only in licensing fees but also in subsequent royalties.
Is there an easier alternative way? - YES! There is.
If you are short on time or on the budget to get the permission to use the music as the background music of your video, you can consider one of the following:
>> Music licensed under Creative Commons, a nonprofit that provides free public licenses. Note that you need to pay attention to the details because there are different kinds of creative commons license. Often you will be asked to give credit, may be limited in using the music in personal projects.
>> Music already in Public domain. That consists of compositions and recordings with their copyright expired. Pay attention to both the composition and recording when you pick one piece of music since even if the composition is in the public domain, the recording may be copyrighted.
>> Royalty-free music. According to Wikipedia, royalty-free refers to the right to use copyrighted material (music in our case) without the need to pay royalties or license fees for each use or per volume sold, or a certain period of use or sales. It means no royalties for recurring use, has nothing to do with a copyright or free use. Check out the post on 8 Best Sites to Get Royalty-Free Music for Videos >.
Even Easier Way - Make Use of FlexClip Video Maker
>> FlexClip makes it easy to add music to your videos without tracking down and contacting the copyright holder. You can easily find the free music from its library and add it to your video, or upload a song of your own.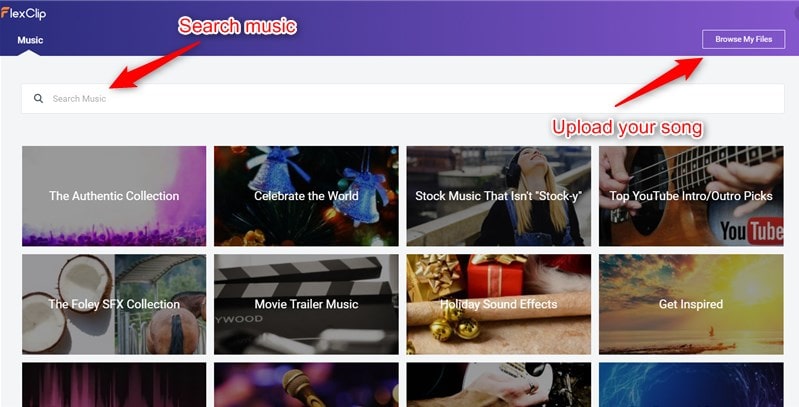 Image Board: Find Free Music with FlexClip's Media Library