Dynamic and visually-appealing, Facebook cover video is the face of your Facebook.
Compared with a static photo, it grasps viewers' attention in secs and vividly introduces your business, promotes the branding, and draws like-minded followers.
It's your ultimate tool for marketing on social media.
Please follow us to learn the optimal choice for Facebook cover video size (dimension, aspect ratio, resolution & format, video length, and size ) and how to convert and upload Facebook cover video, plus inspirational Facebook video templates, and insider tips.
Content:
Facebook Cover Video Size and How to Convert to it
Choosing the optimal size and resolution for your Facebook cover video is so vital.
Here are the key specs you need to remember when making or converting your video for Facebook cover.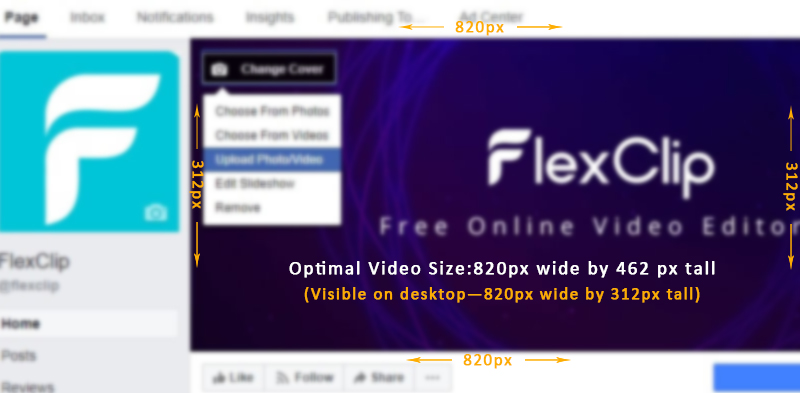 Optimal and actual Facebook Cover Video Size on desktop
Facebook Cover Video Dimension & Aspect Ratio
Dimension(Pixels)
820 x 462 pixels is the optimal dimension for Facebook cover video on pc, based on Facebook's official recommendation.
820 x 312 pixels is the minimum Facebook cover video size (visible on desktop).
640 x 360 pixels is best for your mobile Facebook cover video. For mobile devices, the cover sides will be cut off. Visible on mobile 75px tall.
Aspect Ratio(Width and height)
16:9 is the default and standard aspect ratio of the Facebook cover video
Therefore, if you upload a 4:3 vertical vision to cover, it may add black bars to your video which potentially ruins the viewing experience.
Convert to the Optimal Aspect Ratio of Facebook Cover Video:
If your video does not match the optimal 16:9 aspect ratio, no worries!
You can instantly convert your video with the handy online editor FlexClip, with a simple click.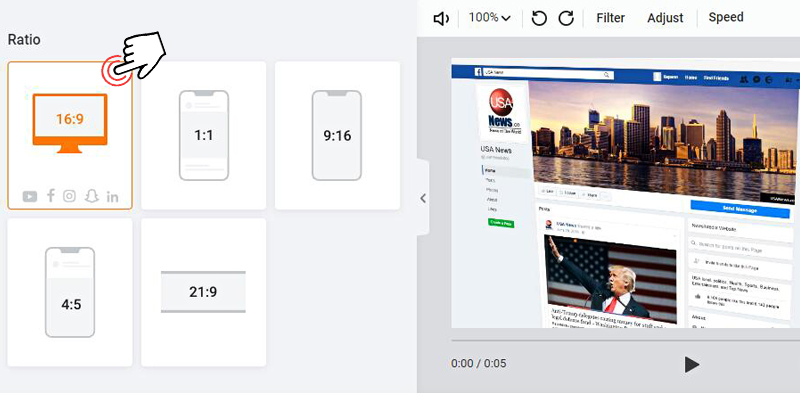 Convert videos to Facebook cover video aspect ratio by FlexClip
All you need to do is upload your video and go to the 'adjustment wheel' to change the aspect ratio for the right Facebook cover video size. Then, export the new video in 16:9.
If you need, you may also use FlexClip's animated text feature and pre-made templates to add an intro or outro to your video as well. Super easy, isn't it?

Add an intro to the Facebook cover video with FlexClip
Facebook Cover Video Resolution & Format
Resolution
1080p (1920 x 1080 p) is the best-recommended resolution of Facebook cover video. (Note: 1080p is usually known as 'Full HD ' resolution. Most professionals now export videos in 1080p).
Format
MP4 and MOV are two of the most ideal formats for Facebook cover video recommended by Facebook founders, though Facebook supports dozens of video formats.
A reason for that is that MP4 and MOV are the widest-accepted formats for video editors and enjoy a high degree of compression and editing like adding overlay texts, etc.
Convert to Optimal Resolution and Format to Facebook Cover Video :

Convert to the best resolution of Facebook cover video
Upload your video file into FlexClip video converter
Then choose the resolution '1080p' and format 'MP4' and video quality 'high'
Finally, press 'start' to export the video with high quality in the blink of an eye
Facebook Cover Video Size & Length
Video Length(duration)
20secs to 90 secs is believed to be the most popular and effective video length on Facebook.
It's advisable not to exceed 90 secs since the longer the video, the quicker you will lose the viewers. The cover video is just like a min ad on Facebook.
Video Size (video file size)
The optimal Facebook cover video size is below 1GB. In this way, you can upload a smooth video while enjoying high resolution, let's say 1080p.
Though the maximum size of Facebook cover videos is 1.75GB, it's unwise to do so because it may drastically drag users' browsing speed and limit the max resolution for the video itself.
Compress to Perfect Facebook Cover Video Size :
If your video size happens to be too large, do compress it before uploading it to Facebook cover.
Compress videos to Facebook cover video size
Drag and drop your video to the FlexClip video compressor tool , then choose the 'compressed quality' and 'resolution' you prefer. Then, compress it with great ease. Look for the top 6 free video compressors.
How to Upload a Video to Facebook Cover
Uploading a Facebook cover video is quite easy. Do as follows: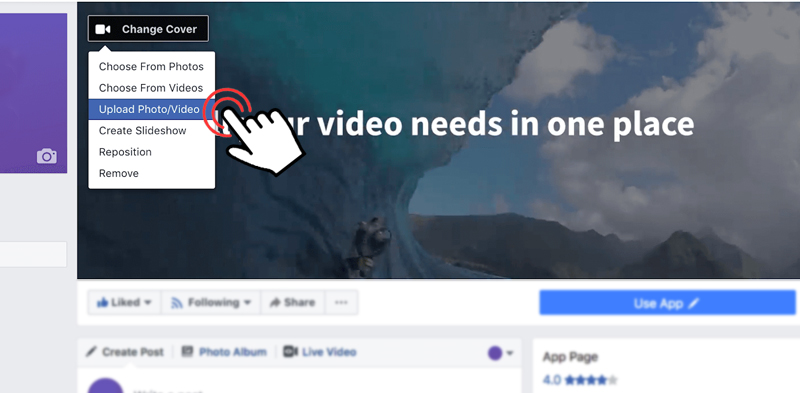 Upload a video to Facebook cover
Hover your mouse to the top left corner of the 'film' button
Select 'Upload Photo/Video' from the drop-down menu to upload the video
A Video Guide to Uploading Facebook Cover Video:
How to Upload Facebook Cover Video
Insider Tips:
Currently, uploading Facebook cover videos is only available to corporate and business pages. For individual users, we will have to wait till Facebook makes it accessible to every Facebook user.
Bonus Tips for Uploading Facebook Cover Video
Once your video is uploaded, reposition the main content of your video to the center of the Facebook cover for better display. Knowing that anything beyond the Facebook cover video size will be cropped.
Don't forget to choose an ideal thumbnail image for your Facebook Cover video from the screenshot. It's better to choose the image, most dramatic, and most relevant to your content to draw more target followers.
All the videos uploaded to Facebook cover will become muted by default. Make sure the video is in its best resolution and visually-appealing. How to make Facebook video ads.
If you can't see your uploaded video, double-check your video format, specs, and internet speed or change a browser, etc. If the problem remains, email an inquiry to Facebook.
Great Templates for Making Facebook Cover Video
For small businesses and individuals, we also handpicked several pre-built templates for you to make awesome Facebook cover videos with ease.Check a complete guide to making Facebook cover videos.
The following expertly-designed templates will help you increase your company's online presence or get fully-prepared for holiday sales or promos of your latest products, etc.
Facebook Cover Video for Holiday Sales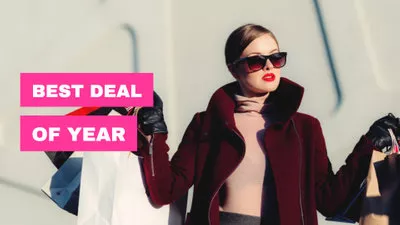 Cyber Monday Sale
Facebook Cover Video for Corporate Service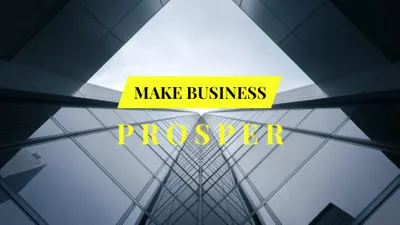 Business Consultant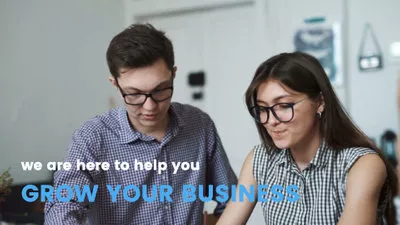 Company Explainer
Facebook Cover Video for Interior Design and Real Estate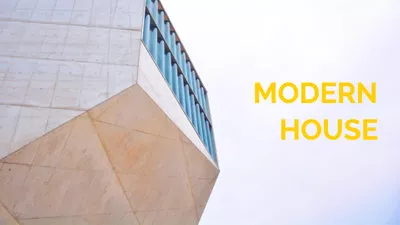 Modern House
Facebook Cover Video for Marketing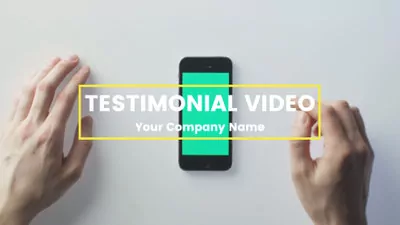 Company Testimonial
Don't hesitate to upload your videos, photos, and logos and customize your Facebook cover video. Or look for the ideal template in our valuable video assets.
Final Thoughts
The Facebook cover video has a huge potential for your branding and business growth.
While following the specs of Facebook cover video size, including dimension, aspect ratio, resolution & format, video length, and size, will make your company pop while allowing your target viewers to enjoy the best viewing experiences.
Hopefully, you will find our post inspiring and helpful when both making your Facebook video and converting the video to Facebook cover video size and beyond.