Expectation vs reality memes often refer to two images, GIFs or videos placed side by side to poke fun at a scenario where things just didn't turn out the way you wanted.
It could be a discrepancy between your expected stylish hairstyle or the messy curl hair you get in reality or anythings that just go the opposite direction.
We've tested a bunch of expectation vs reality meme generators and found the 3 most helpful. So, walk with us to learn how to use them to create original expectation vs reality memes with ease, plus bonus tips to get the best expectation Vs reality meme ideas.
Here's What You Will Learn:
3 Best Online Tools to Make Expectation VS Reality Meme
1. FlexClip
The first expectation vs reality meme generator that comes to our mind is FlexClip. It's actually a free and user-friendly online video editor. You can easily use its expectation vs reality meme templates to create photo and video memes in minutes.
FlexClip meme generator and online video editor
So, let's make a workout expectation vs reality video meme with FlexClip:

Select an ideal meme template to begin with
Step 2
Replace the Premade Photos with an Animated GIF
You may delete the original text first. FlexClip has vast royalty-free photos and GIFs and videos for you to use. Here, to make an animated workout expectation vs reality meme, let's go to the "Photo" tab on the left sidebar > click "GIF" > enter keywords like "workout" and select two hilarious GIFs and drag and drop them to each side of the meme on the storyboard. FlexClip will automatically replace it.

Replace original photos of the meme templates with funny GIFs
Step 3
Add Captions for the Expectation Vs Reality Meme
Go to the "Text" tab > select a premade title > enter your texts and customize the fonts, fonts color, style, position, layers, even motion. As you finished editing one text, you can right-click to copy and paste it to create a new text.

Add captions for the expectation vs reality meme
Besides, Montserrat, Impact, Arial are some of the best meme fonts you may use, while white bold texts with black text borders are iconic to memes. For subscribed users, you can even upload your fonts.
Bonus Tips: How to Add Expectation Vs Reality Meme Song
As you select the meme template above, there will be a royalty-free song for your expectation vs reality meme. If you don't like it, just check the "Music" tab, where thousands of license-free music and sound effects can be your expectation vs reality song.

Add a piece of comic and royalty-free music to the expectation vs reality meme
Step 4
Preview, Export, and Share
You can save it as a meme video or convert it to an animated GIF. Or directly share it to your YouTube channel or Dropbox. FlexClip will also generate a clickable link and embed code for easy sharing or blogging.
Here is the resulting workout expectation vs reality video meme with music:
2. Kapwing
Kapwing is another expert meme maker and online video editor. Likewise, you can use its expectation vs reality meme templates to import photos from your local PC, Google Drive or try a sample, then you can customize the texts and export it as an image. Easy peasy lemon squeezy.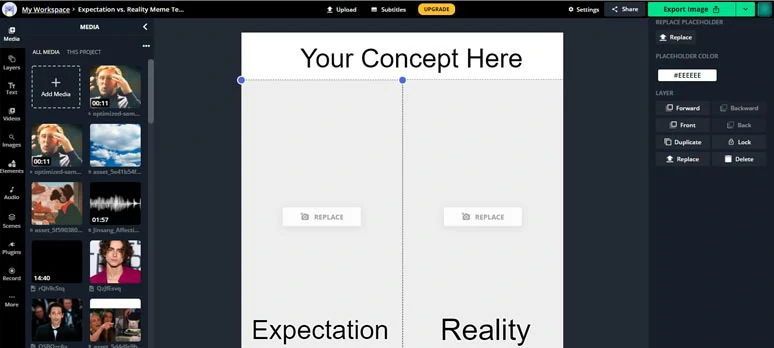 Kapwing's expectation vs reality meme template
3. Imgflip
Imgflip is a well-known online meme collector and generator. Not only can you upload your images, but Imflip also allows you to search for popular meme images and expectation vs reality meme templates and add stickers as well.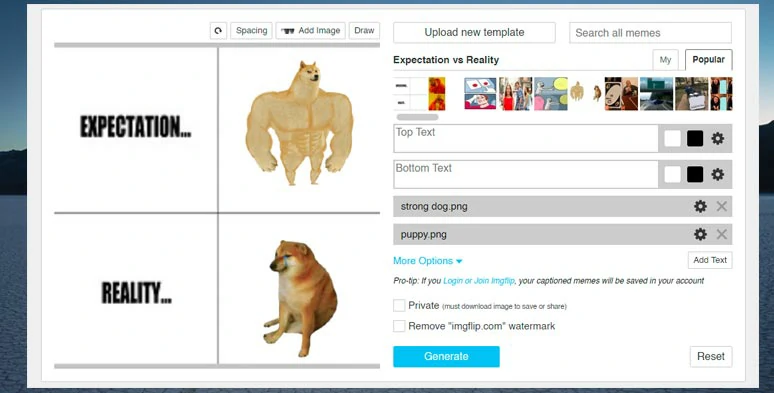 Imgflip's expectation vs reality meme template
All the symbolic meme fonts are available for free use at Imflip and you can easily customize the font style. As you export your expectation vs reality meme, Imflip will download the meme to your mobile phone or Gmail or directly share to Facebook, Twitter, or Pinterest, etc. and even generate a link and embed code. Pretty awesome.
The only drawback is there will be a small watermark attached to the left bottom corner. But you can crop it whenever you want. And the UI seems outdated. No big deal.
Best Places to Get Expectation Vs Reality Meme Ideas
If you are scratching your heads for hilarious expectation vs reality meme ideas, here we would recommend the two best sources to get you inspired.
You can browse through tons of expectation vs reality memes and save images resources and ideas for creating hilarious memes of yours. Here are 5 expectation vs reality meme samples you may like:
1. Marriage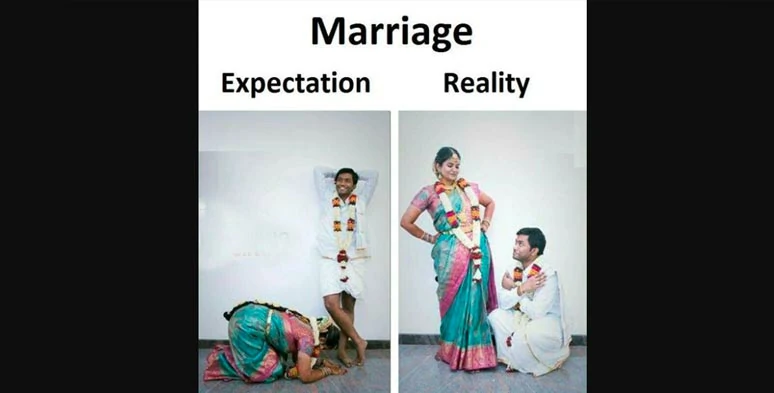 Marriage expectation vs reality meme
2. Online Cake Order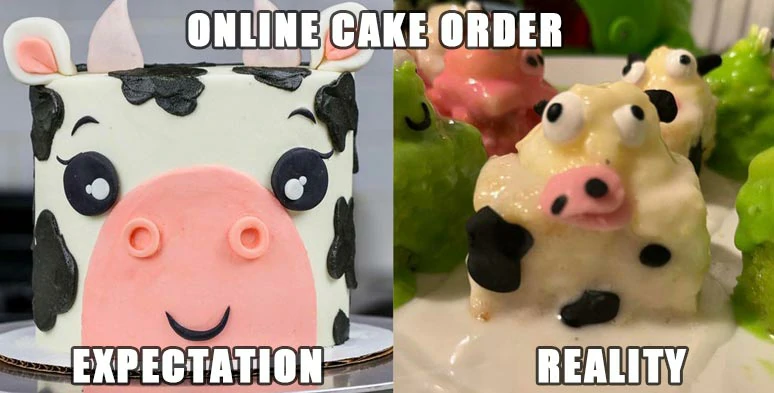 Online order expectation vs reality meme
3. Baking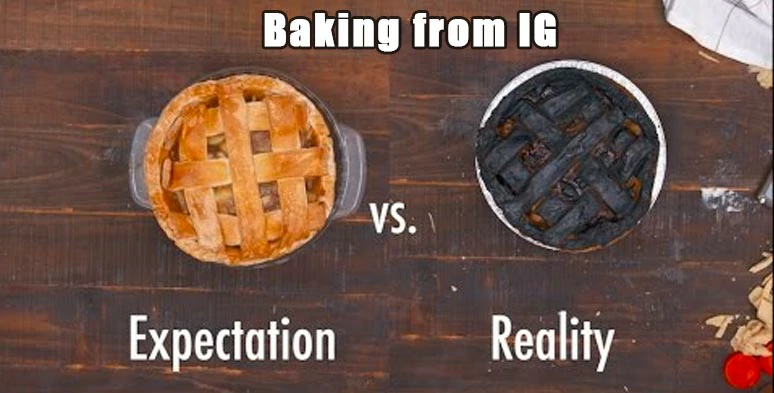 Baking expectation vs reality meme
4. Haircut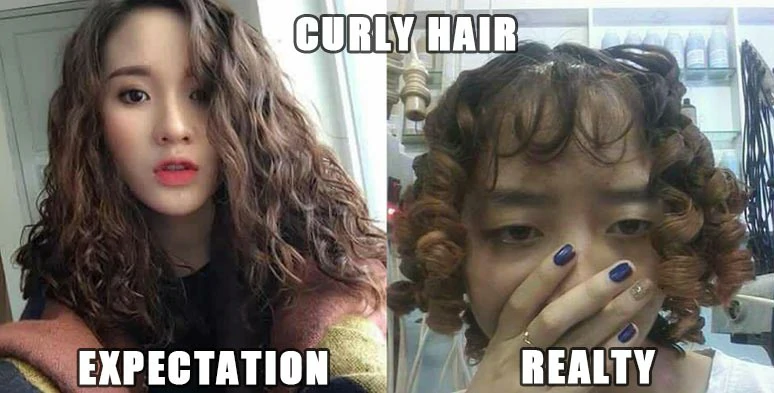 Curly hair expectation vs reality meme
5. Make a Snowman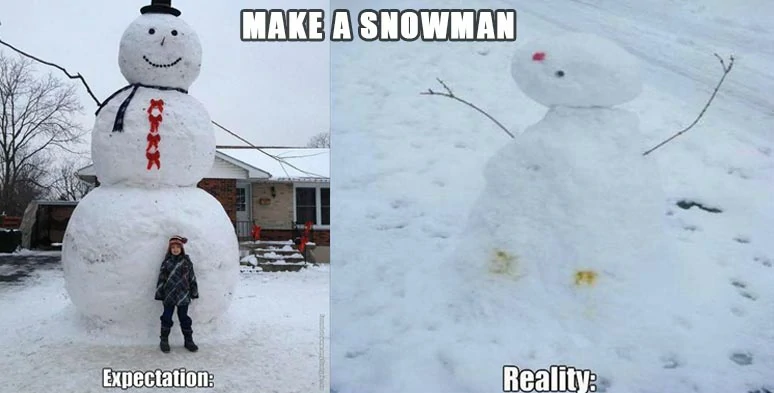 Make a snowman expectation vs reality meme
Now, It's Your Move
Well, things certainly won't go the way we expect. But, with expectation vs reality memes, we can laugh out of tears and learn a great lesson from it. Next time, we can emerge heroically. Hopefully, you can enjoy the expectation vs reality meme online tools recommended. Just feel free to experiment and laugh. So, start creating your expectation vs reality meme from FlexClip now.