Here comes five popular environment video types and the tutorial to create an engaging environment video for free. No download or editing experience is needed!
With the intensification of human activities, our Earth is not very well now. Environmental problems like the ozone layer, climate change, and green gases have become severe for mankind's survival. So, it's time that everyone must assume his share of the responsibility to protect the environment.
If you want to add your voice to the mix, make sure it's heard by creating an environment video to get your message across with impact. Here in this blog, we have rounded up some popular types for making environment videos. Besides that, we will also show you some detailed steps for making an environment video for free. Check it out.
Part 1. Popular Environment Video Types You Can't Miss
# 1 Record the Beauty of Nature
Now we fall into a busy life, neglecting to be grateful for details, the beauty of nature. You can create a video like the template below to show your appreciation to nature, influencing more people to care more about nature.
# 2 Water Resources Issue
Clean, fresh water is an essential resource for people to survive on earth. However, with all the severe droughts happening in the world, the limited supply of fresh water is becoming one of our most precious resources. Here you can use this template to make a video for calling on water conservation.
#3 Environment Day Videos
Environment Day is a day celebrated to encourage awareness and actions to protect the environment. It's a good time to convey the message and spread the importance of environmental protection via a promo video. You can take a look at the environment day videos.
Earth Day
#4 Severe Pollution Problem
Severe pollution problems are of great concern, including plastic pollution, greenhouse gasses, smog and toxic pollutants. These problems affect climate change and cause irretrievable damage to our planet. So it's necessary to make a video to raise people's awareness to pay close attention to these problems.
# 5 Wildlife Videos
Wildlife is an important part of nature and it enriches the biodiversity of our planet. Therefore, protecting wildlife is also saving the future environment. With this ready-made template, you can create a video to call for more protection for wild animals.
Part 2. How to Create an Environment Video Online for Free
Here is what you need to create an environment video
*  A computer (PC/Mac);
* Video clips or photos;
* Background music;
* Video editor FlexClip
FlexClip is the best video editor to make environment videos online. Firstly, it has an easy-to-use interface that allows you to edit your videos quickly, be it trimming, splitting or cropping. Besides, you have access to millions of media resources, including photos, video clips and soundtracks, and you can use them to level up your environment videos.
What's more, it provides 4000+ ready-made templates to help you unleash creativity in clicks. No matter you're a rookie or a pro who wants to create an environment video, FlexClip lets you get satisfying results in clicks.
Step 1
Drag and drop your video footage to FlexClip, then add them to the timeline.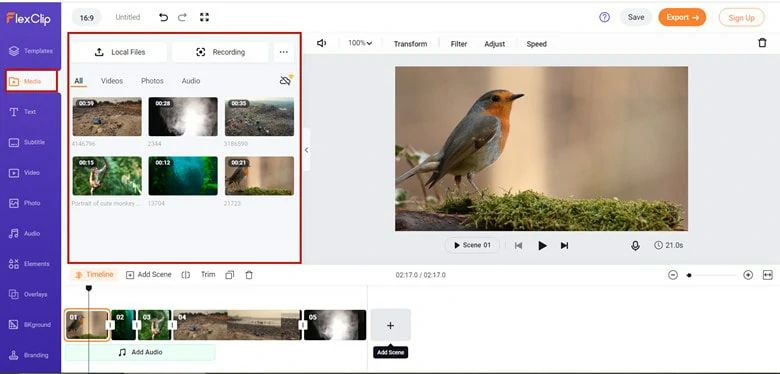 Upload Video Footage to FlexClip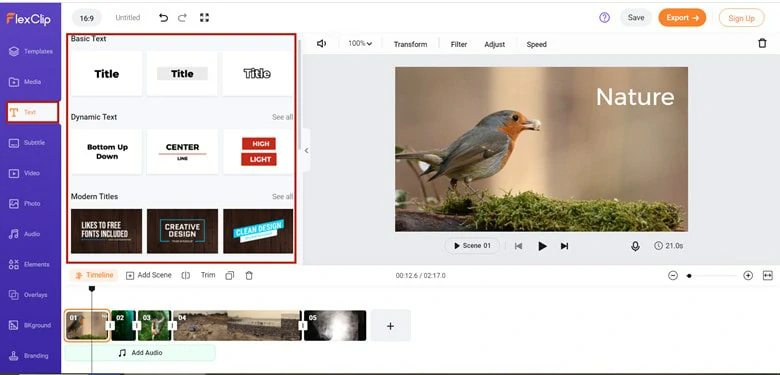 Add Text to Your Environment Video
If you need an auto-subtitle feature, go to the Subtitle panel and automatically turn your audio into text.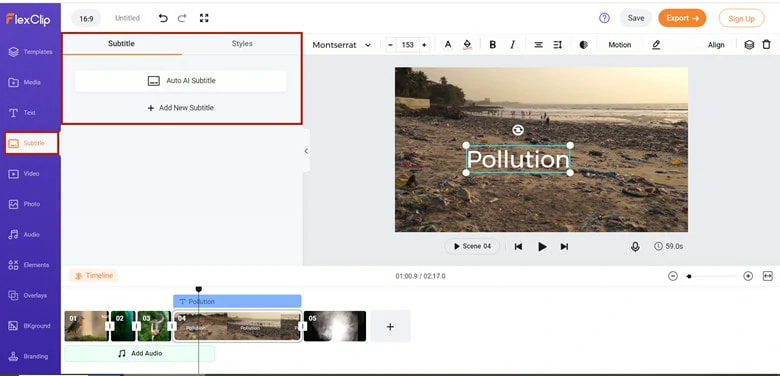 Use Auto-subtitle Feature to Add Text
Step 3
To add your BGM, move to the Audio section to pick an MP3 file or set your audio file for use.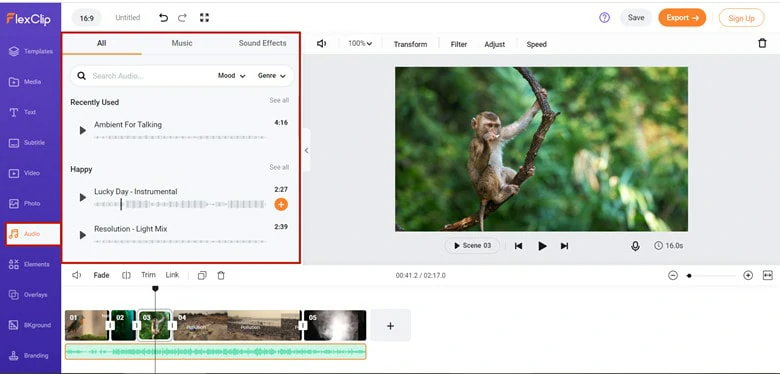 Add BGM to Your Environment Video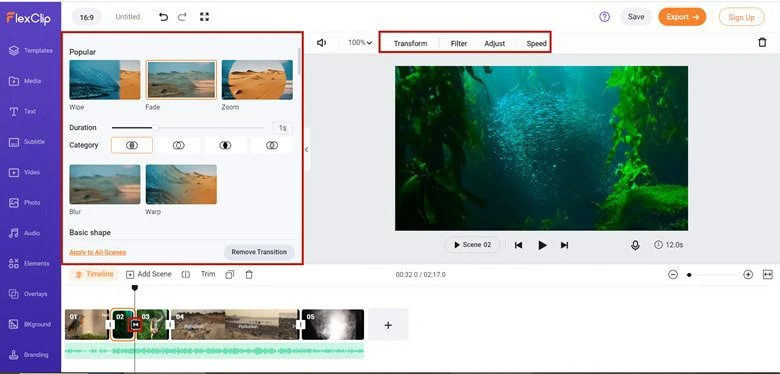 Add Special Effects to Your Environment Video
Step 5
Preview and save. Check the final video and export your video in MP4 or GIF format.
The Bottom Line
That's all for how to make an engaging environment video for free. Actually, FlexClip not only helps you create an environment video but also enables you to make memorial videos, birthday videos, slideshows and all the video types you could think about. Go to FlexClip and use it to unlock your creativity now!