Strobe effect or strobe light effect is a popular video editing technique that adds short and intense flashes of light to parts of the clips to evoke horror ambience, speed up the visual rhythm or introduce an unexpected event.
Strobe effect is widely used in movie trailers and all kinds of video and movie creation like action, suspense, thriller, sci-fiction, you name it.
In this post, we will walk you through 2 easy ways to quickly add cinematic strobe effects in your video using a free online video editor and Adobe Premiere Pro.
The classic strobe effect in the movie trailer of Annabella
Here's What You Will Learn:
How to Create Flickering Strobe Effect in a Video Online Using FlexClip
Well, if you are new to video editing or currently don't have professional video editors such as Premiere Pro available, then an easy and quick way to add flickering strobe effect in your video is using a versatile online video editor.
In this case, our top recommendation would be using FlexClip, a free and feature-rich in-browser video editor that offers you a hassle-free video editing experience. It's user-friendly and so versatile and no software download is needed.
FlexClip empowers you to create strobe effect in a video with ease.
You can easily add strobe effect to your video and use FlexClip's 4M+ roalty-free stock assets, including sound effects, music, HD videos and photos to take your video up a notch, not to mention thousands of designer-made video templates and tons of editing user-friendly tools like trimmers, transitions, video fitlers, etc.
How to Add Strobe Effect to a Video by FlexClip:
After you upload your video footage to the media library and add it to the timeline. Well, if you currently don't have video footage, please feel free to pick a stock video in the "Stock Media" tab for a test.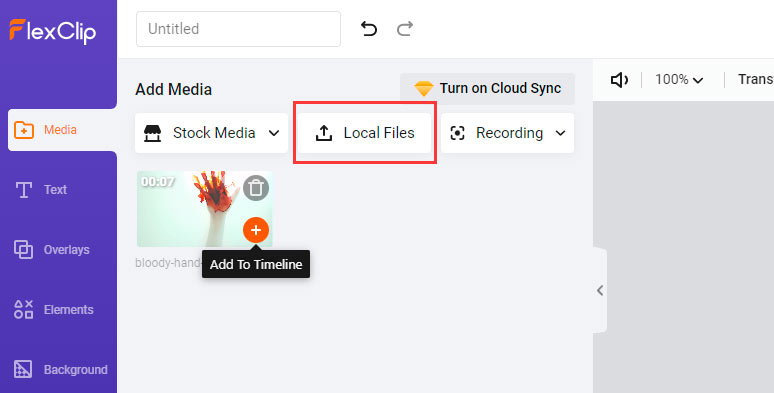 Upload clips to the FlexClip
Step 2
Split the Video Footage into Different Parts
Move the playhead to locate the beginning and end of the frames for adding strobe effects > use "Split" tool to cut the video footage into three parts > keep splitting in-between clip into multiple clips > drag and drop each clip to the left to trim its duration to the minimum (around 0.3 secs).

Split clips into different parts and trim them to a minimum of 0.3sec
Step 3
Insert White Background for the Strobe Effect
Go to the "Background" tab on the left sidebar > drag and drop the "White background between each short clip> adjust its duration to 0.3 secs > repeat the same move until all the gaps between different short clips are filled with a white background.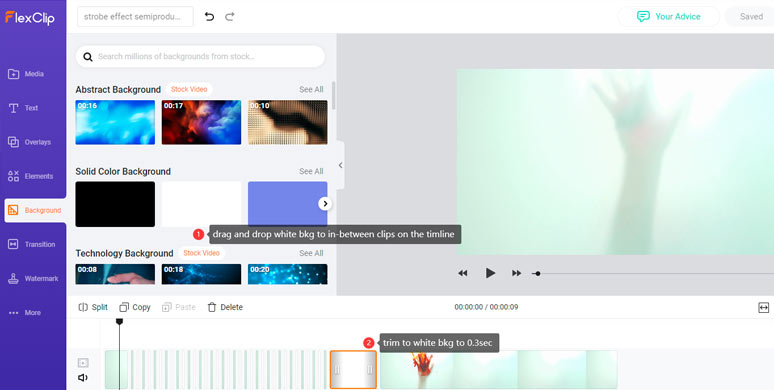 Add white background between each clip to create the strobe effect in the video
Now, as you play the whole video, the strobe effect shall be added successfully. Of course, you can use different background colors like black, blue, red, or even add a dynamic background video or a stack image for a unique strobe effect.
Bonus Tips: Add Sound Effects or Music for the Strobe Effect Frames
Since the added strobe effect accelerates visual rhythm, normally a corresponding sound effect or music will also be added to the frames to strike a visual and audio balance.
With FlexClip, you can easily search and find ideal sound effects or music and drag the audio track to match the vibes of the frames with a strobe light effect.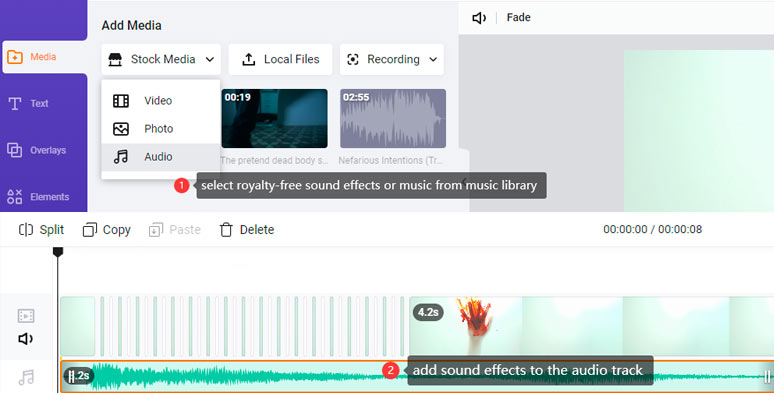 Add royalty-free sound effects or music to strobe effect video
The result video with strobe effect and sound effecs from our example:
Strobe effect applied to a video by FlexClip
Step 4
Preview and Download the Video with Flickering Strobe Effect
How to Make Strobe Effect in a Video by Adobe Premiere Pro
All roads lead to Rome. In addition to using FlexClip to add strobe effect to a video, the Adobe Premiere Pro offers you another flexible alternative. If you happen to edit videos with Premiere Pro, here is what you can do to achieve a similar strobe effect in your video.
How to do a Stobe Effect in Premiere Pro
Step 1
Launch Adobe Premiere Pro and Add a Clip to the Timeline
Step 2
Add Strobe Light Effect to the Clip
Hit the "Effect" panel > enter keywords "Strobe" in the search bar and drag "Strobe Light" effect onto the clip
Step 3
Customize the Strobe Light Effect
Go to the "Effect Controls" tab > the default "Strobe Color would be white. Set "Strobe Duration" to 0.1 secs and "Strobe Period" to 0.2 secs. Or, you can play with these two properties yourself for the best strobe effects you want.
Step 4
Preview and Export the Video
Now, It's Your Move
So, those are the 2 nice and easy ways to create a strobe effect in your video. If you are a computer novice or don't have Premiere Pro installed on your PC, using the easy-to-use and feature-rich FlexClip shall be the best choice for you. If you are a Premiere Pro user, then you may also find FlexClip helpful for its 4M+ royalty-free stock assets. So, start adding dazzling strobe effects to your clips with sound effects by FlexClip now.