Forewords: This article is for YouTubers & Vloggers to find hot video ideas, topics and contents related to coronavirus pandemic. Then they can judge and create a coronavirus video for isolated people. FlexClip.com is introduced as an easy online video editor for new YouTubers to make a short coronavirus video freely.
During the outbreaks of novel coronavirus (COVID-19), streaming videos of coronavirus reports, news, exercises, protections or medicines, have become hot video contents. Each day, millions of isolated people with various requirements are consuming these videos at home on YouTube. Therefore, coronavirus related contents are great YouTube ideas, topics & contents, which may help you be a successful YouTuber.
For Vloggers or individual YouTubers, we've collected a list of coronavirus YouTube ideas, topics and contents that visitors love to consume most. Hopefully, these videos will help you grow your YouTube channel quickly.
Part 1 - Top 9 Coronavirus YouTube Ideas, Topics & Contents
#1.Coronavirus Outbreak News Roundup
Usually, people digest YouTube coronavirus news roundup, they hope to get the latest updates and an overall picture of how it evolves. You'll want to attach real numbers or the worldwide infection map released by trusted authorities (CDC, WHO and official government releases), which will ensure your contents are helpful and no misinformation.
#2.Celebrities News with Coronavirus Tested Positive
Gossips are always prevalent, especially when cities are in emergency shutdown or lockdown due to the pandemic of novel coronavirus.
Some celebrities claim they remained indoors before catching 2019-nCOV disease, while very soon, newly uploaded party photos & videos from reporters tell us that they are terrible liars with less responsibility and consciousness.
These kinds of news are perfect video contents to compile a YouTube video. It will be hot gossip and an educational video, and have a larger chance to go rival.
YouTube: Bollywood singer Kanika Kapoor tests positive for coronavirus.
#3.New Shutdown/Lockdown Reports
New shutdown or lockdown reports are breaking news. For individual YouTubers, you can cut a compiled video of the shutdown reports last week for viewers to get a quick view.
YouTube: The lockdown: One month in Wuhan.
#4.Coronavirus Quarantine Exercises & Home Workouts
Coronavirus knowledge and news always make us feel sad & disappointed. Especially when people read too much negative news about coronavirus, many of us will be in a bad mood. But deep inside, we wish to see some positive tips. So here comes our YouTube making idea: coronavirus quarantine exercises and home workouts.
When gyms are shut/locked down, the need for home workout surges. Various types of quarantine exercises can be videoed, such as, tai chi chuan for aging people, yoga for young ladies, muscle exercises for men, and dancing class for kids.
#5.Home Cook Video Ideas - Make Some Delicious Dishes Step by Step
If you are skilled in cooking, it's a perfect time to connect with your audiences by teaching them how to make a yummy dish at home. It will cheer up people in suffer, help them find meaningful things to do. It's nice to expect something good and yummy in the difficult time.
#6.Be Creative at Home Vlog Idea - Make Handmade / Craft Arts
To enrich isolated life, people will like to try making some easy arts and crafts. Such easy hack tricks will be great video topics and contents for YouTube channels. When people are creative, they are likely to forget coronavirus misery but immerse in the joy of creation.
#7.YouTube Video Idea - How to Make Stylish Hair Style at Home
Coronavirus is an infectious disease. When salon places are locked down, people still need hair styles or at least keep neat hair. You can make a simple hair-cutting video for people to follow easily.
What if you don't know how to do it?
Tough question! Perhaps you just need an alternative plan for your YouTube creation: There are many hair style videos from YouTube, filter out videos that don't go with CC license, and make a roundup video with what you like most. Then you just need to find some cool & keyword-rich YouTube title, such as, "Try/DIY a neat haircut by yourself during Coronavirus period".
#8.Educational / Get-to-Know Coronavirus Videos
Except for coronavirus news and reports, another great coronavirus YouTube idea is educational coronavirus video. For the majority of people, they have little knowledge of coronavirus or biology. When COVID-19 war begins, human needs to be united. We need to share coronavirus news, and ensure all human soldiers know coronavirus fighting strategy. - And that's how educational coronavirus videos help.
#9.Gaming YouTube Video Ideas
Life without entertainment is tough. Although social meetings and communities are closed, people still want to experience with something enjoyable. Gaming video ideas are one of great YouTube video ideas that help people live through the most difficult time during coronavirus.
YouTube: The lockdown: One month in Wuhan.
Part 2 - How to Create a Short Coronavirus Video for YouTube Easily?
This part is for those who seek an easy way to make a short coronavirus video. It's more useful for newbies and new YouTubers.
First, register a free account at flexclip.com. ( When you don't know what kind of video to create, simply choose "Other". You can either confirm your email account or not. It's designed to reset the password when you accidentally forget it. )
Second, hit [Create New], and you have two ways to go: One way is entering "virus" to search for virus video templates ( including coronavirus ), and the other way is picking [+ Start From Scratch].
Third, no matter which way you choose, the storyboard mechanics will allow you to add video, delete video, or change the sequences of clips easily, with the support of powerful editing, music and video resources.
Image board: Make use of extensive authorized videos and photos.
Fourth, after editing your own coronavirus video, you may want to preview and download it. It's inexpensive to download a 1080p video. Also, there is a free download option for you, but it goes with some limits.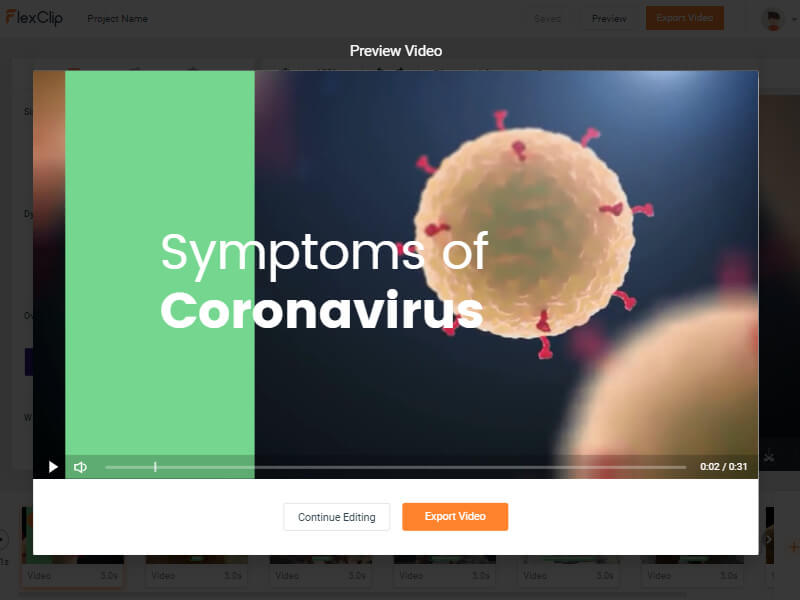 Image: Preview coronavirus video content.