Large video size can be a huge problem sometimes, especially when you want to make edits or share it through network, as most online editing tools and social media platforms limit video size. Besides, large video memory also challenges your limited storage space.
Even though the WebM video file is created for storage-saving while maintaining the image quality, it still requires the compressing process if the video is oversize. Fortunately, there are tons of online WebM compressors to reduce size effortlessly, without any quality loss. This article includes 5 best WebM compressors and let's dive in!
1. FlexClip
Price: Free with 1GB
Compressing WebM video online is easy with FlexClip, thanks to its clean interface and simple workflow. Just upload your WebM file, hit the Compress button and you'll get the compressed video in minutes. Besides, it gives you full control of the compressed video quality and resolution by offering various options.
Once the compression is finished, you can choose to download the compressed WebM file or click the Make More Edits to level up your video with gorgeous editing tools. It's easy and fun.
How to Compress WebM Video With FlexClip
Step 1
Click on the Compress button below and tap the Browse Video to import the WebM file you wish to reduce.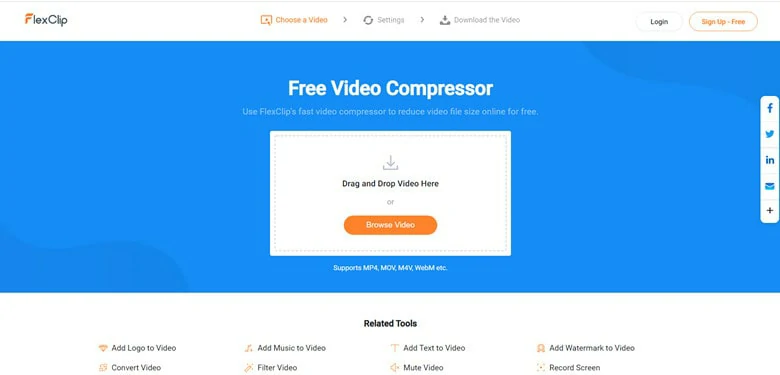 Go to the Compressor Page of FlexClip
Step 2
Then a setting interface pumps up where you can change video quality and resolution. The lower parameter you set, the smaller size it will be.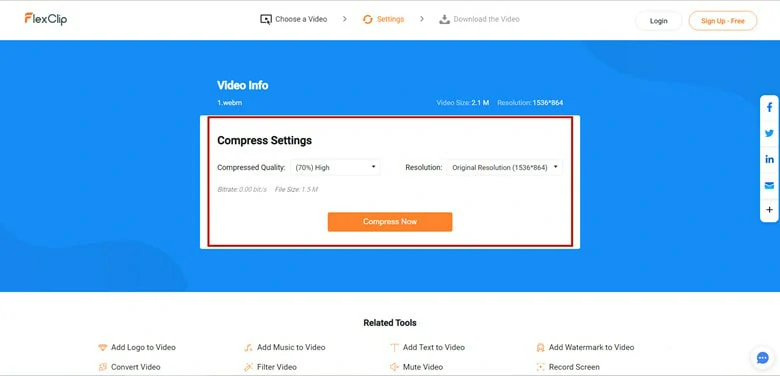 Make the Settings of the Compression
Step 3
Tap the Compress Now icon to launch the compression and you will get the reduced WebM file in seconds. Now you download the compressed video or make more edits on it.
Compress Video and Save it
2. Media. io
Price: Free with 500MB
If you have massive WebM files to compress at once, Media.io is your destination. It supports the upload function in batches and addresses them simultaneously. To reduce WebM videos, you can change the resolution, reset the size rate and compression method to shrink the files. Apart from the features above, Media.io enables you to determine the video output format as needed.
How to Shrink WebM File with Media. Io
Step 1
Go to the official website and click Choose Files button to upload video files from your computer or network disk.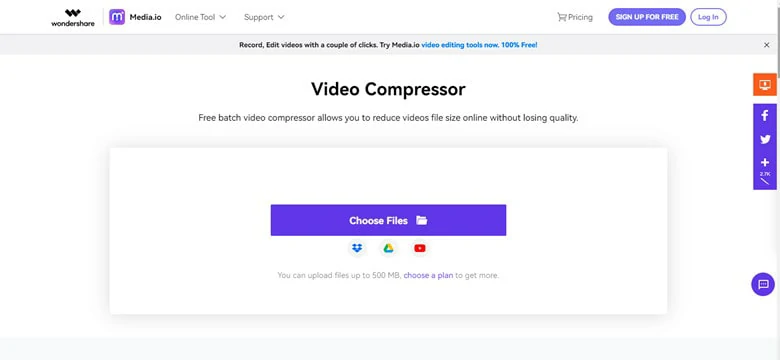 Go to Media.io Compress Interface
Step 2
Customize video resolution, output format, bitrate and size as configured to compress the WebM video. You can click Settings to compress videos to a certain size or flexible size without quality loss.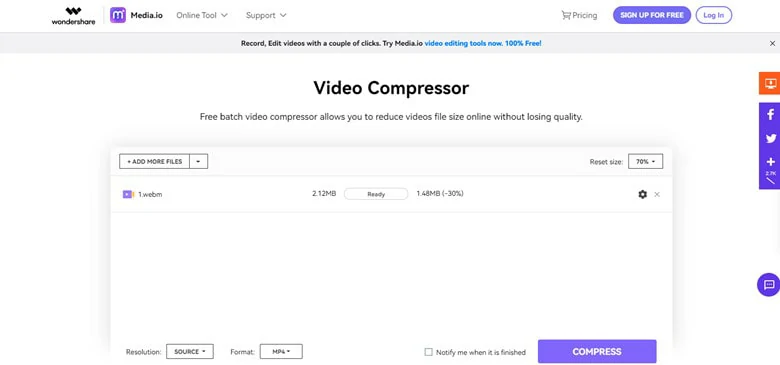 Compress Video and Save it
Step 3
Hit the Compress button to start. When you're done, tap the Download icon to save the final video locally or to Google Drive or Dropbox.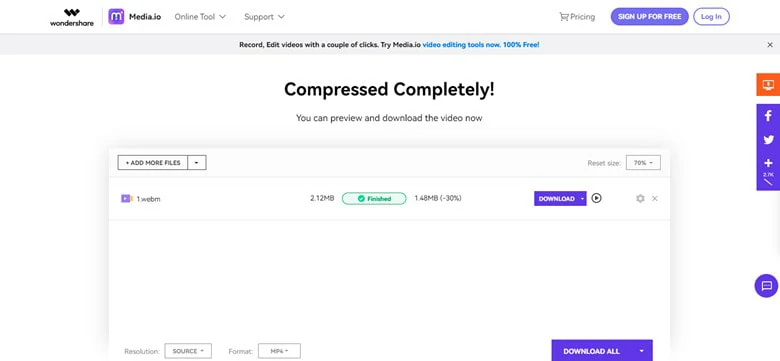 Compress Video and Download it
3. PS2PDF
Price: Free with 100MB, Basic with 1GB, Pro with 4GB
PS2PDF (now XConvert) is a versatile conversion platform, compatible with Windows, Linux, Mac and other browsers. In addition, it also offers the compression feature that enables you to reduce your WebM files with great ease.
It allows selecting video codec, minimum quality, constant rate factor and maximum quality of the output file. This compressor is suitable for those who have requirements in flexibility.
How to Compress WebM Files with PS2PDF
Step 1
Open https://www.xconvert.com/compress-webm on your PC or Mac browser and click the Add Files button to import .webm files.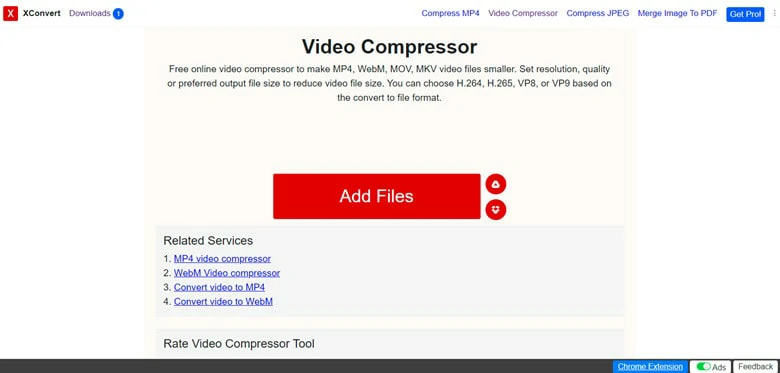 Upload Your WebM File to XConvert
Step 2
Once the video is loaded, you can decide if the file size is going to be compressed by a percentage, preset quality or by using variable bitrates. In addition, you can choose the way to resize your WebM videos or select one of the available output video resolutions.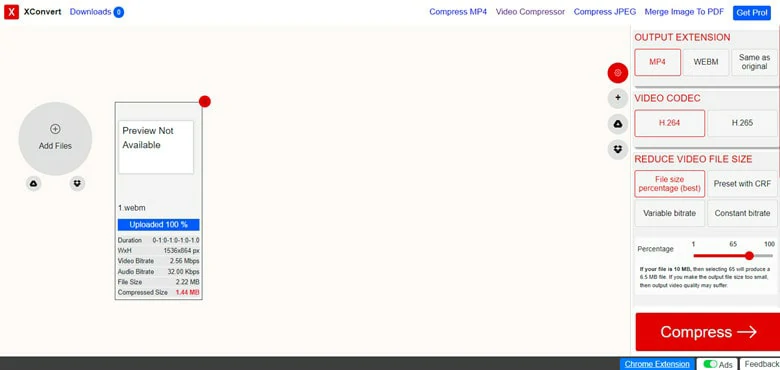 Make Edits for the Compression Process
Step 3
Hit the Compress button and wait for a while. When the compress progress is over, click on Download to save the resized file to your computer.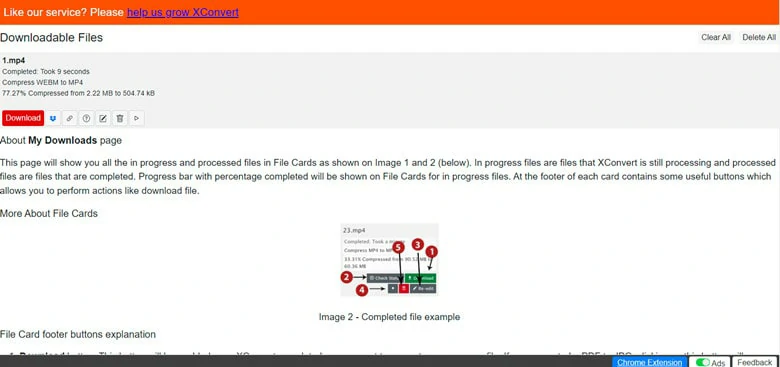 Download the Compressed Video to Your Computer
4. Compress.com
Price: Free with 200 MB
This comprehensive compression platform online helps you easily compress websites, documents, images, videos, or audio files. It allows you to compress up to five videos with a maximum of 200 MB of each file.
With the help of this compressor, you can choose if you want to change the overall quality or specified video parameters. At the same time, the latter provides the size, bitrate, frame rate and video aspect options. The compressed files can be downloaded individually or as zip files as needed.
How to Reduce WebM File with Compress.com
Step 1
Open https://www.compresss.com/compress-webm.html on your browser and set WebM quality first. You can change overall video quality or choose to adjust with specified parameters.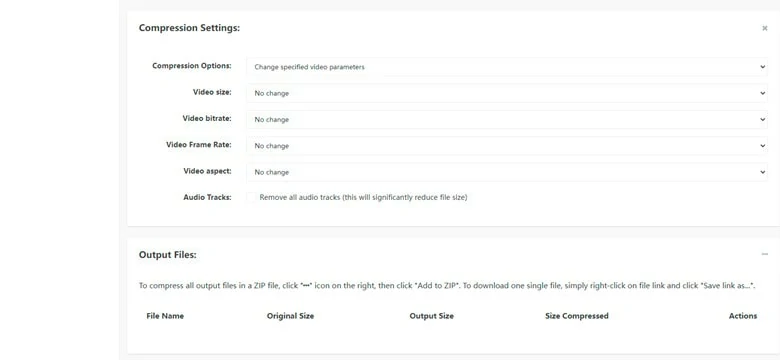 Go to Compressor.com and Do Settings
Step 2
Drag multiple WebM files to the Choose File section. Each WebM file size can be up to 200 MB. The compression will automatically start when files are uploaded.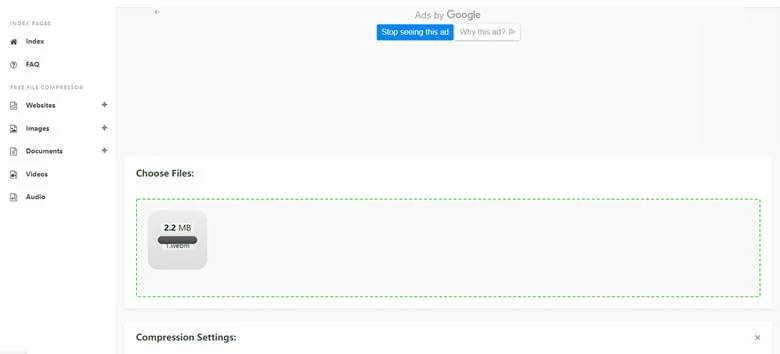 Import WebM Videos to Compressor.com
Step 3
When the process is completed, download the compressed video as ZIP file or save it to your cloud storage.

Download the Compressed Video as ZIP
5. VLC Media Player
Price: Free
VLC is a famous media player that can be used to play all types of audio and video files. In addition to playing media files, it also helps you reduce the video size in a simple manner. Let's see how it works to compress WebM videos.
How to Reduce WebM Video with VLC
Step 1
Download, install VLC Media Player and open it.
Step 2
Go to Media and click on Media > Convert / Save to add the WebM file you wish to shrink, then press "Convert / Save" button.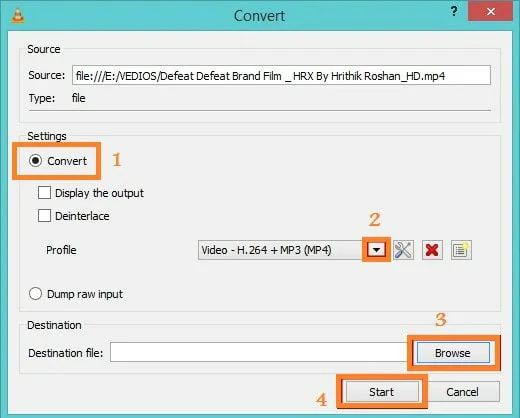 Go to the Convert/Save Page to Enable Compression
Step 3
Select the video profile type as WebM and tap the Settings option, then choose Video Codec tab and enter the Resolution section. Here you can manually change the frame size by changing the width and height of video to reduce video size. When you're done, click the Save button.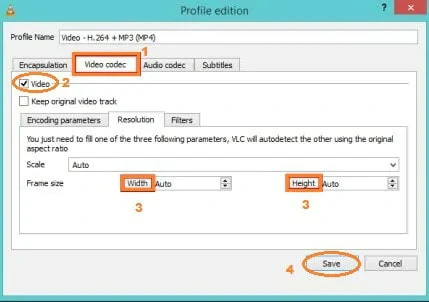 Launch Compression and Download the Reduced Video
Please keep in mind that the aspect ratio should be the same as before to maintain better video quality. Besides, VLC Media Player doesn't show the estimated file size after compress.
Frequently Asked Questions About WebM Video Compression
1.What is a WebM File?
A file with the extension .webm is a WebM file. It contains both audio and video with high quality and uses a video container that is similar to MKV format. The WebM file format is 100% open and royalty-free, operating under a BSD-style license.
2.What are the Differences Between MP4 and WebM Files?
Video codecs: WebM, developed by Google, uses VP8 or VP9, while the MP4, developed by ISO, uses H.265, H.264, and AVC.
Quality: Though both formats offer high quality, MP4 works a little better than WebM due to the difference lied in the codecs supported by them.
Usage and Compatibility: WebM is designed for Internet streaming while MP4 performs better on portable devices. Therefore, if you're looking for video playback, MP4 is the needed format while for uploading videos to YouTube, WebM is your apt format.
The Bottom Line
These tools help you compress WebM files easily. You can choose the best way from the 5 depending on your preferences. If you wish to compress quickly and make edits to the compressed video, give FlexClip a try. It not only compresses video effectively but also offers incredible editing tools. Now it's your turn!