You just downloaded a movie online or used a free online screen recorder to make a screencast, yet only to find your QuickTime Player or Windows Media Player doesn't support WebM video files. OMG. Believed us, we knew exactly how you felt.
So, in this post, we will be explaining the difference between WebM and MP4 and introducing you to 5 free WebM to MP4 converters that can help you easily and quickly convert video files from WebM to MP4.
Here's what you'll learn:
Why My Media Player Can't Play WebM Video File
Before we discuss the free WebM to MP4 converters, it's worth mentioning the frequently asked question, i.e. "why my media player can't play WebM video files?" The answer to that boils down to the primary difference between WebM and MP4.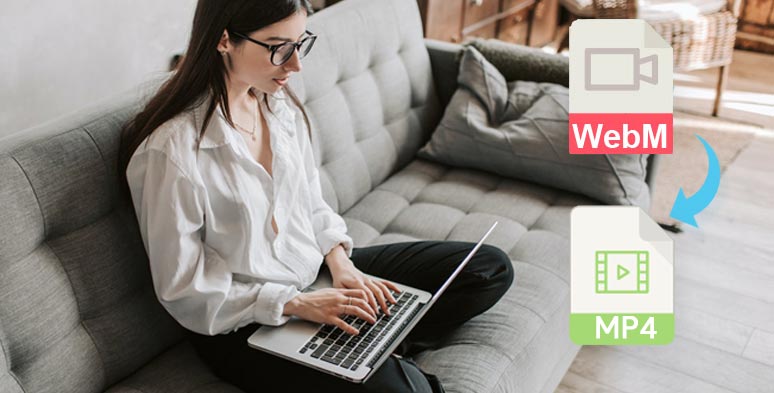 Convert WebM to MP4
WebM and MP4 use different video codecs
. WebM uses VP8 and VP9 codecs and Vorbis/Opus codecs to
compress video
and audio respectively. Besides, WebM is specially designed by Google for web use, more specifically for HTML5. While MP4 uses H.264 to store video and audio information, which makes it the most popular
video format
compatible with the widest spectrum of devices and operating systems.
Convert WebM to MP4 by Online Video Converters
Whatever operating system you have, the quickest and easiest way to convert WebM to MP4 is by using a free online WebM to MP4 converter. Here, we've handpicked 3 versatile online video converters for you. So, let's find out together.
1. FlexClip
FlexClip is a free and feature-packed online video editor. With dozens of handy video tools, FlexClip comes as the best candidate for free video conversion, given its flexibility and versatility. Just drag and drop your WebM video file to its video converter. Then you can customize the resolution (max 1080P), format, and video quality of MP4 you prefer and press the "Start" button to instantly convert WebM to MP4. The converted MP4 is watermark-free and can be saved to your local computer.
Use FlexClip video converter to convert WebM to MP4 video file
Besides, FlexClip video converter support MP4, MOV, M4V, WebM, etc. for superb video conversion and can convert up to 1G video file at a time. As an all-rounder for video editing, FlexClip also empowers you to trim the video,, add video filters or add animated texts, video transition, etc, and export as either MP4 or GIF. All you need to do is upload your assets to its free video editor and explore the editing tools to take your video up a notch.
2. CloudConvert
CloudConvert is one of the leading online file converters. Its free WebM to MP4 converter helps you convert WebM to MP4 in secs. You can select from either your local computer or Google Drive, Dropbox, or OneDrive, or even by URL to import the video file for instant conversion. While CloudConvert supports WebM conversion to MP4, AVI, FLV, MKV, MOV, WMV formats.

CloudConvert offers many options for WebM to MP4 video conversion.
Before you press the "Convert" button, you can personalize the resolution, aspect ratio, video codec, fps, audio bitrate, audio codec, volume, even trim the video and upload SRT. file to add subtitle. Another handy feature is you can upload multiple video files and get them converted simultaneously at once. Before you download the converted video file, you can even preview the effect. Overall, as to video convert alone, CloudConvert is indeed a great option.
3. FreeConvert
As its name suggests, FreeConvert is another free online converter that helps you convert image, audio, and video files in a fast and secure way. As to its video converter, FreeConvert is compatible with iPhone, Android, iPad, Kindle, etc., and offers easy conversion from WebM to MP4, FLV, MKV, AVI, MOV, WMV.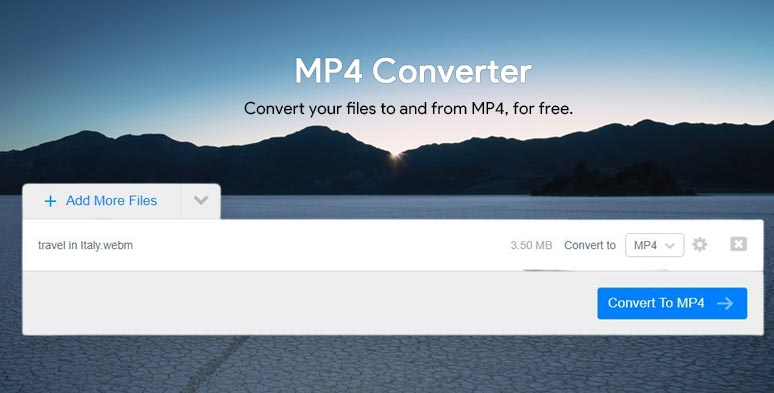 FreeConvert converts WebM to MP4
You can import your WebM file to FreeConvert from the local computer, Dropbox, Google Drive, or an URL to kick start conversion. With a clear and intuitive interface, FreeConvert brings controls to your hands by customizing video codec, video screen size, video aspect ratio, fps, trimmer, and video rotator. The batch conversion is swift and glitch-free. If there is a drawback so to speak is that you can't preview the converted MP4 file as CloudConvert does and the pop-up ads can be annoying.
Convert WebM to MP4 Using Free Desktop Software
Apart from free online WebM to MP4 converters, a handful of free desktop software can also help you convert a WebM file to MP4 in a flash. Two viable and lightweight options are timeless Format Factory and VLC.
1. Format Factory (Windows)
Format Factory is a powerhouse for video, audio, picture, and document conversion. As a Windows-based free software, it allows you to convert WebM to MP4, MKV, GIF, AVI, WMV, MOV, and FLV in secs with premium quality. After you upload the WebM file to Format Factory, you can head to "Output Setting" to personalize the video size, encode, bitrate, fps, and other tons of details for both video and audio output. Then hit "Start" for instant video conversion. Besides, you may also use trim or crop the video when needed.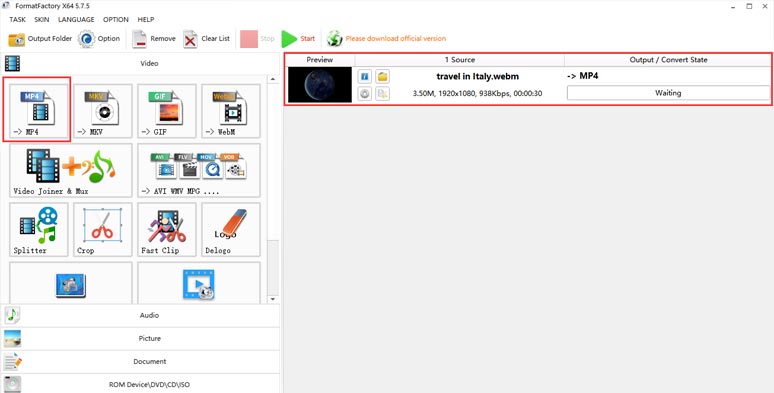 Use Format Factory to convert WebM to MP4
2. VLC (Windows, Mac, Linx, IOS, Android)
VLC is another free and timeless media player for both Windows and Mac users. With its "Convert/Save" feature, you can use VLC to quickly convert a WebM file to MP4. All you need to do is click "Convert/Save" > upload a WebM file > select "Video—H.264 +MP3 (MP4) > browse a folder for saving > finally hit the start button. Then you will easily have your WebM converted to MP4.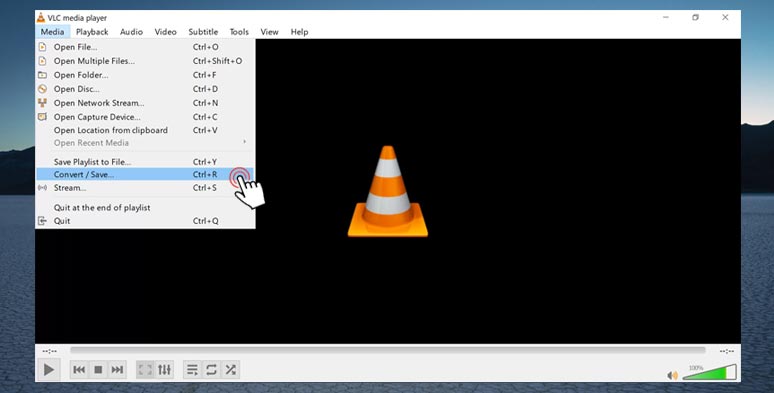 Use VLC to convert WebM to MP4
However, the only issue with VLC for WebM to MP4 conversion is that parts of the original audio might not be fully retained in the converted video file during our actual test. And you can't select the video quality and aspect ratio or use video tools to further the original WebM video. So, in terms of both video conversion and video editing, and royalty-free stock assets, it's highly recommended to go with FlexClip to achieve the most desirable effects.
Final Thoughts
| &nbsp | Accessibility | Video Conversion | Video Editing |
| --- | --- | --- | --- |
| FlexClip | Online | MP4, WebM, GIF | 50+ featured video tools; 4M+ royalty-free HD stock assets; cloud storage |
| CloudConvert | Online | MP4, WebM, AVI, FLV, MKV, MOV, WMV; batch conversion | Trim,add subtitle only |
| FreeConvert | Online | WebM, MP4, FLV, MKV, AVI, MOV, WMV; batch conversion | cut, rotate, flip, add subtitles |
| Format Factory | Desktop (Windows) | WebM, MP4, MKV, GIF, AVI, WMV, MOV, FLV | crop, split, delogo, etc. |
| VLC | Desktop (Windows, Mac, Linux, IOS, Android) | MP4, WebM, MPGA, WMA | No |
To sum up, judging by the overall capacity for both video conversion and free video editing features and video assets, FlexClip has the edge over the rest of 4 WebM to MP4 converters. If you need a versatile online video editor more than simple video conversion, FlexClip deserves a place for use in the long run.
So, if you have better solutions to convert WebM to MP4 or more feedback, don't reach us on our official Facebook or Twitter or share this post with your friends. Much appreciated.