Looking for the high-quality breaking news background for your school video projects or the updates of your Vlogs on the YouTube news channel? No worries! We've got you covered.
In this post, we will walk you through 5 sites where you can get HD breaking news background that won't break your bank. So, whether you are a student or a YouTube content creator, you can create a professional news broadcast opener for your video projects in a breeze.
Here is what you will learn:
1. FlexClip
Well, if you need full HD breaking news backgrounds, iconic breaking news intro music , and news headline animations to grasp viewers' attention for the latest news update in your video. Then, the best one-stop solution you need is FlexClip online video maker.
Use the FlexClip online video maker's 4M+ video assets to create news story videos.
What sets FlexClip apart from other stock video sites is that not only can you select from a wide array of FHD and 3D breaking news backgrounds in the designer-made
breaking news templates
, but also directly drag and drop to customize the news headline animations, scrolling news tickers, news intro music, and other decorative elements for your news broadcast opener in clicks away.
Live Breaking News Intro Outro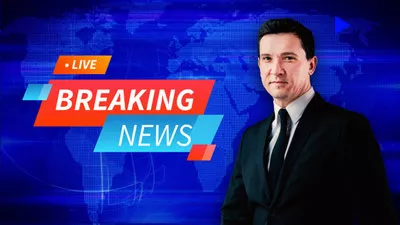 Breaking News Intro Video
Breaking News Update Intro Outro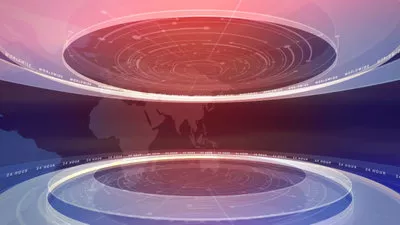 Latest News
Besides, you can access FlexClip's 74k+ royalty-free music and
sound effects
and easily pair a breaking news background with any breaking news intro music to your liking and add iconic whoosh
transitions sound effects
to create a realistic news broadcast video.
In addition, tons of image and
video tools
and effects, such as picture-in-picture effects, image background remover, video trimmer, video transitions, filters, etc. make it easy to add live interview footage as B-roll for the storytelling from different perspectives.
Step 1
Select a breaking news template, preview it and click the Customize button.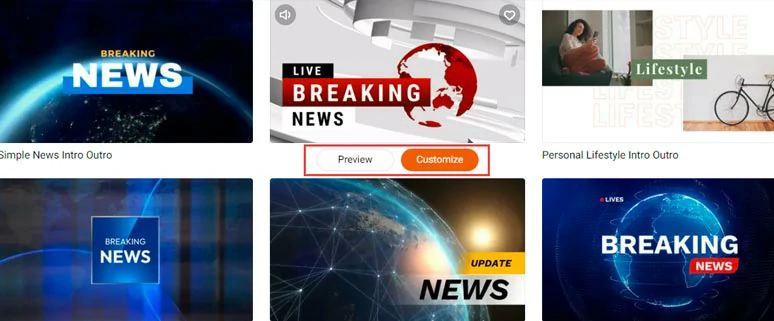 Select a breaking news template.
Step 2
Upload your video assets to FlexClip either from your PC or the phone.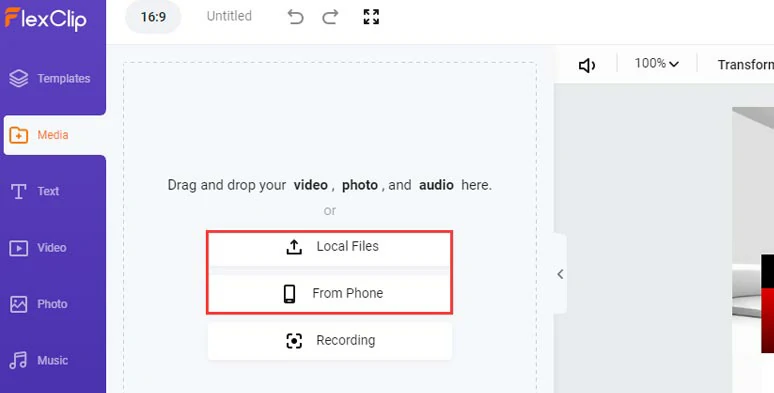 Upload your clips, images, and audio to FlexClip.
Step 3
Customize the breaking news background video.
Well, though each breaking news template is provided with a breaking news background video, you can replace it with a new one whenever you want. Just click the Video tab and type in "breaking new background" and select the one you like and drag and drop it to replace the preset breaking news background.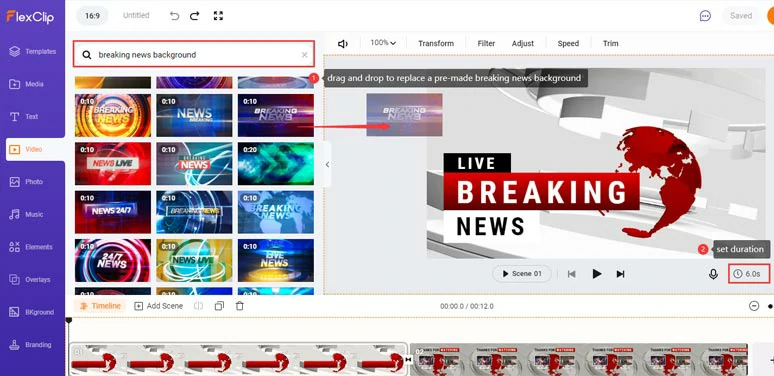 Select a new breaking news background and replace the pre-made one.
Step 4
Customize the news titles and animations.
Double-click the pre-made texts > type in your texts and customize their font, style, and color > click the Motion tool and select an animation to animate the news headlines.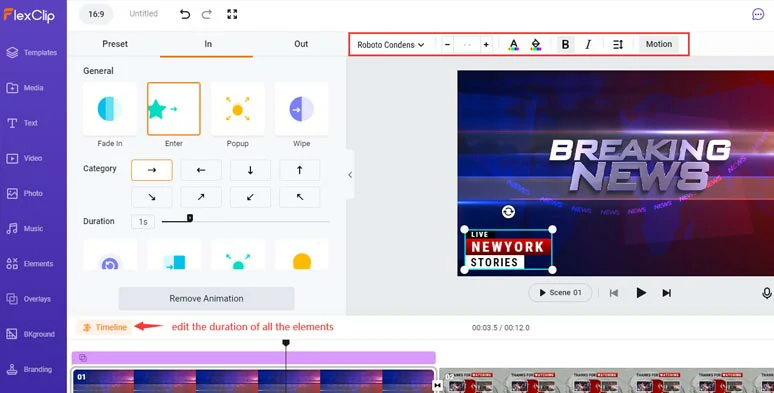 Customize the texts, text fonts, styles, and text animations.
Another great option is to click the Text tab and scroll down to the news title category where you can select from 48 readymade news title animations and edit them into yours. You can even create a realistic scrolling news ticker with the help of motion tools.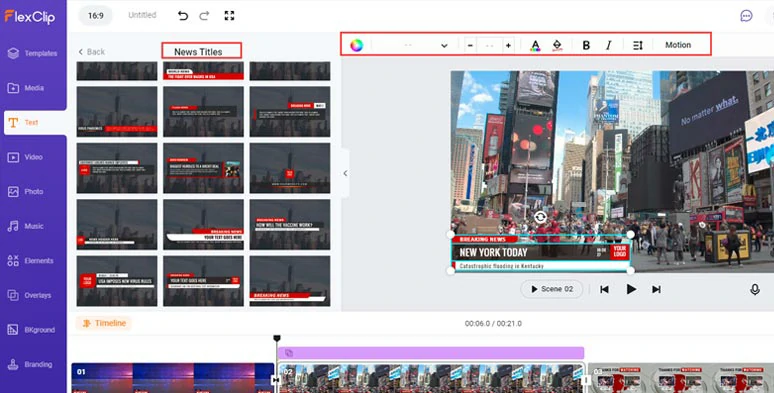 Select more designer-made and animated news titles from the Text tab.
Here are some professionally-made news titles samples you can customize: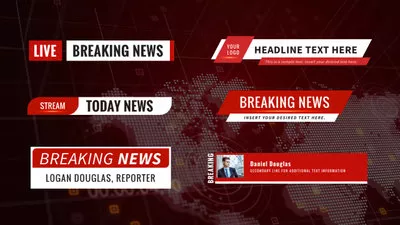 News Titles Package
Step 5
Add B-rolls with a picture-in-picture feature.
Click the picture-in-picture tool, you can add a video or multiple images as a video overlay on a breaking news background and set its animation to help your storytelling. You may also trim its duration on the intuitive timeline.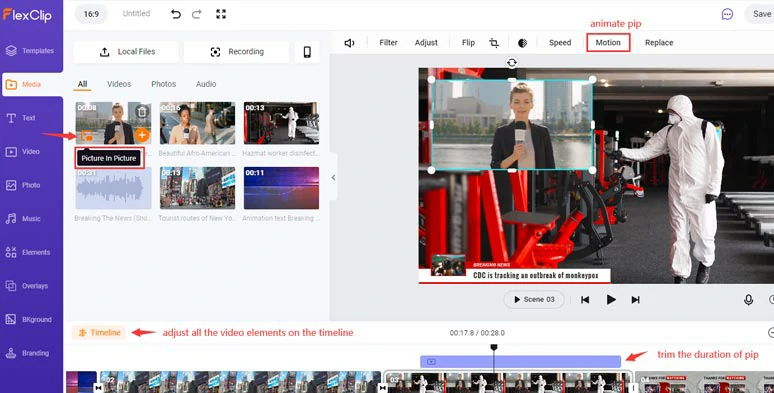 Use picture-in-picture to add B roll for full news coverage.
Step 6
Add the breaking news intro music and transition sound effects.
Likewise, each breaking news template has a readymade breaking news intro music, you can click the Music tab and search "breaking news" to add another breaking news intro music to your liking. You may also type in "whoosh" to add an iconic news transition sound effect to connect two different scenes. Feel free to move and trim the audio on the timeline and use the playhead to cut to the beat.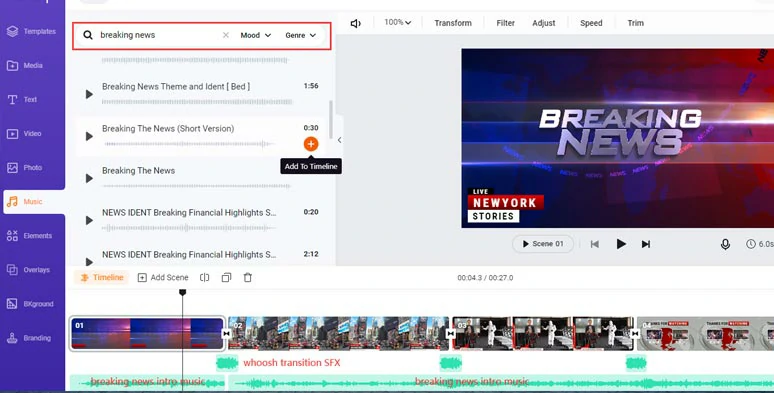 add royalty-free breaking news intro music and transition sound effects.
So, let's check the resulting breaking news broadcast video from the example above:
Realistic news story videos made by FlexClip
Step 7
Preview and share.
Done with the editing. You can click the Export button to download the breaking news video to your local PC or directly share it to YouTube, Google Drive, or Dropbox; A clickable link and embed code are also available for a private share or your blogging.
Pricing:
Business plan: $29.99/mo (unlimited 1080P video assets).
Our Verdict:
Whether you are a student or a YouTube content creator, FlexClip offers you an easy way to find royalty-free & FHD breaking news background, together with breaking news intro music and sound effects. So, you can customize all these elements with designer-made news title animations and tons of handy video tools to create a realistic news broadcast video in one place with ease.
2. Motion Array
If you are accustomed to using Adobe After Effects, Adobe Premiere Pro, Final Cut Pro, etc. to edit videos, then another workaround to find high-quality breaking news background is using a professional stock site like Motion Array.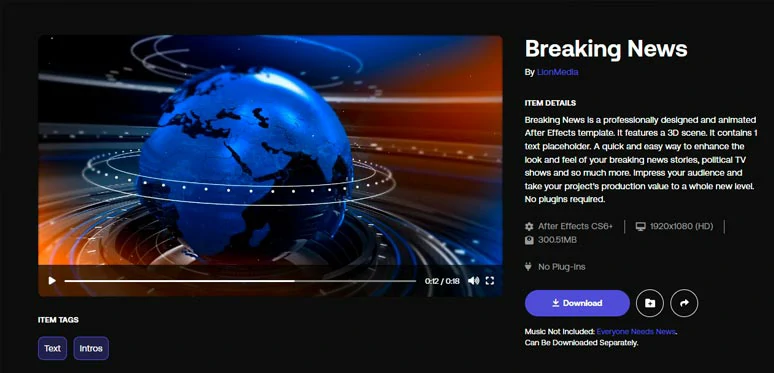 3D breaking news background from Motion Array.
With Motion Array, you can download a breaking news template, including breaking news background, animated news titles, news tickers, and transitions and import it to PR or AE and edit all the video elements into a compelling news opener or breaking news stories. The only drawback is that breaking news intro music is not included in the breaking news template. You need to download the royalty-free news intro music separately.
Pricing:
With a much more affordable subscription plan at $29.99/mo (for unlimited video assets ) than Adobe and Shutterstock, Motion Array offers you a wide spectrum of high-quality 3D breaking news templates that are compatible with AE, PR, FCP, and DaVinci Resolve.
Our Verdict:
For experienced content creators who need customizable breaking news backgrounds that work with PR, AE, FCP, etc. at an affordable price, Motion Array is your best bet.
3. Pixabay
For students who have a limited budget for school projects, Pixabay offers you a 100% free solution to get non-copyrighted breaking news backgrounds. All you need to do is search for the breaking news background in the search box and select the video category. Then you can get 4 free and green screen breaking news backgrounds in HD (1080P).
Free and HD green screen breaking news backgrounds from Pixabay.
Later, you can download and import the green screen breaking news background to PR or AE and use the Alpha channel or ultra key to remove the green screen. As a global online community contributed by worldwide photographers and video creators, you can use the free breaking news background by giving credits to artists and even for commercial purposes.
The drawback is that the number of breaking news backgrounds is limited and there is no free breaking news intro music available. However, to students with limited or no budget, Pixaby's copyright-free breaking news backgrounds can be a flexible option for students for school projects.
4. Videezy
Similar to Pixaby, Videezy is another stock site that offers tons of copyright-free HD video and photo assets. Simply type in the "breaking news background" in the search box, and you can get dozens of 1080P breaking news backgrounds for free or premium downloads, including free green breaking news background.

Free breaking news backgrounds from Videezy.
To use the free breaking news background download from Viddezy, you need to give credits to Videezy. If you use it on your website, you are expected to give a link back to Videezy. Then, you are free to use the breaking news background. Like Pixabay, there is no breaking news intro music included in the video.
5. Freepik
If you are a graphic designer or only need to add a free breaking news background image and breaking news banners to your video, then Freepik has everything you need. There are awful lots of copyright-free breaking news backgrounds and live breaking news templates to choose from and customize.

Free breaking news background images from Freepik.
Each downloaded breaking news ground file contains an ESP and AI file for free customization, together with the fonts used in the template. You are expected to give clear attribution to Freepik and link back to Freepick's site if you use it for personal or commercial purposes on your website. Likewise, no breaking news intro music is included.
Now, It's Your Move
So, hopefully, you can create compelling news broadcasts or news stories with free and paid sources for high-quality breaking news backgrounds. Given the versatility for getting and editing both breaking news background, breaking news intro music, and sound effects, FlexClip remains the best option of all. If you find this post helpful, don't forget to share it with friends on Facebook, or Twitter and leave your comments for us. See you there!