Converting photo to video is the simplest way to create stunning videos for Instagram, Facebook and TikTok. With the right tool, you can easily turn photos and animations into scroll-stopping movies with music, which entertains your viewers greatly. There are numerous tools on the market to help you turn photos into videos but most of them are challenging or expensive. So how to choose the right tool? Here we talk about some details and recommend an AI video generator from image with music for you. Let's dive in right now!
Free and Customizable Photo Slideshow Video Template: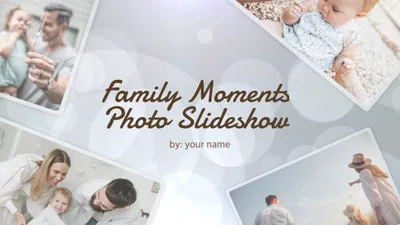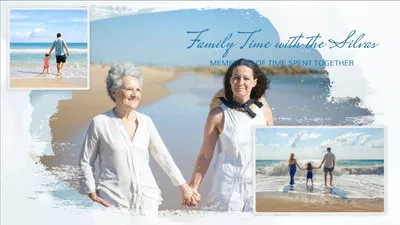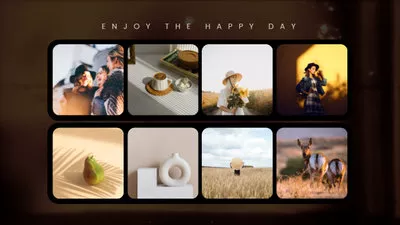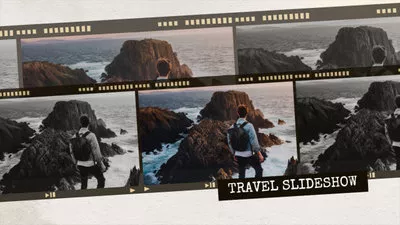 What Determines a Good AI Video Generator from Image?
There are many aspects to consider when choosing an AI video generator from image to create slideshow-like videos. Here are 6 important aspects that guarantee a pleasing experience.
1.Multiple Templates to Rely on
Smart templates give you a blueprint for your video. How to make your photos consistent? Where to add the special effects? With the inspiration and guidance of a template, you can easily make a professional video with photos and impress the audience in no time.
2.User-friendly Interface
A clean interface helps you quickly familiarize yourself with its features and promises a smooth workflow. While with a complex interface, you might be intimidated and miss the point by pouring so much time in the learning curve. So it's no exaggeration to say that the interface can make or break your editing process.
3.Powerful Editing Suite
Converting static pictures into videos is easy but making them natural and awe-inspiring may be challenging. For example, if you want a storytelling video from photos, you have to stitch them with seamless transitions and sync up the background music with your content to create a specific mood. Using different editing tools, you can bring your photo videos to life.
4.High-performance AI Tools
AI technology is designed to save us from tedious laboring-task and accelerate our work efficiency. But an immature AI photo-to-video editor may have a reverse effect: producing results with many mistakes or generating creations that are outside your requirements. So try to pick a high-performance AI tool to generate videos from images.
5.Instant Sharing to Social Media
Posting your edited videos on social media will boost your social engagement and gain more followers. Therefore, if the AI tool integrates into popular platforms like YouTube, things will become easier as you can instantly share videos without downloading and re-upload.
6.Compatibility
The source of your photos is diverse: you may take a photo on iPhone and it usually saves in HEIC and others downloaded from website may be stored in PNG. So AI photo-to-video tool that is compatible with popular formats reduces the conversion process and you can get started at once. Moreover, high compatibility means you can download videos in various formats which is better for different social media sharing.
Based on all the aspects mentioned above, we recommend a free and user-friendly AI photo to video generator for you. Follow our lead to find out now!
The Best AI Video Generator from Image with Music Online
With its drag-and-drop operation, FlexClip makes it easy to convert photos into videos online. Whether you wish to find an existing template to rely on or harness the AI tools to start from scratch, an easy workaround is always available. Users only need to upload PNG, JPEG, or GIF images to the programs and transform them into popular video formats like MP4.
Besides, with 7M+ royalty-free media stock, extensive transition effects and fantastic overlays, you can enrich your content with finger operations. If you need some original pictures, go to the AI image generator to generate some original and creative photos from your text. Additionally, there are multiple animation effects, motion graphics and PIP effect to bring your static photos to life.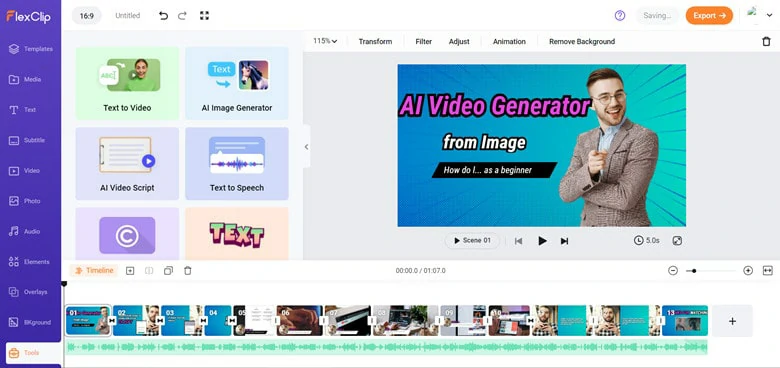 AI Photo to Video Generator FlexClip
Features of FlexClip:
4M+ Royalty-free media resources
Several transitions, filters, and motion graphics
Fast sharing to YouTube and TikTok
6000+ Slideshow Templates at your disposal
Trending text styles, animation and layouts
Support multiple import approaches
AI tools for original creation
User-friendly interface with features
How to Use FlexClip AI Video Generator from Image
The process of generating videos from images with a template on FlexClip is quite simple. Let's see how it works with the steps below.
Step 1
Upload your images
Upload the photography you wish to turn into a video. You can import from your PC, Google Drive and mobile phone.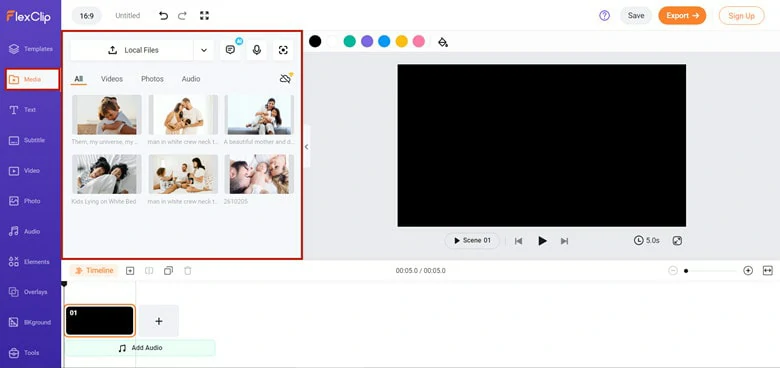 Upload Your Photos to FlexClip
Step 2
Select the template
The quickest way is to select a template that fits your needs and replace it with your photos. All the template presets include background music, stylish designs and visual effects that you can directly share without any edits.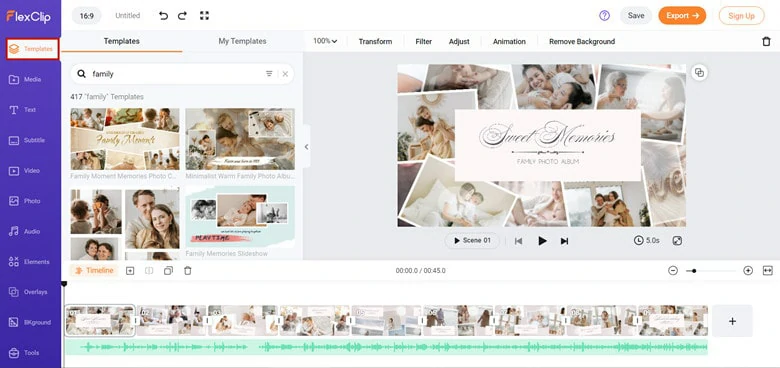 Select the Desired Template
Tap on Export button and select the resolution you wish to distribute your video. When it's ready, download or share it with a clickable link.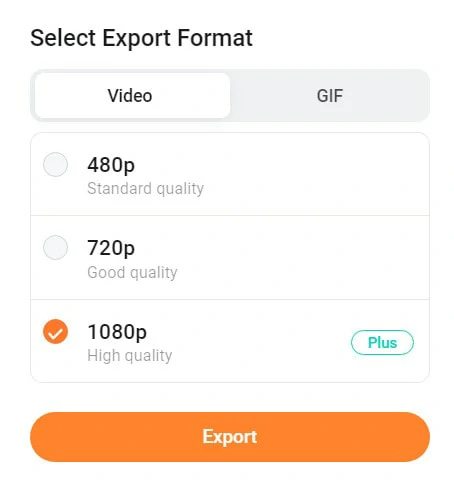 Share and Export Your Video
How to Generate Video from Image with AI in FlexClip
If you'd like to start from scratch, don't worry, there are multiple AI tools for help. Check the steps below to see how it works.
Step 1
Use the drag-and-drop operation to load your resources. Or import them to FlexClip in a batch. When it's loaded, arrange the sequence as you need. Additionally, you can use
AI image generator
to produce a series of photos in the wanted style.
Step 2
Now it's time to add music, text and transitions to your videos. Directly move to the specific panel and make selections with ease.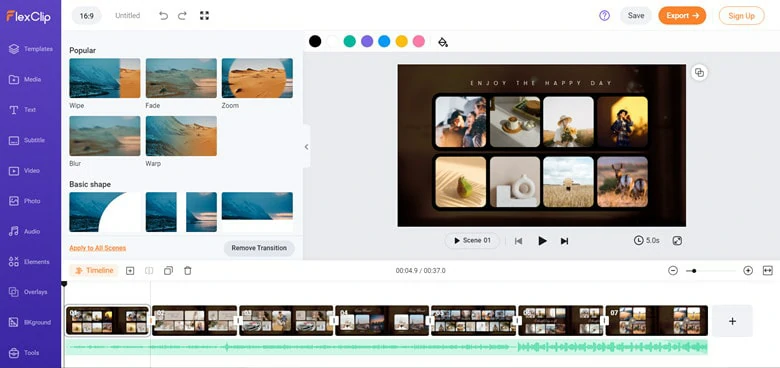 Perfect Your Videos with Elements
Step 3
To bring your photos alive, animate them with preset effects or use mask overlays to demonstrate it specially.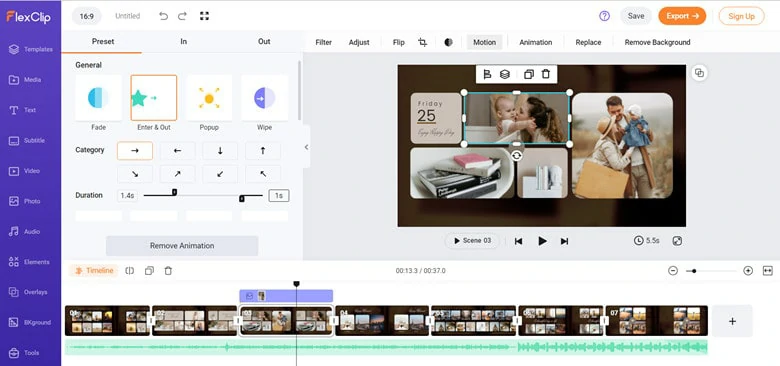 Make Your Photos Animated
Step 4
Here is the magic time! Try to generate a human-like sounding and subtitles using AI tools. Doing this will give you an interesting video to reach more potential viewers.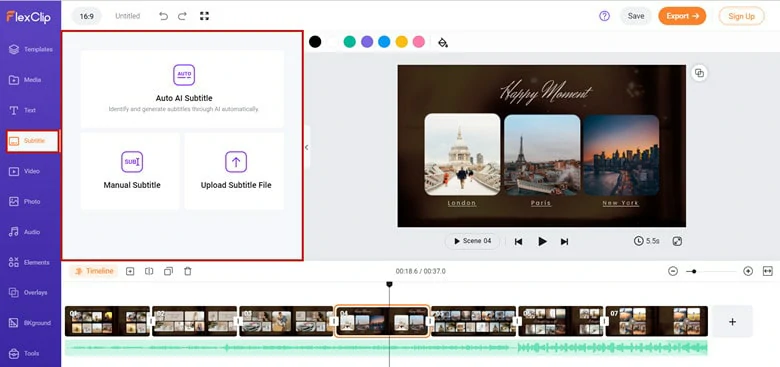 Use AI Tools to Generate Voice
Step 5
When it's over, tap on Export to download or upload to social media after the rendering process.
The Bottom Line
That's all for the best AI video generator from image with music for you. Now quickly upload your photos and begin to create stunning videos in FlexClip. Tap on Create a Video button to get started!