If you're wondering how to add text to a GIF, then there is nowhere else you would rather be. After reading this article, you'll know the top GIF caption makers that can help you add text to a GIF online easily.
There's no doubt that GIFs are one of the funny and exciting ways to break the news, tell jokes, and even stories on the internet. Besides, the GIFs offer a new way for us to express certain emotions that may not be well represented using words or emoticons.
More and more people love creating their own GIF by adding custom caption to a GIF or turn their own image or clips to a custom GIF with funny words.
If you also want to add captions can funny words to GIFs to show your own brand of humor, there are some easy ways to add text to your GIF using online GIF editors.
Also Read: Top 5 GIF Coppers to Crop a GIF Online >
Top 4 GIF Editors for Adding Text
There are plenty of online GIF editors can work as a GIF caption maker helping you add text to an animated GIF without installing any software on your computer. Here we'll show you the top 4 of them.
1. Add Text to GIF with Online GIF Editor - FlexClip
There are various online GIF makers available for you to add text to GIFs, FlexClip is just one of them. You can use FlexClip to add funny caption or words and more stunning effects to an animated GIF in clicks.
FlexClip also allows you to to turn your photos and clips into a funny GIF or stunning short video with special effects, like text animation, filters, emojis, and even watermarks, etc. Then export it as a GIF directly, and a custom GIF with animated text and more other effects is at your fingertips.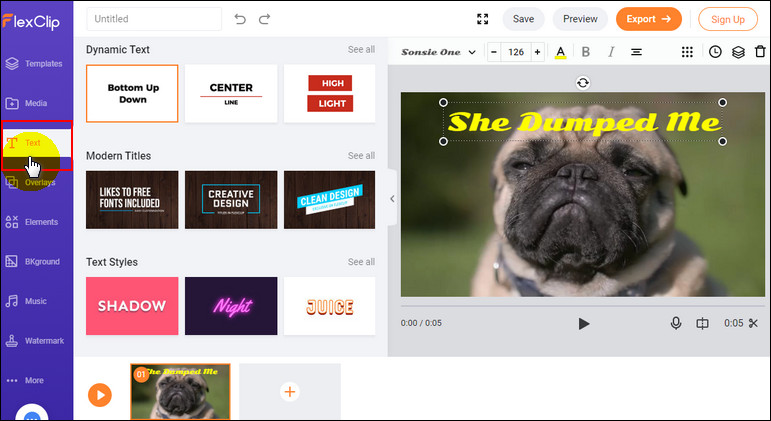 Add Text to GIF with FlexClip
Just try FlexClip now! It will reveal its powerful features to make your GIF with funny caption for free.
Also, you can make a stunning video or funny meme with FlexClip's pre-made templates:
Santa Meme
Man In Dark Glasses Meme
2. Add Text to GIF with Online GIF Editor - EzGIF.com
EZGIF is an online-based GIF editing tool with amazing features for helping users create stunning GIFs. Its online GIF text editor allows you to add your text over an animated GIF in a different style of choice without losing the animation.
Add Text to GIF with EZGIF 1
Upload a GIF or paste GIF URL to start adding text. And then, you can add text (subtitles/annotation) to the whole clip of the GIF. You could change colors of fonts and adjust the position of the text by drag and drop. What's more, it allows users to put text on either the whole or part of the GIF and also change the text on various frames or parts of the GIF.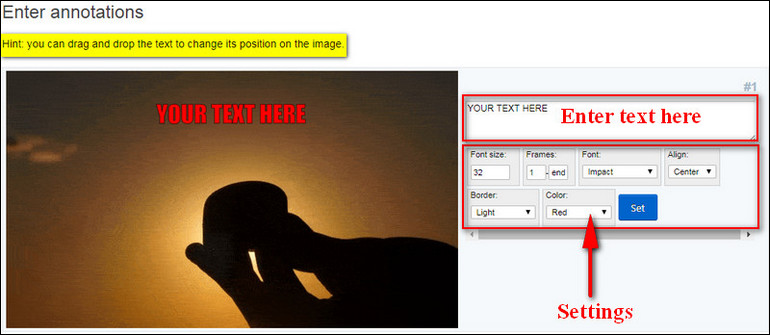 Add Text to GIF with EZGIF 2
3. Add Text to GIF with Online GIF Editor - GIFGIFS
GIFGIFS is also a great online GIF editor that allows users to add text to a GIF in a couple of seconds. All you need to do is just upload or paste URL of the GIF, enter your text, choose font styles, then press the "ADD TEXT" button to perform the conversion.
Want to edit the text layer you created? Simply double-click on the text layer, and you can also move the text layers by drag and drop.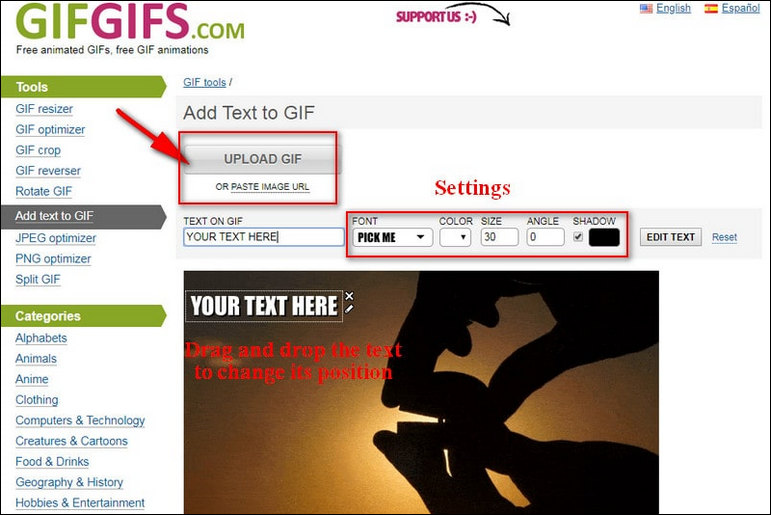 Add Text to GIF with EIFGIFS
4. Add Text to GIF with Online GIF Editor - Giphy.com
Giphy offers various effects that can be added to animated GIFs, such as stickers, captions, filters, etc. It must be your go-to option if you need more special effects for your desired GIF.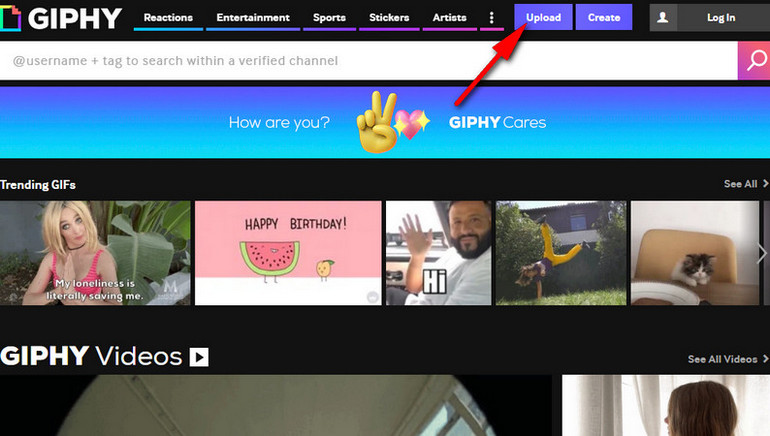 Add Text to GIF with Giphy 1
It is super easy to navigate tool and edit your GIFs. Just upload your animated GIF first, and start adding text with the "Caption tool", or adding stickers and filters to your GIF. The only drawback is that you must sign up and log in to start editing.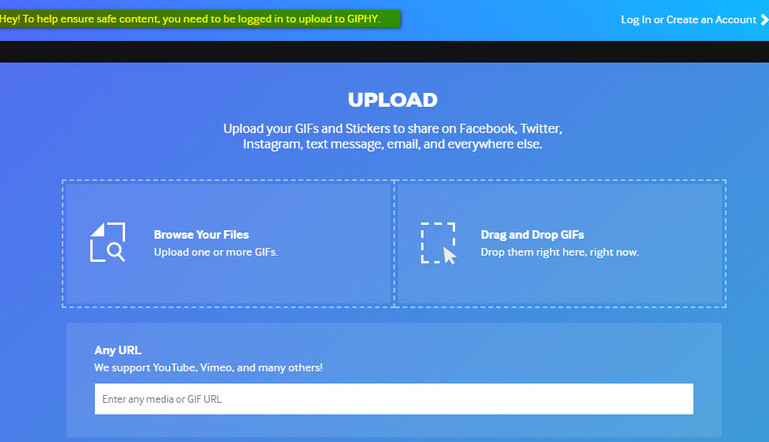 Add Text to GIF with Giphy 2
Final Words
That's all about how to add text to a GIF. You can use FlexClip's online GIF maker to make a unique GIF with funny caption and words from your own clips and photos, or pick one of the 3 GIF caption makers to put text on a GIF in clicks.