Windows 11 is the latest version of Windows. Compared with previous Windows 10, Windows 11 has brand new taskbar just like that of in Chrome OS, taskbars, snap layout, and most importantly, updated default apps.
When it comes to video editing, the default Photos app in Windows 11 is more privileged in that it's remarkably capable not only for organizing and editing photos, but also for video editing with titles, transitions, effects and more. This advanced app also contains some features that some paid photo applications are short of, like integrated maps for photos with location data, auto-generated albums, face recognition.
Despite of all the great improvements Photos app has made, many of you may be still not satisfied with the Default Photos app to make video edits. Luckily, there are always more options. Here in this post, we summarized the top 10 Windows 11 video editors for you to choose. Some of the Windows 11 video editors are browser-based, some are software. Check the following contents out and decide which Windows 11 video editor to go.
Also Read: Best Webcam Recorders for Windows >
Free Video Templates for Everyone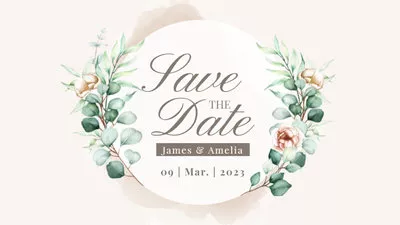 Wedding Save The Date Slideshow
Part 2. Best Windows 11 Video Editing Software
Best Windows 11 Video Editors Based on Browser
Lots of people claim that all online video editors are not safe. They might steal your information or send spam. As a matter of fact, online video editors now are reliable with SSL. Windows 11 also improves the response speed of browser, which also makes browser-based online video editor a great choice for Windows 11. Moreover, online video editors don't take too much CPU and storage place.
Best Video Editor for Windows 11. FlexClip
Price: Free. Subscription plan starts from $9.99.
FlexClip is an online video maker that works on all Windows 11 computers. It is best for those who are new to video editing because its intuitive and easy-to-use features. Anyone can easily find a specific feature and finish editing in clicks. Also, you don't have to register nor download any launcher to use FlexClip. All you have to do is enter FlexClip's editing panel and start working on your videos. If you find FlexClip is just not your cup of tea, discard your work without leaving any information.
FlexClip's main features include trimming, cutting, cropping, rotating, filters, effects. These features will basically meet all your needs in video editing. If you have no ideas to get stated, over 5000+ templates ranging from birthday invitations to business ads are all editable for free! Pick one to start editing!
Windows 11 Video Editor - FlexClip Overview
FlexClip evolves itself into AI-based video editor. You can fasten your video editing process with AI script generator, AI text-to-speech tool, AI text to image, AI text to video tool, and more. Explore endless possibilities at FlexClip!
Windows 11 Video Editor - FlexClip AI Tool Overview
What We Like About FlexClip
3. Great templates and effects
4. Powerful editing features and AI tools
5. One-click share to YouTube or via short link
2. Clipchamp
Price: Free to edit. Paid plans starts at $9 per month.
Clipchamp is a Windows 11 video editor that can be accessed through. Rumor as it is, Microsoft has buy Clipchamp and intend to integrate it to Windows 10 and Windows 11.
Different from other online video editor on Windows 11 which may limit users' access to advanced features, Clipchamp allows everyone to use all its editing features while limiting access to stock library and templates.
There is a reason behind this phenomenon. Clipchamp only contains some very basic features like trimming, adding text. The effects are quite limited. There are only over 30 filters that users can use. Graphic overlays are not extensive enough. Funny thing is, there are just 11 background music soundtracks for free and 21 more for business level subscribers.
We also need to talk about the slow exporting. Clipchamp is far more slower than its competitor while exporting any work. Don't ever try making a long video with Clipchamp.
Pros
Great templates and stylish effects
Cons
Limited control over effects
Limited background resource
Windows 11 Video Editor - Clipchamp Overview
3. Kapwing
Price: $16/month
Kapwing is an online content creation platform and video editor that lets creators of any skill level tell their story via video. Now, millions of creators use Kapwing to create their videos each month.
Kapwing main features include editing functions like cutting, rotating, changing the size, dividing the clips, looping, special effects like transitions, filters and auto subtitles. One of the best features is social sharing. Once you get your video done, you can share it immediately to your social channels. Most people also love the auto-subtitle feature. It can literately generate subtitle in any language and imbed to the video.
However, please be aware of the bugs that may come with Kapwing. Some easy-to-occur bugs may include, fail to load screen recordings, fail to sync music, etc.
Pros
Lovely animated templates for both business and personal
Cons
Only 48 hours of project saving for non-subscriber
Windows 11 Video Editor - Kapwing Overview
4. Clideo
Price: Free with watermark. Subscription plan starts from $9.
Clideo makes it super simple to edit all video files, images, and GIFs. Instead of giving you an editing panel, Clideo provides single video editing tools. If you just want to make small video edits on your Windows 11, Clideo could be great to go.
Clideo provides a numerous tools for you to use, like merging, resizing, adding subtitles, cropping. All tools are extremely effective. Select the right parameter, you will get your video back in several minutes.
If you want to make overall video edits, Clideo also gives you an editing panel with all tools inside. Even though it is still on beta version, it is worth a try. However, we must say, these tools are very basic. No advanced editing features like removing background, music and video syncing etc.
Pros
Loads of video editing tools help making small edits
Cons
Video editing panel doesn't provide advanced tools
Free account comes with watermark
Windows 11 Video Editor - Clideo
Best Windows 11 Video Editing Software
Generally speaking, video editing software contain more powerful editing tools than online video editor because video editing software on desktop are free from the restrictions from the browser. However, they might be harder to master for beginners.
1. Adobe Premiere Pro
Price: $20.99 per month.
While discussing the finest video editing software for Windows 11, Adobe Premiere Pro, the expansive, professional-level digital video editing program must have its name.
Adobe Premiere Pro has everything you need to make basic video editing. The problem is that this software could be hard to master. You may have some difficulties while figuring out the exact features and use it.
The best pro of Adobe Premiere Pro feature is its advanced features. The advanced features of Adobe Premiere Pro are multicam editing, 3D editing, which are good to make good animations. Also, this application welcomes additional plug-ins from the outside to increase its functionality.
Pros
Good for creating animated graphics
A large variety of transitions and effects
Integration of other Adobe software
Cons
Hard to master for video editing newbies
Windows 11 Video Editor - Adobe Premire Pro
2. Lightworks
Price: Free version is available. Subscription starts from $24.99.
Feeling like creating cinematic videos? Then go with Lightworks! For 30 years, it has helped creators from Oscar-winning Hollywood legends to YouTubers create all sorts of videos. It is free for the first 7 days with limited features, after that, you need an upgrade for the pro version of the tool.
Once you downloaded and set up the parameters, you will see four steps above, they are Log, Edit, VFX, Audio respectively. In the Log page, you need to upload all media resources. Currently, you can upload resources from Box, Dropbox, Google Drive and OneDrive and more. In the Edit section, you can cut, trim, and adjust the layer of the resources. Special effects like filters, color correction are in VFX and audio section. The whole editing process is streamlined and easy.
One other interesting thing about Lightworks is Automated Quality Control that can be accessed from the editor directly. Your video can be leveled up in just several clicks. This is quite useful for broadcasters and film creators.
However, while exporting, you may feel odd to find that even pro version only allows to export video in 1080P. 4K videos are not supported.
Pros
Streamlined video editing process
Automatic quality control feature help level up your work in minutes
Cons
Windows 11 Video Editor - Lightworks
3. Kdenlive
Price: Free.
Kdenlive is a free and open-source video editor for Windows, Mac, and Linux offering tools to create basic to advanced YouTube videos.
The tools Kdenlive provide include multi-track editing, audio volume adjustment, video snap, markers, caption editing, audio mixer, color analyzer, keyframes and more. In general, there are no too many advanced tools, but as a beginner, you might need several hours to figure out the program. However, it is possible to learn each section separately by offering workspaces.
The biggest shortcoming could be its track number. You can only add two video tracks and two audio tracks for editing. This software can sometimes freeze while working with effects. Also, this program drives CPU resources, making the PC slow and hot.
Pros
Free to use open-source video editor
Cons
Crushes while using effects
Only four tracks can be added
Windows 11 Video Editor - Kdenlive
4. VSDC Video Editor
Price: Free version is available. VSDC Pro costs $19.99
VSDC video editor is a free non-linear video editing software for Windows. It is suitable for both beginners and advanced users on a budget.
People love VSDC not only because it is free, but also its powerful tools. Please be noted that we are talking about really powerful tools, like motion tracking, unlimited video tracks, chroma key, color wheel, VR, and you are getting them all for free!
The shortcoming of VSDC is obvious. The interface lacks polish. Once you download VSDC and launch it, you might even think this is an outdated video editing software. As a matter of fact, VSDC team updates it frequently. Also, there Are no full-screen video preview and background music.
Pros
Doesn't take up too much storage space
Supports all kinds of video audio format
Cons
Only available on Windows
No background music resources
Windows 11 Video Editor - VSDC
The Bottom Line
The above are top 8 video editors for Windows 11. Online video editor or video software on desktop? Which video editor for Windows 11 will you go? Tell us via Facebook. If you find this Windows 11 best video editor list helpful, please do share it with others. You will never know who you are helping.