Creating a relaxing white noise video on YouTube offers a magical remedy for individuals with anxiety and trauma to wind down and get some good sleep. White noise videos can also soothe the minds of people who are meditating or trying to stay focused on work or study.
So, if you are planning to make a relaxing white noise video for YouTube to help those in need to relieve burnout and stress and get more likes, comments, and followers for your YouTube channel, we've got you covered.
In this tutorial, we will walk you through what a white noise video is and the 8 best white noise for making a white noise video, and how to easily create a soul-soothing white noise video online.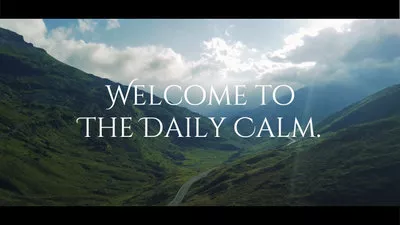 Natural Forest Rain White Noise
Forest Birds Chirp White Noise Video
Here's What You Will Learn:
Also, read how to add subtitles to YouTube automatically.
What Is a White Noise Video
A white noise video is a popular video content on YouTube that features relaxing and calming white noise sounds, such as the sounds of rain, the humming electric fan, undulating ocean waves, etc., together with either static images or footage showing the scene.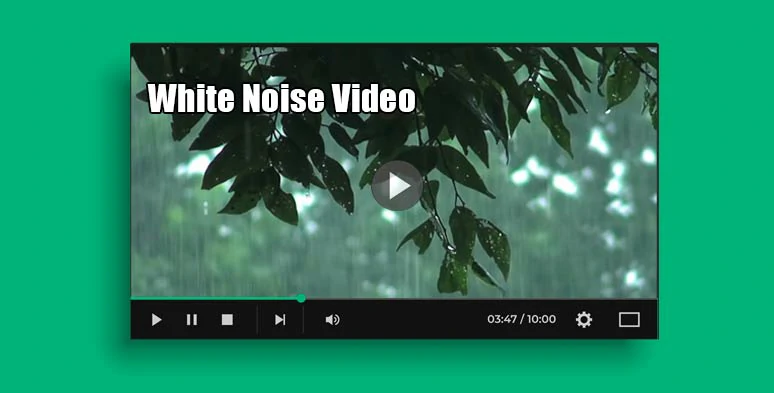 A relaxing white noise video featuring the sound of rain on YouTube.
The magic healing power of white noise videos lies in that they contain all audible sounds at equal intensity, which is helpful for people with anxiety or fatigue to regain a sense of peace and relaxation for a sound sleep or stay focused.
So, now you may wonder what are the best white noises for making a white noise video for YouTube. Here, we've rounded up a list of the top 8 white noises you can use to add peace and tranquility to your white noise video.
The sound of rain hitting the rooftop, windows, or leaves.
The sound of waves crashing on the shore.
The sound of a babbling brook with birds and crickets chirping.
The sound of a waterfall, cascading down green and mossy rocks.
The sound of a humming electric fan.
The sound of rustling leaves, grass, and trees in the wind.
The sound of a crackling campfire next to a gently flowing river.
The sound of exotic birds, and crickets in a tropical forest.
How to Easily Create a Relaxing White Noise Video Online
As opposed to YouTube video tutorials, or a cinematic movie intro, a relaxing white noise video is extremely easy to create. All you need is a versatile online video editor with vast royalty-free images, footage, and ambient sound effects.
To that end, the user-friendly and feature-packed FlexClip online video maker can help you create a soul-soothing white noise video in one place with ease.
Create a soothing white noise video in a breeze by FlexClip online.
With FlexClip, you may use up to 4M+ royalty-free stock images and videos and select from 74,000+ high-quality music tracks and sound effects to make a relaxing white noise video. You can easily lay multiple white noise sound effects, such as the sound of gentle raindrops, chirping crickets, birds, etc. on the intuitive timeline to create depth and vibes for your white noise video.
Besides, if you are a YouTube content creator, you can also find thousands of designer-made and fully-customizable video templates that can be used for your video creation.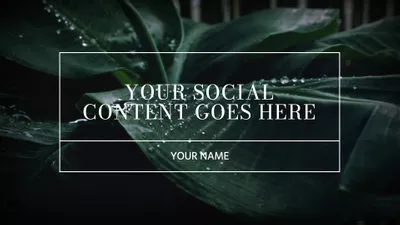 YouTube Rain White Noise Video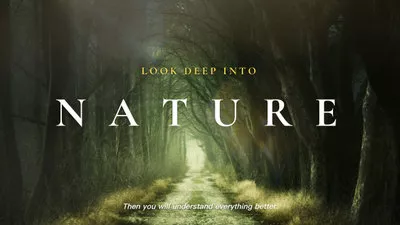 Nature White Noise Video
Forest Morning White Noise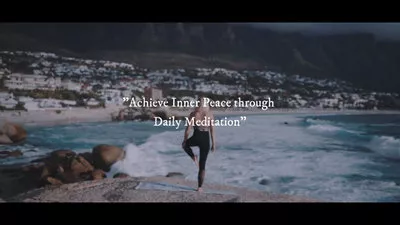 Relaxing ASMR White Noise Video
What's more, user-friendly video and image tools, such as free text-to-speech generator, image background remover, and video to audio converter, auto subtitle generator, and image/video crop mask, effect overlays, speed controls, 200+ trending transitions, 1,000+ text animations, etc. will boost your video editing productivity and save you tons of precious time.
Step 1
Access FlexClip
> click the Video or Photo tab > type in "rain" "wave" or "forest" to search for the royalty-free footage or image for your white noise video > click the plus sign to add footage/images to the intuitive timeline.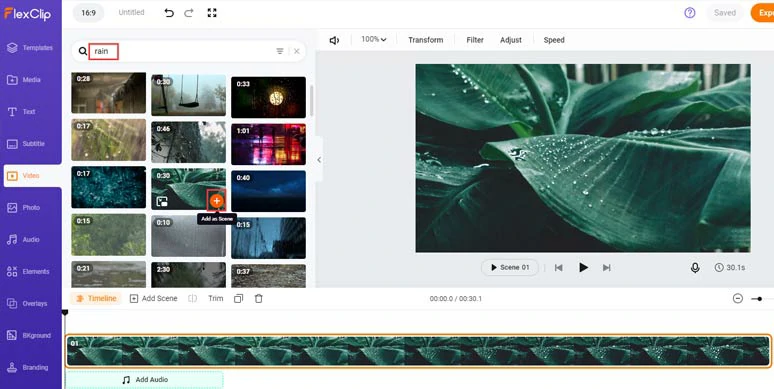 Add royalty-free rain footage to the intuitive timeline.
Alternatively, you may also upload your own video assets from your PC, phone, Google Drive, One Drive, Dropbox, or Google Photos.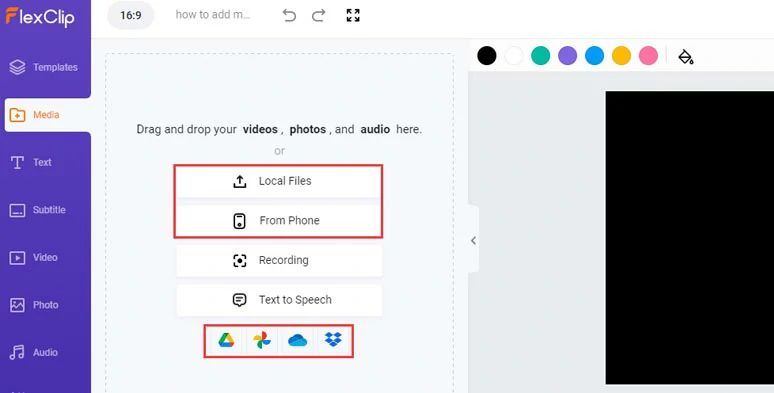 Upload your video assets to FlexClip.
Step 2
Click the duplicate button to copy more of the rain footage to the timeline or add more footage from the stock videos.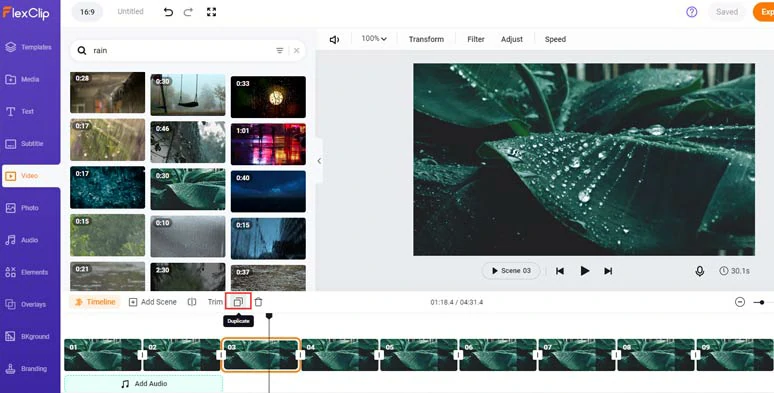 Duplicate more rain footage or add more footage for the desired video duration.
Step 3
Add white noise sound effects to the video.
Click the audio tab > sound effects > type in "rain" to select and add rain sound effects to the audio track > adjust rain sound effects' volume or apply a fade in/out effect for a seamless audio transition. > duplicate the rain sound effect to make it align with the video length.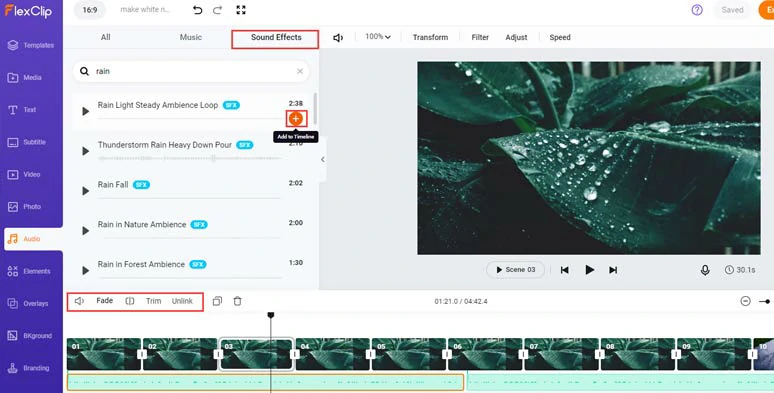 Add rain white noise sound effects to the audio tracks.
Alternatively, you can layer more ambient sound effects, such as "cricket", or " birds", etc. to create a depth and real-world auditory experience for your relaxing white noise video. You can adjust their volume and use the "link" tool to group multiple sound effects and duplicate more of them.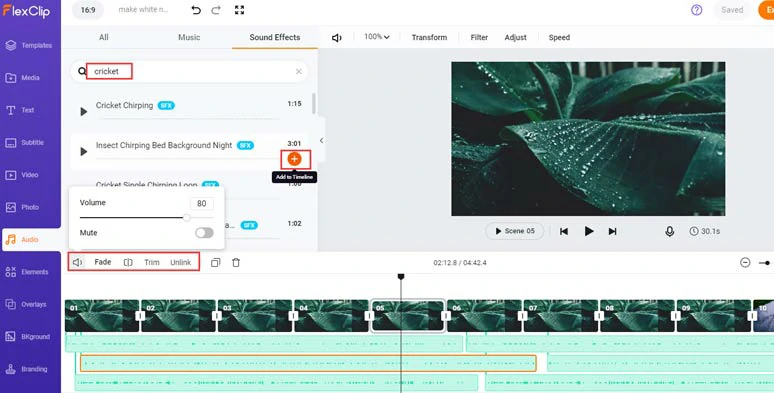 Layer cricket and birds' chirping sound effects to create depth for the white noise video.
Step 4
Add text animations to your white noise video.
Though white noise video is more of a video for hearing than watching, you do need to add animated text for video titles and call-to-actions to prompt viewers to subscribe, like, and follow your YouTube channel.
Click the Text tab and you can use 1,000+ ready-made text animations, such as lower thirds, minimal titles, profile titles, brush titles, etc. for your needs. All the text font, text size, text color, alignment, opacity, etc. are fully customizable.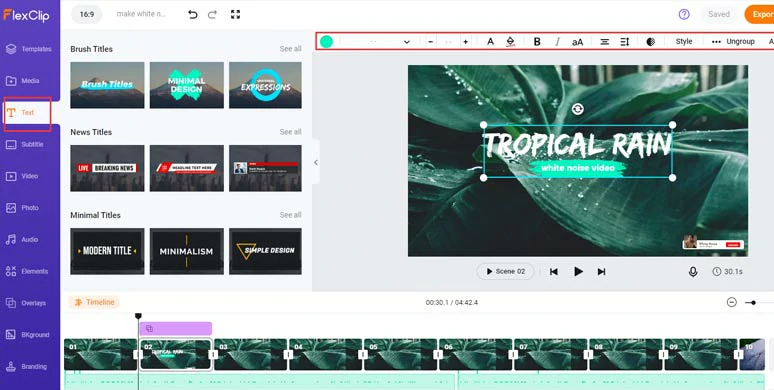 Add catchy text animations to your white noise video.
You can click the Motion tool to animate the text with cinematic styles, like a typewriter, bounce, glitter, etc. in one click.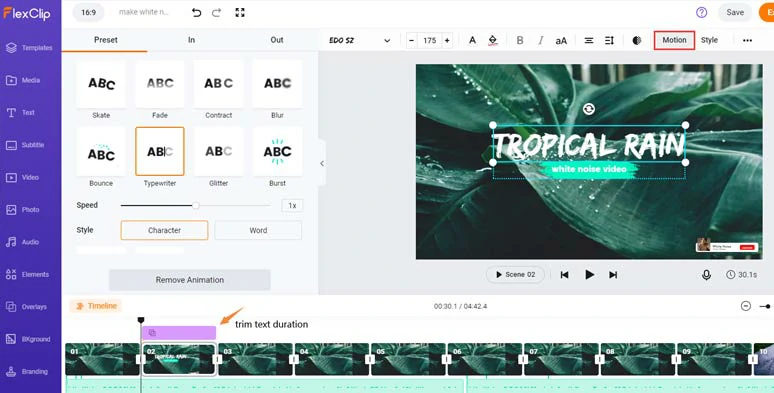 Customize the styles of text animations.
Step 5
Preview and share.
Done with the editing, you can export the video as 1080P MP4 to your PC, or directly share it on YouTube, Google Drive, One Drive, Dropbox, or even TikTok; a clickable link is also available for your blogs, newsletters, or other repurposing.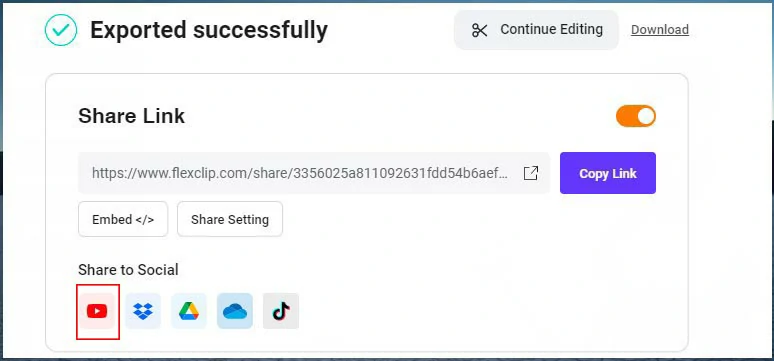 Easily share and repurpose your white noise video.
If you only need the audio of the white noise video for listening through your iPhone, you can use FlexClip's free video-to-audio converter to convert the MP4 video to MP3/WAV audio file in one click. Pretty handy!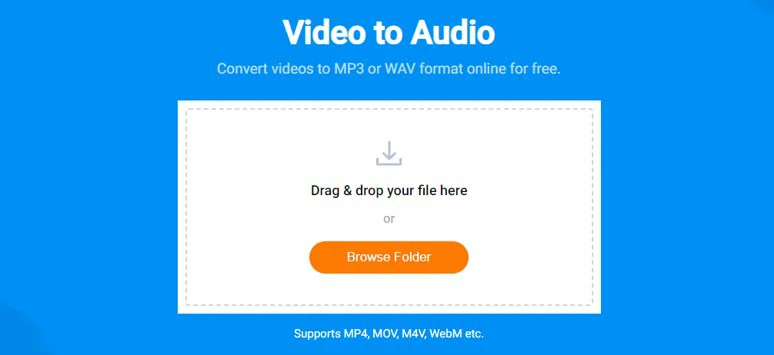 Extract the audio from the white noise video.
FAQs about Making a White Noise for YouTube
1. Can I Monetize White Noise Videos on YouTube?
Yes, so long as you are the video creator of your white nose video and have the copyright to the images, audio, and footage in your video. You can monetize your white noise videos on YouTube.
In fact, compared with other YouTube video content, white noise videos have stunningly higher views (many have over 1M views) and longer watch times and are easy to make, and are helpful to relieve people's stress and anxiety. That's why it's a evergreen video content on YouTube.
2. Where Can I Find White Noise Sound Effects?
Well, there are many ways to find white noise sound effects. You can record the sound of rain, birds, or waves through your iPhone or use royalty-free and high-quality ambient sound effects from FlexClip or soundtrack providers like Epidemic Sound, Artlist.IO, Audio Jungle, Adobe, etc.
Different platforms have different copyright policies. But, if you want to find quality footage, image, and white noise sound effects and edit them into a calming white noise video in one place, FlexClip is your best bet.
3. How Long Should My White Noise Video Be?
Well, many white noise videos found on YouTube can last from 30 mins to hours long. However, we suggest that 20-30mins will do because YouTube has a built-in loop play feature for viewers. Simply right-click on the white noise video and select the loop option. Then the white noise video will loop infinitely.
Now, It's Your Move
So, with our tutorial, hopefully, you can create great relaxing white noise videos that bring peace, relaxation, and good sleep to people with stress, fatigue, and even trauma and see your YouTube channels grow substantially. If you find our tutorial helpful, do share it on your Facebook or Twitter and leave your take to us, Cheers!