Vimeo is a prominent media streaming and publishing site comparable to YouTube but has several distinctive elements, such as the popular Vimeo Create video editing tool. Vimeo Create is a novel movie creation service from Vimeo that lets users construct a commercial or professional film using themes, commercial pictures, and clips, among other things.
Vimeo can help you make the switch to multimedia by enabling you to generate, enhance, and publish high-quality videos rapidly. Now you must read the following material to learn how to utilize Vimeo Create.
How to Edit Videos with Vimeo Create
To get started, here area few things you need to know.
Vimeo has announced a digital application for Android and iOS that can be downloaded from Google Play or the App Store. If you want to use Vimeo Create on your Windows or Mac desktop computer, go to the Vimeo Create web version to get started right away without having to download anything. For that, you need to follow the steps below to edit videos with the Vimeo video editor.
Vimeo Create: How to Edit Videos
You need to sign up or log in to your Vimeo account to use the Vimeo Create tool, then proceed towards Create tab and select the + button to commence making a novel clip, or tap the + New Video box to begin. We believe the users can now produce a film from scratch or use one of the suggested or established templates. We will further demonstrate methods to modify films on Vimeo using a template or without one in the subsequent sections.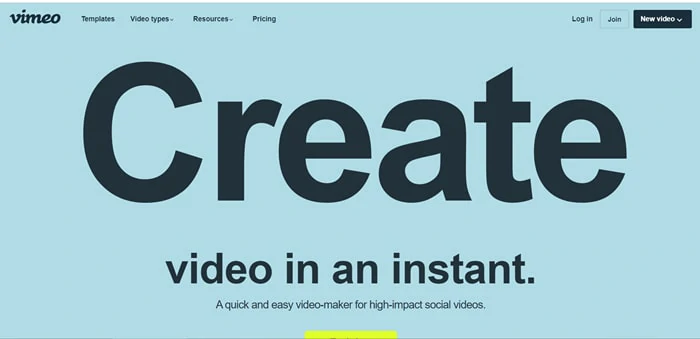 Sign in to Your Vimeo Account
How to Edit Video on Vimeo with Templates
We apprehend, Vimeo creates, provides you with certain unique templates which surely leave you in awe and make you want to lay your hands on them. Here are certain steps you need to follow to edit a video on Vimeo with templates.
Step 1
Pick up a template
It would help if you comprehended what your potential audience would prefer in terms of video style. You need to choose a genre from the left panel or type a term into the search box at the top.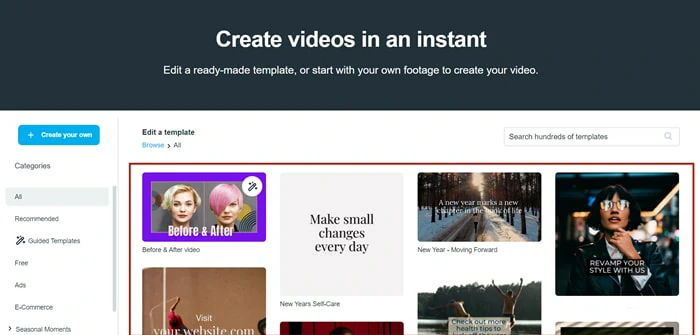 Select a Template
Step 2
Customize the template
After you've chosen a template, select the Customize option to begin personalizing it to cohering with your liking, such as altering the colors, styles, decals, as well as adding music. You may also adjust the ratio to fit in, so you can preview it on other social media sites and make sure it looks smooth and not bizarre, satisfying the aesthetic.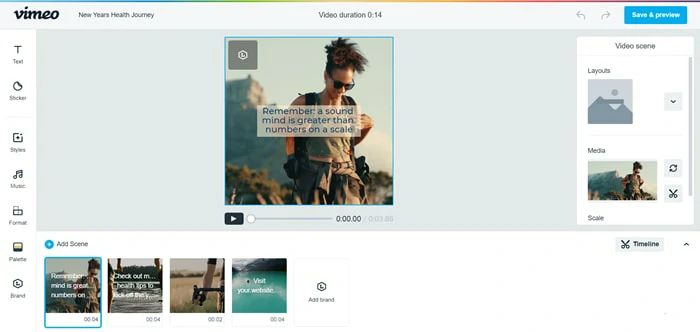 Customize the Template
After you've finished completing the modifications, select the Save & Save button to proceed to the following stage. Select the Download or Publish to Social option based on your desire, and then indicate where you wish the video to be distributed.
How to Create A Video On Vimeo Starting from Scratch
We are sure you would want to compile your videos and images to create your masterpiece. You don't have to worry about it as we have sorted this concern of yours as well. Underneath, you will find methods that you need to follow to create your version using Vimeo.
Step 1
Start from Scratch and upload media
On Vimeo, select the Start from Scratch button. Compose the main interface before moving on to the Storyboard, from where you need to choose your images which you tend to combine.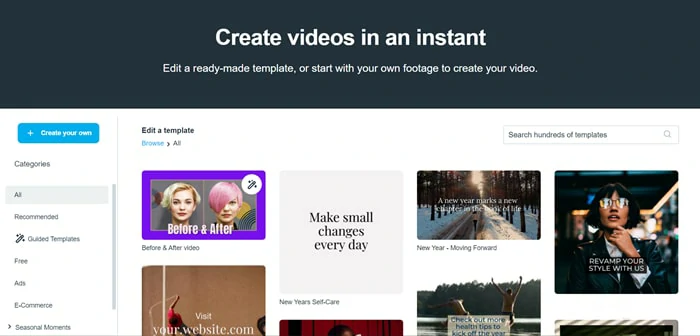 Make a New Video
Additionally, go to the style area to improve your video's engagement with your audience by using the different options available there.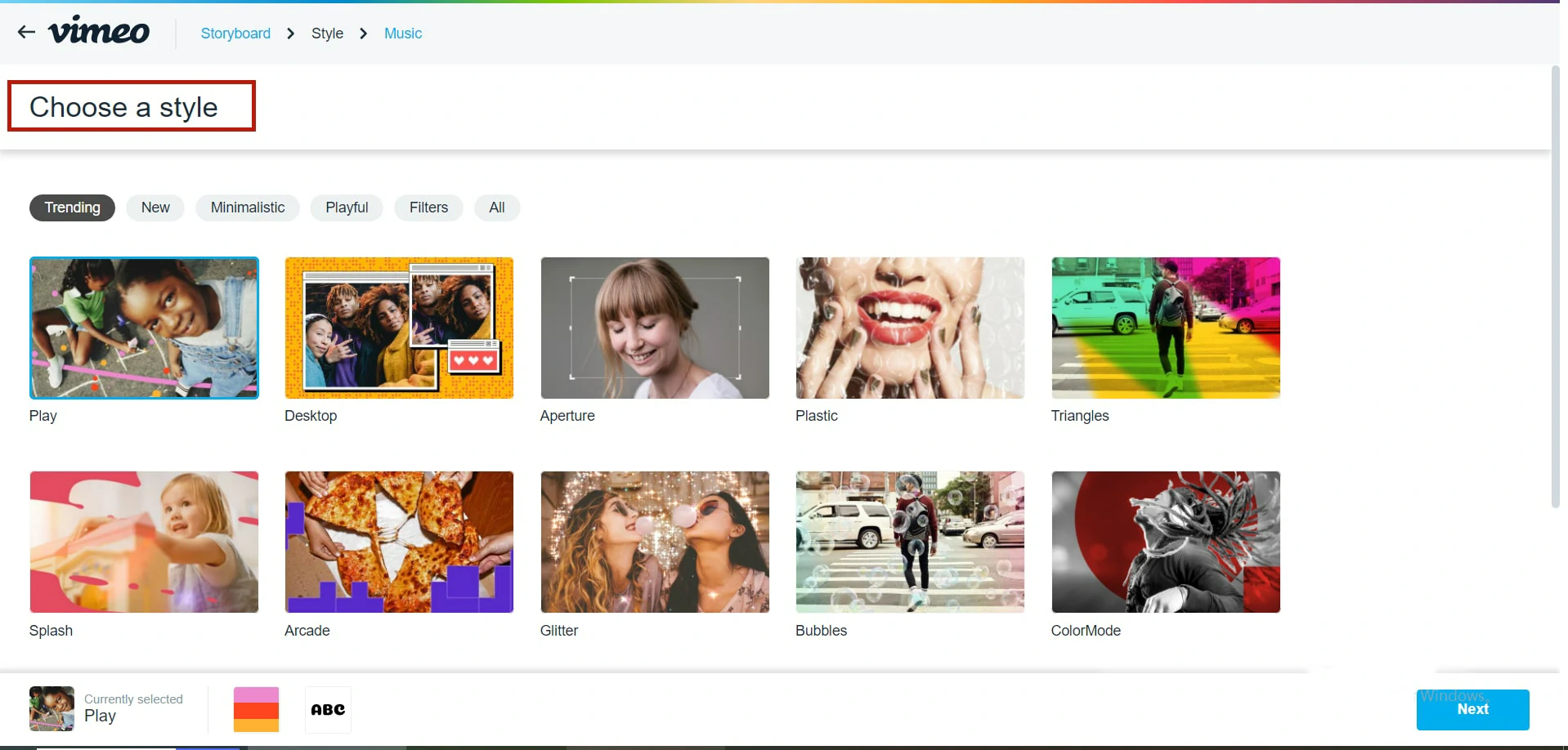 Choose a Style
Now you must add music to your video to make it more engaging. Music can provide an additional dimension to the tale and create the movie fascinating to the viewers. Still, you should be aware of Vimeo's limits, such as that you won't be able to upload your music, but you can still utilize music from its catalog.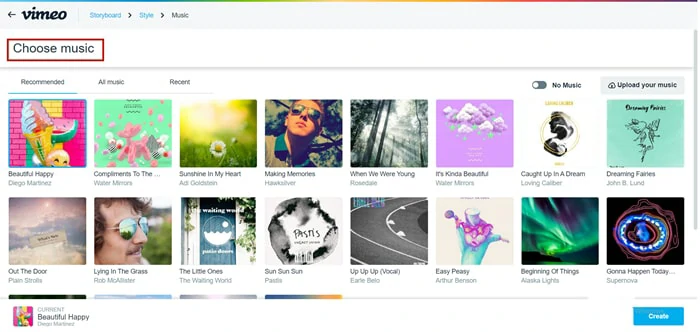 Add Music to Video
Step 4
Preview and export
Your clip will be accessible for screening once you execute these small instructions with the Vimeo video editor. You can also save it in the Video Manager section to make amendments. You need to select the save and share option merely, and your film will be streamed immediately.
The Best Vimeo Create Alternative
As discussed above, regarding the music, other certain aspects overshadow the features of Vimeo and thus make it less efficient and reliable, such as stock media, certain themes, and styles, and the Brand Kit is not available to basic consumers. Just Pro, Business, and Premium customers have access to stock media. Create videos are limited to 10 minutes in length only and not longer than that. We apprehend, users don't need further chaos and distractions to create videos; thus, we have other alternatives to Vimeo video editor.
FlexClip is the most prominent and extensively utilized free video editing program, offering a comprehensive spectrum of media editing software that lets you make movies that aren't on Vimeo and doesn't require you to download it. Instead, you can access it through the webpage only. Amongst the great attributes is that it is watermark-free, allowing you to apply any logos or video watermarks you desire. It's also incredibly user-friendly, allowing users to mix videos and make any film, as well as providing professional video, image, and audio templates. They also offer a variety of templates which is the highlight of your video, making it interesting and captivating.
The Bottom Line
We analyze, Vimeo video editor provides both advantages and disadvantages, making you a little reluctant to use it. However, we note, FlexClip on the other hand, solves your concern and provides you with the best editing software and a variety of templates. Do remember give it a try!