TikTok has launched a series of AI filters to make TikTok video creation more fun and interesting. The AI Style Filter can transform a person or an object into fantasy art, the AI manga filter can turn you into an anime character, while the AI face filter can blend you with an object or a person you choose. The list will go on and on.
AI effects are currently not available in some regions. Even if they are available in your region, it might take you a few while to figure out how to get the AI filters and how to use them.
Can't Miss: Save TikTok Video to Camera Roll without Posting >
Part 1. How to Get AI Filters on TikTok
The AI filters are hidden behind the Effects options. Do the following to get and use AI effects.
Step 1
Launch TikTok, tap the Plus icon on the button to open up the camera. Go to Effects.

Upload Drone Footage
Step 2
Click on the magnifying glass, search for the AI.
Find AI Style Filters
Part 2. How to Use AI Face Filter on TikTok
After selecting the AI Face filter, you need to move your face so that it fits the template. A few seconds later, a picture will be taken. Tell TikTok what you want your face to be morphed with, for example, a cowboy in space, a firefighter in the rain. Click on Create.
Part 3. How to Use AI Style Filter on TikTok
Get AI Style filter under Effects. Tap on the screen or upload a photo to use the filter. The filter will soon turn you into a golden statue or mermaid.
Part 4. How to Use AI Manga Filter on TikTok
Select AI Manga effect, upload a photo to TikTok or tap the screen to take a picture of yourself. A few seconds later, the image will be transformed into a cartoon in the style of Japanese Manga.
Bonus Tip: How to Generate 10 Trending TikTok Videos in Minutes
No need to create a video and make edits frame by frame. With the help of an AI TikTok video generator, it is extremely easy to generate TikTok videos in seconds. FlexClip, the best TikTok video generator, is equipped with a script generator and text-to-video generator. Tell FlexClip what your video is going to be and let it create a good TikTok video for you.
Click on the Generate an AI TikTok Video button below to start generating. Here are also some video templates you may use. Check them out!
Step 1
Go to Tools > AI Script Generator. Tell FlexClip what your video is about, FlexClip will write an excellent script for you. Copy the script.
AI TikTok Video Generator FlexClip - Generate a Script
Step 2
Go to AI Text to Video tool, paste the script, choose a subtitle style you like and hit Generate. A video with subtitles will automatically generated.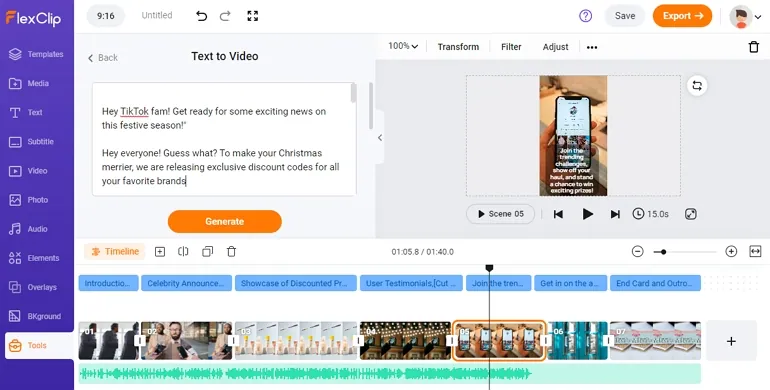 AI TikTok Video Generator FlexClip - Text to Video
Step 3
If necessary, add narrations to your TikTok video with AI text-to-speech tool.
Step 4
Share directly to TikTok.
FAQs
1. Why can't I use the AI filter on TikTok?
TikTok AI filters are only available in some areas now. Please wait patiently for the AI filters to reach you. Please also remember to update your TikTok app.
2. What are the AI filters everyone is using on TikTok?
TikTok has several AI effects. The most popular ones are AI Face effect, AI Style filter, AI Manga filter. Do give those filters a try!
3. Can I use AI filters on other platforms?
Yes, you can use AI filters on other platforms. Instagram, Facebook and others have AI effects.