Subtitles are an integral part of a movie or video.
While for a movie buff or a TV show addict, downloading the subtitle for the latest update of your favorite movies and TV series should be your survival skills.
In this post, we will introduce you top 10 subtitle websites to freely download subtitles for the latest movies and TV shows in multiple languages, along with 3 helpful sites to download subtitles from YouTube.
Contents:
Top 10 Subtitle Websites for Movies and TV Shows
1.Subscene (open subtitle web, highly recommended)
Subscene is one of the top subtitle sites to download movie subtitles. It has a huge database collection of subtitles in many languages, but make sure it's available in java on your PC before downloading.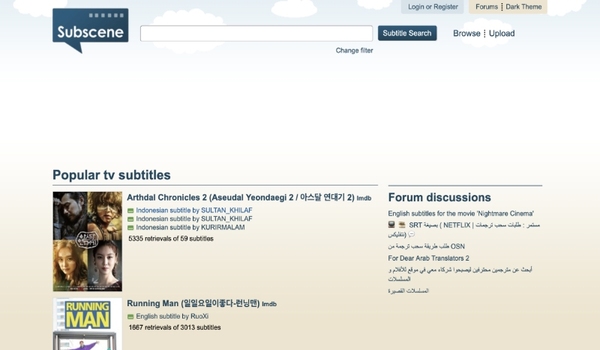 Popular subtitle website: Subscene
You can easily download subtitles of popular movies and TV series, even that of music videos on the Subscene site. And It provides a forum for subtitles download, so you can leave your comments and discuss the movies here with net friends.
All the subtitles are sorted alphabetically and curated by global users, from Arabic to Bengali, Chinese, Danish, English, French, Turkish, etc. It's an open subtitle website, highly recommended.
Insider Tips:
The subtitle is often packed in a Winzip file. You need to download it and unpack it to get an SRT file, where the content of each subtitle, its sequence, and timeline are perfectly stored.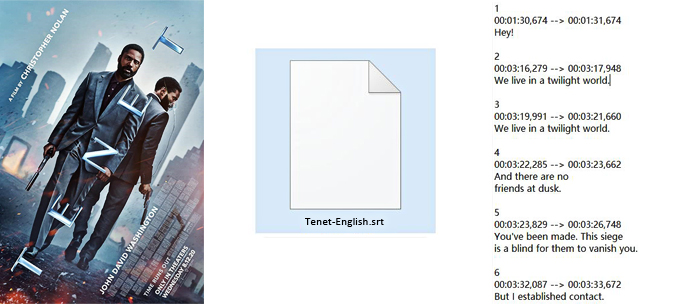 The downloaded SRT file for the movie 'Tenet'
Then rename the SRT file with exactly the same name as your movie and put them in a folder. Next, open a media player to play the movie and load the corresponding SRT file. You can sit back and enjoy the movie with the right subtitles now.
If the media player can't load the SRT file, check how to add subtitles to movies.
2.Open Subtitles (for rarely-seen movie subtitles)
Though having a vintage look, Open Subtitles, one of the biggest webs to download subtitles, offers you thousands of translated subtitles for movies and TV series in multiple languages daily.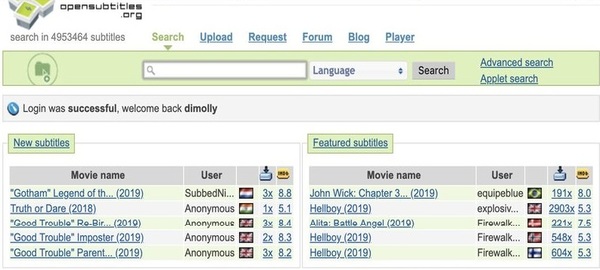 The homepage of Open Subtitles web
Sign up for the free membership and you will find many subtitles that are hard to find on other sites. Check how to add subtitles to a video
Plenty of subtitles for XviD movies and TV shows are also available. Besides, It's also possible to download DivX movie subtitles here.
3. English Subtitles (best English subtitle website)
Boasting the largest collection of quality English subtitles, English Subtitles is a treasure house for movie buffs and TV show addicts who are either native-English speakers or English learners.

Download subtitles from English Subtitles
You can sign up for free membership to look up the subtitle with the help of global users or contribute your favorite movies' subtitles in the forum.
The whole website is more than a source of subtitles but a global community for movie and TV show lovers.
4. YIFY Subtitles (easy search, vast language choice)
With up to 58 languages and an eye-catching page design, YIFY Subtitles offers you an easy search for wanted subtitles in seconds.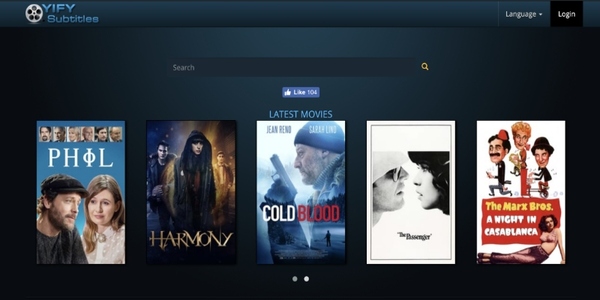 Search for subtitles in YIFY Subtitles
It would be fun to explore and navigate yourself amid a wide array of movie categories, genres, and languages with detailed reviews and download the subtitles right away.
No wonder, YIFY is one of the most visited subtitle download websites.
5. TV Subs ( esp. for TV series)
For fans of TV series, TV Subs is your ultimate choice for downloading the latest subtitles for your favorite series.
This subtitle website offers you as many as 16 languages for SRT files for all seasons of TV series. Not only can you download subtitles but also upload subtitle documents for free.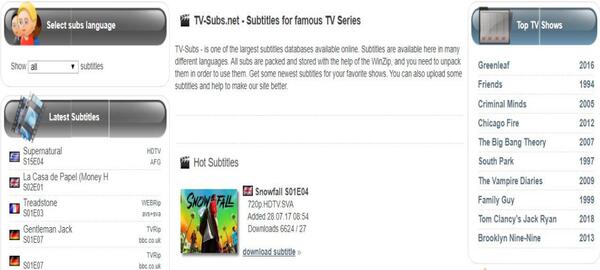 Search for the latest Tv series' subtitles in TV Subs
6. Podnapisi (huge database for movies and tv shows)
Podnapisi is one of the best sites to download the subtitles of movies and TV series and mini-series with dozens of languages available. The latest subtitles for new movies are updated every day. Also, you can find 6,517 TV series in 100 languages.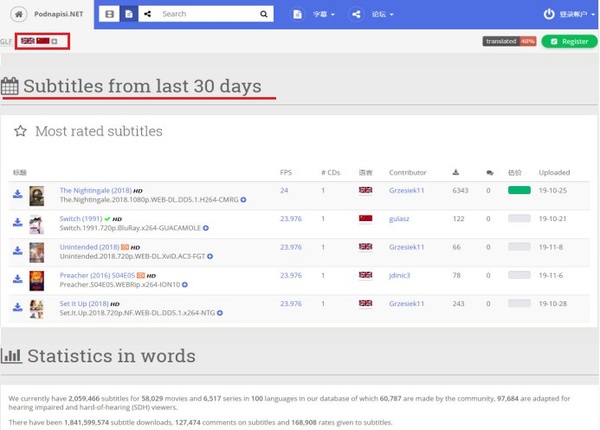 Podnapisi movie subtitles web
7. Isubtitles (classic movies, TV shows, anime)
The uniqueness of the Isubtitles website is that you can find movie subtitles even in less widely-used language, including Japanese anime subtitles like Naruto in Arabic, Persian, Indonesian, etc.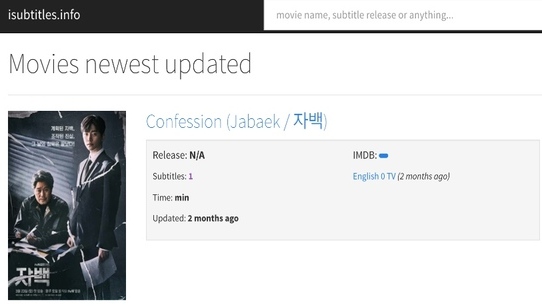 Look for subtitles in Isubtitles
All of the subtitles are available for free download on Isubtitles. Worth looking for plenty of classic movies, etc.
8. Subtitle Seeker (English subtitles, TV series)
Subtitle Seeker is one of the latest subtitle websites that are dedicated to offering quality English subtitles in SRT format for movies and TV series.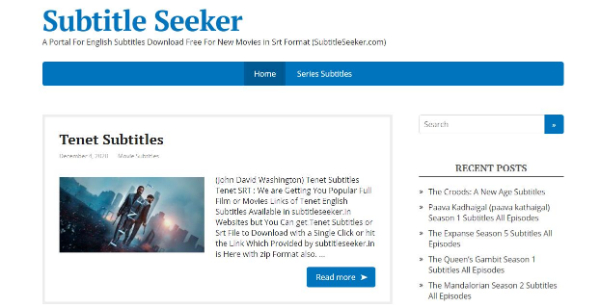 Search for the latest movie's subtitles in Subtitle Seeker
Currently, though with a relatively smaller database, you can still search for the up-to-date movies or TV series' subtitles with ease.
Simply follow your search results to download the SRT file or extract it from a downloaded Zip file.
9. Movie Subtitles (huge subtitle collection )
Founded in 2015, Movie Subtitles aims to provide the largest collection of subtitles for movies and TV series. Essentially, it is a big community for users to share free subtitles on the internet.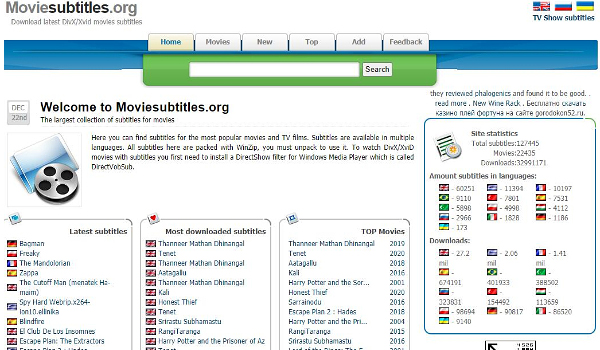 Download and share subtitles on Movie Subtitles
There are dozens of languages available for each subtitle download. You can easily switch from downloading a movie's subtitle to that of TV series by clicking on the link in the top right corner.
10. English Subtitles for DivX Movies
English Subtitles for DivX Movies offers numerous subtitles for DivX movies in English. However, the majority of the movies are exclusively from the early 20's century. You can use initial letters to search for your movie's subtitles.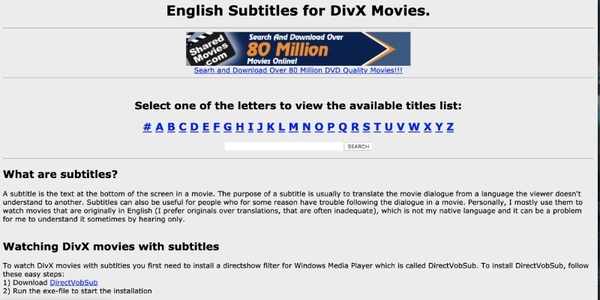 English Subtitles for DivX Movies web
If you enjoy classic old films, this subtitle website can be an option. Anyway, don't forget to install a media player that supports DivX subtitles (DirectVobSub) to watch DivX movies.
Best 3 Subtitles Sites to Download Subtitles From Youtube
Apart from the subtitle sites for movies, if you need to download the subtitles from YouTube videos, the following 3 YouTube subtitle downloaders online should do you a great favor.
1. Savesubs
Savesubs allows you to download subtitles from YouTube, Facebook, Dailymotion, Viki, and many more. Just paste the YouTube URL and then you can download the YouTube subtitles.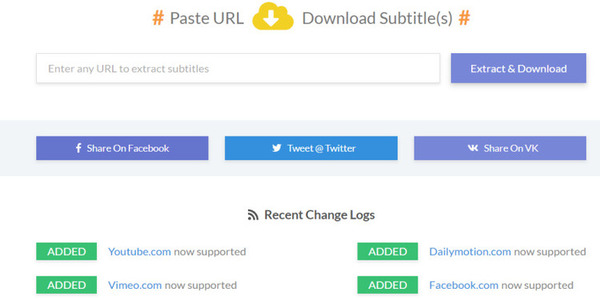 Download YouTube subtitles from Savesubs
Insider Tips:
If you find the downloaded YouTube subtitle usable for your video editing, you may use FlexClip, a free and user-friendly online editor, to add subtitles to your video in minutes.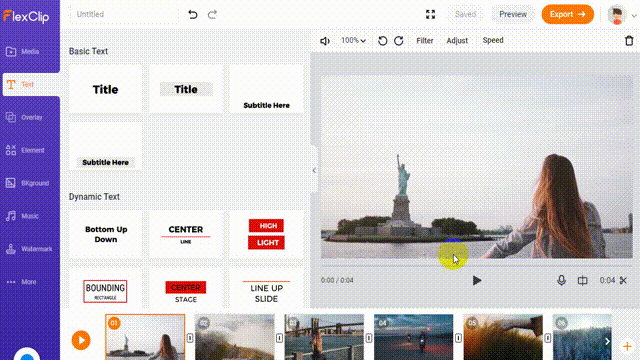 Add downloaded subtitles to videos using FlexClip
Just free feel to experience the convenience of FlexClip for most of its key features and stock assets are free and flexible to use.
2. Use Youtube Subtitle Downloader in Chrome Web Store
YouTube Subtitle Downloader is a Chrome extension allowing users to download YouTube subtitles. Subtitles can be downloaded in both TXT and SRT formats by the YouTube Subtitle Downloader.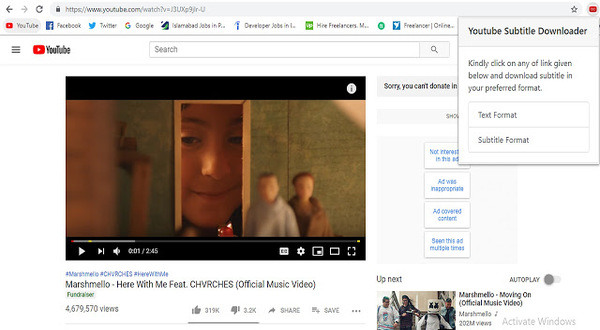 Download YouTube subtitle online
3. Downsub
Downsub is another open subtitle website that allows you to directly paste the URL of a YouTube video (including Vimeo, Viu, Viki, etc.) and select a target language to download subtitles in an SRT, TXT, or VTT file.

Download a YouTube video's subtitle online from Downsub
The Bottom Line
Whether you are a big fan of foreign movies and TV series or keen to download the subtitles from an engaging YouTube video, you will find the top 10 subtitle sites and YouTube subtitle downloaders extremely helpful for your needs.
If you want to add subtitles to your videos, it's worth using FlexClip, the free and versatile online video editor. Please feel free to explore now.