A compilation of a dozen great videos is the only thing better than one great video. Compilation videos combine the best elements of other videos into one engrossing production, such as memorable movie scenes, amusing pet clips, or sports highlights.
What's a compilation video
A compilation video is, at its most basic, a single video made up of various clips. Since they can feature virtually any type of content, compilations are among the most popular types of videos for social media. The clips chosen for a compilation video usually have a common theme, whether it's to tell a story, demonstrate a phenomenon, or keep viewers laughing. A compilation video can also be used as an audition tape for aspiring actors or to showcase the mixing abilities to strive editors. This versatile video style gives creators various options for producing and presenting their work.
TikTok is the ideal platform for introducing innovative content ideas, expanding your reach, and strengthening your community. However, TikTok may have a learning curve. It takes time, patience, and effort to create a Tiktok compilation video. These videos are more engaging and persuasive than text-based content. The benefits of compilation videos are numerous, and they include increased customer engagement, higher customer conversion rates, more social media shares, and lower website bounce rates. You can demonstrate the benefits of choosing your brand or your company's products and services by utilizing a wide range of assets.
How to Make a TikTok Compilation Video for YouTube/Instagram/Facebook
Creating TikTok compilation videos to upload on YouTube/Instagram/Facebook is becoming increasingly popular. It has created a new avenue for YouTube/Instagram/Facebook content creators to earn money. However, to develop excellent compilations, you need a good video editor to compile TikTok videos. An easy-to-use online tool can save hours of editing time. To achieve viral TikTok videos without a steep learning curve, keep your video editing process simple with a simple online video editor for TikTok.
We'd like to introduce you to the best TikTok video compilation online platform now that you know what's required. FlexClip makes TikTok video compilation and video editing simple; it is an easy-to-use and feature-rich online video maker that allows you to compile videos quickly. To make your video stand out, you can merge, trim, crop, and add subtitles; no software download and experience are needed. You can also add creative text, various sound effects, funny animations, and other special effects to your TikTok video.
The following are the simple steps for creating a compilation video with multiple clips for TikTok using FlexClip:
Step 1. Save TikTok Video
TikTok, unlike other apps, is acutely aware of your desires and preferences. TikTok's hassle-free option will save you a significant amount of time. You can keep scrolling and clicking to download a large number of videos without having to switch between apps. It's also simpler than it sounds—the time it's to quench your video thirst.
As a result, TikTok includes the ability to save TikTok videos to any device, be it a Smartphone or a PC. Even better, you don't need a TikTok account to save videos. Install the app and launch TikTok after it has been installed. On the bottom right, click the arrow icon (the 'share to' button). Select 'Save Video.' If the creators allow it, your video will be downloaded to your device in seconds.
Step 2. Enter the FlexClip editing panel and change the aspect ratio
As an all-in-one video editor, FlexClip enables you to compile multiple videos without sacrificing quality.
Before compiling the videos, consider where they will be displayed and the aspect ratio. If you have a completed video and want to change the aspect ratio to fit another platform or device, Go to the More option, select the right aspect ratio for the TikTok compilation video.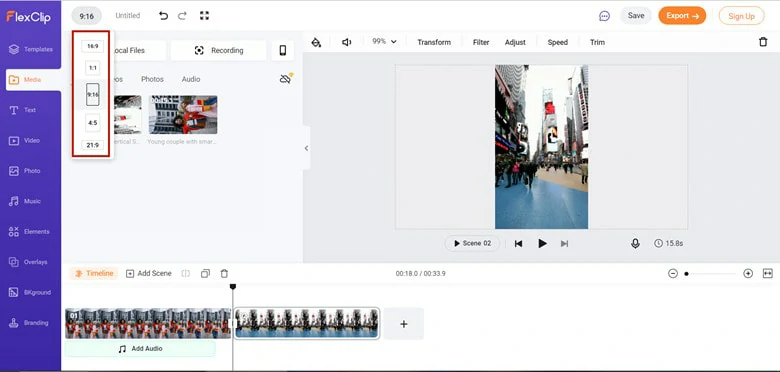 Change Aspect of Your Compilation Video
Step 3. Upload to timeline and change the order
Upload your video to the Media section, then drag clips to the timeline and rearrange the sequence as needed. You can rearrange them in any order you like. To reorder your files, drag and move the storyboard. You can remove and duplicate the media as needed for a smooth connection. You can also add transitions between two scenes to make the video more seamless.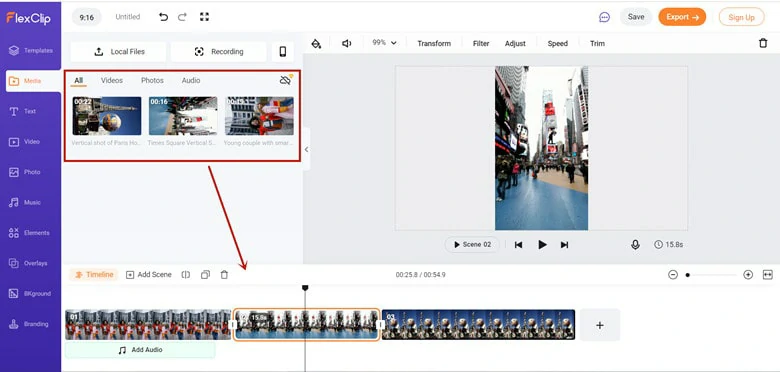 Upload Video to Timeline
Step 4. Make more edits, like adding title card to level up your TikTok compilation video - (Optional)
While editing, you can use FlexClip's various tools to improve your TikTok compilation video, such as: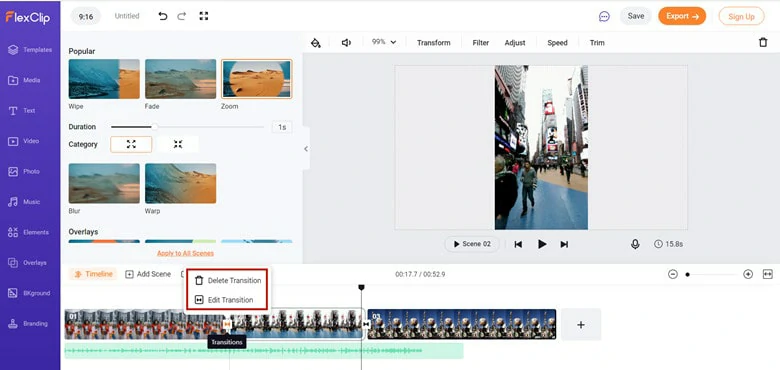 Upload Video to Timeline
The video can be split, trimmed, and rotated
Step 5. Download & Share
To enter the live preview window, click the Preview button. You can save it to your computer or share it on YouTube, Facebook, and Instagram. You can also save your video to your phone and share it on TikTok. There is also a clickable video link and embed code for your blog or repurposing.
The Bottom Line
Making a TikTok compilation video is a fun way to capture memories and relive them with a new spirit each time you watch these videos. Using FlexClip to create such videos allows you to express your creativity while maintaining high quality due to its functionality and user-friendliness. Decide and start compiling videos right away!