Summary: This blog aims at offering you a great thank you gift idea. You can express appreciations to your donors, doctors, nurses, employees with a thank you video. Read this blog and make this brilliant thank you gift idea true.
We all must have met people whose help changed us completely. He can be your doctor, nurse, donor, employees or your families. Only when you have expressed sincere gratitude to them, can others feel emotional joy from lending you a helping hand.
A thank you video is worth thousands of kind words and it can be said the best thank you gift idea. Why not make a thank you video for them and let them know how much you appreciate their help?
Also Read: Make the Best Mother's Day Videos Ever with US >
Here Is How to Start to Make a Thank You Video
Before making a thank you video, some preparation needs to be done. Follow the steps below and see how to start to make a thank you video.
1. Find the theme of your video. If you are making thank you videos for fundraisers of an environment protection activity, then get a tripod and film some scenic clips; if you are working on a thank you video for your families, then make full use of old pictures of family travel. Just figure out what will fit the main theme.
2. Plan the storyboard. It is unwise to shoot a bunch of stuff and put everything together. Take a moment and give each shot a sketch, including texts that are going to appear on the video.
3. Don't just say Thank You. A single Thank You doesn't enough to pull the heartstrings of the audience. You can also add contents like how much the audiences' help has changed everything around.
4. Shoot well. Please refer to the bonus tip part to get to know some basic knowledge of how to shoot a thank you video well.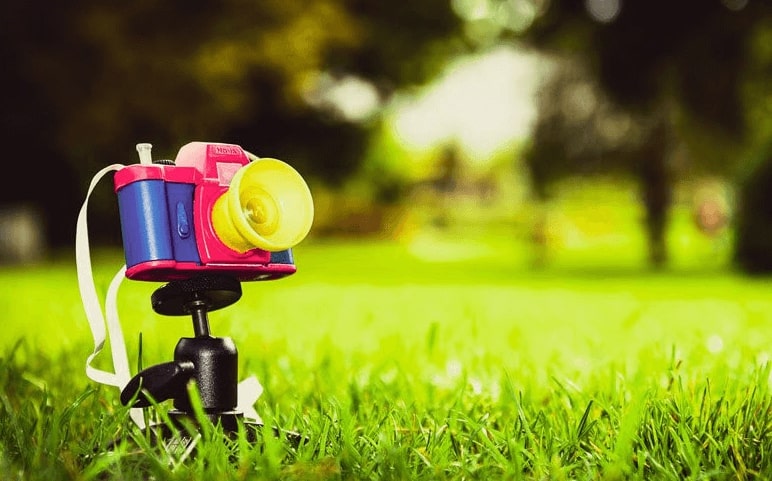 Image Board: Think You Video Ideas
How to Edit Thank You Video Clips
After shooting thank you video clips, here comes the most important part of thank you video creation – edition.
To edit thank you video clips, you will surely need FlexClip.
FlexClip, the easiest-to-use thank you video maker, is designed to help you edit videos with great ease. In this market intermingling with good and bad, it excels over other video making software because:
1. Practical Editing Tools. FlexClip is equipped with all practical editing tools you will need to make cool video edits, like video trimmer, music cutter, live preview window, text editor.
2. Ease of Use. FlexClip has a simple interface. All edits can be done in a few clicks.
3. Rich Elements. FlexClip has 20+ dynamic text animation. In the future, it will include a media library with music, video clips and photos. You can touch up your videos with those rich elements.
4. High-Quality Output Video. You can export your video in 480p, 720p, 1080p HD, which meets all your needs.
5. No Download, No Experience is Required. FlexClip is an online video editing service, you don't have to download it before using it.
Now, let's see how to use FlexClip to make a thank you video.
Step 1. Go to FlexClip main page https://www.flexclip.com and then click on Get Started – Free button to create a new project.
Step 2. Upload all you thank you video clips and photos to the storyboard by clicking on the "+" button on the down left corner. All photos and videos will be displayed in order.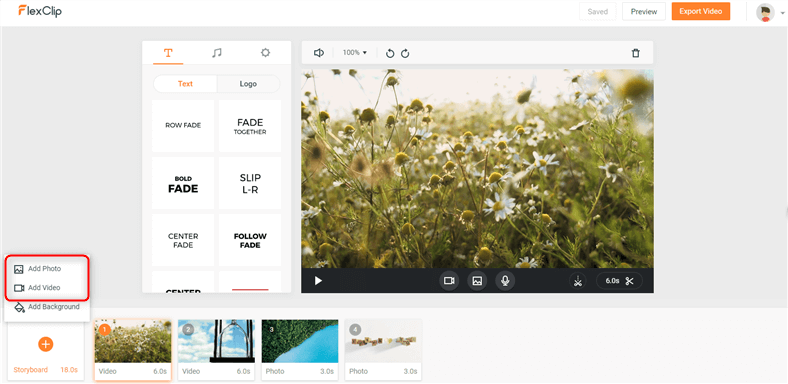 Image Board: How to Make a Thank You Video - Step 2
Step 3. On the sidebar, click on the Text to add text and logo to the video.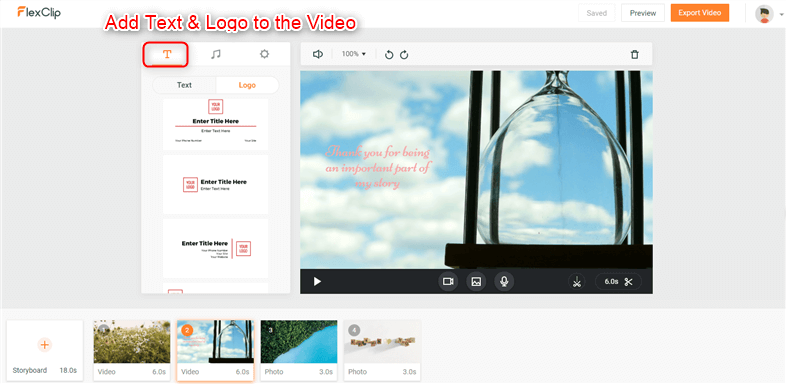 Image Board: How to Make a Thank You Video - Step 3
Step 4. Click on Music, you can upload MP3 audio files from the computer and then set it as background music. You can also tick on the Record button to record audio files and then set it as background music.
Image Board: How to Make a Thank You Video - Step 4
Bonus Tip: How to Film an Excellent Thank You Video
Strategies on filming are necessary for making any types of video. These tips are extremely important while making a thank you video.
Tip 1. Find Places with Perfect Light
A shot that is too light or too dark can completely ruin a video. Even though you can correct brightness, it is better to get the right shot instead of adjusting later on.
Tip 2. Find a Background
Normally speaking, videos with clean backgrounds can win others appreciation and a dirty background makes everything seems messy.
Tip 3. Rehearsal
Making videos with people? Then rehearsal several times so that they make less mistakes. The majority of people can have a fear of cameras. Rehearsals save you a great time.
Tip 4. Avoid Too Many Transitions and Effects
Transitions and effects can indeed help you make your video look better. However, applying too many transitions and effects may lead to the opposite. The more attention views have to draw to transitions and effects, the cheaper and more amateurish your video will look.
Tip 5. Keep Videos Short and Sweet
The best length for a thank you video is about 2-5 minutes. You can shoot 5-8 minutes'footage and then making edits. Watching thank you video longer than 5 minutes can be tiring.
The Bottom Line
With above detailed steps and tips, you can surely make an excellent thank you video for doctors, nurses, donors, employees. Go to FlexClip main page and start to make a thank you view. By the way, FlexClip can also help you make holiday video, travel video. Give it a try and explore more.