Are you looking for ways to start dictating your documents and text using just your voice? Instead of typing words arduously on Windows 10, you can use voice commands under Speech Recognition feature, which interprets the spoken word across the operating system for various tasks.
In this article, you'll learn how to get everything ready and how to enable speech-to-text in Windows 10 using three easy-to-follow methods. Keep reading to explore it more!
Free and Customizable Stunning Video Template for You: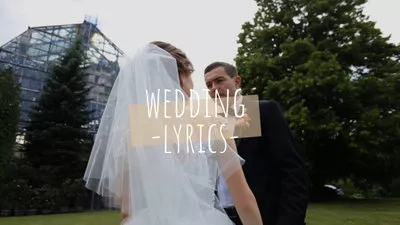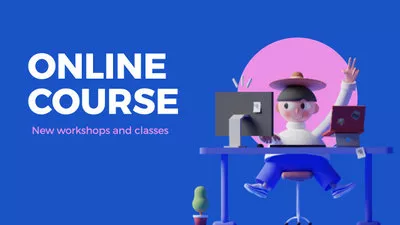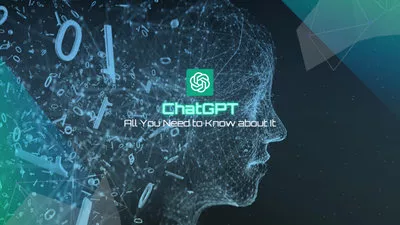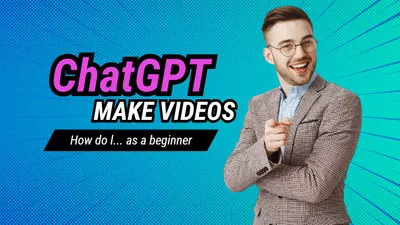 Also Interested in: How to Enable Text to Speech on Windows 10
Part 1. How to Enable Speech-to-Text Feature in Windows 10
Microsoft's dictation software is useful for transcribing audio to text in Windows 10. But it may not already be enabled by default on your system, so you may need to make a quick trip to settings to enable it.
To enable speech recognition, set up as follows.
Step 1
Click on the Windows icon and tap Settings button, then select the Ease of Access option. You can also get there by pressing Windows+i on your keyboard.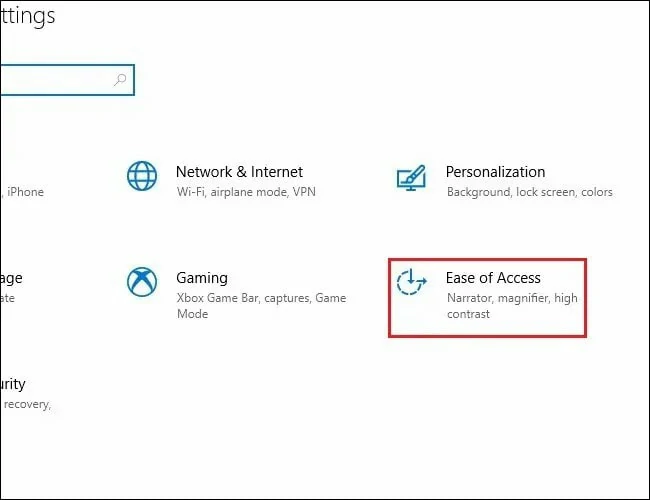 Go to Ease of Access Option
Step 2
On the left menu, click Speech icon and under Speech settings, toggle on the button below "Turn on Speech Recognition."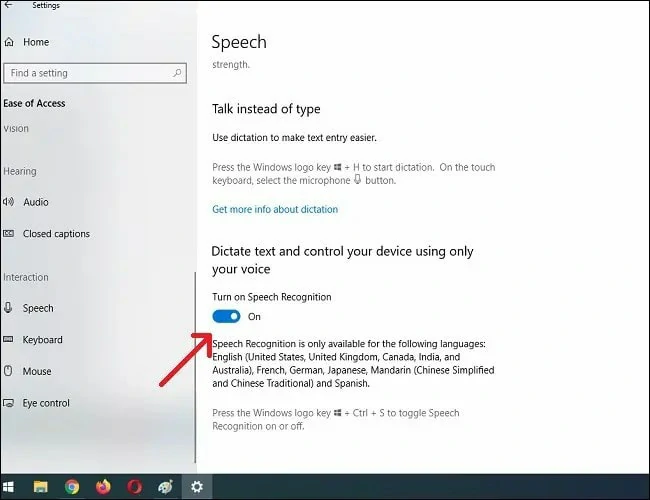 Turn on the Speech Recognition Option
Step 3
Keep in mind that speech recognition is only available in English, French, German, Italian, Portuguese, Spanish and simplified Chinese.
Step 4
Once you launch the feature, you need to set it up to recognize your voice.
Step 5
Here you may see a window asking you to select the microphone you want to use for speech-to-text. Select your option and read the on-screen phrase to make the system capture and recognize your voice.
Step 6
Finish the step by selecting whether or not you want to enable the computer to review documents and email to help it improve speech recognition accuracy. When it finishes, you're ready to type with your voice on Windows 10.
Part 2. Use Speech to Text to Type with Your Voice
After you've successfully setting up your microphone, you can begin voice typing on Windows 10.
Step 1
Use the shortcut Windows + H to activate the voice dictation feature.
Step 2
Dictation will automatically turn on and prompt you to start talking. Remember to speak in complete sentences and say words clearly since  it can avoid the mess with your writing flow when the software tries to catch up your pace.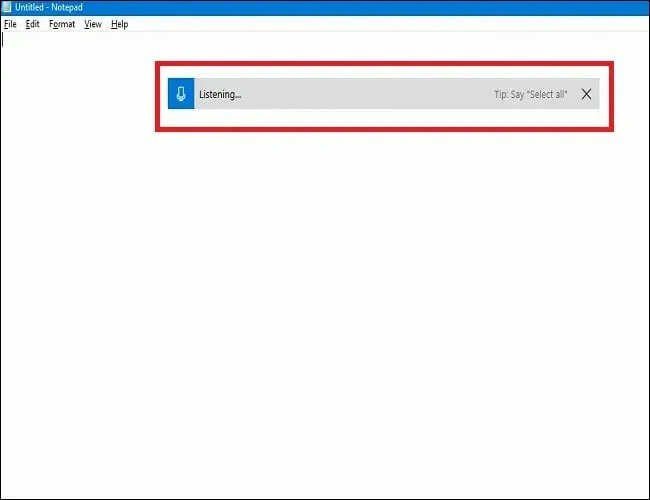 Start to Dictation
Step 3
To turn it back on, just say stop dictating. When it's over, check your document and save it.
Part 3. How to Enable Speech to Text in Word on Windows 10
Audio dictation is also available in Microsoft 365 with a microphone and reliable internet connection. It's a quick way to get your thoughts out, create outlines and take notes. Simply follow the steps below to use this feature in Word.
Step 1
Sign up to the Microsoft 365 and make sure your microphone is available. After that, open a new or existing file and go to Home > Dictate.
Step 2
Wait for the Dictate button turn on and start to work.
Step 3
Speak your words and you'll see text appear on screen.
Part 4. An Easy Way to Transcribe Voice to Text on Windows 10
What if you want to use a video with a voiceover? Is it possible to automatically transcribe voice to text? FlexClip online video editor with speech-to-text feature can be your safe bet.
With mature AI algorithm support, FlexClip can identify audio in 140+ languages with multiple accents of your videos and automatically transcribe it to text in high accuracy and exact timestamp. Besides, it allows you to customize text styles, color, align and change the subtitle length.
Moreover, it provides you stylish text overlay, adjustable templates, an extensive media library, royalty-free soundtrack to help you unleash creativity for creating stunning videos.
How to Use Audio to Text Feature on Windows 10 Using FlexClip
Here are the steps to turn your audio into text in minutes automatically. Check it right now!
Step 1
Go to FlexClip and upload media resources from your computer, mobile or social media platforms like Instagram.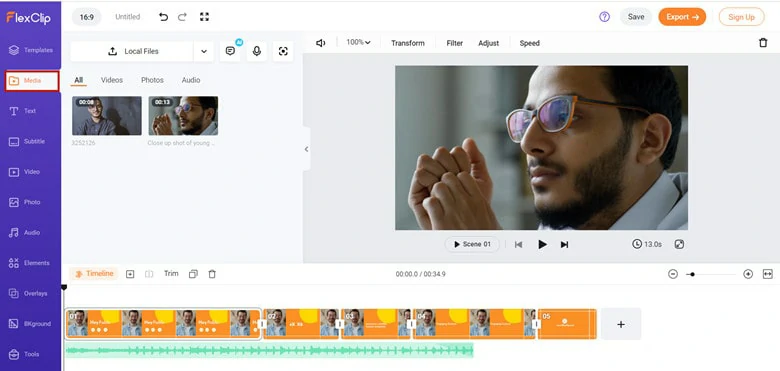 Upload Media Resources to FlexClip
Step 2
Add your footage to the timeline and trim out unwanted parts if needed.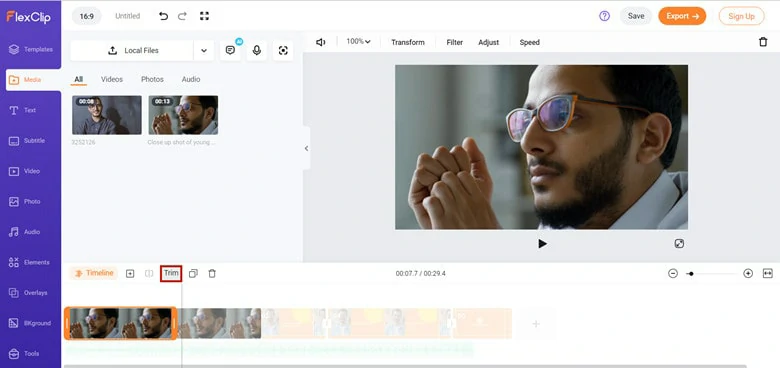 Trim out Unwanted Parts
Step 3
Move to Subtitle > Auto AI Subtitle > Choose the language source in your video > Select Subtitle line and style > Press the Generate button. Now it begins to turn your audio into subtitles.

Enable AI Subtitle Feature
Step 4
Move to Subtitle > Auto AI Subtitle > Choose the language source in your video > Select Subtitle line and style > Press the Generate button. Now it begins to turn your audio into subtitles.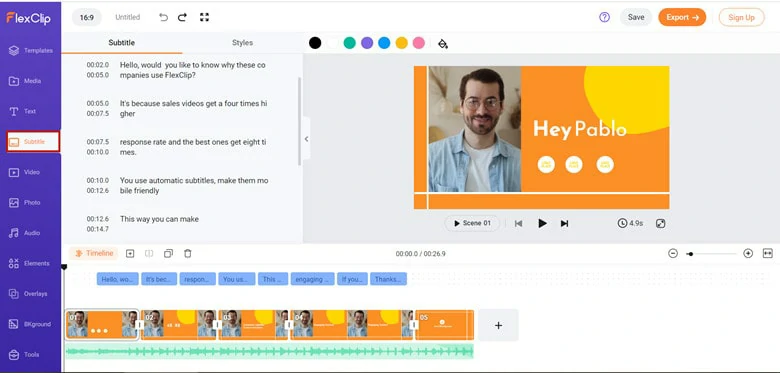 Change Subtitle Style
Step 5
Feel free to perfect your video with sound effects, smooth transitions, funny elements. After that, save your creation to locally or share it with great ease.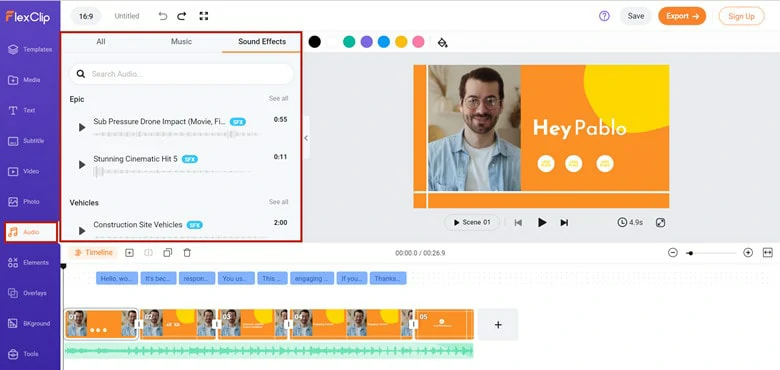 Add Sound Effect to Video
The Bottom Line
That's all for how to use speech to text on Windows 10. The speech recognition feature enables you to get documents by voice typing. While if you need flexible and free ways, FlexClip is a nice option you can try. Now it's your turn!