Here are the top 9 Spanish text-to-speech tools you can't miss. Feel free to move to the Spanish text-to-speech tool you are interested in and know their pros and cons.
There are loads of TTS tools available online that you can use to convert text to speech, however, majority of them only support English. Some do support minority languages, like Spanish, French, Japanese, but some may be full of tedious ads, or collect data without your permission.
We are committed to introducing you the best tools. Here are the 10 Spanish text-to-speech tools we have tested to be safe and great to use. Pick the best Spanish text-to-speech tool and let it help out!
Can't Miss: Best Slideshow Video Makers to Try >
Top 1. FlexClip
Price: 1000 Characters at a Time, Free
FlexClip's text-to-speech tool turns your Spanish text into realistic voices. What makes it outstanding is the great variety of accents you can choose from, like Argentina, Bolivia, Chile. There is no other Spanish text-to-speech tool containing so many accents. Moreover, FlexClip provides a list of AI speakers. Listen to their voices and find the one you love. To make the audio sound more realistic, you can choose different speeds and pitches.
Since FlexClip is also an excellent video editor, you can totally use it to add voiceover to your video! However, that is not compulsory. The converted Spanish audio file can be saved to your desktop.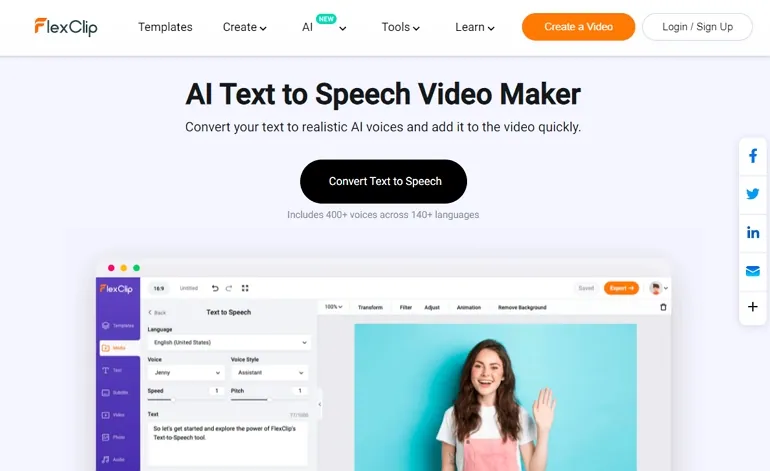 AI Text to Speech Generator - FlexClip
Features:
1
400+ voices, 170+ languages are supported
3
Advanced options like changing speaking speed, and pitches
4
1000 characters at a time, no other limitations
6
The converted audio can be used in the video directly
Top 2. Narakeet
Price: 30 minutes at $6
Narakeet can help create Spanish audio guides, audiobooks, language lessons, voiceovers. This Spanish text-to-speech generator is totally based online. You don't have to sign-up to get the conversion done. Besides, you can choose from over 30+ voices, but you can only choose from 3 other local accents. Moreover, you can save the Spanish audio file in 3 formats - m4a, mp3, and wav.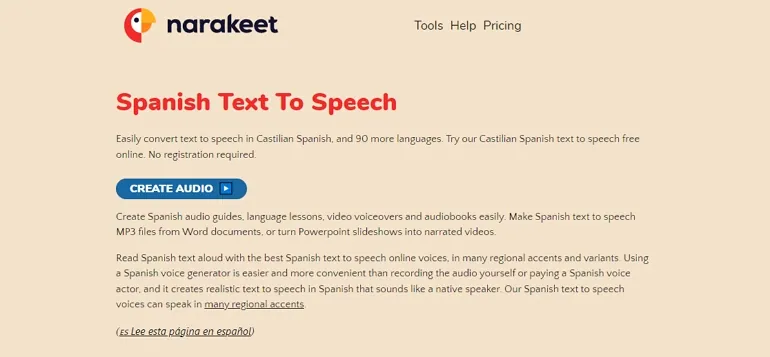 Spanish Text to Speech Converter - Narakeet
Features:
1
600 text-to-speech voices in 90 languages
2
Directly converts Spanish text document to audio
3
WAV, MP4, M4A audio downloading formats
Top 3. TTSMP3
Price: 1000 characters for free
TTSMP3, as its name suggest, can successfully turn text into US Spanish speech in MP3 file. The audio file is perfect for e-learning, presentations, or YouTube video.
Though there are only 3 Spanish speakers you can choose from and the interface is quite simple, here are more to explore. You can manually control the tone of each sentence. For example adding content, the sentence will be read in a different tone. You can even switch between the speakers within the text. There is a detailed guide on the TTSMP3 interface.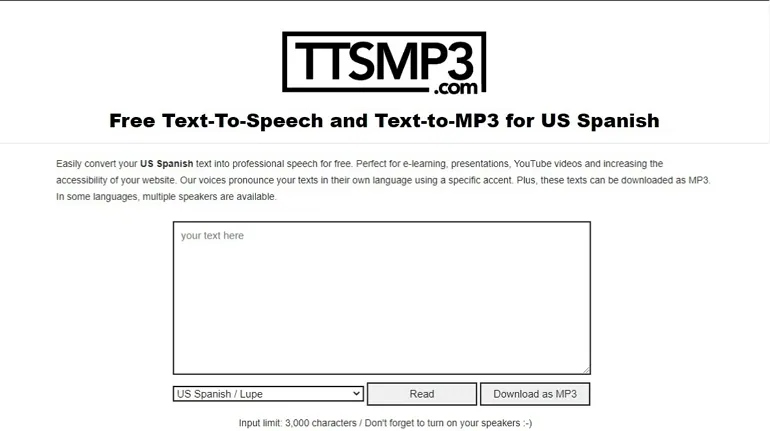 Spanish Text to Speech Converter - TTSMP3
Features:
1
3 Spanish speakers to choose
3
Manually customize the tone, speed, and break
Top 4. Murf.ai
Price: 10 minutes of voice generation time for free. Download starts from $19 each month
Murf.ai has the power to help read your Spanish text document in 6 voices. What makes it unique is its ability to mix different voices in one audio file, changing the speed, pitch, or adding emphasis to narration for certain parts. You can even use it to remove or add pauses, delete extraneous words.
Murf.ai also provides lots of customizable features to make voiceovers from scratch and adapt their narration into the visuals. For example, adding background music to level up the narration, changing the gender of the voiceover.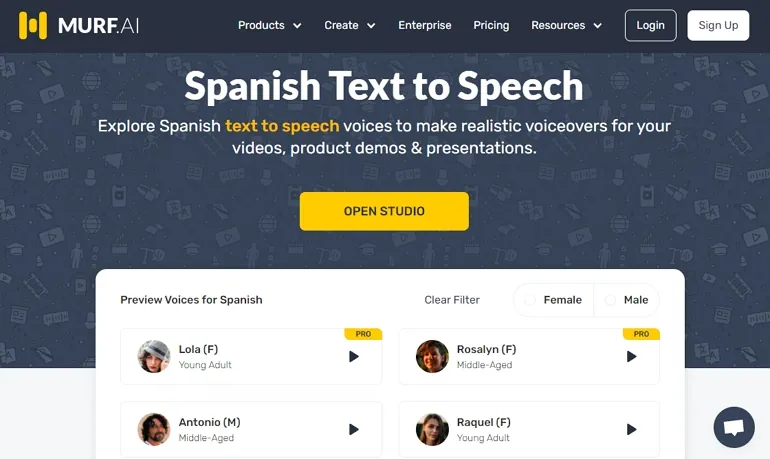 Spanish Text to Speech Converter - Murf.ai
Features:
1
6 voices to read your Spanish text
2
Add background music to video
3
Change the gender of your voiceover
4
Change the pitch, speed and emphasis
5. Veed
Price: 1000 characters for free
Veed is a video editor that can help you add Spanish voiceover to your video. Go to Veed straight from your web browser, paste the text to the text field, you will have the Spanish narration in seconds.
There is a huge selection of Spanish accents you can choose from. You can target Spanish speakers from any region. As for some regions, users don't have many options for voices. Except for changing speech speed, Veed doesn't have any editing options for the voiceover, but the results are rather satisfying.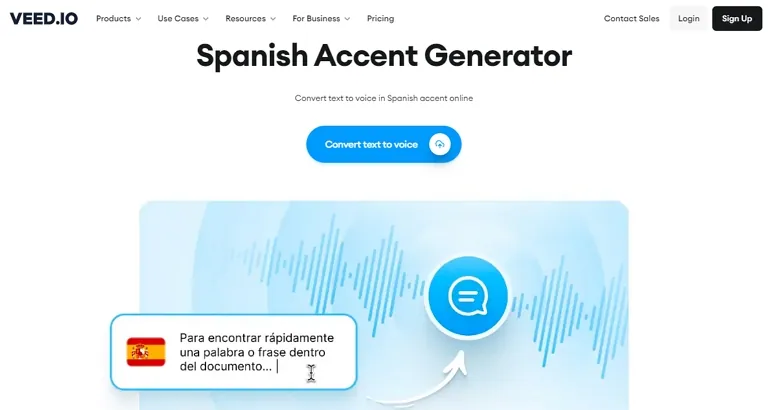 Spanish Text to Speech Converter - Veed
Features:
1
Regional accents to choose from
2
Voiceover speed adjustment
3
Perfect synchronization with video
Top 6. Synthesia
Price: Subscription plan starts from $22.5 per month
With Synthesia, you can turn Spanish text to speech to generate realistic speech for videos in just a few minutes. You will love one of the 49 Spanish voices in your video.
Even though you can't choose the accent, or download the voiceover, you can create a video with the voice and AI avatar with the templates, which could make your voiceover more engaging. You can use the voice clone so that the AI avatar speaks in your voice.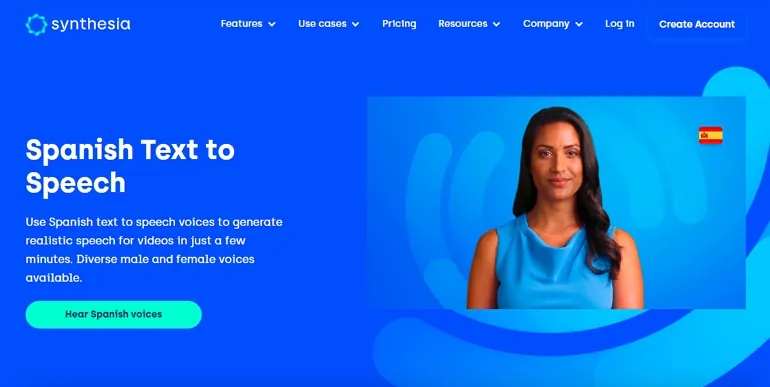 Spanish Text to Speech Converter - Synthesia
Features:
1
49 Spanish voices to choose from
2
AI avatar speaks out your Spanish text
Top 7. ImTranslator
Price: Free Forever
ImTranslator is a special Spanish text-to-speech generator in the market. It is based online, but since it is an extension, you have to install before using it. Enter your text, select one of the languages, and choose a speed, it will read out the Spanish for you.
You don't have the choice in voice, and ImTranslator only supports 10 major languages. Yet, it can translate one language to another supported language and read out for you. That's to say, you can enter an English sentence and ask ImTranslator to read it in Spanish.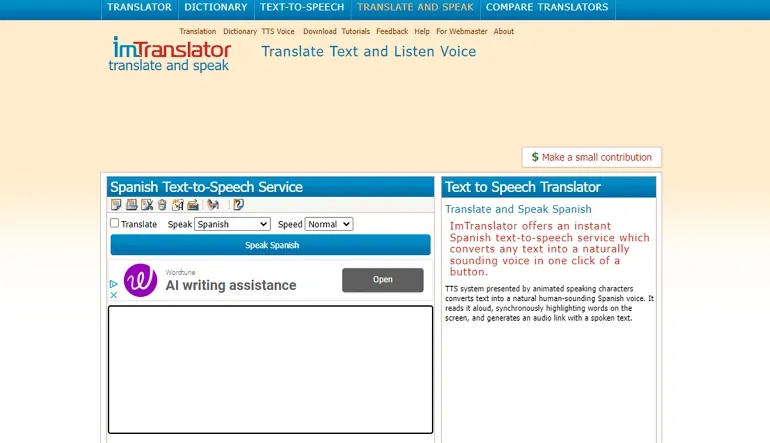 Spanish Text to Speech Converter - ImTranslator
1
10 major languages supported
3
Translate your sentence into another language
Top 8. PlayHT
Price: Subscription starts from $5.4 per month
PlayHT emphasizes a smooth and fast TTS experience. Input any text, select the language, you can soon download the transcoded audio file in MP3 or WAV.
When it comes to converting Spanish text to speech, you can select from 85 Spanish accents across the globe. Some are realistic voices built from AI and machine learning, the others are high-quality sounds generated using computer algorithms. You can also pay to clone your voice.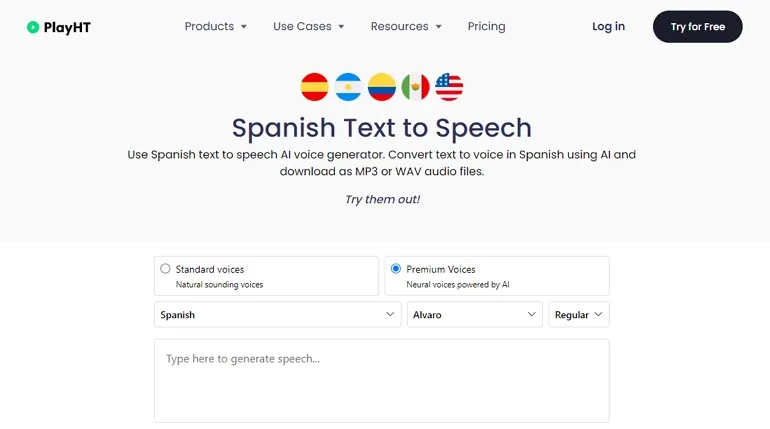 Spanish Text to Speech Converter - PlayHT
Features
2
Both AI voices and high-quality real voices
Top 9. Notevibes
Price: 2000 characters for free.
Notevibes is a free Spanish text-to-speech website that can turn the Spanish text into natural-sounding speech with AI. It has a huge collection of voices provided by Google, Microsoft, Amazon, and IBM. There is also a premium text-to-speech software, but the free online service would be good enough for you to turn Spanish text to speech.
Advanced editing options are also available, for example, add pauses, change speed, pitch and control voice. Those options guarantee you have the most natural Spanish speech.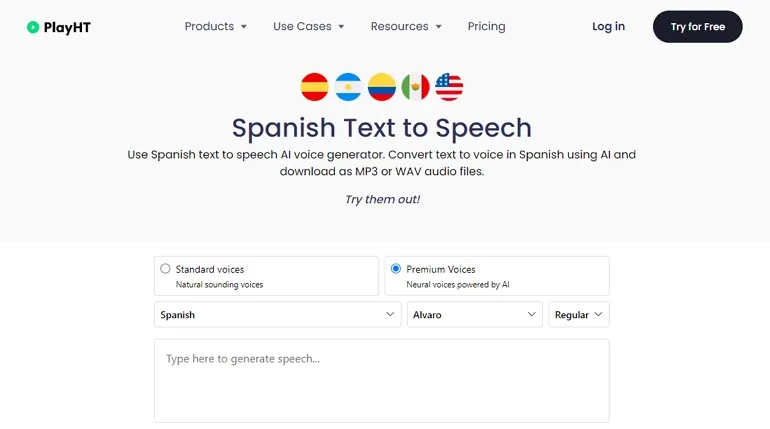 Spanish Text to Speech Converter - PlayHT
Features
1
Advanced features like adding pauses, changing speed, pitch.
2
Huge selection of voices
The Bottom Line
Here are the 10 best Spanish text-to-speech converters to try! Which is the best Spanish text-to-speech converters? As AI is developing, this list may expand or change. Please do come back often and check the updated list. If you find this post helpful, remember to share it with others.
By the way, FlexClip is a great video editor with the advanced TTS tool. Do use it to create a video with nice voiceover. Other AI tools like AI image generator, AI script generators, AI text-to-videos can also level up your work. Give it a try!