Looking for easy ways to rotate or flip a GIF that is sideways or upside down? We've got you covered. In this post, we will walk you through how to easily rotate and flip a GIF using the 5 best free online GIF rotators. Read on to pick one that fits your needs best.
Here's what you'll learn:
1. FlexClip
FlexClip is a feature-packed in-browser video maker and online GIF rotator. You can easily upload GIFs from your local PC and phone to FlexClip and rotate and flip a GIF to any degree you like and export it as a GIF or MP4 for free. Such a versatile video and GIF editor for everyone.

Rotate and flip GIFs by FlexClip
Best Features:
Rotate GIFs to any degree you want; flip a GIF vertically and horizontally.
Direct access to GIPHY's latest GIFs assets within the editor.
Add filters to GIFs or manually color-grade GIFs.
Stylish text animations and elements for various social media.
Adjust GIFs' opacity and add motions to GIFs.
Change GIFs' background color.
Add unlimited GIFs over a video.
Export GIFs as GIFs and MP4.
Royalty-free music, SFX, and thousands of video templates and handy video tools.
Easy Sharing: YouTube, Google Drive, Dropbox, clickable link, embed code, local download.
Step 1 Upload Your GIFs to FlexClip
You can upload from your local PC or scan the QR code to directly upload GIFs from your phone.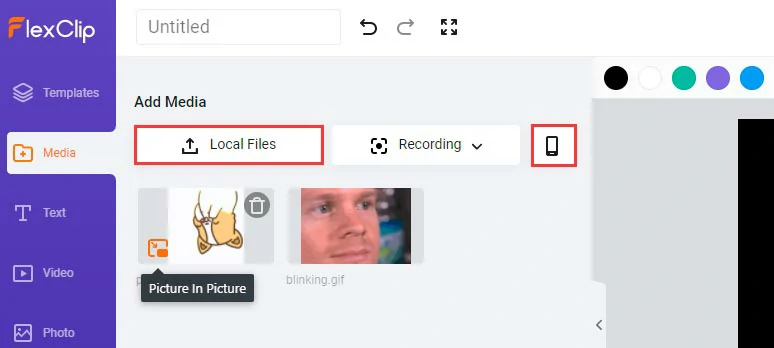 Upload GIFs to FlexClip from PC and mobile phone
Step 2: Select the Right Aspect Ratio for Your GIF
Go to the "More" tab on the left sidebar > select an aspect ratio (16:9, 1:1, 9:16, 4:5, 21:9) that matches your GIF > click the "Picture in Picture" icon to add a GIF to the storyboard.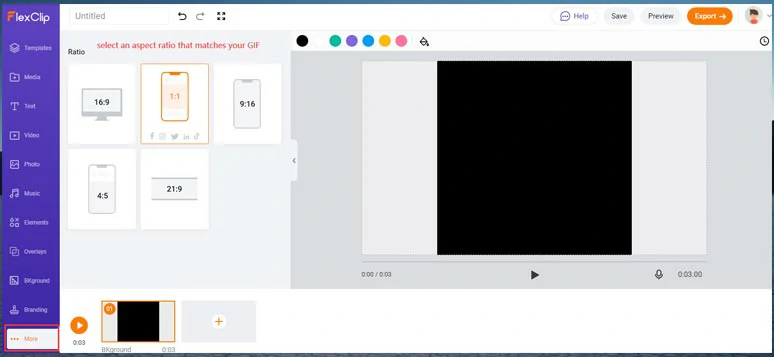 Select an aspect ratio for your GIF
Step 3: Rotate the GIF
Left-click the rotation button atop the GIF and drag the GIF either in the clockwise or anticlockwise manner to any degree you want. Then drag the corners of the GIF to fill the negative space of the Canvas.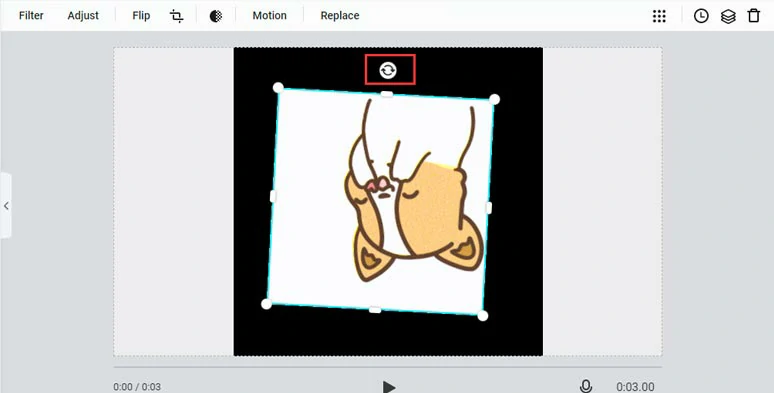 Drag the rotation tool to rotate a GIF and fill the negative space
Step 4: Flip the GIF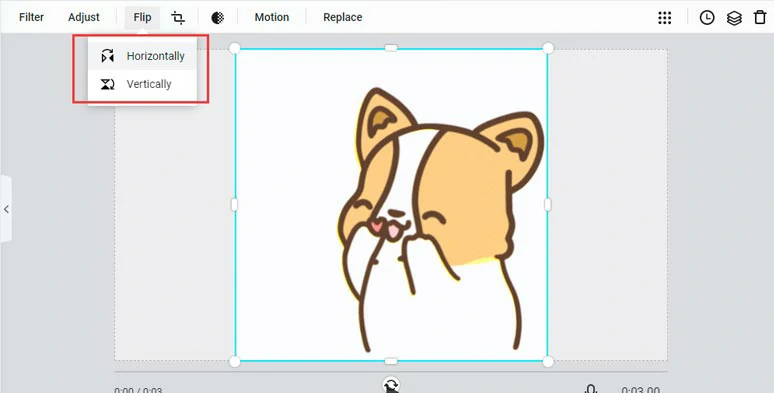 Flip a GIF horizontally or vertically
Flip GIF horizontally: Your GIF will be flipped on the horizontal axis. So, the left becomes right and the right becomes left.
Flip GIF vertically: Your GIF will be flipped on the vertical axis. So, everything that is upside down will be right up and vice versa.
Step 5: Make More Edits
You may add filters to make a deep-fry meme or apply a mask or frame to add aesthetics to your GIFs, animated texts and elements, etc. You may also add royalty-free music to your GIFs if you prefer to convert to MP4 for Instagram. Feel free to play with it.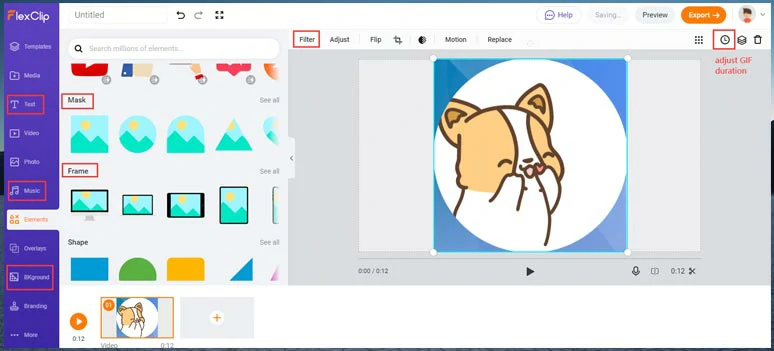 Add frame, text or background, filter, etc. to GIF
Step 6: Export and Share
You can directly export the GIF to your PC or convert the GIF to an MP4. FlexClip also offers you to share the GIF to YouTube, Google Drive, Dropbox. A clickable link and embed code for blogging are also available.
Also, read how to rotate a video on any device.
2. Ezgif
Of all the GIF rotators online, Ezgif.com is the most recommended one. It allows you to flip and spin a GIF up to 35MB within a few clicks. This tool works on your browser and does not require you to download and install any software on your computer. Not only can you use it to flip a GIF vertically or horizontally, but you can also rotate your GIF to the degree you want.
Choose a GIF file from your computer or paste a GIF link into the search box, click the "upload" button, check the rotation mode you want, and start your conversion.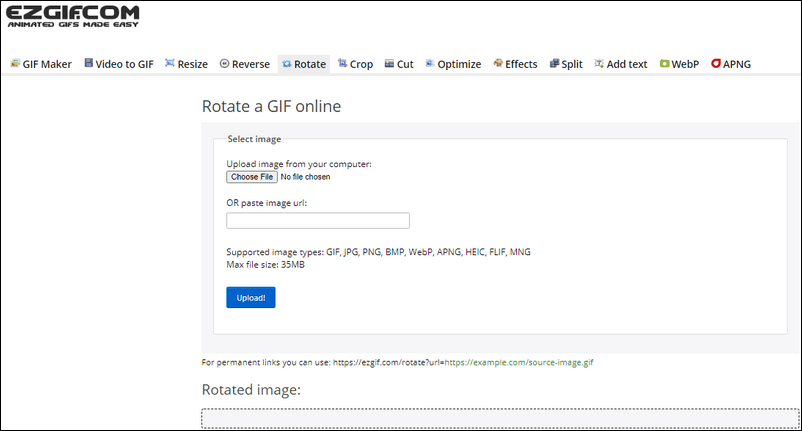 Image Board: Rotate a GIF with Ezgif
Best Features:
Rotate GIFs from your local disks and image URLs.
Supports GIF, JPG, PNG, WebP, and other image formats.
Flip vertically and horizontally.
3 preset degrees (90° clockwise, 90° counterclockwise, and 180°).
Customize the rotation degree.
3. Kapwing
Kapwing is also a popular GIF rotator. It lets you rotate GIFs clockwise or flip them vertically or horizontally. More than that, you can also use it to crop GIFs and add text to GIFs.
Click the "Get started" button to upload a GIF to the tool and use the rotation buttons to rotate or flip your GIF. After that, you can export and share your new GIFs with friends quickly.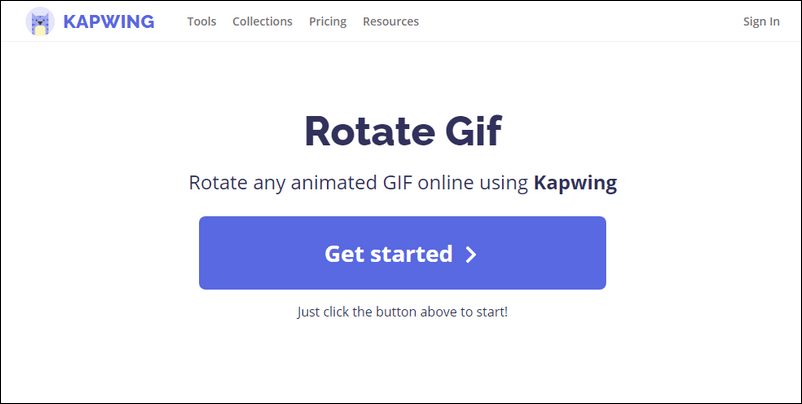 Image Board: Rotate a GIF with Kapwing
Best Features:
Supports for uploading GIFs from local disks and URLs.
Mirror vertically and horizontally.
Set your rotation degree freely.
4. GIFGIFs
GIFGIFs is a free powerful GIF editor fully capable of helping you rotate GIFs in 3 clicks. You can turn a GIF by selecting a preset rotation degree or by entering your desired degree.
Upload a GIF from your computer or paste an image link into the specified search box, select a rotation degree, and click the "ROTATE" button to start your conversion.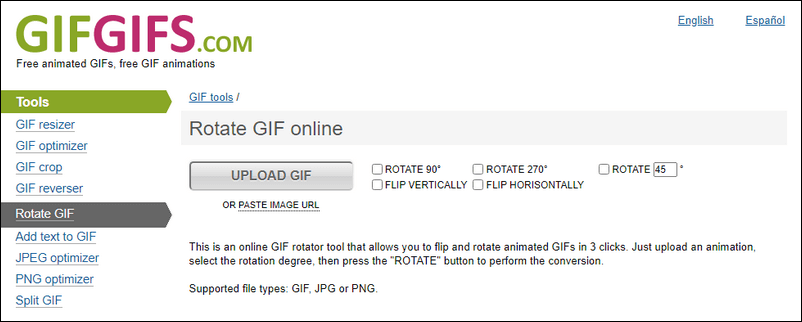 Image Board: Rotate a GIF with GIFGIF
Best Features:
Upload GIFs from your computer or image URLs.
Supports GIF, PNG, and JPG.
Flip vertically and horizontally.
Rotate by using the preset degrees or entering a chosen degree.
5. 3dGifMaker
If you want to create constantly rotating GIFs, 3dGifMaker is your best bet. You can upload GIFs or still images to 3d GifMaker and set the rotation animation styles, canvas size, the number of loops and rotating speed, FPS, and background to create eye-catching 3d rotating GIFs online. Awesome!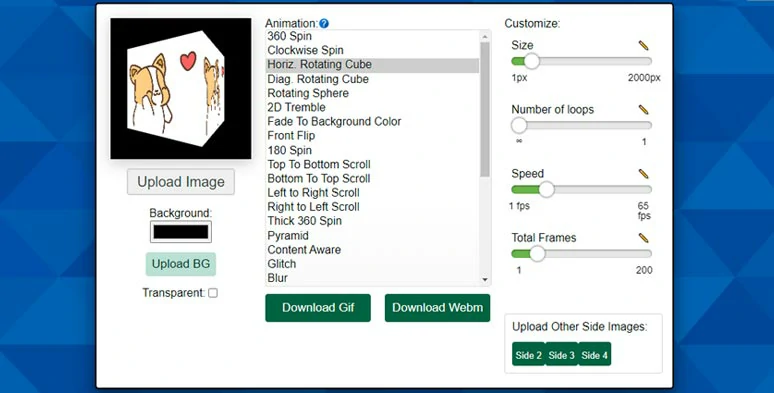 Create a rotating GIF by 3dGifMaker
Best Features:
Support GIF, JPG, PNG format.
Dozens of featured rotation styles like 360 spin, clockwise spin, rotating sphere, glitch, rotating donut, etc. to choose from.
Have controls over GIF's rotation speed, FPS, etc.
FAQs about How to Rotate a GIF
1. How to Rotate a GIF on iPhone/Android?
If you are looking for a GIF rotation app, ImgPlay is just for you. It is a handy GIF rotation app for iPhone, iPad, and Android. It is designed for creating animated GIFs, and it has all the GIF editing tools you need, such as rotating GIFs, crop GIFs, adding text, stickers, and filters to GIFs, and more.
To rotate a GIF, install the app on your phone, upload a GIF to the tool, tap the crop button, and turn your GIF counterclockwise or flip it horizontally. When you finish rotating your GIF, you can save and share the new GIF easily and quickly.
2. How to Rotate and Convert a GIF to MP4?
If you want to convert a GIF to MP4 for Instagram, you can use the FlexClip to edit GIF and add text animations and royalty-free music and SFX and directly export it as an MP4 video. Here, check the top 8 best GIF to MP4 Converters to find more options.
3. How to Change the Background Color of GIF?
After you add a GIF to FlexClip, you can use the palette tool above the canvas to customize the background color of your GIF or go to the Background tab on the left menu to add a dynamic video background.
Now, It's Your Move
See, you can easily rotate or flip a GIF online with the 5 best online GIF rotators we recommended above. Pick one that works best for you and rotate and create hilarious GIFs for social media Now. If you find this tutorial helpful, don't forget to share it with friends on Facebook or Twitter. Much appreciated!