Not too many of us know all the features on our PC. When it comes to record a video on PC, there are embedded tools on PC to help out, like the Game Bar. You can also record video clips on PC using Microsoft PowerPoint, OBS Studio, and FlashBack Express.
To record video on PC can be different from what you have on Apple or Ubuntu OS. But aside from some of the above-mentioned video recording functions, there are other methods you can record videos on your PC. We have taken the time to draft some of these methods and urge you to read through the process.
Five Ways to Record a Video on PC
Method 1. Record a Video on PC with Game Bar
Step 1
Activate the Xbox Game Bar
Press and hold the Windows logo key, then press I to launch the Windows settings. Locate the settings text search button.
Type in "Xbox" in the search space, then press and hold the Down arrow key until you hear it say "Enable Xbox Game Bar," then press the Enter button.
If it's with a Narrator, you are meant to hear something like "Open Xbox Game Bar using this button on a controller, Xbox button, toggle switch, off."
Now activate the Xbox Game Bar, and press Spacebar.
Step 2
Add an audio system to your recording
Once you have activated the Xbox Game Bar, press the Windows logo button, then press G to display the Xbox Game Bar function.
Press and hold the Tab key until it says "Settings button," then press Enter.
Press and hold the Down arrow key until it says "Capturing."
Press and hold the Tab key until it says "All, game, enabled mic, apps, system, radio button." If you are using a Narrator, you will hear it say either "Not Selected" or "selected." And if you are using an NVDA, you hear either "Not Checked" or "Checked." But if you notice that the option is not selected, press the Spacebar to select it.
You can also press the Windows logo button, then G to hide the Xbox Game Bar function.
Go to the app or game you want to record, press the Windows logo button, Alt, and R to start recording. NB: if you are with a Narrator, you will hear "Recording in progress."
Press the Windows logo button, then Alt, then M. Press the Windows logo button and G to display the Xbox Game Bar function. You will now hear "Xbox Game Bar window."
To quit the recording process, press the Windows logo button, Alt, and R. When using a Narrator, you hear a response like "Game clip recorded."
To locate the recorded video on your computer, look for the "Captures" under video; that's where every recorded video, game, and app is transferred after recording.
Built-in Windows 10 Screen Recorder Guide
Method 2. Record a Video on PC with PowerPoint
Step 1
Open the slide you wish to add the screen record on. On the Insert tab of your ribbon, choose "Screen Recording."
Step 2
On your Control Dock, click on "Select Area," But in a case where you want to record every part of the screen, press the Windows button, then Shift, and F. After that, a cross-haired cursor that has the ➕ shape. Click to select, then drag it along to select the other parts of the screen you wish to record.
Step 3
Now, select Record. Use Pause if needed, and click Stop when you are done.
Step 4
When your video has been added to the slide, right-click your video frame, choose the Start icon, then select how you want the video to start; there are three options to choose from: When Clicked On, Automatically, or Click Sequence.
Step 5
Then change the video outlook. Right-click on the video frame, click on the Style icon to select, then choose another preferred shape.
How to Record Screen using Microsoft PowerPoint
Method 3. Record a Video on PC with OBS
Before we proceed with this step, let's take someone time to explain what OBS is and what it stands for. An OBS Studio is developed to work as a powerful broadcasting and screen tool. Aside from its original function as live streaming video content, it can also be used to seamlessly record pick-up audio and computer screens. Below is how you can record clips on your PC with ease.
Step 1
Open the OBS Studio from your PC. Once it is open, the software automatically adds a Scene after fully launching. But if it didn't, click the + icon in the Scenes box, just at the bottom left of the screen.
Step 2
Go to the Sources box, just next to the screen, then click the + icon located at the bottom of the panel. Select the "Display Capture" option from the menu.
Step 3
A small pop-up window pops up; add your preferred title, then click OK.
Step 4
Another window is expected to pop up; click on the small downward arrow to view the drop-down list. Select the display of your choice, and click OK.
Step 5
Go to the bottom right of your screen and click Settings. A new window will pop up; click on "Output" from the sidebar, located on the left side of your screen.
Step 6
Choose the preferred destination of your file using the "Recording Path" option. Then click the blue "Start Recording" key located at the lower right-hand side of the screen when you are done.
How To Record Your Computer Screen With OBS
Method 4. Record a Video on PC with Apowersoft
Apowersoft is a third-party online recording app used on PCs; this application, like its counterparts, does not need Java Applet to function, but users can still use launchers if it is their first time. The unique feature of this tool is that it doesn't have a recording limit like it is obtainable on most Recording tools. To record your screen using Apowersoft, you need to follow these steps:
Step 1
Click on "Start Recording" to start recording.
Step 2
Customize your recording mode to start recording.
Step 3
It is time to save your video to the local disk. But you can still share it on online video-sharing platforms like YouTube and others.
Method 5. Record a Video on PC with FlexClip
FlexClip is ordinarily developed as a video and image editing tool online tool. And recently, it has been listed as one of the best tools to record on PC. This online software has many unique merits: it is an online-based platform, so there is no need to download any launcher to record videos on PC. It has extra easy-to-use editing tools which help users level up their video. Some of these editing tools include trimmers, filters, widgets, and animations. And finally, users can freely record the system audio or external audio. And to record on your PC using FlexClip, follow the steps below.
Step 1
Go to the Media Section, click on the Record icon, and select Record Screen or Webcam.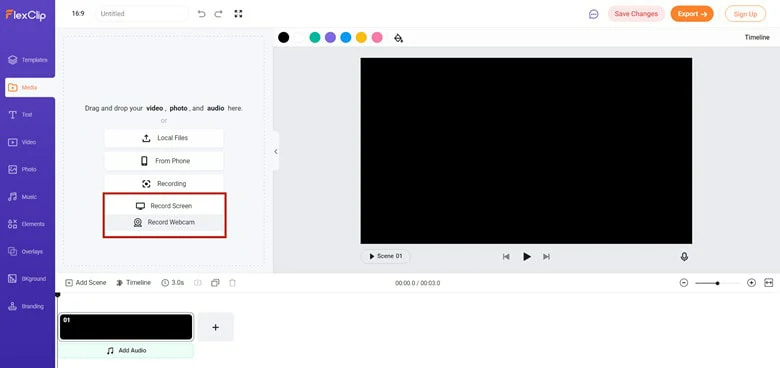 Find the Record Function on FlexClip
Step 2
Follow the prompts to choose audio resources and start recording.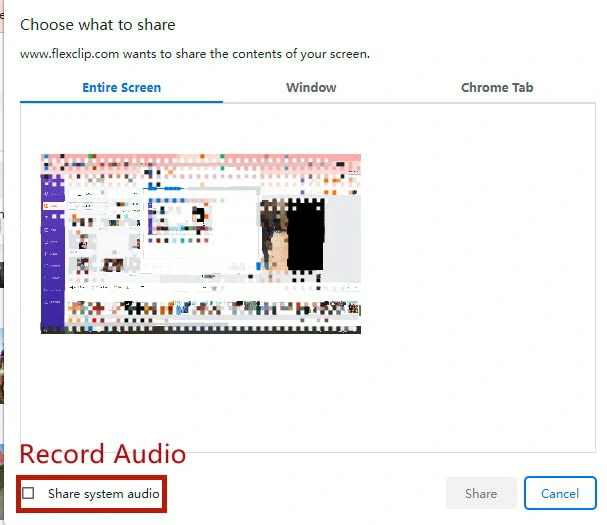 Record Screen with Audio
Step 3
Start recording whatever you want. Unlike others, it doesn't have limits.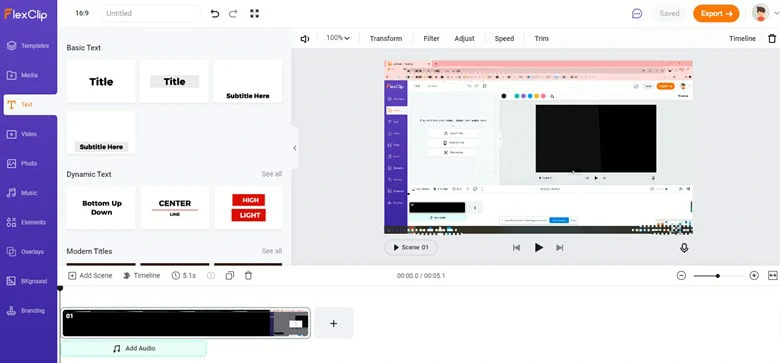 Add Text to the Recorded Video
Step 5
Preview and Export. Preview the outcome of your video using the "Preview" section and "Export" to save in your local disk or share on any video sharing platforms.
The Bottom Line
There are many ways to go about recording on your PC; there is probably a lot of third-party software that can help you do that, but the ones we mentioned above are the most recommended based on the user's recommendations. So, please like and share this post if you find it interesting, at least for the benefit of those who might need it somehow. By the way, do remember to use FlexClip to edit your recording.