In today's digital times, medical video productions have become an important instrument to educate, inform, and engage with viewers. Medical videos cover a wide range of topics, from medical education to medical promotion.
Besides, a medical video can also be used to explain healthcare. It not only be valuable resource for people interested in the healthcare field, like medical professionals or students, but also be good suggestions for the general public who want to know ways to stay healthy.
If you are considering creating a medical video now, here are some tips to help you get started.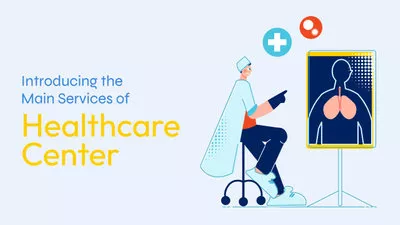 Healthcare Animation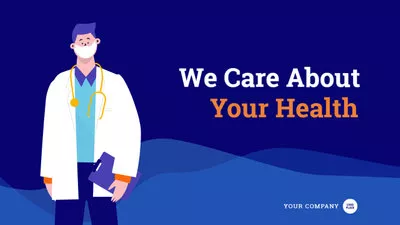 Medical Services
Part 1 Reasons to Make a Medical Video
As the significance of online video expands, medical video becomes more common and plays a more prominent role in our daily life. Considering that video is a naturally engaging medium and is surprisingly accessible. Below are the main reasons for making a medical video
For the general public, medical videos can explain complicated medical symptoms in a proper and detailed manner. It illuminates abstract concepts and dispels misinformation for patients.
For medical professionals, medical videos will amplify the professional knowledge for them. Even if they know one field well, there's always more to learn as new information and best practices emerge all the time. What's more, healthcare professionals can use this kind of video to educate patients without a barrage of questions in response.
For medical students, medical videos will introduce them what it's like to go to medical school or work in a hospital. It can be a great study aid for medical students who want to absorb information in as many ways as possible.
Once a medical video is produced, it can be delivered efficiently to viewers via a range of channels in hospitals, schools and other places.
Part 2 Medical Video Examples with Free Templates
Have no ideas on how to start your medical videos? To that end, we've provided a number of different types of templates below for you to choose and let you start your medical video production with great ease. These medical video templates can inspire and help you make an excellent video.
Medical Video for Education
Wellness Explainer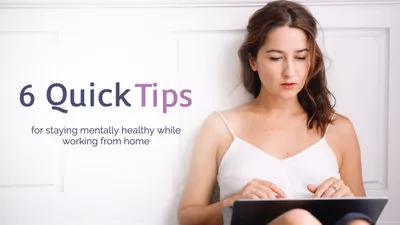 Mental Health
Medical education videos can help viewers to gain medical knowledge and remind them to give up some bad habits. It will show the viewers the benefits of fitness and encourage them to live a healthy lifestyle.
Medical Video for Promotion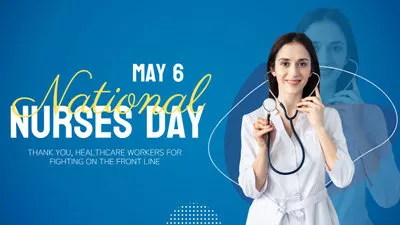 National Nurses Day World Health Medical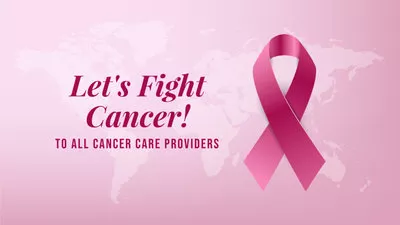 Pink Ribbon Breast Cancer Day Tribute
If you want to promote some health festivals to viewers, you can click on this type of template to make it. Medical promotion videos help people to raise awareness of disease and health.
Medical Video for Advertisement
Health Ad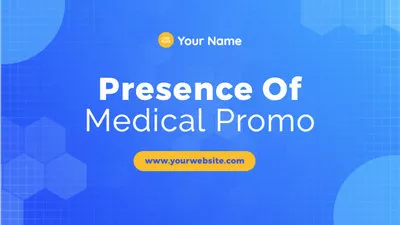 Hospital Promotion
Medical advertisement videos can showcase the professionalism of medical center via a video. And people will trust your center more when they see your advertisement!
Part 3 Best Tool to Create Your Medical Videos - FlexClip
As a house-hold name in the video editing industry, FlexClip can help you to make medical videos in an easy way. FlexClip put a lot of free templates into creating medical videos. It uses a combination of live-action footage, animations, and illustrations to create compelling medical video productions. With its diverse templates, you can make a medical video in clicks. Besides, FlexClip also provides rich royalty-free music, video and photo resources, which are useful for video editing.
Benefits of making healthcare videos in FlexClip
Own an extensive media library, allowing you to pick various resources, like medical stock footage, royalty-free music, and more for your medical video production.
Rich template selection for various scene needs and social media platforms, such as template for medical education video or medical animation video, etc.
Simple and convenient for newbies to create a medical video. No editing experience required!
Upload your medical video footage, including video clips, images, and any audio file, from phone and other third-party platforms, like Google Drive, One Drive, etc.
Part 4. How to Make a Medical Video in FlexClip
FlexClip is such a powerful medical video maker that helps you make your own medical projects incredibly easy! Whether you want to create medical education videos or medical promotion videos and more, you can find various types of video templates here. All of them are professionally designed and fully customizable, so you can pick a free template and customize it freely to make your own medical video in minutes.
Step 1 Start with a Free Medical Template
Just open FlexClip online video maker, then tap the "Templates" button and scroll down your screen to pick one template you like or you can search the proper templates by keywords, and then apply it to the Timeline.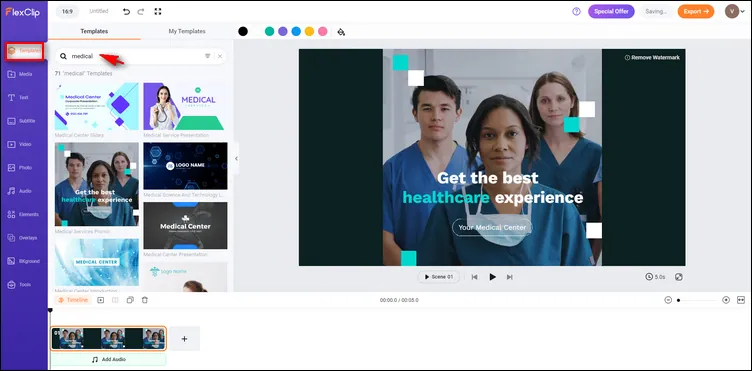 Start with a Free Medical Template
Step 2 Personalize the Template to Make it Your Own
Once you add the favorite template to the timeline, you can personalize your medical video.
Upload your own photos or clips to the Media section and drag them to the canva to replace the default imagery in the templates, and you can adjust default text by double clicks.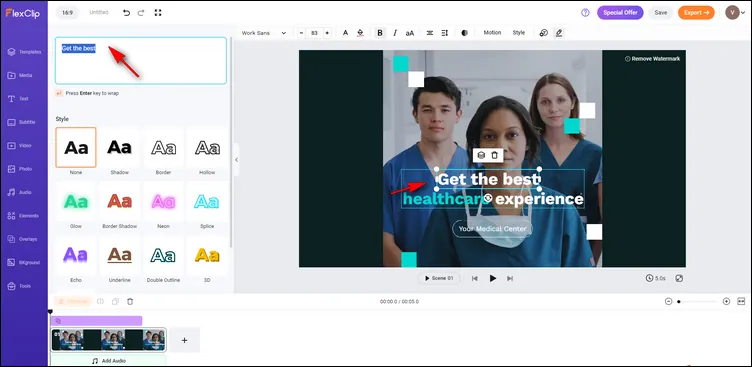 Adjust Text
To create an animation effect, you can click the "Elements Library" button to search "medical elements" and add it to your video. And also, you can change the audio track, adjust the background and more.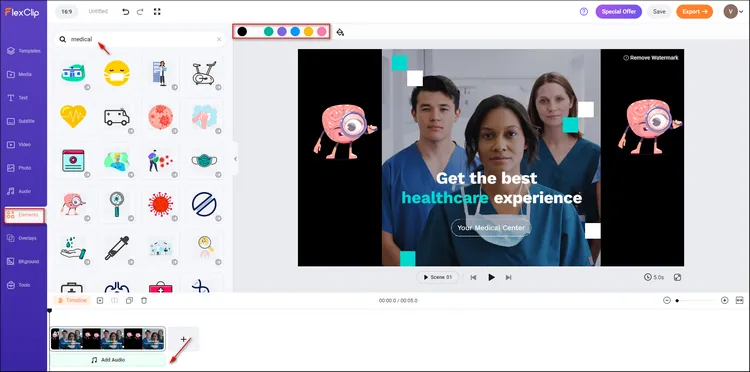 Add Elements
Step 3 Make more Edits to Level up the Medical Videos
FlexClip also offers other excellent video editing features. You can also add filters, add logo, make pip effects, and use transitions and motions to make your medical videos more attractive. Once you're happy with the video, tap the "Export" button to download your medical video.
Make more Edits to Level up the Medical Videos
Some Final Thoughts
By following these tips, you can create a high-quality medical video that effectively communicates your message and engages your target audience. And FlexClip does far more than make medical videos. It has more functions waiting for you to explore, for example, anniversary video production and birthday invitation video production. Now it's your move!