Are you a fan of the Marvel television series? If you answered yes, you've probably seen the Marvel intro that appears at the beginning of every video, and you're probably looking for a marvel intro maker of your own. The opening contains some fantastic sound effects and animations. Various superheroes emerge on the screen before fading away. It also includes footage from other television shows. Overall, it's a powerful opener that attracts the user's attention, and it's impossible to pull your gaze away from the screen while it's playing.
If you're a genuine Marvel fan, you might feel enthusiastic and want to compose your intro after seeing this. However, you may be wondering how it is possible to merge so many components and characters into a single film while maintaining seamless transitions that make everything appear to flow. Your query has a clear response. You may either build it using FlexClip following our instructions. In either case, we've got you covered!
Best Marvel Intro Makers You Must Try
How to Make a Marvel Intro Online
FlexClip is a simple and effective online Marvel Intro Maker that allows you to quickly produce marketing videos, social media videos, tutorials, animated explainer videos, trailers, birthday movies, wedding films, and family stories. It includes a variety of fonts, music, and video/photo materials to help you create a heroic mood that matches Marvel Intro well. FlexClip's extensive editing tools make it the ideal Intro Maker for this type of film, and it is simple to use with no download needed.
Steps on How to create a Marvel Intro in FlexClip
Step 1
Upload videos or photos to the Media section.
Import movies from File > Import Movies. From the drop-down menu that opens, choose "Picture in Picture. Drag the "Event" video to the Project Library, then drop the photo on top of it. "Click "Save" after selecting the movie and photo you wish to modify.
Step 2
Add text with the best fonts, animations to the video.
To add text to the movie, click the text on the left toolbar and left-click a dynamic or straightforward text. You may use the keyword to change the text box's color, size, font, location, and backdrop color. You may add dynamic graphics and animations directly below the text to make your Marvel Intro more interesting.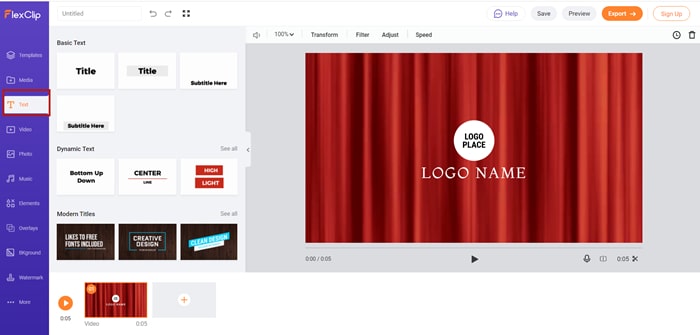 Add Text to Video in FlexClip
Step 3
Make more edits like adding transitions, shapes, widgets to the video.
Between any two storyboards, move your cursor to the "Transitions" button and click it. To add a transition effect, select one. You may choose from various transitions, such as Wipe to Fade, Zoom to Blur, and more.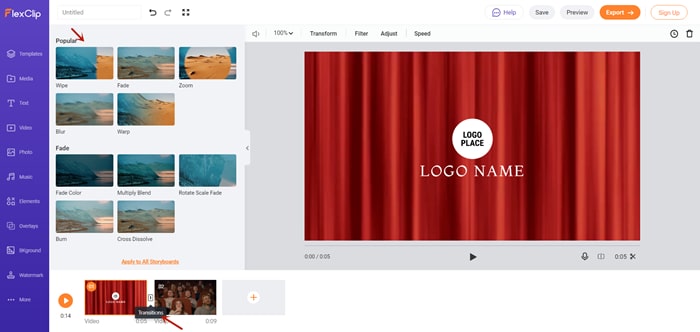 Make Further Editing in FlexClip
On the toolbar, click the Music button to upload an audio file from your computer. Trim it and move the beginning and conclusion points of the music. FlexClip also has a stock library with millions of songs and tools to assist you with voice-over work.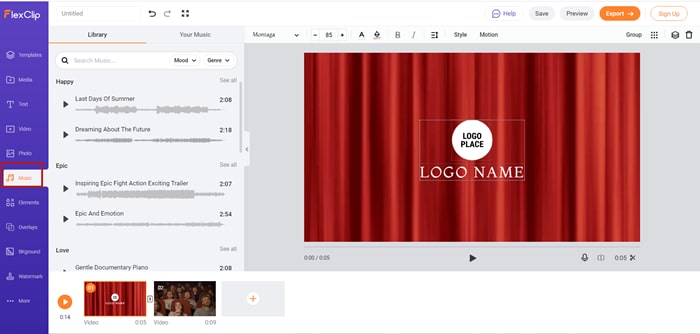 Add Music to Video in FlexClip
Step 5
Download and share.
The most popular proportions used for downloading are 16:9, 9:16, 1:1, 4:5, and 21:9. - High-definition video production (480p, 720p, and 1080p).
Best Marvel Intro Makers You Must Try
This guide will also discuss some of the greatest online Marvel intro producers that you can use to make your intros that look like Marvel. So, let's get this started.
Best Marvel Intro Makers - Openshot
OpenShot is capable of producing visually striking movies, films, and animations. That's why, with its user-friendly design and extensive feature set, it's an excellent choice for a Marvel Intro. Openshot is one of the greatest video editing software since it allows users to edit web videos effortlessly without downloading bulky and pricey software. As a result, it is open source and free software. It's effortless to use and has a lot of tools for anyone who wants to edit films. OpenShot is a fantastic, free option for YouTubers of all ability levels. If you use OpenShot in conjunction with a free animation application called Blender, you can even animate the text and access Animated Titles. Many popular YouTube styles rely heavily on titles and transitions.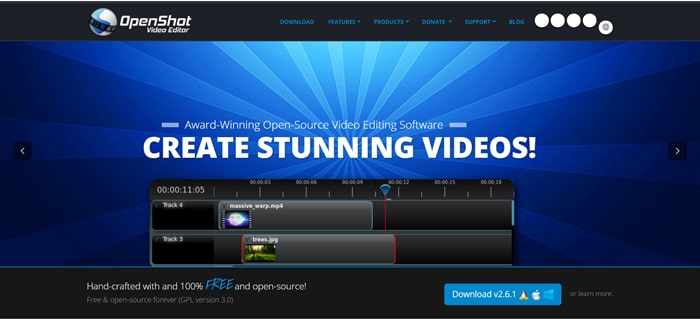 Best Marvel Intro Maker - Openshot
Cons: There is no opportunity to download the effect online with this software; but, if you add it. At the same time, there is a flaw in this that may be addressed by introducing uploading videos directly to YouTube.
Best Marvel Intro Makers - After Effects
After Effects may be used for keying, tracking, compositing, and animation, among other things. Artists and post-production professionals use effects to create aesthetically excellent work for cinema, television, video, and online.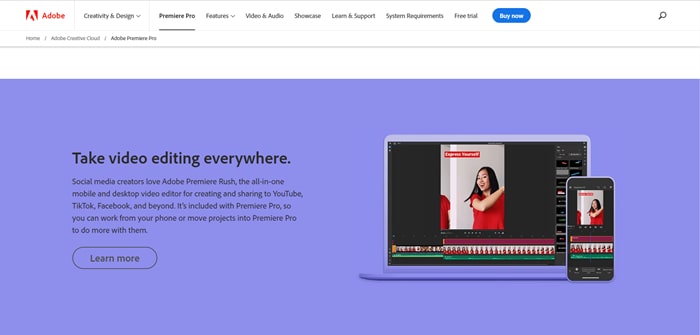 Best Marvel Intro Maker - After Effect
Cons: If you are a newcomer to After Effects, you will most likely have some troubles navigating the program's interface due to its medium complexity, but this is not a negative thing to worry about because after spending a few hours studying it, you will be ready to start using it correctly in no time.
Best Marvel Intro Makers - Movavi
Movavi provides a comprehensive range of multimedia apps to enable you to enjoy your films, music, and images on any platform or device. We provide intuitive and powerful software that encourages individuals to edit, improve, and share their work. For the money, Movavi is one of the most outstanding video editing programs available. The video editor from Movavi is legitimate and well worth purchasing. It offers a user-friendly interface and many built-in effects, music, images, text, and other features. Movavi is best for beginners, especially for editing some videos you like to upload on social media. Movavi is a good choice for novices, especially if you want to edit some films to share on social media.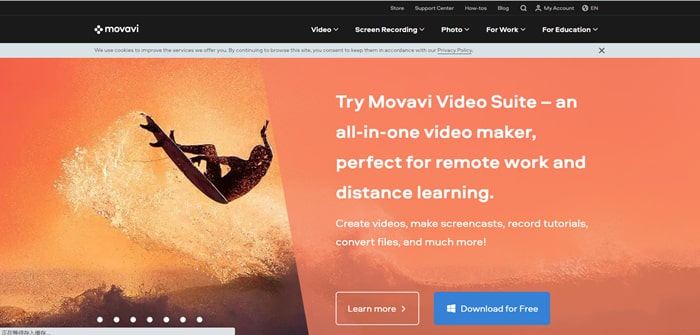 Best Marvel Intro Maker - Movavi
Cons: 1. There are no features. 2. Features that are not fully developed. 3. Not designed for more advanced editing.
The Bottom Line
That's all for how to create a marvel video and the best marvel video makers. If you find this post helpful, please do remember to share it with others. By the way, FlexClip can also help you create other types of videos like slideshows, videos for YouTube, Facebook and TikTok. Give it a try!