Live photos is an iPhone camera feature that brings your photos to life. Instead of freezing a movement in time with a still photo, iPhone camera captures 1.5 seconds before and after the photo when live photo feature is used. Currently, live photo is available on all iPhone 6s and later devices.
Compared with traditional photos, live photo is a breakthrough. However, when it comes to sharing a live photo, the animation is often lost. Besides, you can't view a live photo on any other devices. That's why many people choose to convert live photos into videos.
iPhone's Photo App helps you easily turn live photos into video. Here in this article, we will show you how to save live photos to video step by step in two ways. Follow us and get started.
Also Read: How to Make a Video iPhone Wallpaper >
Note

1. The Loop and Bounce Option is only available for devices on iOS 11 and above.
2. The video converted from a live photo via Loop and Bounce option has no sound.
Step 1 Launch iPhone Photo app, choose the live photo you want to save as a video.
Step 2 Swipe up, you can see the Loop and Bounce options. Try both effect and see which one is better.
Step 3 Save the change. Your work would be saved in the Animated album.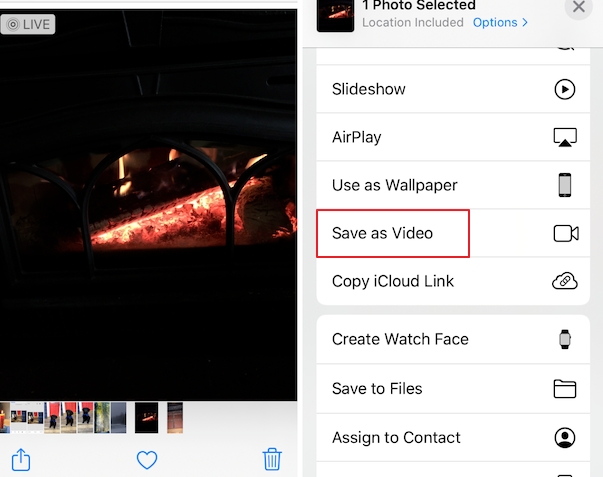 Image Board: Save Live Photo as a Video
You can always change the effect to the other. Find the loop or bounce video, swipe up to bring the effect menu. Choose the other effect and tap Live. You will soon get a new video!
The "Save As Video" is a new feature introduced on iOS 13. It allows you to save a live photo as a video with just one click. The audio will also be contained in the converted video.
Step 1 Open any live photo in the Photos app. Tap the Share button.
Step 2 Tap "Save as Video" in the prop-up menu.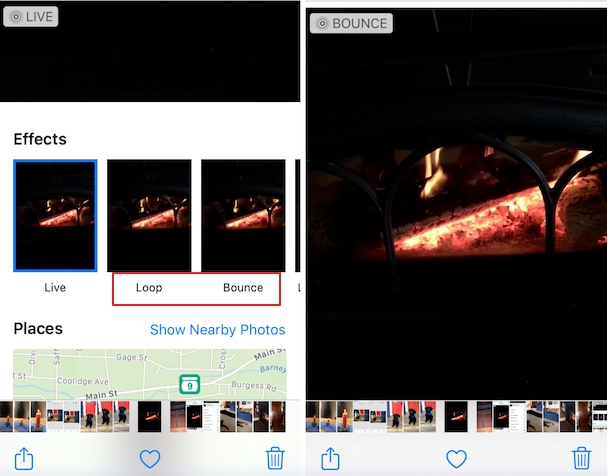 Image Board: Turn Live Photo to Video
Videos converted from a live photo are great! But wait, you might need to make a few edits to make the video look better. What's the best video editor to go?
FlexClip, as a free online video editor, has our recommendation. To begin with, it has all powerful features you need to edit a video, such as, slowing down a video, adding text, changing background music, video trimming, filters. Besides, this program is easy to use. Any edits can be done in clicks. Moreover, FlexClip provides a media library with rich music, photo and video resources to level up your video. They are all free to use.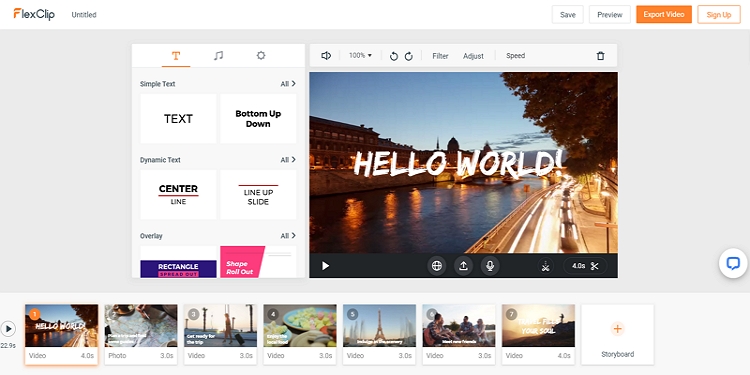 Image Board: FlexClip Overview
The Bottom Line
That's all for how to turn a live photo to video. As you can see, the two ways are both easy and simple. After the successful conversion, do remember to give FlexClip a try! If you find this post helpful, do share it with others. Any thoughts? Share with us at Facebook!