Each social media platform has its unique perks and a different set of audiences. Therefore, when you wish to reap all the benefits of these fantastic platforms, it is wiser to link them to diversify your audience and ensure your content reaches the maximum number of people possible.
Facebook Ads are highly effective as it uses algorithms to attract the type of audience for your brand. It increases the audience coverage and increases sales. When you link your two accounts, it saves you from posting the same video twice.
The question is how to link TikTok to Facebook. In today's tutorial, we will explain how to link the TikTok account to Facebook and everything related to it so that you can drive maximum people easily to your TikTok profile.
How to Link TikTok Account to Your Facebook Page
Connecting the top mega giants, Facebook and TikTok, can help you reach a bigger audience and create an even greater impact. So here's the answer to the most asked question about how to link my TikTok to my Facebook account.
Step 1
Open up your Facebook page and go to the 'About' section.
Step 2
Click on the Edit Page Info button.
Step 3
Go to the More section on the top and click on the Other Accounts option.
Step 4
Then click on the + sign, add your TikTok Account, and select TikTok.
Step 5
Finally, when you refresh your Facebook page, your TikTok account name and link will appear in your About section.
Adding a TikTok account from New Facebook Page
Let's see how to add a TikTok link to your Facebook page if you have a new page design because it will require you to follow a different procedure. Here's a quick guide:
Step 1
Open your new Facebook page.
Step 2
Go to Edit details options.
Step 3
Find the pen icon of Edit and click on it.
Step 4
Select the Add a social link option.
Step 5
Add your TikTok Account and select the TikTok option.
Step 6
lick on Save when done.
Bonus Tip: How To Make an Excellent Facebook Video
When you link your accounts and promote your brand using the smart algorithms of Facebook, you will see a mass shift in your audience. Still, you must make an excellent and entertaining Facebook video to ensure that the viewers stay committed to your page and follow your future content.
The best software to make excellent videos is to use the incredible video editor FlexClip. FlexClip is an ideal platform for creating breathtaking videos for YouTube and other social media platforms. It is an excellent professional tool with advanced features and an intuitive interface.
Even if you pick the basic plan of FlexClip, you will get access to 1,000,000+ royalty-free music and high-quality videos, photos, beautiful text, logos, and mesmerizing templates to make all your work a piece.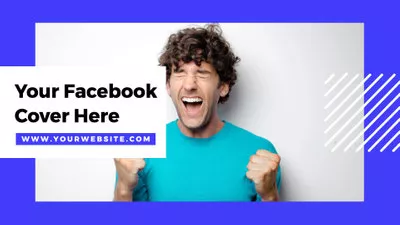 Facebook Cover Slideshow
Facebook Slideshow Ad
Some of its top features include:
Unlike all the other video editing software, Flex Clip is exceptionally easy to use and understand. Its interface is simple, and ready-to-use templates are another cherry on top. So even if you wish to make a video from scratch, making it on FlexClip is ten times easier than other editing apps.
FlexClip has a large amount of content that you can use for free. You can use all the videos, photos, and music available on the platform to make your content even more attractive. All these media files are royalty-free, so copyrighting has no issues.
FlexClip has a filter option that you can use with just one click. There are numerous filters, all with attractive effects and high-quality results. Its famous effects include Greyscale, B&W, Sepia, Vintage, Retro, Chromatic, Earlybird, Epic, Food, Flash, etc.
To adjust the video effects, you can play with the elements Explore, Contrast, Brightness, Temperature, Tint & Saturation without difficulty. Furthermore, you can apply these effects to all the backgrounds with one click or reset the adjustments with a single click.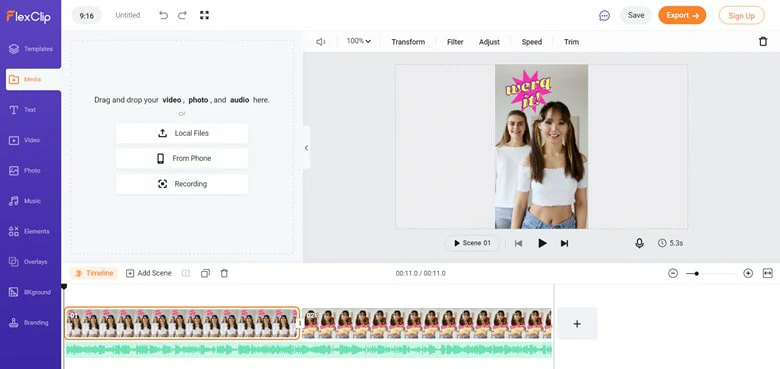 The Best Facebook Video Maker - FlexClip
The Bottom Line
Learning how to link TikTok to Facebook can help you avail of the great benefits that these two social media platforms have to offer. If you make your videos on FlexClip, you can make them more exciting and fun-filled with all the amazing features this editor offers.
Try FlexClip yourself and share its magic with your friends to help them benefit from this extraordinary editor of the decade.