This blog will share how to make a graduation slideshow using the best online graduation slideshow maker, FlexClip. Check out and get more.
Whether you just graduated from high school or college, a graduation slideshow can be a great gift for the grads and keep memories of college or school life forever.
Create a graduation slideshow from your photos, video clips, and music is pretty easy with the right slideshow maker. We introduce the best tool you need to make a graduation slideshow sharing your achievement to the world. Turn to FlexClip now! It provides you various graduation slideshow templates and editing tools to make a memorable graduation slideshow.
Free Editable Graduation Slideshow Templates: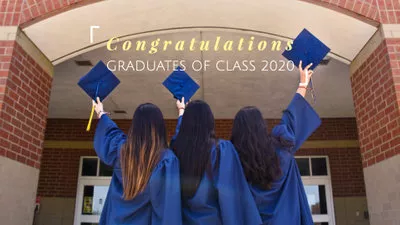 Congratulations Graduates
You May Also Like: How to Make a Graduation Collage Video >
How to Make a Graduation Slideshow with Music and Pictures
With FlexClip, you will be able to create your graduation slideshow with music and pictures in just a few minutes. Click on the Get Started Now button below to get started.
Step 1
Upload Photos to FlexClip Slideshow Maker
Get all materials like pictures, music ready, and go to FlexClip Slideshow Maker to upload your photos.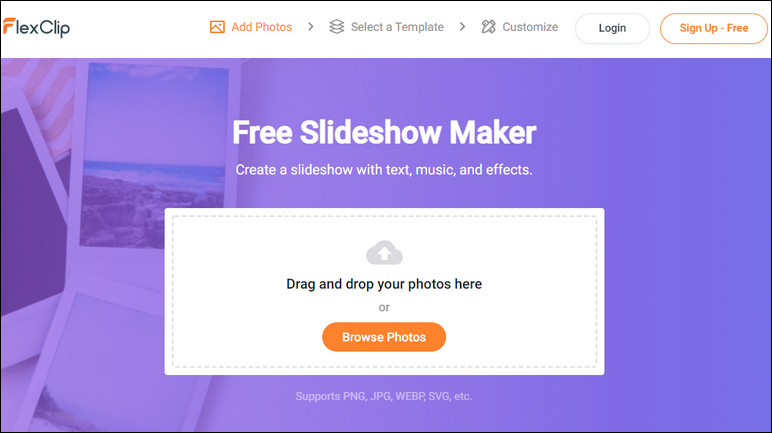 Make a Graduation Slideshow - Upload Footage
Step 2
Get Started with a Template
Select a slideshow template or start from scratch to make your own graduation slideshow with music and pictures.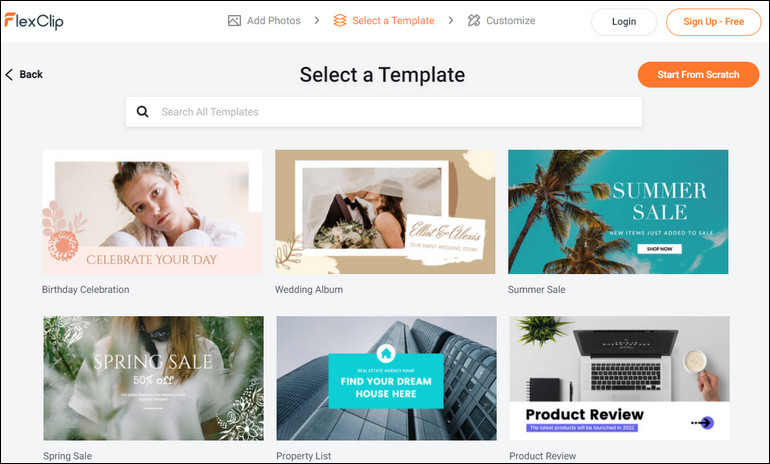 Make a Graduation Slideshow - Get Started
Step 3
Customize the Graduation Slideshow
Personalize your graduation slideshow by changing text, music, and colors. FlexClip allows you to make more edits to level up your graduation slideshow, like add filters, overlays, animate the pictures, etc.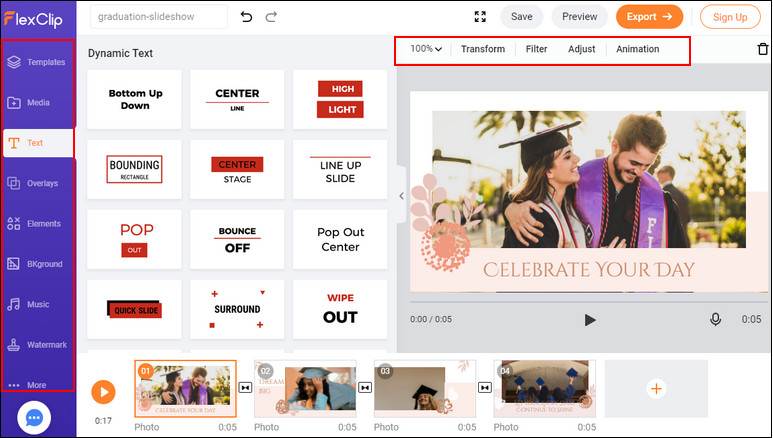 Make a Graduation Slideshow - Customize
Step 4
Export and Share Your Graduation Slideshow
When you finish editing the slideshow, go to the preview button on the top right of the screen to view the final results, then export it directly and share with others.
Killer Tips for Making a Great Graduation Slideshow
Slideshow is all most about pictures, so gather some photos from your school or college years in advance. Don't pick a lot of images about your school days; try selecting only the best ones.
Watching a slideshow only with still pictures may be too boring, so try to
animate your pictures
or mix those images with video clips, which makes your slideshow more dynamic and lively.
If you're looking for the best graduation song for your graduation slideshow, do not limit yourself to a specific one about graduation. You can also look at some popular music that will suit the overall mood. Remember that long videos with slow-paced music can always lull everybody to sleep, so try to avoid it.
One of the best graduation slideshow tips is to add slogans, mottos or quotes. Graduation means not only the end of school or college period but the start of a new adventure. So don't forget to include some motivational graduation quotes into your slideshow to inspire the viewers.
Final Words
The free slideshow maker from FlexClip is a fantastic way to combine your photos, videos and music into a memorable graduation slideshow. So turn to FlexClip to create your own graduation slideshow right now!