A beautiful graduation photo collage video is the best way to keep your graduation memories alive for many years to come. This blog shares the best online tool to make a graduation collage video with great ease.
Graduation time! Whether it's your loved ones or your own graduation, a graduation collage video is a unique gift that can be cherished forever to keep the graduation memories alive!
Free Editable Graduation Photo Collage Templates
Graduation Announcement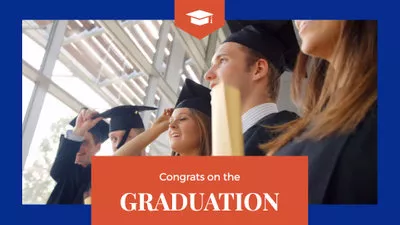 Congrats On Graduation
You May Also Like: How to Make a Graduation Video >
HHow to Make a Graduation Photo Collage
Where to start your own graduation photo collage? Look for some collage templates that can be customized freely to add your personal senior photos. They will serve as a perfect basis for your graduation collage. We suggest checking out FlexClip - this online tool has an amazing set of templates meant for various occasions, including graduation.
Whether you need a senior picture collage video for high school, college or any institution, FlexClip's online graduation collage video maker includes the perfect graduation-themed templates to help you out in an inspiring way.
FlexClip's online graduation collage maker is user-friendly and allows you to create collages from pictures and videos easily. Ready to test it out with your own photos? Just press the button below and follow the simple steps to make a great senior photo collage video with music:
Step 1
Upload Your Graduation Collage Footage
Go to the Media option, click Local Files to upload your graduation photos and clips to the Media section.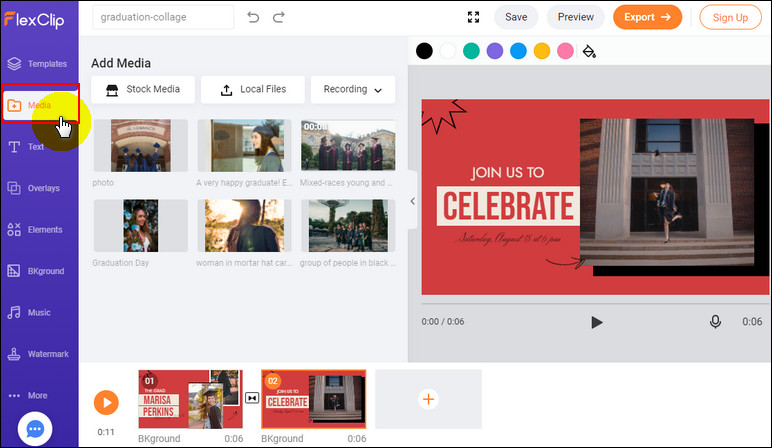 Make a Graduation Collage - Upload Footage
Step 2
Add the Photos to the Storyboard
Click on the Picture In Picture icon in the lower-left corner of the photo thumbnail to add the graduation photos as the overlay on the background one by one. You can change the background color to make it fits your picture.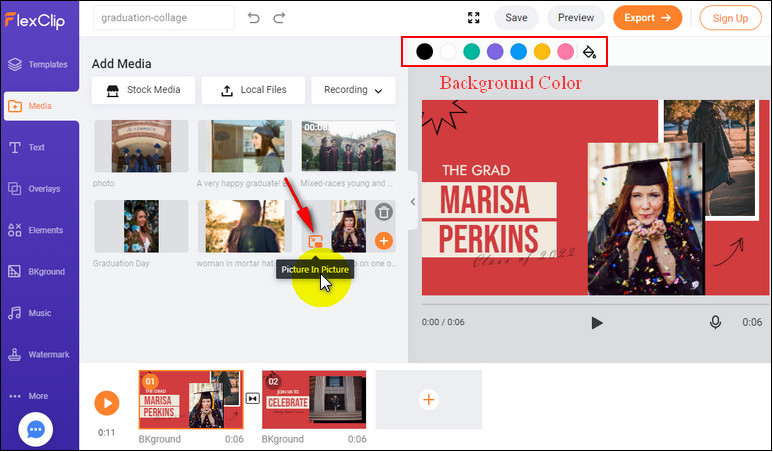 Make a Graduation Collage - Add the Photos to the Storyboard
You can also add a video clip to your graduation photo collage to make it more dynamic and lively. FlexClip allows you to mix videos with photos to create a thumb-stopping senior collage with its Picture-in-Picture feature.
Step 3
Customize the Graduation Photos
Drag and drop the photos and adjust their size and place them anywhere you want in the background. Here you can also access more options to customize the photo - add filters, adjust brightness, flip and add motion to animated them, etc.
Make a Graduation Collage - Customize the Graduation Photos
Step 4
(Optional) Make More Edits to Your Graduation Collage
To make your graduation photo collage video outstanding, you can make more edits, for example, adding funny text and music, using interesting elements, etc.
Make a Graduation Collage - More Edits
Step 5
Export and Share Your Graduation Collage
When you finish editing the collage, go to the preview button on the top right of the screen to view the final results, then export it directly and share with others.
Final Words
It's done! With FlexClip's free and versatile video collage maker, just five simple steps and your awesome graduation collage is ready. Go ahead and try it free for yourself to make a senior collage now!