It's an all-in-1 tutorial for frame video. Whether you want to create a video collage, add a frame/border to a video, or edit a video at a specific time, you can find the solutions here. With FlexClip video editor, they're only minutes' work.
When people speak "frame video", there are 3 types of things people are talking about:
Edit a video frame - a video image at a specific time.
No matter which one is your goal, you can stay with us and find easy solutions.
Part One: Free Video Maker for Frame Videos
There are unlimited ways to create frame videos, but not all editors can make a video collage or edit a video frame at a specific time. Although industrial video makers are powerful enough to make all kinds of video frames, their pricings and steep learning curves are not acceptable for average joes. Options for normal people are limited, and it takes a lot of time to find a right application for frame videos.
Without further ado, we've shared with you a cool online video editor that makes frame videos way easy. It's FlexClip.com, and you can do a lot more than just creating, editing and customizing your own frame videos.
FlexClip has 2 video editing modes - Storyboard & Timeline. Timeline helps you edit a video frame at a specific time effortlessly. Whichever mode you choose, you can make video collages with simple drag-and-drop.
Its extensive library with professional, royalty-free images, videos and audio sounds will support your edits and unleash your creativity. If you wish to add/change a border design, the searchable graphic & text templates will make it easy-peasy.
Part Two: Create & Edit Different Types of Frame Videos
Making frame videos is a lot easier with our online free video editor - FlexClip. Let's see how to use it to create and edit different types of frame videos.
#1.Video Collage: How to Put Two Videos in One Frame?
The basic way to create a video collage/frame is to put 2 videos on one screen. Here is a simple way to do this:
1
Register a free account, log in and upload your videos.
2
Drag and drop a loaded video onto [+] to add a video storyboard.
3
Under "Media" tab, move the mouse over another loaded video, which you want to put above the storyboard video.
4
Find picture-in-picture icon and give it a click.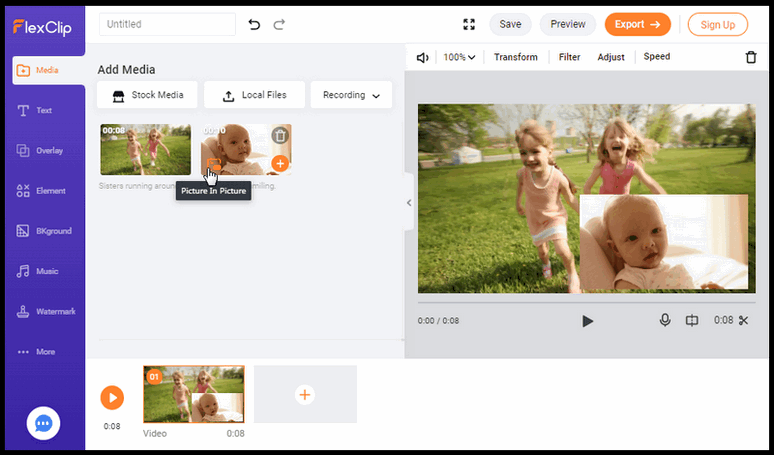 Image: Put 2 videos in one frame.
#2.Video Border: How to Add a Customized Frame to a Video?
The easiest way to create a video border is by zooming out the video, and you'll get a solid black border around the video immediately. But more often, such black borders won't meet our needs.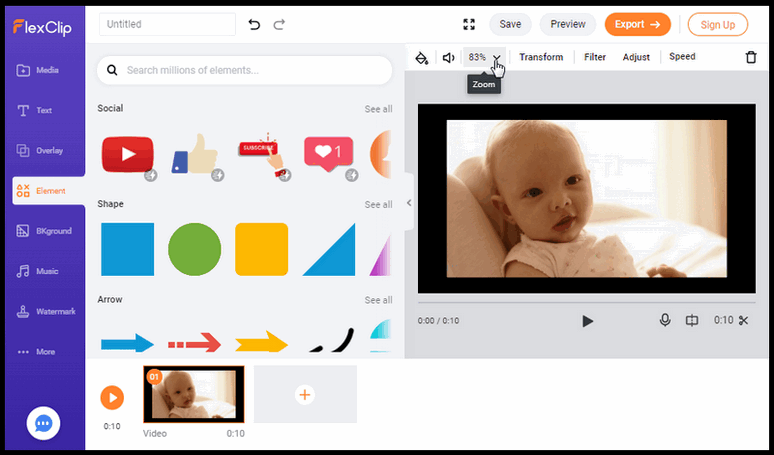 Image: Zoom out to create black border frame.
Popular ways to add frames to videos include adding top & bottom texts, using good-looking styles around video borders, etc.
Steps to add topped & bottomed texts as video frames:
1
Register a free account, log in and upload your videos.
2
Go "Text" tab, and click a text template to add.
3
Enter customized texts, adjust the color, font, etc.
4
Move your text to the top and bottom of the video.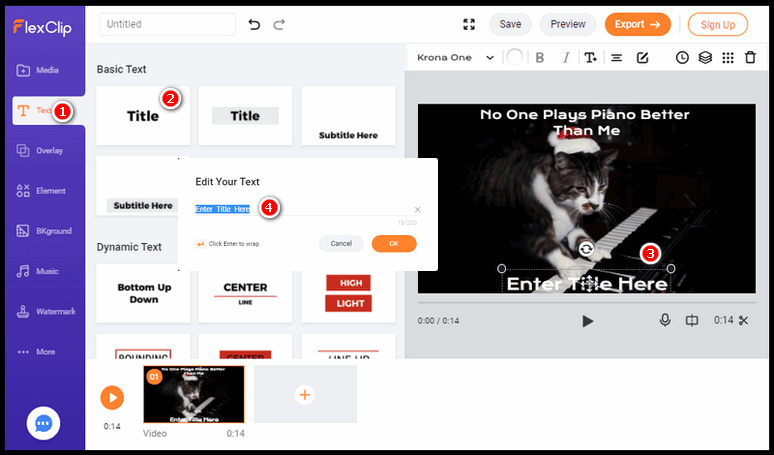 Image: Add top & bottom texts as video frames.
Steps to add good-looking styles as video frames:
1
Register a free account, log in and upload your videos.
2
Go "Overlay" tab, and choose a style to add. Also, you can use other graphics from "Element" tab or upload your own/download images from "Watermark" tab.
3
Adjust your new frame video until you are satisfied.
#3.Change Video Image: How to Edit/Fix a Video Frame?
Fixing & editing a video frame at a certain time point is an advanced, professional editing trick. It's more often used to fine-tune a video image to make the video feel more natural. Here's how to do it in FlexClip:
2
Upload your videos to Media.
3
Drag and drop a video to its timeline editor.
4
Play to find the point/video frame that you want to fine-tune, click "Split" to clip this part alone, and give it an edit, i.e., zooming in/out, adding texts, etc.
5
Play the video to preview and export it.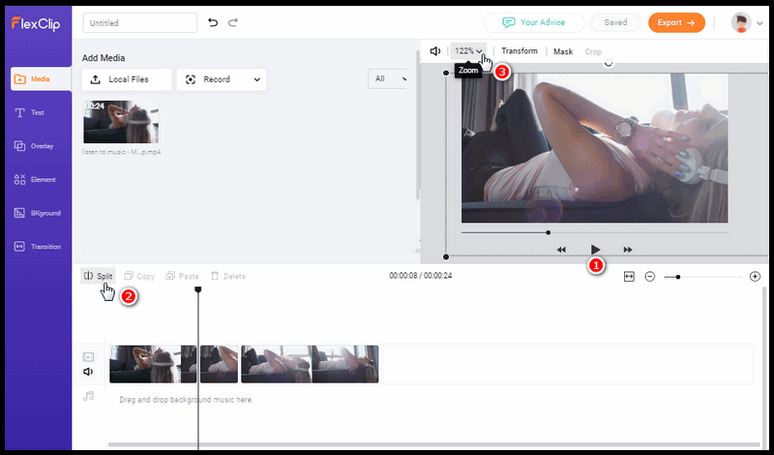 Image: Edit & fix a video frame.