Similar with GIFs, stickers are a hit-off among users in all sorts of social platforms. They have been a cool way to express yourself and interact with others.
As a matter of fact, besides default stickers, you can download stickers and be unique while talking with others. Here in this post, we will focus on ways to download WhatsApp stickers. Let's get started.
Can't Miss: How to Make a GIF >
Method 1. How to Download WhatsApp Stickers on the Application Itself
There are a variety of different WhatsApp stickers available on web waiting for you to download. Even though they are on web, you can get them within WhatsApp.
Step 1
Launch WhatsApp. Head to any chatbox and tap the emoji icon.
Step 2
Tap on Stickers icon next to GIF. Click on the "+" icon, you will open the WhatsApp stickers store.
Step 3
Go to All Stickers, you can find lots of stickers.
Step 4
Click Download icon to get your favorite icon.
Method 2. Download WhatsApp Stickers via Third-Party App
There are lots of great apps out there for WhatsApp Stickers now. However, you can just get one and download WhatsApp stickers. The most frequently used one is Sticker. ly. This great app is full of epic WhatsApp stickers and also allows you to create a WhatsApp sticker of your own. Let's see how to use it.
Step 1
Download Sticker.ly to your phone.
Step 2
On its Home page, you can see loads of stickers waiting to be used, like Trend, Status. Download one sticker pack to your local folder.
Step 3
Go to WhatsApp chatbox, look for the stickers you recently added and share the stickers with your friends!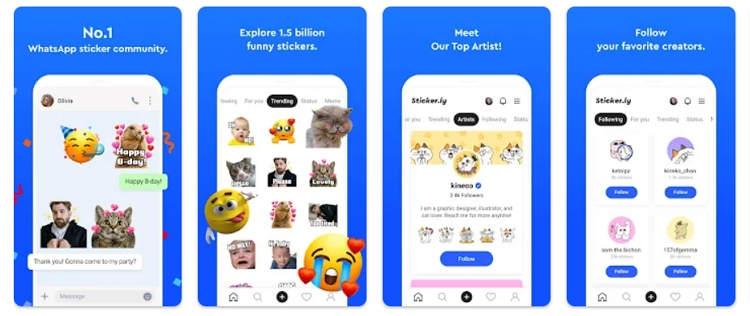 Download WhatsApp Sticker with Sticker.ly
Bonus Tip: Add Stickers to Your WhatsApp Video
It is not enough to just send WhatsApp stickers while chatting. For some, you might need to send a more vivid video with stickers. Sadly, you can't just add a sticker before sending the video within WhatsApp itself.
FlexClip can help you add a sticker to WhatsApp video easily. It is a safe online video editor with loads of video editing tools and stickers. Click the Create a Video button and start adding stickers to a video you are going to send via WhatsApp.
Step 1
Upload your video to the Media section and apply to the timeline.
Step 2
Go to Elements > GIPHY. You will find any stickers you want.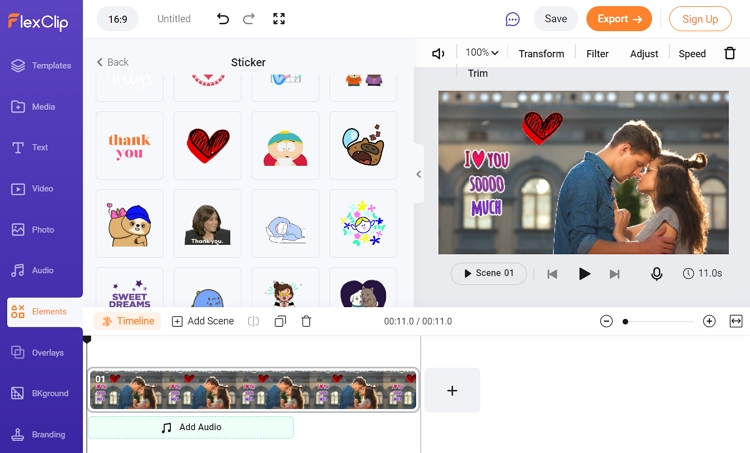 Add Stickers to WhatsApp Video
Step 3
Edit the sticker. Change its size, position, add motion and more.
Step 4
Download and ready to share.
The Bottom Line
There are many ways to download WhatsApp stickers. You can download stickers from WhatsApp itself and online. Follow the methods below and you can always find the right stickers. By the way, if you want to add stickers to WhatsApp video, try FlexClip. With numerous video editing tools and sticker resources, your WhatsApp video will be amaze your friends!