Created by Google to increase the loading speed for web pages, WebP files are 20-30% smaller than JPG images, with lossless image compression. However, you can't directly share WebP files on Instagram, Facebook, or YouTube. One workaround is to convert WebP to MP4.
In this post, we've rounded up 4 great online WebP to MP4 converters. So, you can easily convert WebP to an MP4 video online on both Mac and Windows or create a compelling slideshow video with your WebP files and audio for YouTube, Instagram, etc.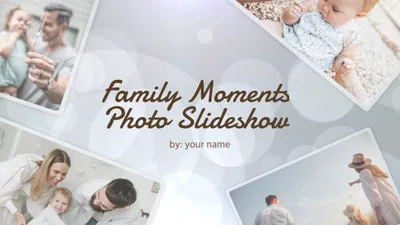 Family Moment Collage Slideshow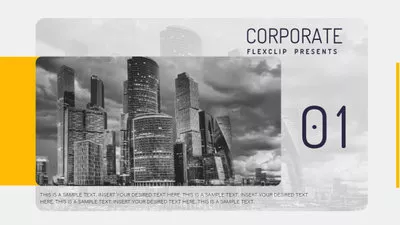 Corporate Slideshow Company Business Photo Record
Here's What You Will Learn:
Also read, how to convert GIF to MP4.
1. FlexClip
If you need to convert multiple WebP images to an engaging MP4 video with text animations, motion graphics, and music for your photo portfolios, family slideshows, birthday and anniversary celebrations, corporate promos, etc. then one of your go-to choices is using the user-friendly and feature-rich FlexClip online video maker.
Convert WebP to MP4 videos by FlexClip WebP to MP4 converter online.
Top Features to Convert WebP to MP4 Videos by FlexClip Online:
Offer you 715+ designer-made and fully customizable
slideshow video templates
, covering extensive topics, such as family, weddings, memorials, business promos, travel, anniversaries, birthdays, webinars, real estate, holidays, graduation, etc. Just by dragging and dropping, you can convert WebP to engaging MP4 videos in minutes, without design experience.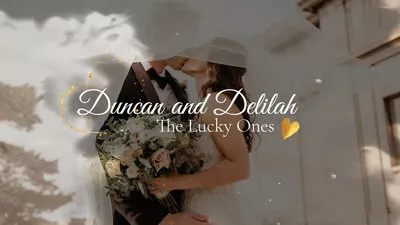 Golden Love Wedding Slideshow
Warm Family Memories Polaroid Slideshow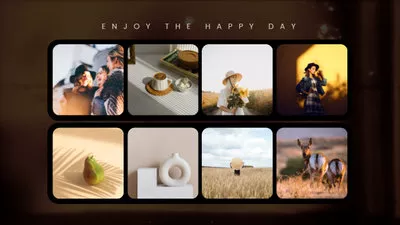 Universal Film Memory Photo Collage Slideshow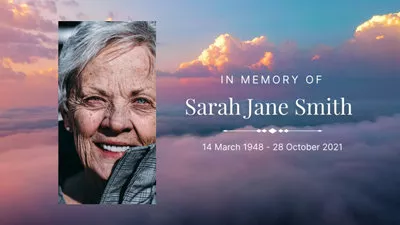 Cloud Funeral Memorial Slideshow
Easily use crop mask to crop Webp images into any shape you can image and animate Webp images with styles in one click.
Select from 74,000+ royalty-free music tracks and sound effects to create vibes and depth that match your WebP images.
Right-click on the video and extract audio from a video for audio mixing.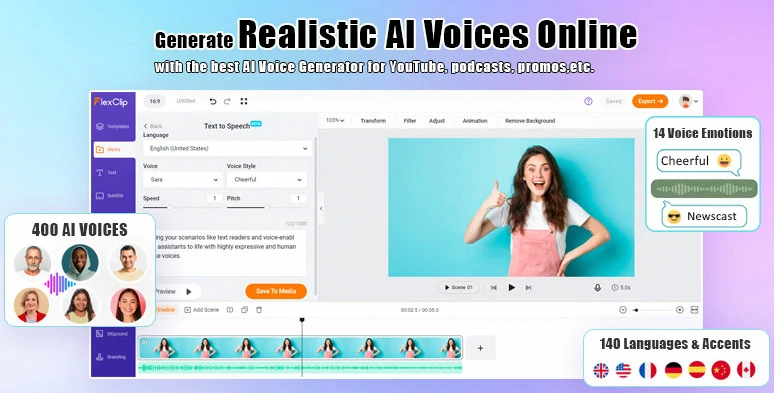 Convert text to realistic AI voiceovers for your video projects.
Use 300+ creative
effects overlays
, like cinematic lens flare, bokeh, rain, fire, dreamy bubbles, film grains, ink splash, smoke, neon, glitch, etc. to spice up your MP4 videos.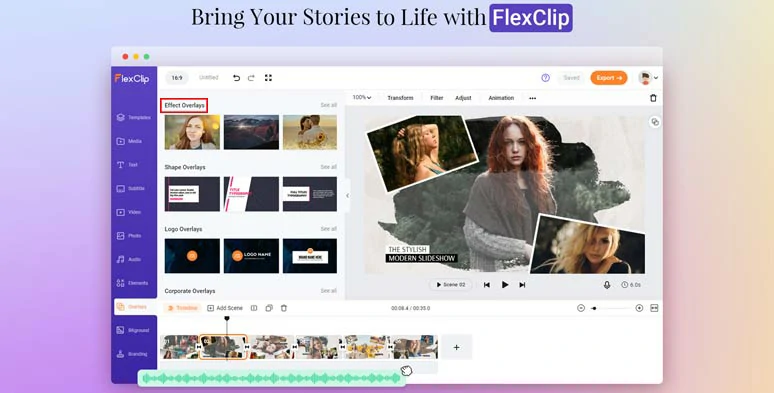 Use creative effect overlays to spice up your videos.
Besides, 1,000+ text animations, funny GIPHY GIFs and stickers, aesthetic animated illustrations, emojis, etc. are also available to add a personal flair to your MP4 videos.
When needed, you can invite team members or friends and work with them to take your video projects to the next level.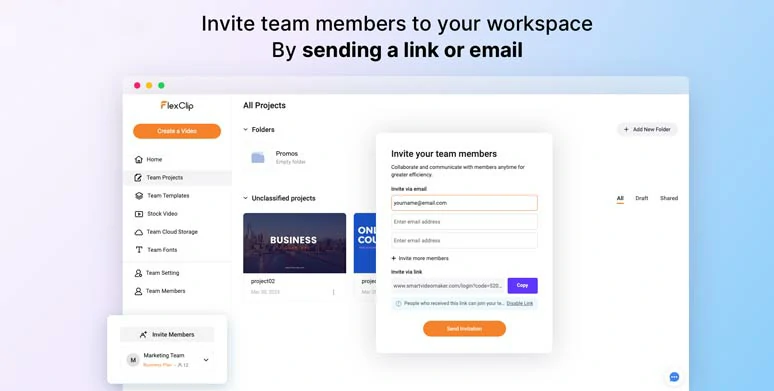 Use the team collaboration feature to team up with your colleagues or friends to finish the video projects.
How to Convert WebP to MP4 by FlexClip Online: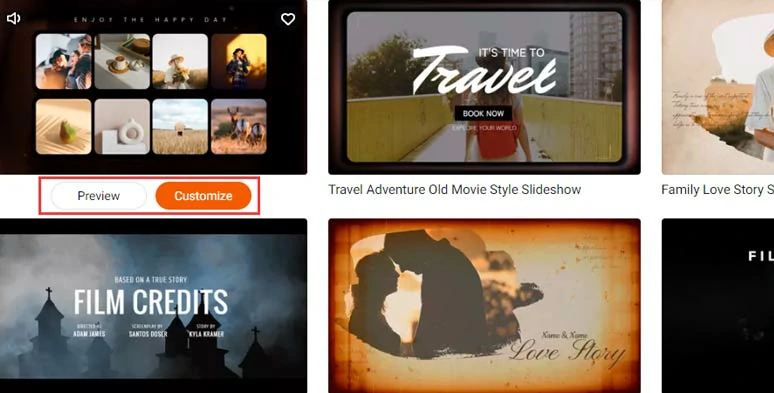 Select a free template.
Step 2
Upload your Webp images from your PC, phone, Google Drive, One Drive, Dropbox, or Google Photos.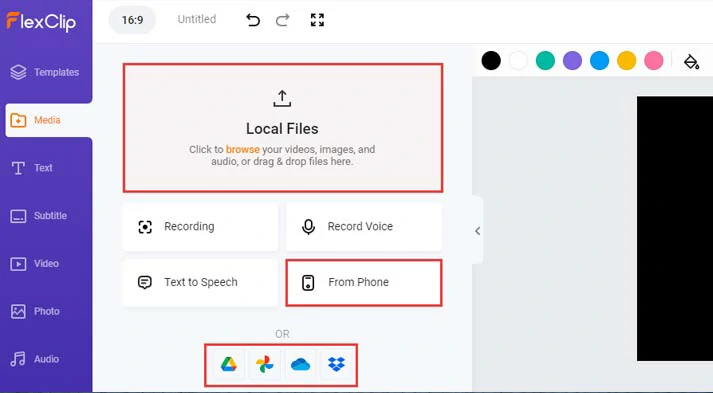 Upload your WebP images to FlexClip.
Step 3
Drag and drop to replace premade images with your WebP images. You can trim WebP's duration on the intuitive timeline.
Drag and drop to replace images or videos with yours.
If you don't like the premade image animations, with the WebP image selected, click the Motion tool and you can customize its animations with popup, wipe, rotate, flip, zoom, bounce, drift, stomp, etc., and control its direction and duration.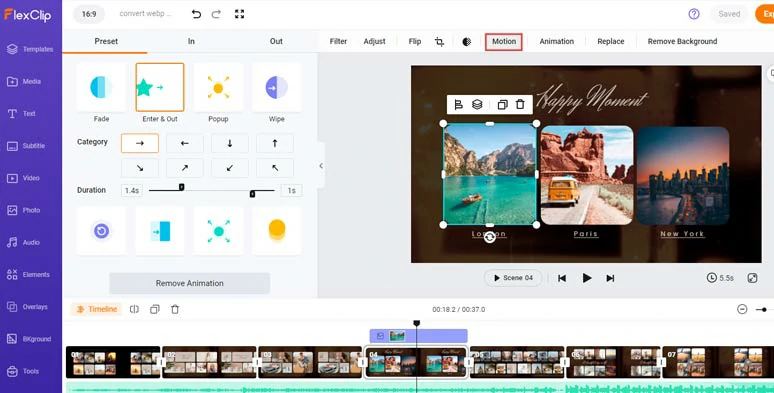 Easily animate WebP images with styles.
Step 4
Customize the text and text animations.
Double-click the premade text > type in your text > customize the text font, text color, text size, alignment, etc. By clicking the Motion tool, you can animate the text with styles, such as typewriter, cinematic glitter, blur, bounce, flip, neon, etc.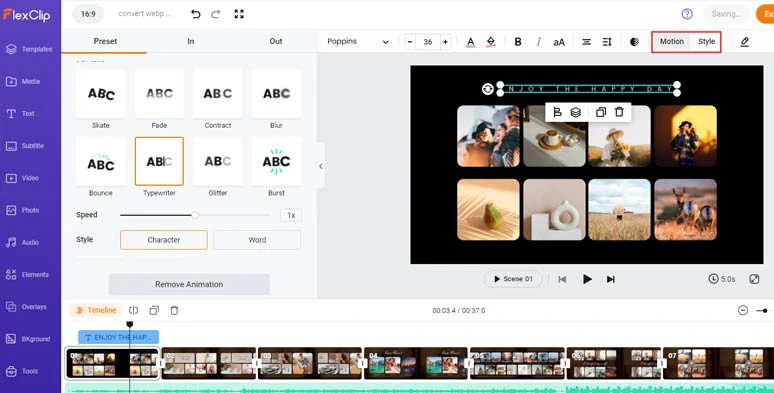 Easily customize the text, text styles, and text animations.
Click the Text tab, you can use more ready-made and editable text animations, like lower thirds, social media profile titles, like comment and subscribe titles, wedding titles, minimal titles, and newscast titles, speech bubbles, etc. Please feel free to explore.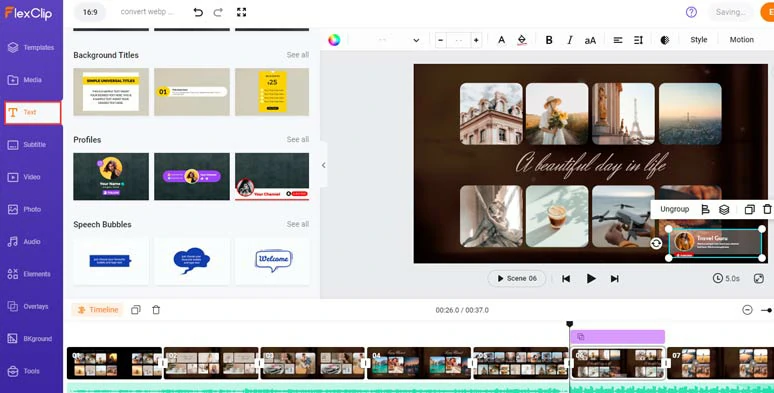 Use more ready-made and editable text animations.
Step 5
Use the text-to-speech generator to add realistic AI voiceovers to your video. (optional)
If you need to add voiceovers to your MP4 video, an efficient way is to use FlexClip's free text-to-speech generator to convert text to realistic AI voiceovers. There are 400 AI voice avatars available speaking 140 languages and accents. You can customize the AI voice's style, emotion, voice speed, pitch, gender, and age. Pretty handy!
Just click the Media tab > AI test-to-speech generator > select a language and an ideal AI voice avatar > set the voice style, speed, and pitch > copy and paste your video scripts > preview AI voice > hit Save to Media to convert text to AI voices.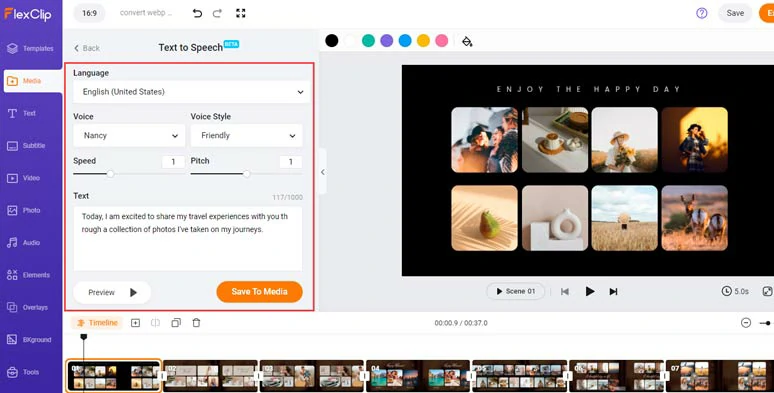 Convert text to realistic AI voices for your video's voiceovers.
Next, you can add AI-generated voiceovers from the Media Library to match different video scenes. You can trim or split the audio tracks and adjust the volume as well. FlexClip will also save separate audio files to your PC for backup.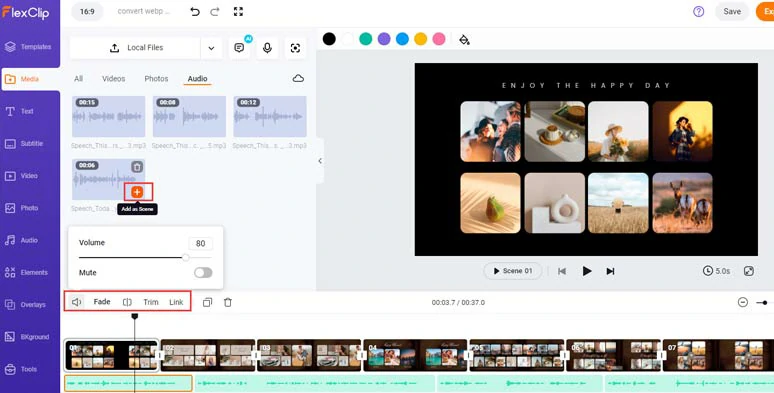 Add the AI voiceovers to match the different video scenes.
Step 6
Automatically add subtitles to your video.
To make sure your video content is available to viewers who prefer to watch your video with the sound off, you may use FlexClip's AI auto subtitle generator to add subtitles to the video with up to 95% accuracy.
Just hit the Subtitle tab > Auto AI Subtitle > identify the language in the video > hit Next > select the subtitle style > press Generate Subtitles button.

Automatically add subtitles to your video with the click of a button.
Later, you can proofread the auto-generated subtitles and correct any misspellings and adjust text font, text color, size, alignment, background fill, etc. until you are satisfied with it.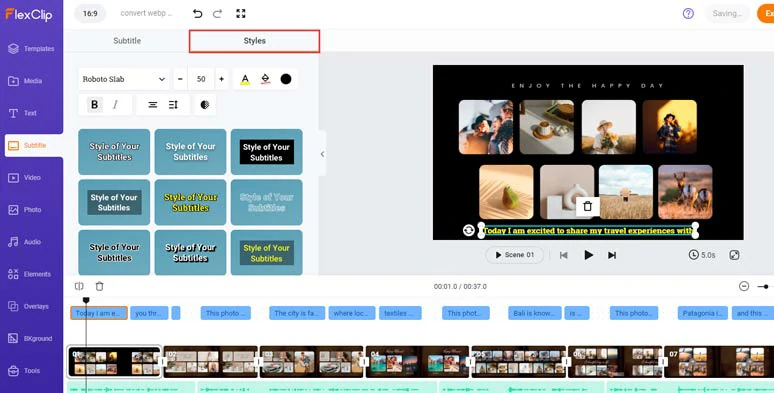 Fine-tune the text styles.
You may press "Enter" to split a long subtitle or merge two short subtitles with ease.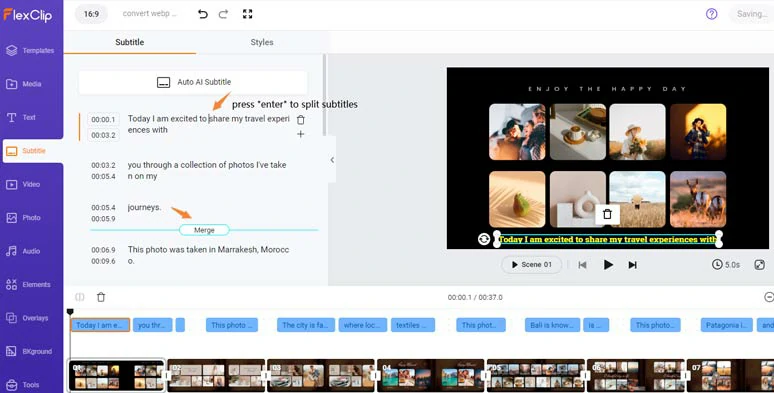 Easily split or merge subtitles.
Step 7
Add royalty-free music and sound effects to the video.
Click the Audio tab where you can search for royalty-free music and sound effects for your text reveal and create the vibes needed. You can layer multiple audio tracks to create depth and easily trim and split audio and adjust the volume or add fade in/out effects for smooth audio transition.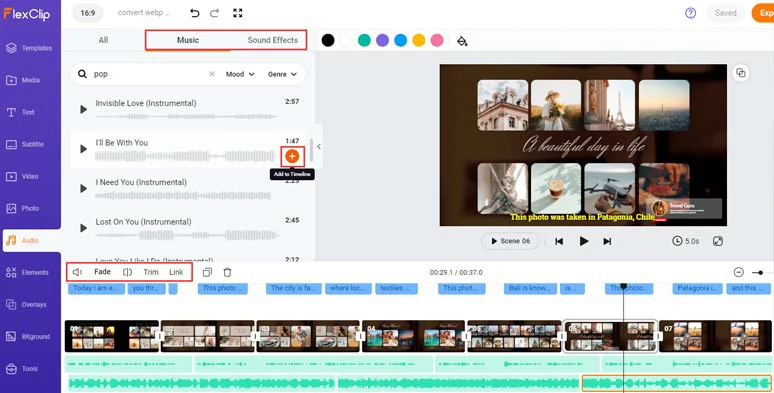 Add royalty-free music and sound effects to videos.
Step 8
Preview and share.
Done with the editing. You can directly download the 1080P MP4 video to your PC, or share it to YouTube, Google Drive, One Drive, Dropbox, or even TikTok; a clickable link is also available for your blog post, newsletters, or other repurposings.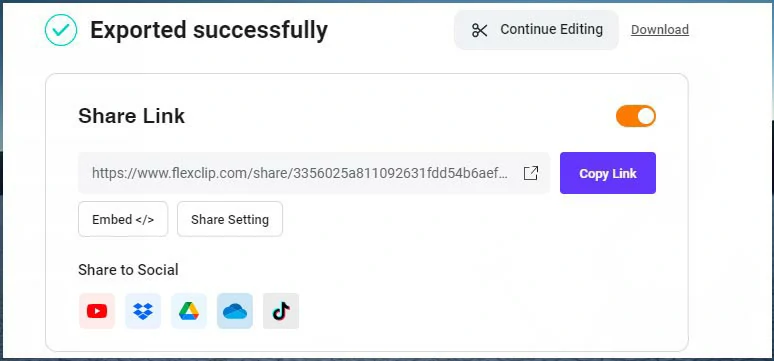 Easily share and repurpose your video content.
2. ASPOSE
ASPOSE is a free and easy-to-use online WebP to MP4 converter. All you need do is upload WebP files and click the convert button. Then ASPOSE will take care of the rest. You can upload up to 10 WebP files and ASPOSE will convert and merge all the WebP files into an MP4 video for you.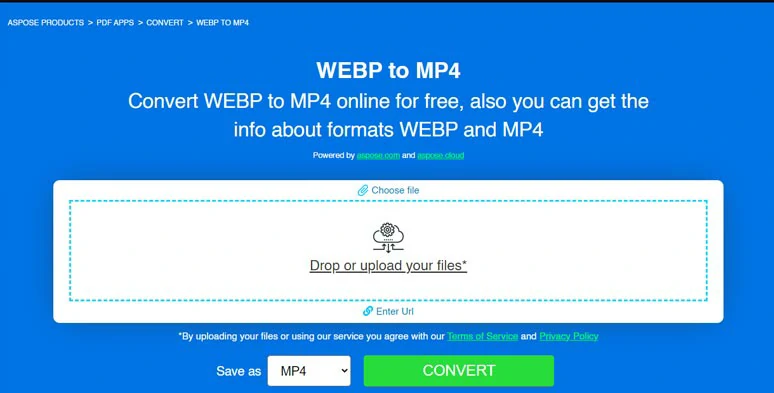 Convert WebP files to MP4 by ASPOSE online.
Each Webp image will last 5 secs in the converted MP4 video. One thing worth mentioning is that the WebP files to be converted by ASPOSE need to have the same dimension (either landscape or portrait), otherwise it may experience glitches. Besides, the conversion speed is slow, but the converted video has decent quality.
3. OnlineConvert
As the name suggests, OnlineConvert is a free and professional online WebP to MP4 converter. OnlineConvert offers you multiple ways to import WebP files for MP4 conversion, such as from your PC, Google Drive, Dropbox, and One Drive.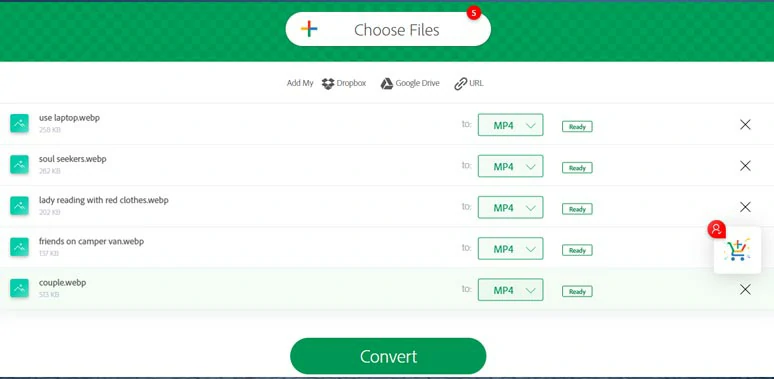 Convert WebP files to MP4 videos individually by OnlineConvert.
After you upload WebP files to OnlineConvert, you need to manually select the MP4 video format for instant format conversion of each WebP file. Apart from converting WebP to MP4, you may choose other video formats like MKV, MOV, MPEG, etc.
Then, you click the Convert button, and OnlineConvert will automatically convert all the WebP files to MP4 videos in sequence. BTW, the maximum file size is 3MB.
4. EZGIF
Though originally known as a handy online GIF maker, EZGIF nowadays also offers online users many free and helpful image and video converters, one of which is the WebP to MP4 converter.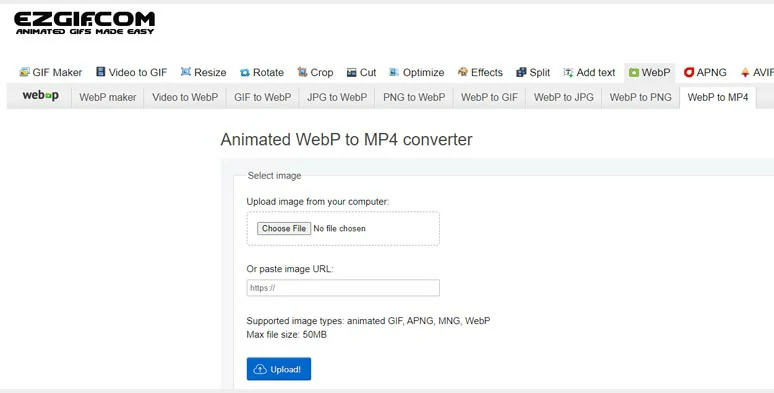 Convert WebP to MP4 by EZGIF online.
To convert WebP to MP4 with EZGIF, you simply need to navigate to its WebP to MP4 converter and upload your WebP file and click the Convert button. However, unlike other online WebP to MP4 converters mentioned above, you can only upload one WebP file at a time to EZGIF for MP4 conversion.
You can get a preview of the converted video. If you find it too big, you can use a video resizer, crop tool, rotation tool, etc to make some adjustments. Then click the Save button to download the MP4 video to your PC.
Now, It's Your Move
Converting WebP files to an MP4 video offers you a great way to repurpose your WebP images for YouTube, Instagram, Facebook, Twitter, etc. Hopefully, you can create more great videos with existing WebP files or other clips. If you find this tutorial helpful, do share it on Facebook or Twitter with friends and leave your comments to us. Much appreciated!