Briefs: Cinematic titles can largely affect video success. But how to create awesome cinematic titles freely? - We've curated cinematic title designers that film producers use & a much easier title designer for all users. You'll also find top cinematic title designs from blockbusters & hot movies here.
CONTENTS
Want to make an Epic film/an engaging video? It's almost impossible without cinematic title.
Dozens of scientific data prove that viewers will decide whether to watch a video by the first 15s intro. Therefore, intro & title design plays a key role!
If you are new to video design or a professional designer who wants better cinematic title ideas or design tools, the article will satisfy you with your needed solutions.
Part 1 - Cinematic Title Maker Free Online [No Design Skill Needed]
FlexClip video editor online comes with millions of professional, royalty-free cinematic title templates - It's one of the best options to craft a stunning cinematic title shortly. With the help of many ready-made free cinematic title ideas, creating a cool cinematic title will be only a piece of cake for you:
Step 1 Click [Make a Free Video] in FlexClip.com.
Step 2 Search cinematic titles & intros with some keywords you like, then you can choose a template.
Step 3 Edit your cinematic title & intro video at your fingertips - Type title words, change title font/color, etc. (No design experience required!)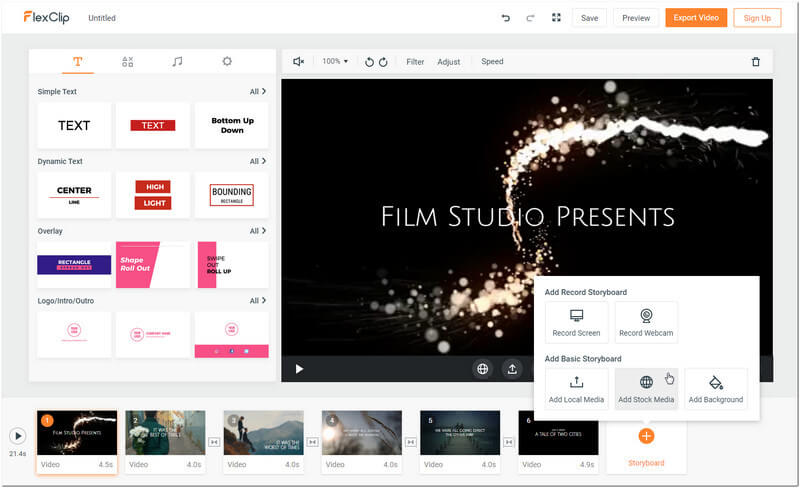 Image: How to edit your cinematic titles & intro video freely.
Step 4 Preview and download your video with cinematic title.
Q: How to DIY stylish, modern cinematic titles & intros that look very different from templates?
A: Easy. Here are 2 advanced ways for you:
Method a: Open a blank video project, add stylish text & font as cinematic title (go [T] label in FlexClip editor interface), and use a cool video as the background video (go [+Storyboard] > [Add Stock Media] to find millions of video ideas).

Image: How to DIY your own cinematic title from scratch.

Method b: Prefer a title design/text design in one of FlexClip templates, but need a different background video? - Just apply the template you like and copy a video storyboard. Replace background video with your own footage or find another professional video from FlexClip stocks.

Image: DIY a cinematic title with text style in template.
Highlights using FlexClip to Make Your Cinematic Titles:
Massive professional cinematic titles & intros that you can search through and customize with.
Free-to-use
It's easy to create marketing video intros, teaser trailers, YouTube ADs, etc.
Part 2 - 3 Reputable Software to Design Cinematic Titles
FlexClip video editor is much simpler to design cinematic titles online. It's designed for all-level users. While many film producers choose some reputable & much more complex software to design cinematic titles for films and movies. Now, we'll introduce 3 professional cinematic title designers, which have hard learning curves.
i.Premiere Pro Adding Cinematic Titles
Premiere Pro is a professional cinematic title editor. It has almost everything you need to render all kinds of stunning cinematic title effects. To create awesome cinematic titles, you can change the degrees of blur, opacity and scale level at different time points.
ii.Adobe After Effects to Make Cinematic Titles
Comparing with Premiere Pro, Adobe After Effect has more options to set up cooler cinematic titles. To make use of Adobe After Effects to the fullest, you can take a shortcut by referring to some other tutorials, then you can just grab its design effects.
iii.VSDC Free Video Editor to Make Cinematic Titles
VSDC Free Video Editor offers free advanced ways to create cinematic title animations. You can install & use any fonts on your PC and use them in your cinematic title design. Let cinematic titles fade in or fade out, adjust zooming levels, transparency degree of cinematic titles, etc.
Part 3 - Professional Cinematic Title Examples from Blockbusters & Hot Movies[Case Studies]
It always pays off if you spend some time studying top professional cinematic titles & intros of blockbusters & hot movies. After learning them, you'll know how to make cinematic titles better.
There are hundreds of cool cinematic titles on YouTube, and you'll find them in trailers & movies. Here are top awesome cinematic titles that we've found.
#1.Avengers: Endgame Cinematic Titles
#2.Gotham Knights - World Premiere Cinematic Title Trailer
#3.The Suicide Squad - Roll Call Cinematic Title
#4.Titanic - Official Cinematic Title Trailer (HD)
#5.IT - Official Teaser Trailer Title Design