Car sale videos are brief commercial videos that introduce the appearance and performance of cars. They can be used for many purposes, such as advertising car brands, increasing car sales or attracting potential customers. Let us learn more about car sale video!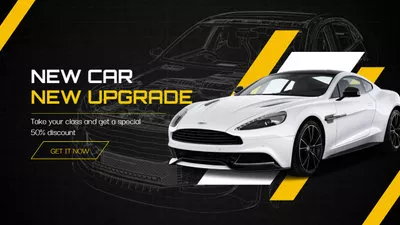 New Upgrade Cars Sales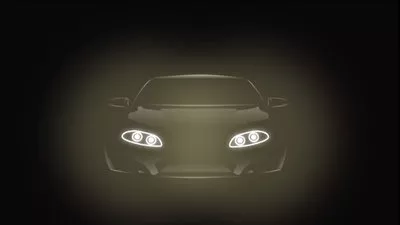 Car Ad
Part 1 Why Does Car Sale Video Matter?
It's said that car sale videos are some of the most inventive around the world and have always been some of the best examples of advertising and marketing. So making a car sale video to increase its sales is a good idea. It tends to mix innovation, inspiration and emotion in an incredibly compelling way to advertise cars and wow the audience.
Benefits of Car Sale Video
Let customers have a deeper understanding of the car, including the year, make, model, mileage, and body style.
Drive sales by optimizing for both online conversions (leads) and offline conversions (store visits).
Offer a convenient way for customers to see the car you're selling instead of driving anywhere again and again.
Use statistics in car sale video to increase trust between you and your customers.
Capture viewers' attention and keep them engaged throughout the car sale video.
Increase the number of people that convert to your social channel, which can offer more opportunities for you to sell cars.
Part 2 Best Online Car Sale Video Maker - FlexClip
Why recommend FlexClip as the best video editor to make car sale video online? FlexClip's car sale video maker allows you to present everything in videos, like car commercials, car dealership ads, or used car sales according to your preferences. As an easy-to-go editing tool, there are no editing skills required through video production.
Best Features to Make Car Sale Video with FlexClip
Offer different types of car sale video templates to help you make engaging car ads or commercials.
Provide numerous
sound effects
, voice-overs, and other audio elements to engage people's attention in car sale video and help them imagine what it's like to drive a car.
Customize the car sale video according to your preferences in terms of the text, fonts, colors,
animations
,
transitions
and overlays.
Posses abundant footage related to car, which will help you avoid spending time and money to shoot additional video materials.
Own lots of AI functions, such as AI Video Script or
Text to Video
, which can save your time to make high-quality car sale video and increase sales.
Don't need expensive production equipment or spend hours editing video.
And the most worth mentioning advantage about FlexClip is its diverse pre-made templates. Many people consider it's challenging to make a car sale video because it requires professional and superb editing techniques. Luckily, there're lots of free templates fit for different platforms to help you make your car sale video stand out from other car ads.
Car Sale Video Templates for YouTube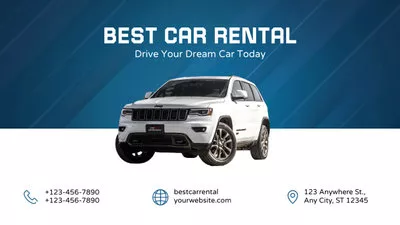 Dynamic Blue Car Rental Promo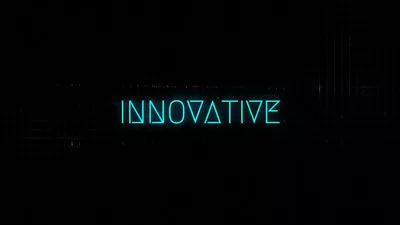 New Technology Trailer Car
If you decide to make a car sale video to advertise car on YouTube, click these templates above to output your video, which is fit for the YouTube ratio.
Car Sale Video Templates for Instagram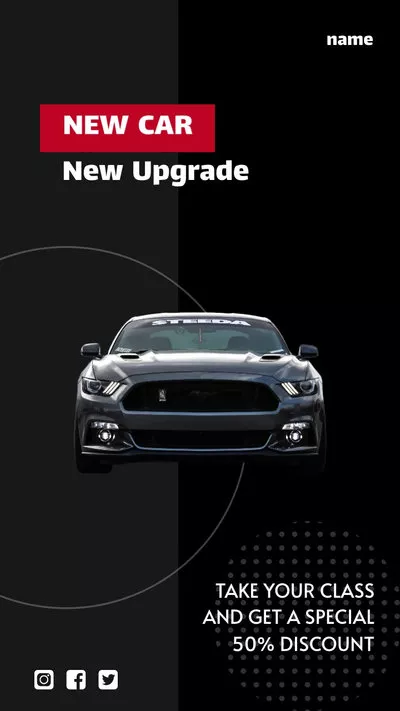 Car Sell Ads Instagram Post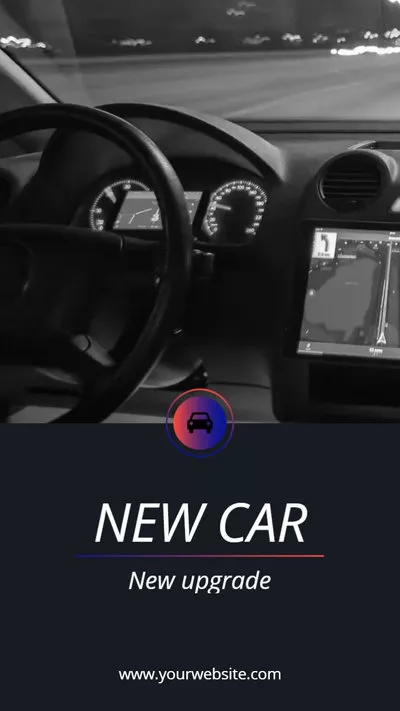 Car Sell Ads Instagram Reel
Simple New Car Video Instagram Reels
These templates help you to make car commercials and attract potential customers on Instagram. Choose these templates above to make your own car sale video.
With these excellent templates, making car sale video is super easy. Try it for free!
Part 3 How to Make Car Sale Video Online in FlexClip
Now, it's time to start making your car sale video or any car commercial to advertise your car and get more sales. Follow these prompts below to start your car sale video editing, which has a positive impact on car sales.
Step 1
Choose your favorite car sale video template from the Templates section.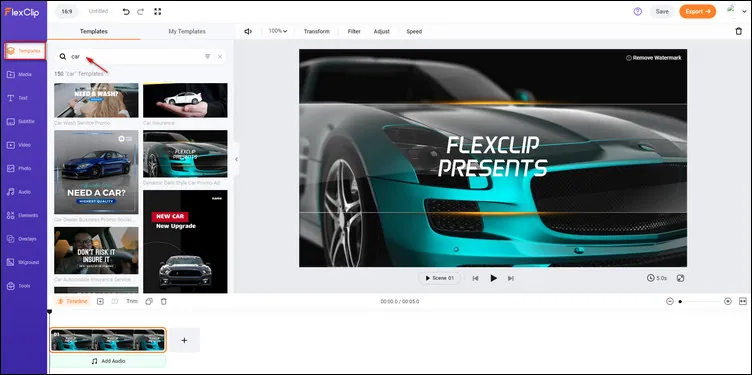 Make Flashback Transition - Choose Template
Step 2
Click the Media button to upload your videos, images or audio from your computer or phone and apply them to the timeline. Then tap on Video library and search for car footage to replenish your content in car sale video.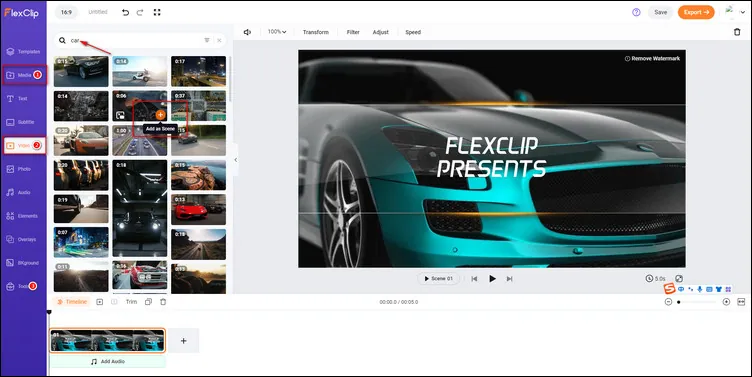 Car Sale Video - Add Video Materials
Step 3
Use the easy trimmer or splitter to adjust your car video footage; and also feel free to edit the original texts or effects in the template with double-clicking on the overlay.
Car Sale Video - Trim Video & Adjust Texts
Step 4
Click Audio button and choose the sound effects of car, like the roar of cars to impress viewers. Or, you can replace the background music with your own song or pick a new one from FlexClip's extensive music library.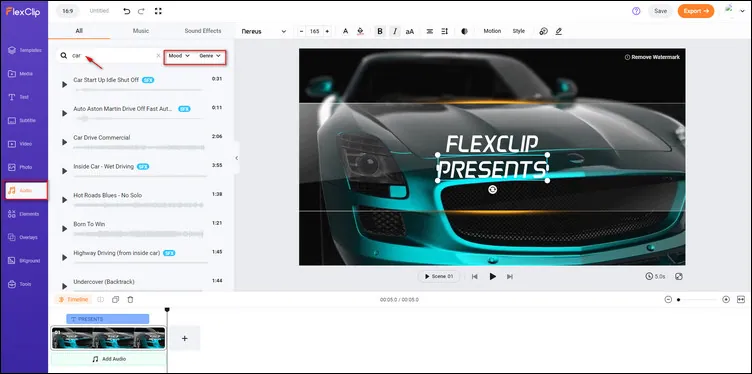 Car Sale Video - Add Audio
Step 5
You can make more edits to level up your car sale video, such as uploading your brand logo or adding some social icons, etc. Once you are happy with the video, then tap the Export button to download your car sale video for car advertisement.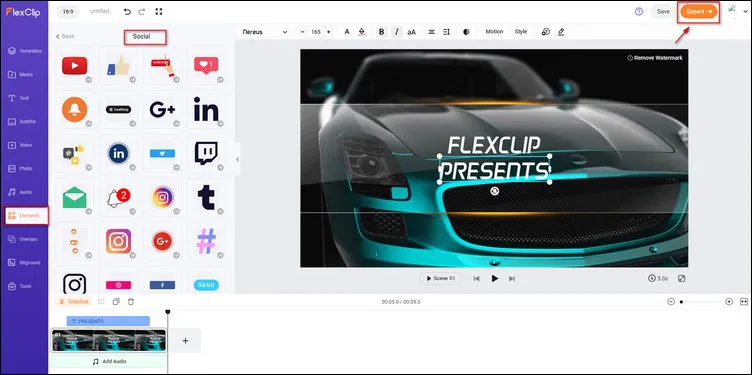 Car Sale Video - Download
The Bottom Line
With diverse templates plus video editing features, FlexClip simplifies the process of creating a car sale video. Even if you have no experience with video editing, you can produce a car sale video in minutes. And you can make car sale video on your browser without the need of downloading any software on your computer. Enter FlexClip's editing page to experience convenient video editing!