Briefs: We've collected top boxing & fight videos for combat sports fans. In case you want to make a customizable combat video collections that you love most, we've shared our easy free combat video maker that you can upload & edit your most exciting fight video.
CONTENTS
Part One - Top Boxing & Fight Videos in History
No.1.Legendary Boxing Video - Mike Tyson Boxing Video
Mike Tyson is top boxing legendary celebrity with the highest respect. His knockouts are unstoppable, so we've found you his best knockouts footage:
No.2.Muhammad Ali Historic Top 5 Best Fights Video
Muhammad Ali is one of the world top boxing heroes in history. We've found his best 5 fight footage on YouTube.
Top 5 Ali fight collections include: Muhammad Ali beat Cleveland Williams in 1966, Ali beatsSonny Liston in 1965 and 1966, Ali beat George Foreman in 1974, and he beat Ernie Terrel in 1966.
No.3.2019 Heavyweight Best Boxing Combos
Joshua's accuracy, Killer Wilder's hard hits, Fury's top fight movements,…, all these matches putting together make this "2018 Heavyweight Best Boxing Combos" unparallel.
No.4.Brock Lesnar WWE Commercial Footage
WWE is the most popular commercial wrestling fights in the US. And, Brock Lesnar is one of the biggest champions with dozens of WWE top titles. He doesn't talk much but is heavenly unstoppable with his Suplex. WWE officially releases his heavyweight fight footage in their YouTube channel. - What a gift for fight fans!
Part Two - How to Make Your Own Combat Video Collection for Free?
Boxing & fighting sports are perhaps the bloodiest & cruelest sports, which also makes it engaging and fantastic. Boxing & fight heroes show us the importance of strength, dedication, persistence and intelligence. Combat sports spirit - "Never Give Up" - is precious.
You can save your most favorite combat videos to a combat video collection. All you need is an easy editor right for you.
If you don't have a video editor yet, try our FlexClip free video maker. Using it, you'll find it convenient to make a video collection for boxing & fight sports:
Step 1 Prepare Your Favorite Boxing Footage.
Typically, there are 3 ways to prepare your favorite boxing footage:
Search your favorite footage from YouTube, Google, Facebook or elsewhere. And, download videos when they are legal.
If your TV is a smart 4K TV, it usually has a function to download/record a TV shows. That way, you can save fight/boxing.
Rip combat videos from boxing/wrestling DVDs and get MP4 footage.
Step 2 Upload & Edit Boxing & Fight Videos.
Among many simple or complicated & advanced video tools, FlexClip.com can be a happy solution for you. It'll upload combat videos/images as individual storyboards, and allows you to search/upload high background music and edit your fight video as wish.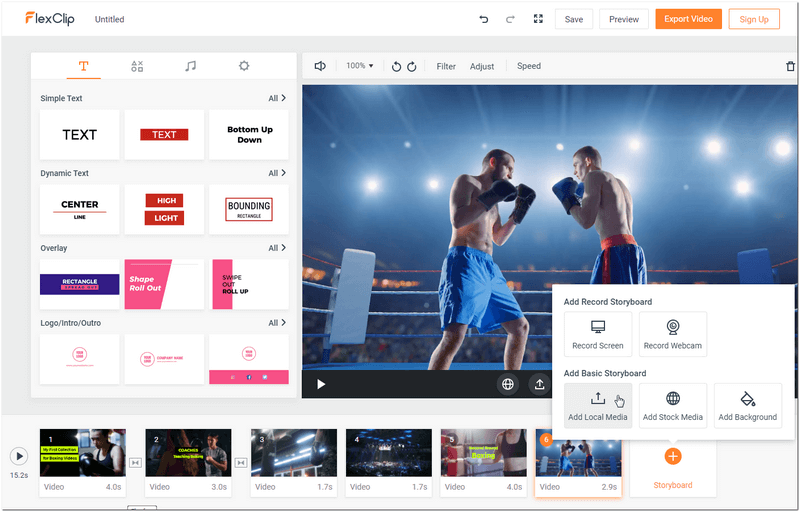 Image: Upload & edit your boxing fight video freely.
Step 3 Preview and Download Your Producing Video Collection for Boxing & Fight.
When you are satisfied with your DIY combat video, you can then preview & download it to a MP4 video in 1080P, 720P, or 480P resolutions.