Want to plug your new album? Need to support your favorite singer idol? Use a lyric video for help! Nowadays, lyric videos help you strengthen the relationship with fans, grow traffic on your YouTube or social media account and enhance the mood and feel of your song.
However, it's painstaking to add and check lyrics manually. Luckily, now auto lyric video makers are here to release you from the tedious task. No need to look around since here we've rounded up 5 best auto lyric video makers online. Let's check it right now!
Free and customizable lyric video templates for you: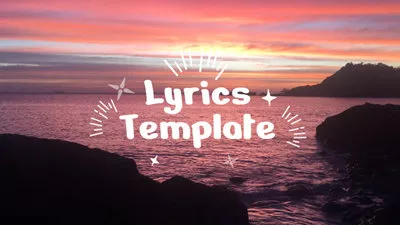 Animated Text Lyric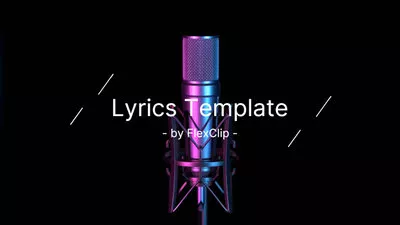 Pop Lyrics Template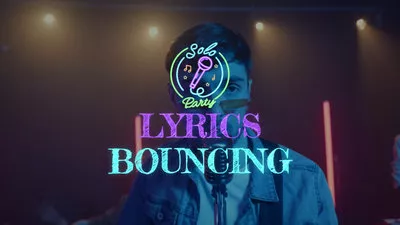 Bouncing Lyrics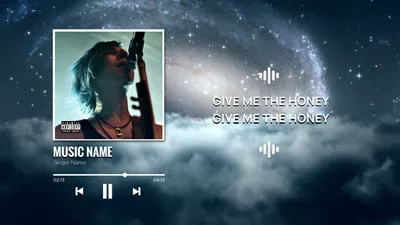 Music Player Live Stream Lyric
1.FlexClip
FlexClip's auto lyric video maker stands out for its high accuracy and flexibility. Supporting 140+ languages with different accents, this tool helps you automatically extract lyrics from music videos with up to 99% accuracy in seconds. Additionally, if you want to manually make an animated lyric video, you can apply a complete set of text styles and motion effects.
Need some inspiration for a lyric video? Go ahead to FlexClip's versatile template stock to light your creativity. After editing, FlexClip provides an instant sharing solution for TikTok and YouTube, making your creation and sharing process a breeze. No editing experience is required!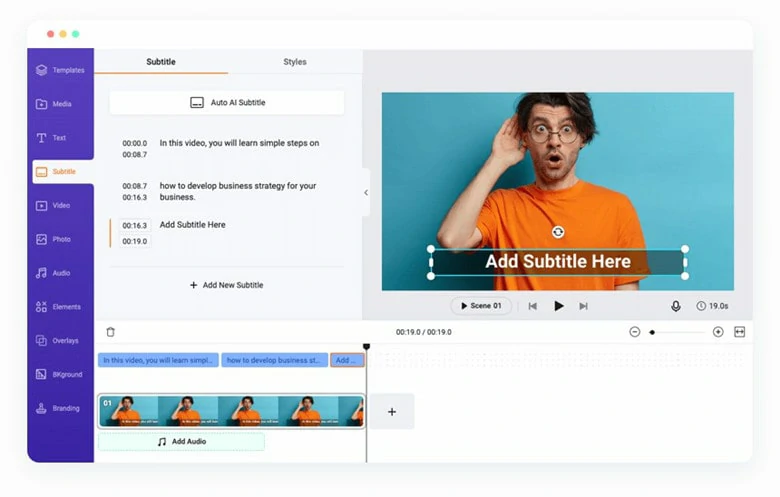 The Best Auto Lyric Video Maker - FlexClip
Key Features of FlexClip's Auto Lyric Video Maker
AI lyric maker supports 140+ languages with up to 99% accuracy.
Instant sharing to YouTube and TikTok.
Hundreds of popular
text styles
and animation effects you can use.
4000+ designer-made templates including lyrics videos are available.
Millions of royalty-free resources like audio, photos, videos and more.
Advanced tools like
text-to-speech
, image background remover and overlay effects are ready for you.
Cons:
The Maximum video length is 30 minutes.
2.Veed.io
Veed.io lets you create a lyric video with three ways to add lyrics. You can automatically generate lyrics with speech-recognition software, manually type in text and burn subtitles files to your video. Besides multiple ways, this auto lyric video maker enables you to change your subtitles' style, font, and colors. Also, you can pair the text with different pre-made animation styles and backgrounds.
What if your audio contains noises that make it hard to recognize? Veed offers clean audio to remove background noise. Meanwhile, it offers a splitter feature to edit your soundtrack. Using this online video editor, you can easily make stunning videos.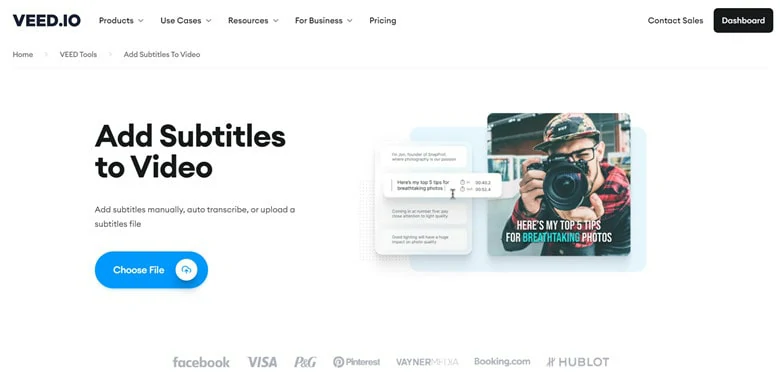 The Best Auto Lyric Video Maker - Veed.io
Key Features of Veed Auto Lyric Video Generator
Multiple ways to add subtitle to your lyric video.
Edit your audio clip with an audio cleaner and splitter.
Able to adjust the style, font and color of your text.
Hundreds of ready-made templates and resources are here.
A full set of handy editing tools to smooth your work.
Cons:
The loading speed may drive you crazy.
The AI subtitle generator often fails to work or transcribes audio with wrong subtitles.
3.Kawping
Kawping is a trusted solution for creating lyric videos with an AI-based maker. Like Veed, this lyric video maker also comes with three ways to generate lyrics: auto subtitles, subtitle file or manually adding text. As for the auto-subtitle tool, it includes various pre-made text styles, animation effects and transition presets to make your lyric video stand out. Besides, you can adjust the text in detail like opacity, padding size, line height, text outline and more.
To enrich your lyric video, turn to Kawping's media library for help. There are a variety of video clips, background music and elements you can add with ease. In a nutshell, it's an all-in-one lyric video maker worthy to have a try!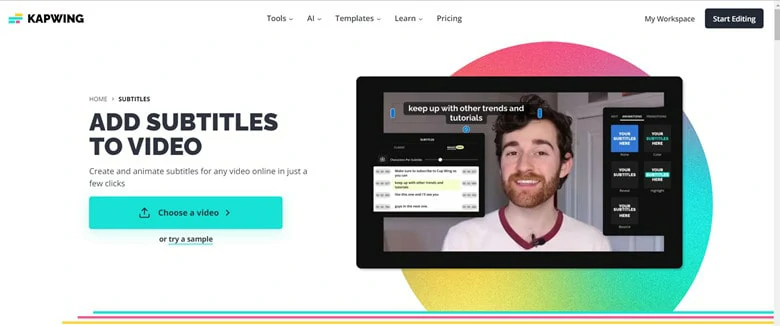 The Best Auto Lyric Video Maker - Kawping
Key Features of Kawping Auto Lyric Video Maker
You can use auto-subtitle generator, subtitle file or manual ways to add lyrics.
Edit the lyrics text with animation,
transition
, outline and other styles.
Basic edits to polish your text.
You can merge, split and set the duration of the generated lyric text.
Search for videos, photos and other media resources to use.
Cons:
You may encounter a sudden lock during your editing process.
Many users complain about constantly glitching and freezing for unknown reasons.
4.Nova A.I.
Nova A.I. is designed to create lyrics automatically. You can choose between hardcoding the lyrics on top of your video or downloading your subtitles as SRT, VTT or TXT files and add them to a video player such as YouTube or VLC. Alternatively, If for some weird reasons you decide to type out lyrics manually, Nova won't rob you out of the chance to add lyrics yourself.
This auto lyric video maker will do you a big favor if the desired video exists on YouTube or TikTok - Just paste the video link and this tool will directly grab the video for editing. Moreover, advanced features like transition effects and animated elements can also be reached within this editor.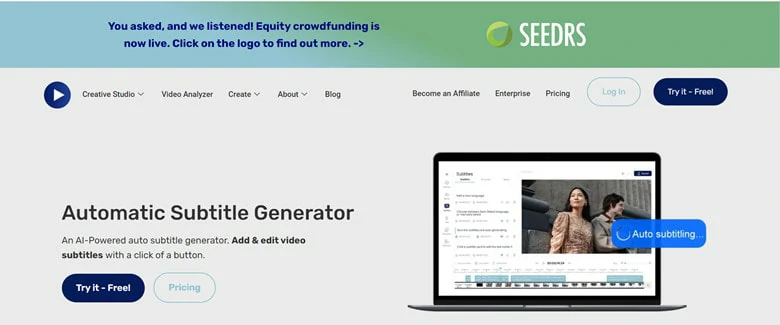 The Best Auto Lyric Video Maker - Nova A.I.
Key Features of Nova A.I. Auto Lyric Video Maker
Automatically generate subtitles and hardcode them to your videos. 
A simple auto lyric video maker with basic editing features.
High translation quality with stunning accuracy.
You can cut, trim and collide your clips.
Able to make subtitle files and also support subtitle files for creating lyric videos.
Cons:
Limited features for video editing.
No ready-made templates or media resources for you to refer.
5.Zubtitle
Zubtitle is an AI-powered video editor that helps you automatically add subtitles to your lyrics video. It works on a simple principle: when you upload a video, Zubtitle will automatically detect the speech in your video and converts it to open captions that are timed perfectly. After editing, it offers basic editing tools to fit your theme.
Apart from AI subtitle generator, Zubtitle comes with versatile AI tools such as headlines, summaries, hashtags and timelines to reach more viewers effortlessly. This auto lyric video maker is suitable for social media creators who want to get more views in minutes.

The Best Auto Lyric Video Maker - Zubtitle
Key Features of Zubtitle Auto Lyric Video Maker
Automatically burn subtitle to your videos.
A wide range of caption styles and fonts.
Basic editing features like trimmer are available.
Download auto-generated lyric files as a .txt or .srt format.
A full package of AI tools to simplify your video creation process.
Cons:
The Maximum video duration is 20 minutes.
The Bottom Line
That's all for the 5 best auto lyric video makers online. If you can't make up your mind, FlexClip is a trustworthy and powerful lyrics video editor with versatile features. Pick your favorite tool and start to create your lyrics video right now!