Generally, presentation is considered to be an effective way to share information, pitch new idea and present data with colleagues, students or others. It demands good writing and beautiful design, which are time-consuming for new beginners to start.
Luckily, there are AI presentation tools that can help. AI presentation makers are tools powered by artificial intelligence that can create impressive presentations from simple text descriptions or drafts. It can generate engaging and professional presentations within minutes. The AI presentation maker helps users with efficient and faster slide creation.
Best 4 AI Presentation Makers: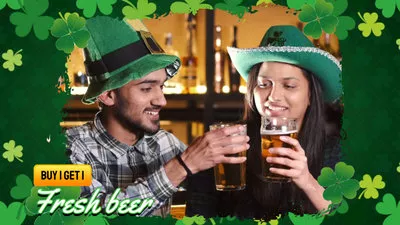 St Patricks Day Club Party Slideshow Promo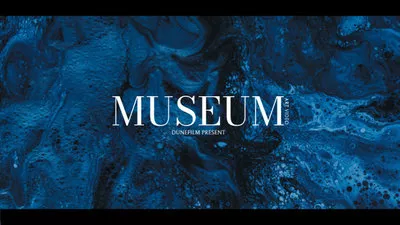 Art Museum Slideshow Retro Introduce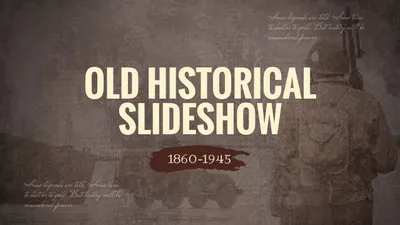 History Timeline Slideshow Video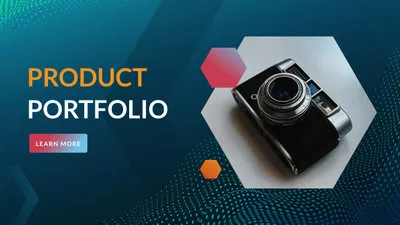 General Technology Product Slideshow
Part 1 Best AI Presentation Maker - Simplified
Simplified is an excellent AI presentation maker for creating effortless presentations within minutes. With this tool, users can create presentations in three simple steps- Select "AI presentation," input your presentation topic, click generate, and a customizable presentation will be created. Backed up by AI functions, it allows your team to collaborate and work on the presentation in real time. It also allows turning presentations into video projects by adding transition effects. Moreover, you can add AI voice or AI image to your presentation.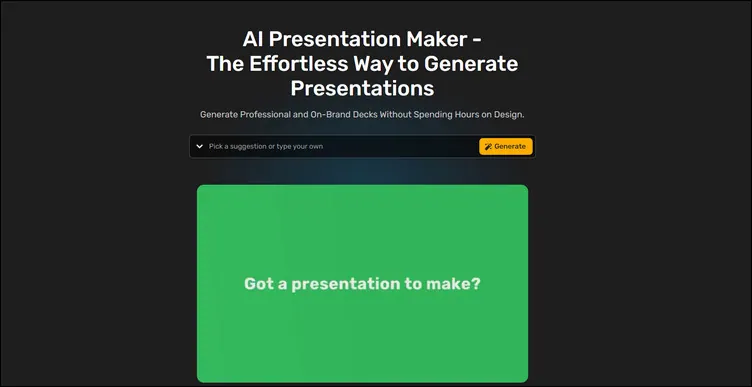 AI Presentation Maker - Simplified
Best Features to Create AI Presentations with Simplified
Its AI Presentation Maker will help you get unstuck in the design phase by creating outstanding AI-generated presentations complete with images and copy in seconds.
Allow you and your team to collaborate and tweak the presentation you want in real time, which will increase your team's productivity.
You can transform your presentation into video by adding transition effects between the slides. Play around with the different options to see what fits your presentation needs.
Can download presentations generated using AI as pdf or you can also publish your presentations online.
Part 2 Best AI Presentation Maker - Beautiful.ai
Beautiful.ai is a popular AI presentation creator that helps you craft compelling narratives automatically. As you begin to personalize your presentation, Beautiful.ai starts to understand your needs, offering suggestions for further enhancements. Beautiful.ai's voice narration feature adds a personal touch to your presentation. Just describe the presentation you are looking for and let its DesignerBot design slides for you. You can even ask it to write your paragraph in a different language. And using DesignerBot to generate an Al image with a detailed search prompt. Once your presentation is generated, use Beautiful.ai's Smart Slide templates to make edits quickly. Add flow charts, infographics, Venn diagrams, XY plots and more to adapt the presentation to your content.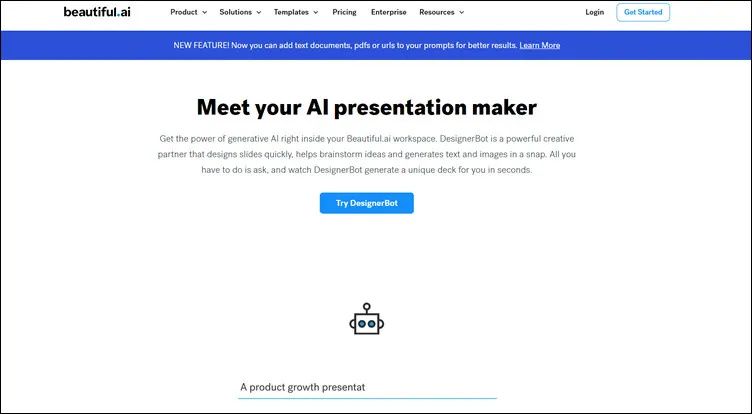 AI Presentation Maker - Beautiful.ai
Best Features to Create AI Presentations with Beautiful.ai
Its Smart templates give you a blueprint for making presentations, which is widely praised by customers.
Can apply the rules of great design in your presentation in real-time. Just add content and your presentation slides adapt like magic.
Allow your team to create stunning presentations remotely, consistently, and all under one account.
Provide the voice narration feature in presentation to enhance communication between you and viewers.
It will anticipate user needs about presentation creation and offer some useful suggestions to them.
Part 3 Best AI Presentation Maker - Canva
Canva is a design-centric platform, which is shown in the slides generated. Its presentations with cinematic visuals that captivate your audience no matter how or where you're presenting. With Canva Magic Design, create a presentation is to use AI to populate your slides, shaping your ideas into beautiful designs in a matter of seconds for free. Just provide a topic or idea, Magic Design will generate a beautiful presentation from a prompt. It's easy for you to start your presentation with an outline, slides, and content. You can simply describe your idea in a few words, and watch as it smartly fills out your story. And you can invite others to help with your presentation creation in real-time via a link or e-mail.
The limitations of Magic Design for presentation is that it only generates up to 10 slides to get you started and only be available in presentations (16:9) format for now. Moreover, Canva for Education administrators and teachers can use Magic Design for Presentations. It's not available to students.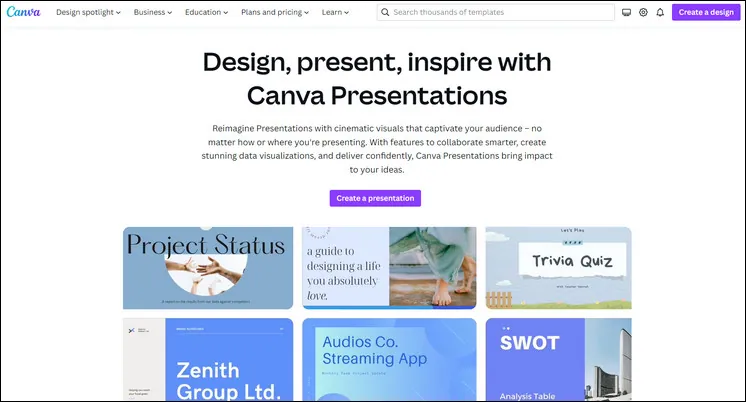 AI Presentation Maker - Canva
Best Features to Create AI Presentations with Canva
Generate a presentation from a text prompt in seconds so that save your time and effort on presentation creation.
Allow every member of your team- whether it's small, big, local or global to help with your presentation via a link or e-mail. You can also comment and edit in real time from any device.
Provide features to captivate the crowd, such as highlighting special moments, adding motion to your idea, and telling a story with your data.
It's free for people to use.
Part 4 Best AI Presentation Maker - Plus AI
This tool enables users to create presentations and edit slides using Generative AI in Google Slides. The process of presentation creation is extremely simple, start with a prompt to generate a customizable outline, then watch as the AI turns it into slides in just a few minutes. It creates a presentation that needs only minor editing when used with detailed prompts. After the slides are generated, you have multiple options, including rewriting the content to change the tone, or remixing the slide to transform the content into a specific layout.
The inconvenient point of Plus AI is that it must be downloaded before you use it.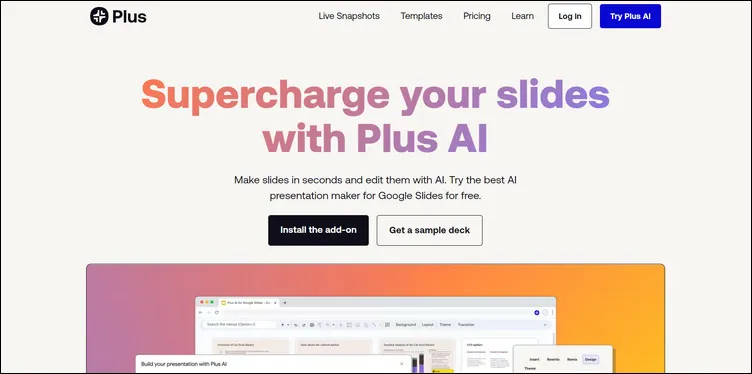 AI Presentation Maker - Plus AI
Best Features to Create AI Presentations with Plus AI
With the help of AI editing, it allows you to add, remix, and rewrite your slides to fine-tune your presentation and make it yours.
Can add your logo and customize themes in presentation to match your brand or have AI do it for you.
Custom integrations for Google Slides, PowerPoint, and wherever else you work. Works with Google Slides in seamless.
Create themes to match your company or school brand.
Bonus: Easily & Quickly Make Presentation Video with Template in FlexClip
Although these AI presentation makers are strong enough to make presentation with AI tools, most of them need are paid. So there we will recommend one more free and easy way: make presentation video with pre-made templates - choose template, customize template and download your presentation video in only 3 steps.
FlexClip provides lots of customizable presentation templates so that you can search for a slideshow template fit for your theme for various industries, businesses, students, marketing, or medicine.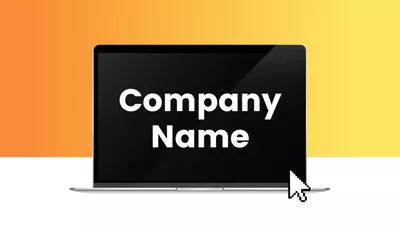 Orange Business Slide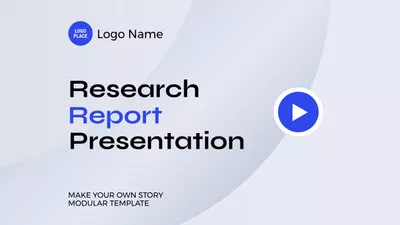 Research Report Presentation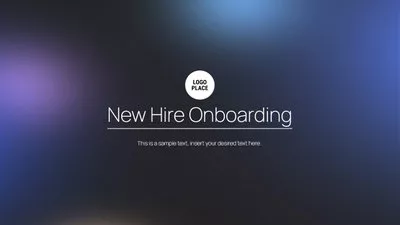 Modern New Hire Onboarding Company Presentation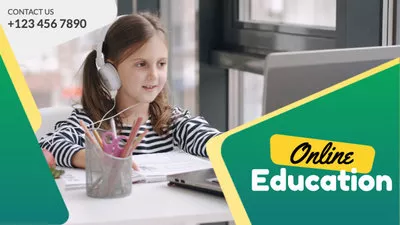 Online Education Promotion
FlexClip owns a large media library, which can provide convenience for you to add presentation footage, like videos or images as you need.
Its abundant elements and text library allows you to edit you presentation video by adding graphics, changing text fonts and adding animation to text or graphics.
Moreover, it also offers a variety of AI tools, including AI video script, AI image generator, text to video, text to speech to help you generate and edit the presentation video easily and quickly.
Therefore, making a professional presentation in FlexClip is easier than you ever imagined. Simply click the Get Started Now button below to choose a stunning template to customize your presentation.
The Bottom Line
With these above 4 AI presentation makers, you can always make your own presentation according to your requirements. Hope you can learn something from this tutorial.