This post recommends you 10 best AI avatar video generators to help create engaging videos even without filming. All of them have realistic AI avatars ready for you to use. Check them out!
Business video, educational video, on-boarding video, no matter what kind of video you are creating, someone has to appear in the video speaking if you want to make the video more engaging.
We must say this is an arduous task. Writing a script and filming would take days, not to mention editing. Moreover, you may be shy in front of the camera. The good news is, an AI avatar can do the job for you.
Can't Miss: How to Record PowerPoint with Narration >
AI Video Templates You Might Love
Technology Company Show Business Ai Introduce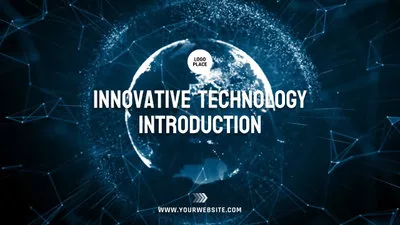 Technology Innovative Corporation Ai Business Introduction
What's An AI Avatar
An AI avatar is a digital human presenter. AI indicates the avatar is powered by artificial intelligence. Since AI has been trained well, AI avatar can move and speak naturally. Though people can immediately tell it is not a real human, a video with an AI avatar is still more engaging than videos with text only.
Besides video creation, AI avatar has been used in a variety of sectors, for example, virtual reality, and customer service. We are expecting to see more AI avatars in the near future.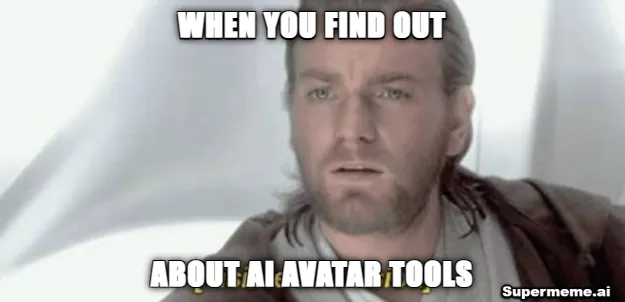 Astonied by AI Avatar Video Generators
The Best AI Avatar Video Generators
You don't need to create an AI avatar yourself and add it to the video. There are hundreds of AI avatar video generators with free AI avatars ready for you to use. Here is a list of the best AI avatar video generators. Some of them are free, some of them might require you to subscribe. Check them out!
1. Synthesia
Pricing: Start from $30 per month
Synthesia can help you create a professional video in 15 seconds even though you are totally new to video editing. As long as you pick a template, choose an AI avatar you like, insert the script, and pick the language and tone, boom! Your video is done.
Synthesia has over 140 AI avatars of different ages and nationalities. You will always find the best face for your video. You can even customize your own AI avatar and ask it to mimic human gestures, for example, nodding, raising eyebrows.
Another feature that makes Synthesia outstanding is that it supports 120+ languages, accents, and voice tones. Haven't found a voice you like? Why not clone your own voice and pair it with an avatar? The results will be satisfying.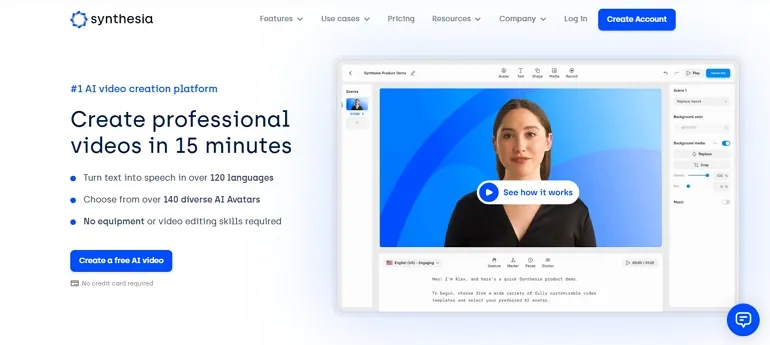 AI Avatar Video Generator - Synthesia
Synthesia Key Features
1
150+ AI Avatars of different ethnicities.
2
Supports 120+ languages, accents, and voice tones.
3
60+ professional powerpoint templates.
4
Allows you to add gestures to make the AI avatar look natural.
2. HeyGen
Price: Free 1-minute watermarked AI video. The subscription plan starts from $24 per month
HeyGen enables you to create a video 10X faster with 100+ diverse and customizable realistic avatars in different ethnicities, ages, and poses. Type the scripts, choose from over 300 voices in 40 languages, you will get the AI avatar video in minutes. Indeed, those numbers are massive for an AI avatar video generator.
Except for people speaking, you need a background or choose the text and font for your video. Over 300+ HeyGen AI video templates would save you from all those troubles. The right AI video templates are there waiting for you!
You will find more interesting features of HeyGen. You can upload a photo and ask it to say anything you like. Think about how interesting it would be if Mona Lisa says Hi, there. You can also replace the face with the AI avatar. It is just a piece of cake to create a face swap video.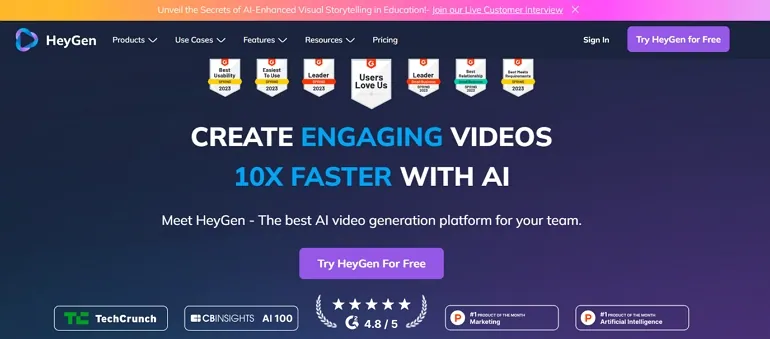 AI Avatar Video Generator - Heygen
HeyGen Key Features
1
Over 300 Avatars of different nationalities
2
Supports 40 languages in 300 voices
5
300+ AI video templates
3. Elai
Price: Subscription starts from $23 per month
Elai provides you with only 30 AI avatars, which doesn't look much compared with other AI avatar video generators. Besides, the avatars are not diverse enough. Most avatars look like people from the middle east. However, you will be stoned by the customize avatar feature. Elai allows you to create an avatar of your own from a selfie, studio, photo, or even animated mascot.
You can choose from 75 languages and over 400 voices. The video you created will always have the best sound.
There are more possibilities to explore from Elai. For example, Elai supports transforming an URL to a video. In seconds, you can turn your article online into an excellent video; Elai helps you create a video from your prompts. You can tell Elai what kind of video you want to create, and Elai would automatically generate a script and the video.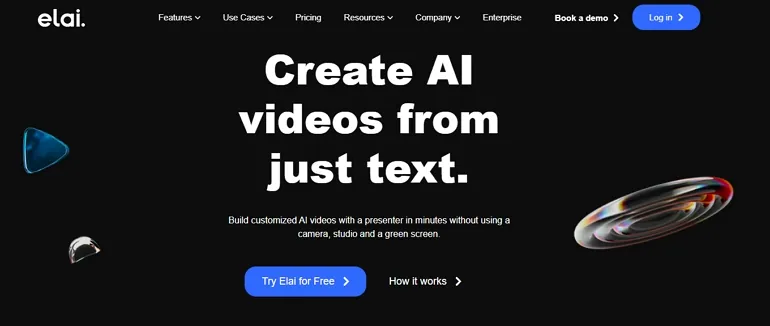 AI Avatar Video Generator - Elai
Elai Key Features
1
30 AI avatars, 75 languages and 400 voices
4. Deepbrain.io
Price: Subscription plan starts from $30 per month.
Deepbrain.io is one of the earliest AI avatar video generators. It provides you with 100+ realistic avatars as well as virtual avatars of 3D characters, which means you have a wide range of selections on AI avatar characters.
2D AI humans can speak Korean, Chinese, Japanese and English in their native languages, 3D humans can speak more than 200 languages around the world. That would break any language barriers between you and your customers.
Deepbrain.io can be used to do interview. The AI avatar can conduct interviews with multiple candidates simultaneously, saving lots of resources and time for HR. While conducting interview, Deepbrain.io can automatically generate a list of questions based on candidates' experience.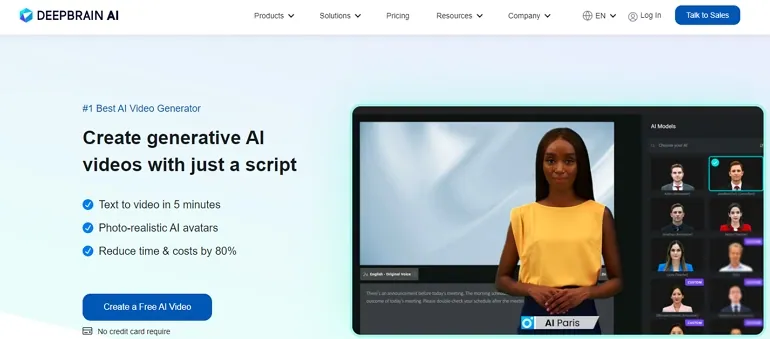 AI Avatar Video Generator - Deepbrain.io
Deepbrain.io Key Features
1
3D AI avatars that speak over 200 languages
5. Steve.ai
Price: Subscription starts from $15 per month
Steve.ai brings your text to life with perfect lip-syncing AI-animated avatars. Choose from over 100 AI avatars from animals to kids, select the most natural movement, and the AI avatar will speak out your text for you, whether the text is from a web page or in a local document.
Even though there is no avatar shaped like a real human, the voices are magic. You can preview and find the perfect voices for your video.
You can repurpose your audio files by converting them into videos. Steve.ai can analyze the sound, extract the text, build context and convert to videos.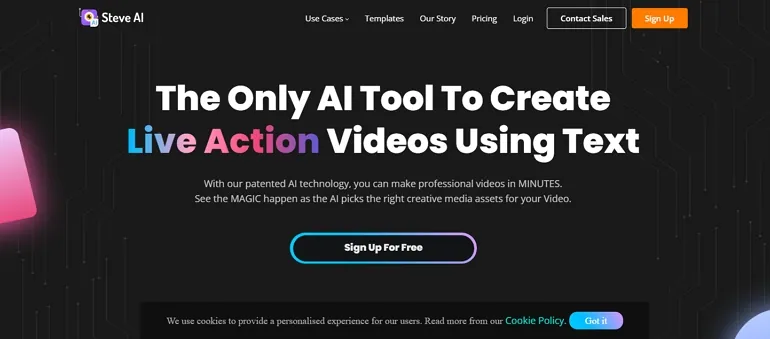 AI Avatar Video Generator - Steve.ai
Steve.ai Key Features
6. Yepic AI
Price: Subscription plan starts from £29 per month
Yepic AI is a professional AI text-to-video creator with human avatars. It provides over 50 faces for you to choose from, 60 languages in 480 different voices. However, you can choose not to use the avatar and voices it provided. Then use your own selfie and voice to make an AI avatar of your own.
ChatGPT and Yepic AI together can increase your customer engagement. With Yepic's fast branch API and ChatGPT, your customer can get consistent and accurate responses in a video instead of plain text.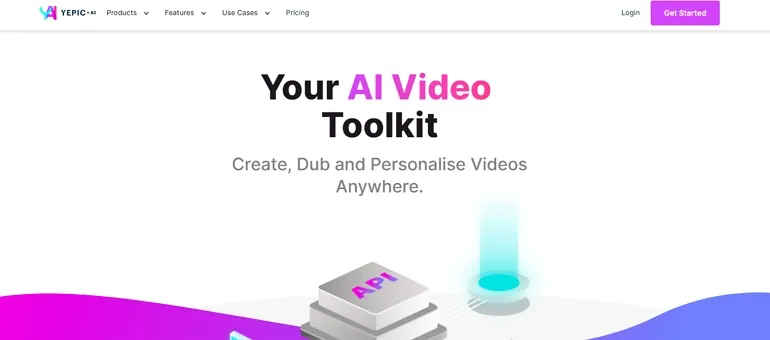 AI Avatar Video Generator - Yepic.ai
Yepic AI Key Features
3
60 languages, 480 voices
7. Colossyan
Price: Subscription plan starts from $21 per month
Colossyan is regarded as one of the best AI avatar video creators due to its high-quality AI avatars and extensive selection of languages in various accents. Compared with products, Colossyan has the most realistic avatars. People sometimes don't even realize it is an AI human. You can add the avatar to the Powerpoint and make it more attractive.
Colossyan is integrated with millions of royalty-free photos and videos from Pexels. That means if you are converting text to a video, Colossyan will always find photos that match the text.
You can even localize your video using Colossyan's auto-translate feature. In seconds, your video will be translated into other languages.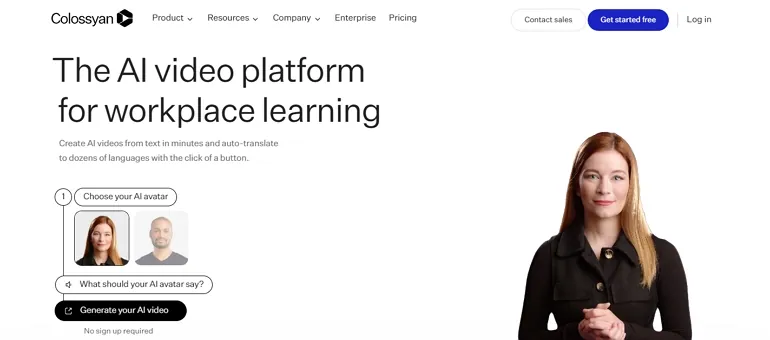 AI Avatar Video Generator - Colossyan
8. Deepword
Price: Subscription starts from $14.99 per month
Deepword is an AI avatar video generator that is best for creating ads. It provides to help you generate highly engaging videos with 25+ video actors, 129 languages.
DeepWord lets you import your CRM contacts to its dashboard so you can create and generate personalized videos using merge tags. You can also import them to your preferred video editing tool to create personalized sales messages or email campaigns.
Deepword tracks key metrics for every video you create, you will easily know what video is more engaging.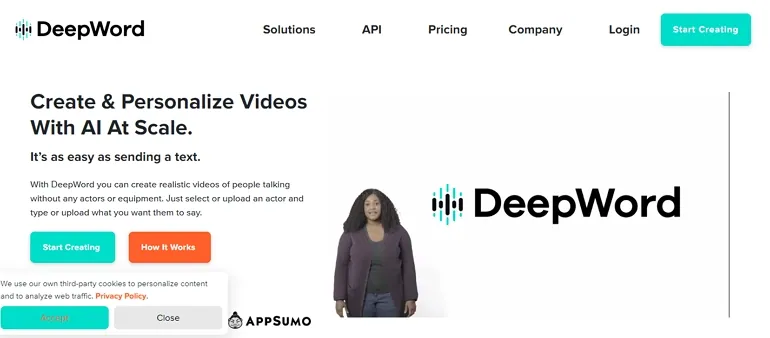 AI Avatar Video Generator - Deepword
Deepword Key Features
1
25 video actors, 129 languages
The Bottom Line
The above are the 8 best AI avatar video generators so far. Which AI avatar video generator is the best for you? Do you have other recommendations for the best AI avatar video generator? Share your ideas with us via Facebook.
The AI is evolving. The list of AI avatar video generators will expand. Please do come back often and check for more products.