Everyone knows Linkedin as a social network, but not everybody knows it is specifically designed for professionals. As in, it is a social network platform where employers and employees connect – in most cases, deals are sealed, and people get real employment via that channel. Linkedin has recorded over 500 million members so far and still growing. Currently, the platform has gone beyond creating opportunities for professionals from different industries to network to creating an educational niche where users can actually buy courses and improve their skills.
One secret to meeting the right people is by creating an interesting profile. Aside from just adding the regular information about yourself, Linkedin allows users to add videos to their profiles. When we say videos, it must not be the regular entertainment videos we see on TikTok and Facebook. Most Linkedin profile videos are often an introduction of one's self to their prospective employer or a brief encyclopedia of your business or craft.
To add a video to a Linkedin profile is not as complicated as it sounds; it's just a few easy steps, and you will have it up and running. We have taken the liberty of drafting a comprehensive step-by-step guide on adding a video to your LinkedIn profile. Please read through.
Company Profile
Linkedin Video Limitations
Before you add a video to your Linkedin account, you have to understand that you can't just go about uploading any video on your Linkedin profile; there are guidelines you must follow. The minimum size of your video is expected to measure 75KB, with a minimum duration of 15 mins video from a Linkedin desktop app. The minimum video duration of 3 secs is expected to have a resolution of 256 x 144 to 4096 x 2304. The maximum video size you can upload is 5GB.
How to Add a Video to Linkedin Profile
View and edit your LinkedIn profile, at the top right corner of the platform, click "Me," then select "View Profile." Click on the blue pencil icon in the right-hand corner of the profile banner, just opposite your profile picture.
Step 2
Go to the bottom of the Editing Options
Under the "Media" subheading, choose between Upload or Link media options. When selecting the "Link" option, know that you are opting to add your video using a link. And when you choose "Upload," you will be uploading from your device's local disk.
Once you add the video, click on the blue Apply button at the bottom of the window. You can also delete using the "Delete" if you think you have selected the wrong video.
When you click the "Upload" option, the LinkedIn platform allows you to edit your description and title.
How to Add Video on LinkedIn in the Featured Section
Bonus Tip: How to Create a Video for LinkedIn Profile
Away from adding a video to your LinkedIn profile, let's talk about creating a video for your LinkedIn profile. Making this video is almost as important as adding it. But in this case, how good your LinkedIn profile video quality is depends on the tool you have deployed in its creation. There are many video-making apps out there, but there are also ones developed with the criteria needed for making LinkedIn profile videos.
Regarding the right video makers, FlexClip has proved to be the best video and image editor and the perfect tool for creating LinkedIn profile videos. FlexClip is unique, and some of its uniqueness can easily be noticed in its easy-to-use and powerful editing tools, loads of business clips, music and templates (which are also royalty-free), no download. Most interestingly, you don't need any prior computer experience to use it. So, if you are in dire need of the perfect tool that will give you the high-quality video you deserve, give FlexClip a try.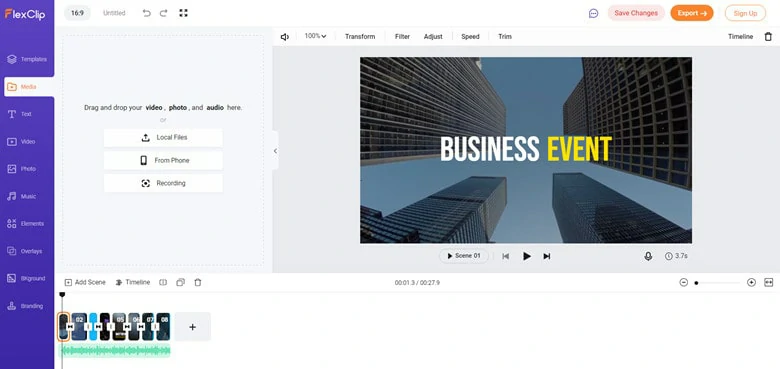 The Best Linkedin Profile Video Editor - FlexClip
The Bottom Line
You must understand that LinkedIn is slowly changing the way recruitment is done. Job seekers with impressive LinkedIn profiles stand better at sealing the best deals. Adding a profile video remains one of the many ways you can come up with an eye-catching LinkedIn profile. And again, getting the right tool for creating these videos is also an aspect you must not ignore. FlexClip is the right tool you can't miss. Give it a try!