Summary: This blog shows you the LinkedIn specs and detailed steps to create a LinkedIn video. Keep reading and get ideas to dominate the market with LinkedIn videos.
Like YouTube, Instagram video, LinkedIn video boosts your social engagements and sales. The LinkedIn team even claims that LinkedIn videos get shared 20 times more often than regular posts. For those who are ambitious enough to dominate the market, making an eye-catching LinkedIn video is a must!
This blog offers you one-stop service in creating a LinkedIn video, including introducing LinkedIn video specs, offering LinkedIn video tips, ideas, and showing you how to create a LinkedIn video. Now, let's embark on the journey of making LinkedIn videos.
Also Read: 8 Best Video Background Music Resources >
LinkedIn Video Specs
Varies of LinkedIn videos work differently. Generally speaking, people make LinkedIn native videos, and LinkedIn video adds.
LinkedIn Native Video
* video length: 3 seconds to 10 minutes
* File size: 75KB - 5GB
* Aspect ratio: 1:2.4 or 2.4:1
* Resolution range: 256×144 to 4096×2304
* Frame rates: 10-60 frames per second
* Bit rates: 192kbps - 30mbps
* File formats: ASF,AVI,FLV, mpeg-1. mpeg-4, MKV, WebM, MP4, AVC, QuickTime, VP8, VP9, WMV2, WMV3.
LinkedIn Video Ad
* Video length: 3 seconds to 10 minutes
* File size: 75KB - 200MB
* Aspect ratio: 360p, 480p, 720p, 1080p
* File format: MP4
* Frame rate: Maximum of 30 frames per second
* Audio format: AAC or MPEG4
* Audio size: less than 64KHZ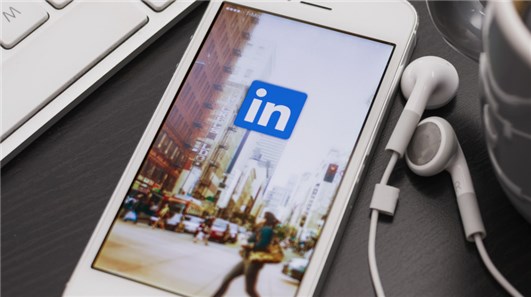 Image Board: LinkedIn Video Specs
How to Create a LinkedIn Video
To make a booming LinkedIn video, you need the help of FlexClip.
FlexClip is a video maker that helps you make any types of videos. To begin with, it is quite easy to operate. Any edits can be done in a few clicks. Moreover, the rich media library and video templates offer you endless inspirations, waiting to make your ideas true. Last but not least, FlexClip is completely free to use. Now, let's see how to use FlexClip to create a LinkedIn video.
Step 1 Go to www.flexclip.com to visit FlexClip main page and click Get started.
Step 2 Add content from the computer or the media library to the storyboard by clicking the "+" button on the down left corner.
Step 3 Choose one dynamic text animation from the sidebar and enter texts to the video.
Step 4 Make duets or upload an audio file.
Step 5 Preview the video. If you are satisfied with it, download it to the computer or share it online.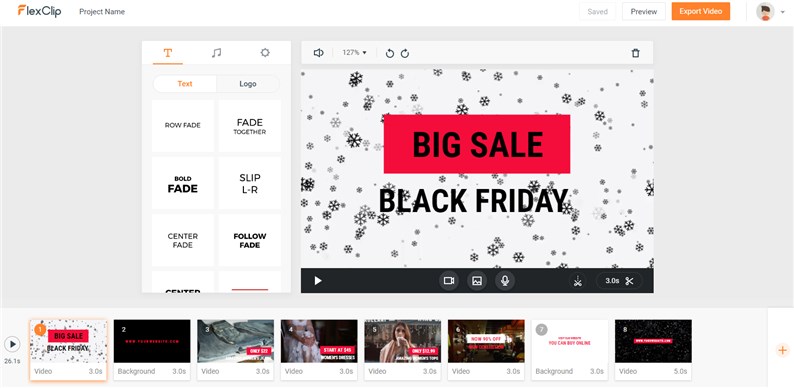 Image Board: Create a LinkedIn Video with FlexClip
How to Launch a LinkedIn Video
Here is how to upload a LinkedIn native video.
On desktop: From the homepage, tap on Share an article, photo, video or idea, click the video icon, upload the video you want to share.
On mobile: Click on the video icon to record a video. Add filters or texts to the video if you like. Tap the arrow button to upload.
It can be sort of difficult to launch a Linkedin ad video, but normally, it wins most likes and views.
1.Log in to Campaign Manager, go to Sponsored Content to name your campaign.
2. Choose the main objective and select video as your ad type format, click Next to continue.
3.Tap on the create new video button, fill out the form and upload the video. Save the changes.
4.Select the newly uploaded video, choose Next.
5.Choose your target audience criteria and click Next.
6.Set up your bid, budget, the duration for your campaign, and click Launch Campaign.
LinkedIn Video Tips & Ideas
→ Vary the shot
A single shot can be boring, varying the shot keeps them engaged. For example, if you are doing an interview, you can borrow more cameras to shoot at different angles.
→ Aim to capture attention in the beginning
Even though LinkedIn can be as long as 10 minutes, it is better to include all important information in the very beginning.
→ Choose the right video length
According to LinkedIn, videos around 15 seconds long is the most successful. However, varied LinkedIn videos have different best length. For example, videos that aim to build brand awareness should be kept under 30 seconds. Please refer to other successful videos to find the best length for your LinkedIn video.
→ Call to action
Whatever you want to the views do after they watched the video, remind them at the end of the video.
→ Offer explains
Videos like instructional or educational video involve complex understanding. Explanation works the best under this circumstance.
The Bottom Line
With above detailed introductions and tips, you might have known how to create a LinkedIn video. As you can see, FlexClip is such a wonderful tool to create videos. Besides LinkedIn video, it can also be used to create YouTube videos, TikTok videos, business videos. Remember to give this free tool a try!