Getting prominent on online platforms requires content creators to be smart and techy with the words they use. Because these are the words that make the algorithm work in your favor.
In this regard, using the right tags and keywords are the key element to get reasonable click-through rates (CTR). Keeping this in view, today we will talk about how to add tags to YouTube videos the perfect way so that you won't end up with disheartening views and zero results.
Part 1. What Are YouTube Tags
YouTube tags also known as video tags are words and phrases that are used to affiliate a connection with the topic of your video. Tag the crucial factor to rank higher on YouTube search is a small yet important part of a big jigsaw puzzle that YouTube is. These tags are not like hashtags, therefore, should never be put in a video randomly.
When you put a certain word as a tag, the YouTube algorithm uses it to build a connection with a video and suggest it to anyone who searches for a related topic. For example if you add a keyword 'dog' in your tags and your video is all about 'How to clean a car?'. It will only confuse the YouTube algorithm and disappoint the viewers who are interested in knowing about dogs but only came across your video on a car.
As YouTube does note the engagement on every video, it will consider your video irrelevant and boring resulting in lesser ranking and declining reach. It is also a violation of YouTube's Terms of Services when you mislead people using the wrong words to promote your video.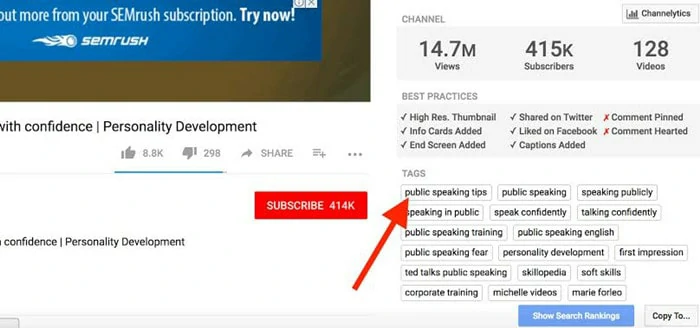 YouTube Tags
Part 2. Why YouTube Tags Are Important
YouTube is the second-largest search engine in the world. Getting on top and being seen is a competition that is hard to overcome. But with tags, you clarify YouTube what your content is about. Then YouTube suggests your video to the interested audience.
Although your video Title, Thumbnail, and description are deemed more important for optimization, there are significant studies to support that keywords do help your video rank better. Not using them correctly might not affect your reach but employ them smartly can create a huge difference.
The video tags are also helpful when your targeted words are often misspelled. You can simply add the misspelled words in the tags and not in the title or description. Besides, tags help you find your content on YouTube through self-reference tagging.
Part 3. How to Choose Great YouTube Video Tags
So, when something is so important how to make sure you are doing it right. You stay focused and conduct a little research before taking any action. Here we disclose some tips on how to add tags to YouTube videos for better reach and results. Let's get started without further ado.
Suggestion 1. Relevance
Relevance is extremely important when you decide to pick a tag. It should reflect your video topic and content. This will allow YouTube to suggest your video to the right people, who will further like and subscribe to your channel and recommend it to like-minded people. Hence resulting in further expansion.
Suggestion 2. High Search Volume
You need words as a tag that people are talking about, interested in, and are searching on YouTube. If you pick words no one is interested in then consider reaching millions of views an impossible task. You do not have to only pick the words that have hundreds of clicks monthly, just try to use words that people are interested in related to your topic.
You can find numerous tools to find high searched words of related niche, pick the ones with highest search volume.
Suggestion 3. Long-tail Keywords.
Long-tail keywords are those that are longer and are more specific keywords that are visitors likely to use. For example, most people tend to search 'YouTube Tag', however, there are also people searching for the long-tail keyword how to add YouTube video tags.
Data by Briggsby suggest that the tags consisting of 2 to 4 words are better and more effective. This is because it clarifies the YouTube Algorithm about your video content.
So, does this mean all your keywords should only consist of long-tail keywords? No, because excess information will lead to confusion and chaos. Try to maintain a balance between long and short-tail keywords.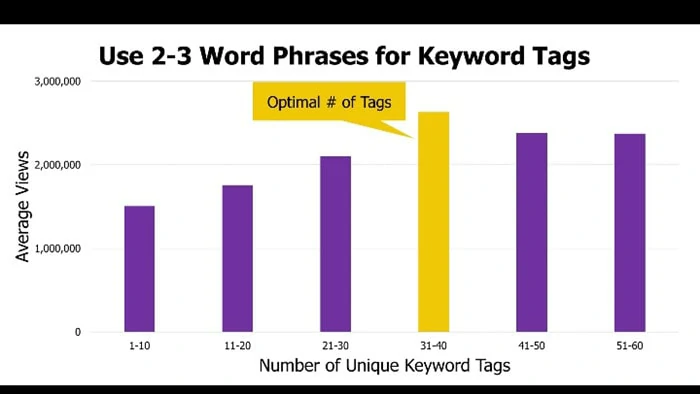 Long-tailed Keywords
Part 4. How to Add YouTube Video Tags Before Uploading
Let's learn how to add hashtags to YouTube videos before uploading.
Step 1
Sign in to your YouTube Studio.
Step 2
Now click on the CREATE button with a camera icon in the top right corner.
Step 3
Go to the Upload Video option and select the file you wish to use.
Step 4
Click on MORE OPTIONS and add your top tags and other details carefully.
Step 5
Click save and proceed.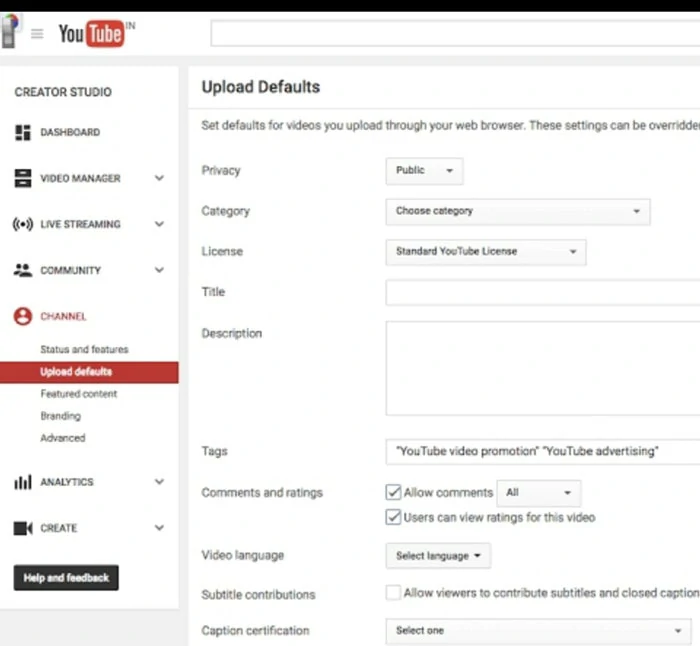 Add Tags When You Upload YouTube Videos
Part 5. How to Level Up YouTube Video
Rising over the throat-cutting competition on YouTube demands you create excellent content along with high-quality graphics and transitions. For this make your videos compelling on the best video editing software FlexClip. From offering unique templates to powerful video editing tools, FlexClip is the dream of every videographer and content creator. With its ease of use and easy sharing methods, the platform can streamline your video-making process and allow you to level up your game like never before.
Can't Miss: How to Create a YouTube Video >
Quick Tutorial on How to Create Videos Online with FlexClip
The Bottom Line
Learning how to add hashtags on YouTube videos can be a real game-changer. These small words can create wonders to make your content visible to the right audience. Just keep your tags specific and pick the popular keywords to rank on the highest search results. Employ the online tools to find these words and ensure that you have picked the right words only.
If these tricks have worked for you do not forget to share them with your friends as well.