So you got a excellent drone footage. It is a good shoot, but sort of boring because there is no background music.
Though you have more choices to enrich the drone footage like adding subtitles, adjusting the color, the most instant way is adding background music. The right piece of music would highlight the atmosphere, and evoke any other feelings.
Most DJI footages are in MP4 or MOV, two of the most normal video formats. Lots of video editors can help add music to drone footage. Here in this post, we will show you the 2 easiest ways to add music to a DJI video. Follow and get started.
Can't Miss: Best 6 DJI Video Editors to Try >
Part 1. How to Add Music to Drone Footage Online
Online video editors like FlexClip are great for video editors to make some easy edits. Online video editors don't require you to download anything to your computer, and don't take much CPU. That's why we mention this method first.
Go to FlexClip's Add Music to Video tool. Click on the Upload Files. Choose your drone footage and upload.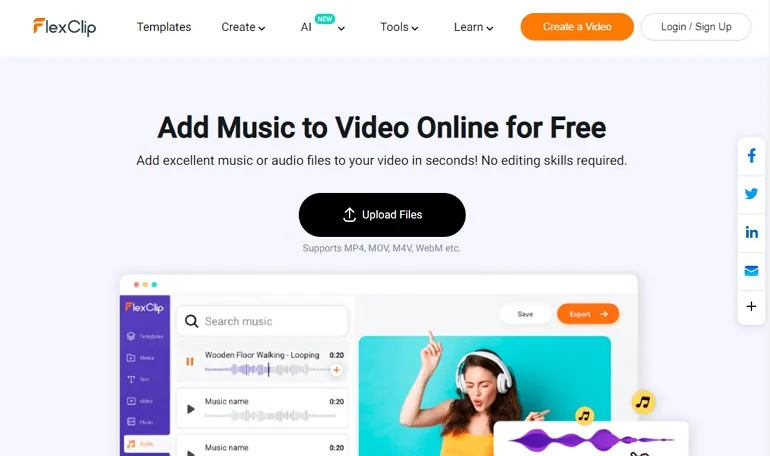 Upload Drone Footage
You are now at FlexClip's editing page. Click on Add Audio, the green bar in the timeline, add your own music to the timeline. You can also choose music from FlexClip's media library. They are all royalty-free. Whether you need pop, relaxing, or romantic music, you can always find one that matches your drone footage.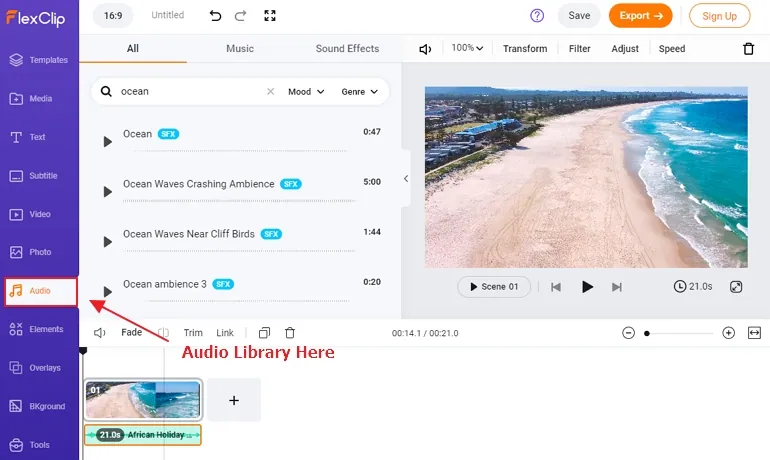 Add Music to Drone Footage
Step 3
Adjust the Video & Music
Now, you need to adjust the music and audio so that they match perfectly. Drag the slider so that the music and the video are the same length. You can zoom in or zoom out the timeline so that it is easier for you to handle videos and music whether it is long or short.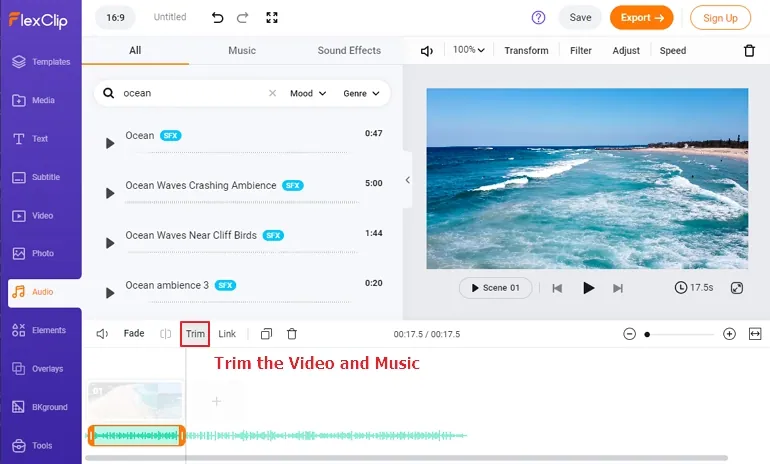 Generate Animated Images
Step 4
Further Edit the Video
Here are more edits you can make with FlexClip, for example, muting the original sound, adjusting the volume, adding subtitles, changing the video speed. Let your creativity flow with FlexClip's editing panel.
Preview the video. If you are satisfied with the video, export to the desktop. You can also share the video to Facebook, YouTube, TikTok or share via a short link.
Part 2. How to Add Music to Drone Footage on DJI Fly
DJI Fly is one of the video editing software from DJI company. It supports most of the DJI videos. Let's see how to use DJI Fly to add music.
Step 1
Download DJI Fly software to your computer and launch it. Click on Album in the down-left corner of the main interface.
Step 2
Click on Create > Pro. Choose any video clip from the album and click Add. This brings you to the video editing panel.
Step 3
Click on Music at the bottom, tap Add Music. Choose one piece of music you like from a local folder or DJI music library.
Step 4
Download the video.
Add Music to Drone Footage with DJI Fly
Tips to Add Epic Music to DJI Video
Adding music to drone footage doesn't mean combing music and video. To make an epic drone video with music, here are some tips to follow.
1. Make Sure Your Music Is Not Too Overwhelming
You might not notice, but the music can sometimes be too loud for your video. After adding music to your drone video, you need to listen and check the video if the music is distracting viewers from enjoying your video.
2. Let Music Flow with Video
If your drone video contains several clips, then find a piece of music whose beats change as the video changes. This is the trick that many professional video editors are using.
3. Think About Sound Effects
Background music is cool, how about sound effects? Sound effects would make your drone footage a lot more immersive. Both FlexClip and DJI Fly allow you to put multiple sound clips into one video.
Frequently Asked Questions and Answers
1. Does Drone Footage Have Sound?
No, drone footages don't have sound. This is because most drones don't have a voice recorder. Even if some do, the audio recorder records the noise of the drone flying.
2. Can I Add Spotify Music to My Drone Video?
There is no direct way that you can add Spotify music to drone video. You can listen to music on Spotify and create a song playlist, but you can't download or use it outside the app. Under this circumstance, we recommend you pay for the same piece of music on other music sites.
3. Where Can I Get Music for Drone Footage?
DJI Fly software has a built-in music library where you can get music for your drone footage. FlexClip also has a music library containing millions of songs and sound effects. There are loads of ways to get free music for your drone footage. Check the best 7 sound library for video >