Whether you are creating videos for YouTube, any other social media platforms, or even websites, a professional or amateur, you should have known that video contents are more likely to get views and win conversions.
However, the story doesn't end the same for all videos. Some videos are viewed million times in a day, while others only get several views in a year.
We understand how eager you are to get video marketing into the right way. So, here in this post, let's begin with creating a video storyboard. Check the following contents out.
Can't Miss: Tips to Become Famous on YouTube >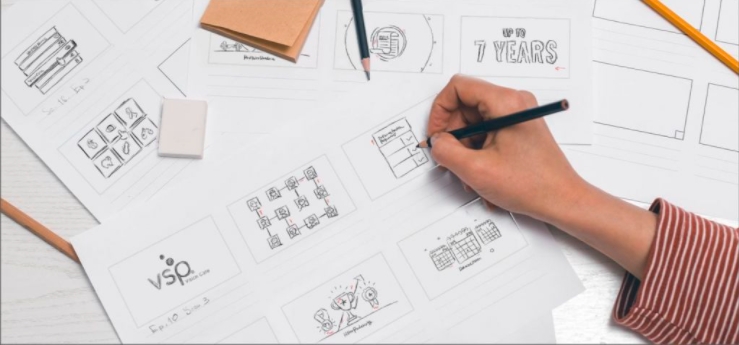 Video Storyboard
What's Video Storyboard
A video storyboard is series of graphic that describes the video content, shot by shot. Generally speaking, the graphic also include notes about the scene and if possible, the directions of camera angle, lightening and transitions and more. As is said by video editing professionals, video storyboard is like mapping out your video content and figuring out how you are going to shot the video.
Video storyboard benefits.
First of all, it saves you from chaos. A great video is comprised of different scenes. A video storyboard keeps you organized and well informed about what the scene is about while filming and editing. Moreover, working on video storyboard ahead of time ensures the final video is exactly what you envisioned.
How to Create a Video Storyboard?
Get a piece of paper and a pen, creating a storyboard isn't only a brain work.
Step 1. Structure
Already have an idea on what to create? If no, refer to video template pages for more inspirations. If you do, separate the whole story to different storyboard. Make sure the video content in one storyboard can be taken in one go.
Step 2. Identify Key Scenes and Add Details
You must be creating a video for purposes. The most frequent purposes are encouraging people to buy, to follow and subscribe. Now, consider which scenes can drive people to take action. These scenes are key scenes.
It's always the small detail that works. Figure out what details should be added to the scene.
Step 3. Write Your Script
In this step, you should focus on the dialogues, voiceovers, or both of them. Contain them on your storyboard. We recommend all film makers do voiceover as often as possible.
Step 4. Add Directional Notes
Others might not understand your video storyboard and have no idea on what the scene is about. Under this circumstance, you need to add directional notes, such as lighting and desired camera angle so that your work team collaborates well.
Bonus Tip: How to Edit Video with Storyboard
With a video storyboard, you can film effectively and easily. Since your script is based on video storyboard, why not try a storyboard video editor to combine and edit those clips?
FlexClip is an easy-to-use video editor based on storyboard. After importing all your video clips, you can immediately tell the video content and make edits within the storyboard without any confusion. Video trimming, video transition, video filters, and changing video speed are all supported. Besides that, it also provides you numerous royalty-free media resources like music, photos and videos, waiting to level up your video.
Below is a video about how to use storyboard video editor FlexClip. Follow the video below and create a video on your own!
Depict video: Edit Video with Storyboard
The Bottom Line
That's all for how to create a video storyboard. If you find this post helpful, please do share it with others. By the way, do remember to give FlexClip a try! It can be used to create excellent videos, eCards for festivals, slideshows and more.