This is an era of the Internet when more and more business is doing online. The traditional business card is not totally obsolete, yet, video business cards are a more engaging way to display yourself as a professional, whichever field you are in.
Video business cards take two forms, which are the simple online video and the physical business card with a small screen to play with. Besides social functions, video business cards emphasize more on explaining the business and winning conversions.
So, how to create a video business card? What kind of content should you include in a video business card? In this guide, we will show you all keys to create an engaging video business card. Check out the following part.
Also Read: Top Free & Paid Video Ad Makers >
Video Business Card Templates
Part 1. Video Business Card Content Planing
Whichever kind of video business card you are going for, the physical business card with video or simple online video, you need to create a video on your own. A video business card should include,
Who are you? Your introduction should be in the first part of the video business card. To be outstanding, besides common information like name, job title, you need words to establish your credibility and endears audiences to your brand. For these customers who are older, try to display your achievements and the reason why you should be viewed as an authority in your field.
What's the purpose? There must be a reason why you want to deliver a video business card to audiences. You want the audiences to buy or visit your website? Tell them directly. Never let the audiences guess what you want to do.
Where to find you? Leave any contact information within the video, for example, the website, your email address or even your phone number.
1. Video business cards are usually 1-2 minutes long. Don't make it too long or too short.
2. You might have lots of information for the video business card. Don't just mix everything up. Be organized, and just focus on one topic at a time.
Part 3. How to Create a Video Business Card
Filming is the least thing to worry about. It might take you lots of time to film for nature videos, travel videos, but video business card has only several clips. You just have to make sure you are in the center and the video quality is high. Picking a good video editor is a more important decision to make.
FlexClip, the best online video editor, provides you the top-notch video editing service. Loads of video business card templates are available for all users to get started quickly. Powerful video editing tools help you realize all ideas. Royalty-free resources and elements level up your work. Now, click on the Create a Video button to get started with us!
Step 1
Drag and drop your video to the Media section and apply to the storyboard.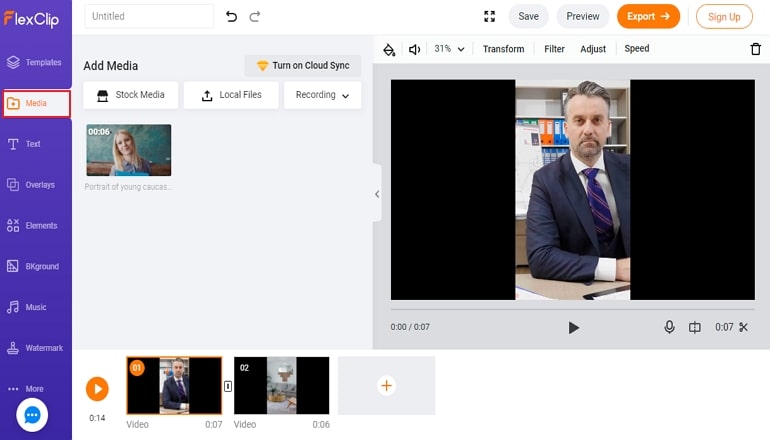 Create a Video Business Card - Add to Storyboard
Step 2
Add text to enter information about you or your business.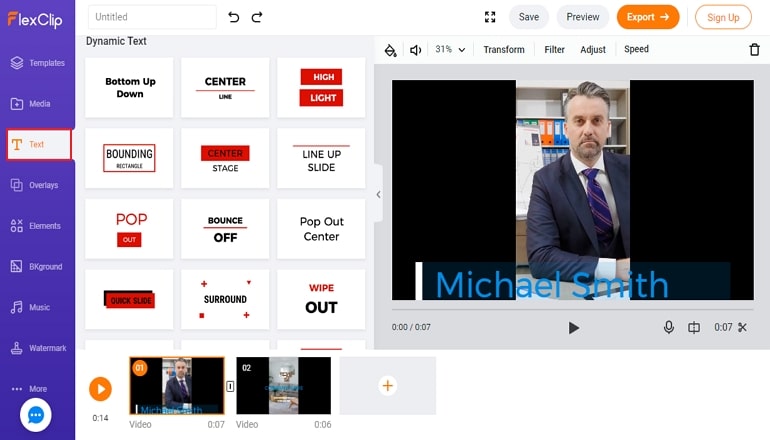 Create a Video Business Card - Add Text
Step 3
Add music to highlight the atmosphere.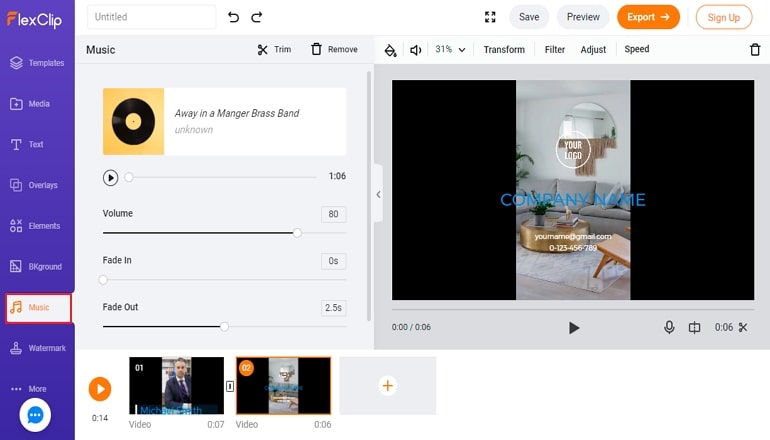 Create a Video Business Card - Add Music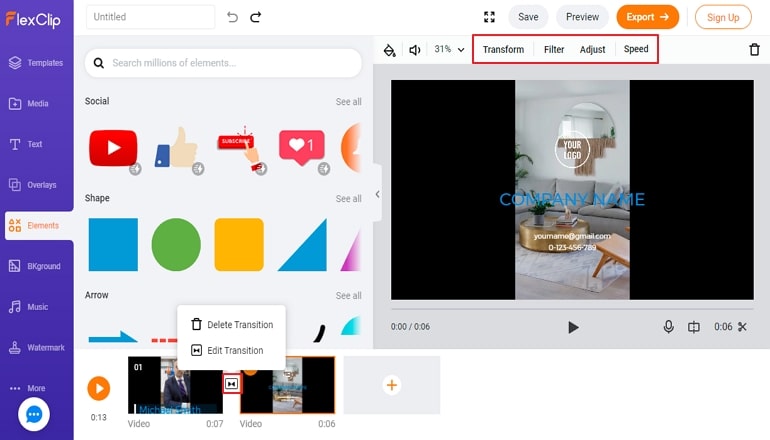 Create a Video Business Card - More Edits
Step 5
Preview and export. You can always come back and make edits again.
Part 4. Where Should You Share the Video Business Card
A great majority of people send video business card to social media platforms like YouTube, Facebook, or Instagram. If you are running a website, let it be a landing page video. The About US page can also be effective for converting customers.
The Bottom Line
Now, you have finished creating a video business card. Hopefully, it boosts your business and brings conversions. If you find this post helpful, share this post so that others more people also benefit from it. By the way, FlexClip also helps you create other videos, like landing page video, YouTube video banner, etc. Explore more possibilities with FlexClip.