'Unable to Load Video' This faulty message must have given you a mini heart attack when you played your favorite video on your iPhone. Is your video corrupted? Have you lost a beautiful memory that you captured on your phone?
Well, don't panic because this is the error many iOS users have reported to face when they try to play a high-resolution picture or a video. The main reasons for this error could be a slow internet connection when you tried to access the video or insufficient storage space and storage optimization features. Apple offers a storage optimization facility to save space on your phone and keep the videos to iCloud.
When you are in a habit to capture every moment religiously then this message can be heart-wrenching for you. But in our today's guide, we will be addressing this issue of being unable to load video iPhone error with all the solutions to fix your problem.
So, let's get started with the fun part:
How to Fix iPhone Unable to Load Video Issues
This is an error that can be fixed by playing here and there with phone settings only even without any technical know-how. Here are a few fixes to iPhone unable to load video issues.
Solution 1. Save to Favorite, and Remove from Favorite.
The simplest way to fix your iPhone unable to load the video error is to toggle on and off the favorite button. This means saving your video to the favorite folder and then removing it from there. Now play the video and it will play without an error.
Solution 2. Import to iMovie
iMovie is compatible with high version videos. So, import your video to iMovie and play it from there only. This fix works well even when you try to play the high-resolution videos on your iPhones nor will you receive an Unable to load video error here.
Solution 3. Duplicate Video
Another solution you can try is to duplicate the video to another folder. Then play the copy on your phone. This will ensure that your video play without any error or bug. Or you can upload the video to a shared album and then redownload it to play.
Solution 4. Check iOS update
Your current iOS version may be the culprit of videos and photos not playing. Therefore you need to check the iOS version that is installed on your phone. The iOS 14 version caused a lot of photos and videos issues but the later updates brought fixes.
Here's how to check if any available iOS update is pending:
Go to Settings on your phone and find the option, General.
In General, tap on Software Updates.
If any update is pending there, download and install it.
Now, restart your phone and head back to the gallery. Replay the video and it will play flawlessly.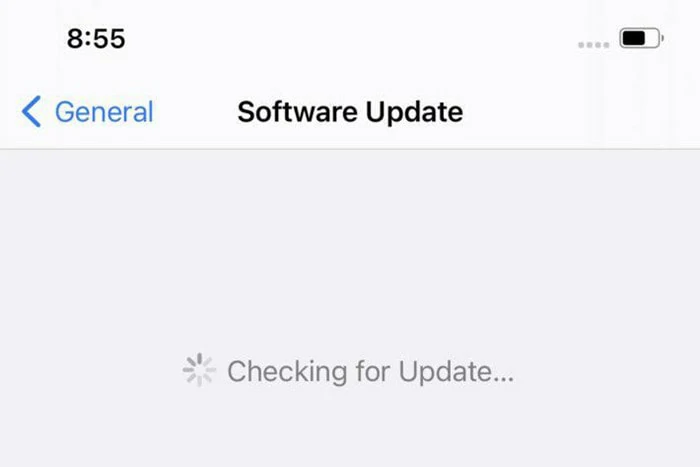 Check iOS Updates
Solution 5. Reset iPhone
This might seem like a hard step to take but you will have to take it if the above solutions did not work. Many users have reported that this will fix the problem for sure. Reset your phone to factory reset but make sure all your data is backed up in Cloud or iTunes.
Here are the steps you need to follow:
Open Settings > General > Reset.
Tap on Erase All Content and Settings.
Enter Apple passcode and then the Erase iPhone option.
Follow the prompts and check if the error continues or not.
Solution 6. Set Camera Record Settings to 1080P
Check what format you are using your videos for. Are you using the 4K video format? If yes then you need to switch to the 1080p format. For this follow these steps:
Go to Settings > Camera > Record Video.
Here select the 1080p option.
Now, replay the video from your gallery.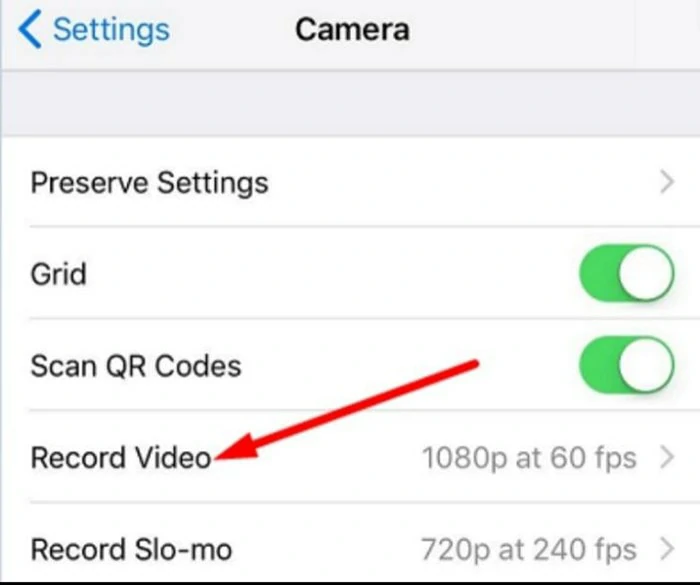 Set to 1080p
The Bottom Line
Usually, when you try to play higher-quality video on iPhone, it shows an error if the phone's software is not updated. Therefore, if such errors appear either restart your phone or update to the latest software. Or try other methods mentioned above.
All the above methods are reported to work to fix the Unable to load higher quality video iPhone error. If none of the solutions work then contact Apple support for assistance.
Frequently Asked Questions
Q1: Why do I get 'an error occurred while loading a higher quality version?
Ans: High-quality videos and photos require more storage and space therefore lesser storage creates an error. Delete some files and you are good to go.
Q2: Why can't I find my videos on iCloud?
Ans: At iCloud.com, go to the Photos app and click Photos. At the sidebar, you will see the thumbnails of all your files. Select your file and play it.