Time lapse videos are composed of frames captured in a much more slower frequency than normal videos. For example, a timelapse video is captured at 1 frame per second, but played back at 30 frames per second. When a timelapse video is played at a normal speed, time appears to be moving faster.
Time-Lapse Video Template
Can't Miss: How to Slow Down a Video >
How to Do a Time-Lapse Video via Filming
Lots of you might think timelapse video is exclusive for professionals. As a matter of fact, you can use any camera, mobile phone to take a timelapse video, even if you have never made one before.
Taking iPhone as an example. Open up your iPhone camera, swipe to your left, there is a TIME-LAPSE option. Stick to this mode and start filming. You will soon get a timelapse video.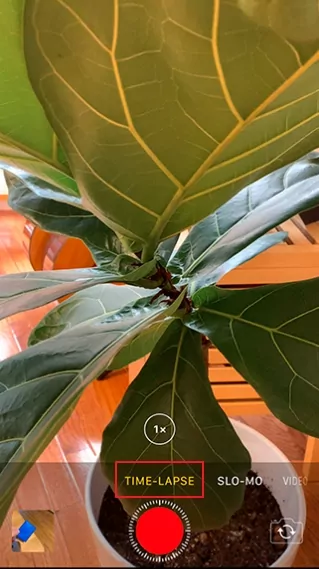 iPhone Film a Timelapse Video
Here are several things to be noted. Firstly, before filming, please get a tripod. Without a tripod, you might need to hold your device for a very long time. Secondly, you can take a picture every several hours instead of taking videos all the way.
How to Turn a Video into Timelapse
Lots of tools can help turn a video into timelapse. Here in this part, we will introduce you 3 best tools to convert a video into timelapse. Pick the best tool and follow.
Method 1. How to Turn a Video into Timelapse Online
As mentioned above, time lapse video is quite similar to videos that played at a higher speed. You can convert a video into time lapse simply by using the speeding up feature.
FlexClip is a free time lapse video maker online which helps you change video speed easily. Upload the video clip, select the video speed, then upload, you can get a time lapse video. The whole process is easy and simple. Moreover, it has loads of powerful editing features which enable you to level up any video by adding filters, text, backgrounds. The best part is, FlexClip enables you create a time lapse video for free!
Here is how to turn a video into time lapse via FlexClip.
Step 1
Click on the Create a Video button to get started. You are also welcomed to browse FlexClip's elegant video templates.
Step 2
Drag and drop your video clips to the Media section and apply them to the timeline.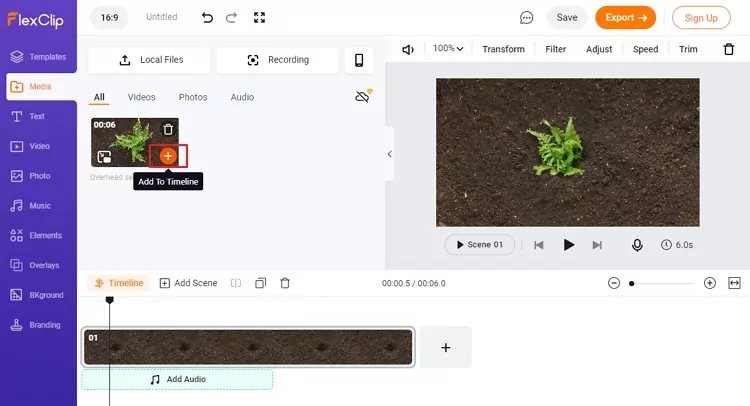 Turn Video to Timelapse - Add to Timeline
Step 3
Go to the Speed section and choose the best speed for your video.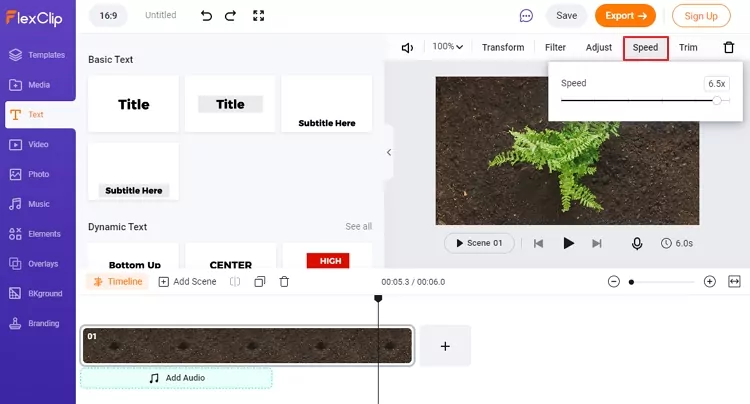 Turn Video to Timelapse - Speed Up Video
Step 5
Export. Continue editing or save the time lapse video you have created.
Method 2. How to Covert a Video into Time lapse on iMovie
iMovie is a program embedded in all iOS devices and it has the ability to help increase the speed of a video. It is not hard to use iMovie to convert a video to time lapse. Give this method a try!
Step 1
Start a new project on iMovie, drag and drop your video to the timeline.
Step 2
Click on the speed control icon, choose one of the percentage you find it is proper for the video.
Step 3
You will see a little rabbit icon on the timeline, which indicates the video speed is successfully changed. Export your video.
Create a Time-Lapse Video - iMovie
Part 3. How to Convert a Video into Timelapse on iPhone
To convert a video into timelapse on iPhone, you can always turn to iMovie. However, if you need a method that's easier, there are some third-party applications that deserve a try! Among all possible options, we suggest Slow Fast Slow, a program to increase the playback speed of a video on iPhone.
Step 1
Download Slow Fast Slow from App Store and launch it.
Step 2
Import your video from Photo Library.
Step 3
Select the right speed for your video.
Step 4
Retain the correct audio pitch when the video is sped up.
Step 5
Export your video in original quality.
The Bottom Line
That's all for how to convert a video in normal speed to a timelapse online, on iPhone/iMovie. Which method works the best for you? Tell us via Facebook. If you find this post helpful, please do share it with others. By the way, FlexClip, as one of the best online video editors, can also help you make other edits, like record screen, rotate video, filp video. Remember to give those tools a try!