Apple adds new features on each iOS version and iPhone screen recording feature is a totally breakthrough. This feature helps all iPhone users on iOS 11 and above record everything on iPhone screen without time limits. Generally speaking, the video recorded on iPhone should contain voices. However, more and more people are reporting iPhone Screen Recorder No Sound issue. We know you are one of them. Follow the troubleshooting tips on screen recording iPhone no sound issue. Let's get started.
Can't Miss: How to Make a Video Your iPhone Lock Screen >
Fixes to iPhone Screen Recorder No Sound Issue (Works for iOS 11/12/13/14/15)
These 6 methods below can fix nearly all iPhone recording no sound issues. Please try them one by one.
Method 1. Turn on the Microphone Audio
The microphone audio needs to be on so that iPhone screen recorder can capture voices from the screen and the outside. So, when you find yourself in iPhone screen recorder no sound issue, try to turn on the microphone audio first.
Step 1
Swipe up to bring up the Control Centre.
Step 2
Find the Screen Record icon, press and hold it until you see the Microphone Audio option.
Step 3
Tap on the Microphone icon to turn it to red.
Step 4
Turn the sound on and off for several times if necessary.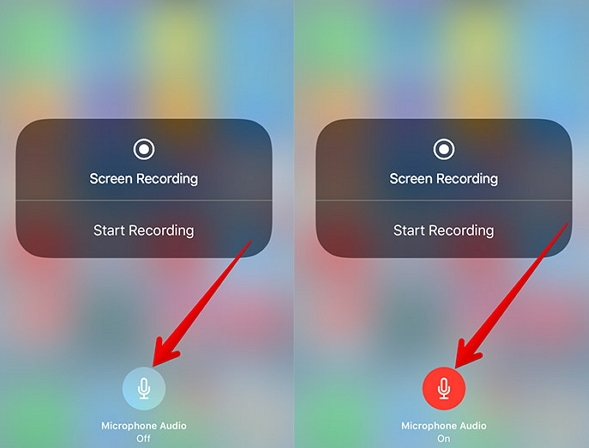 iPhone Screen Recorder No Sound - Turn on the Microphone Audio
Method 2. Restart Your iPhone
Nearly all iPhone errors can be fixed after a simple restart.
To restart your iPhone, press the Side button (and either volume button if you are on iPhone X and above) until the slider appears. Drag the slider to turn off your iPhone. About 30 seconds later, press the slider button again to turn on your iPhone.
Method 3. Reset All Settings
Resetting all settings can also work sometimes. Go to the Settings > General > Reset > Reset All Settings.
This will only clear all your general settings, like brightness, Touch ID, etc. No data loss risks.
Method 4. Update to the Latest iOS
All iOS contains bugs and each update will fix some of them. Check if iPhone screen recording no sound issue would be fixed after updating to the latest version.
To update to the latest iOS, you need to go to Settings > General > Software Update. Click to download and install. The process might take a few minutes. Please wait patiently.
Method 5. Video Source
Technically, you can record anything on your screen with iPhone screen recorder. However, if you want to record audios from Apple Music or Amazon music, the sound will stop. This circumstance also works on some other apps. So, why not record other things on your iPhone screen?
Method 6. Repeat the Recording Process
This is a method provided by a user from Apple Community. It works very well.
Enable the iPhone screen recording, then double press the home button and swipe the application interface you are recording. Reopen the app you want to record. You will find the sound appears.
Bonus Tip: Edit iPhone Screen Videos
After recording, you might need to make your video more interesting. iPhone provides you lots of tools to edit videos. You can trim, add filters to the video on iPhone in a few clicks. That would be enough under most circumstances. Yet, as for people who want to post the recorded video to some social media platforms, more advanced editing features are required.
Try FlexClip, the easiest-to-use video editor online! Any edits can be done in clicks. Moreover, it has all professional video editing features like changing video speed, adding watermark, changing the aspect ratio, video rotating which realizing all your ideas. Besides, FlexClip is also equipped with a media library with royalty-free music, video and photo resources. They will surely level up your video into the next level.
FlexClip Overview
The Bottom Line
That's all for how to fix iPhone Screen Recorder No Sound issue. Does this post helpful? Do you have other ideas to fix this problem? Share your idea with us via Facebook. By the way, FlexClip is an excellent tool to make video edits. Do remember to give it a try!