Looking for a signature background remover to create a digital signature with transparent background for your online documents? You've come to the right place! We have tested some of the most popular online signature background removers and have listed some features to help you master this skill in this post.
With the incessant development of modern technology, the digital office has become more common at work. There also comes a time when you need to add a signature to different documents. It's easy to sign a physical document, but what about a PDF or an email?
For adding signature to a PDF document or some such, you need another solution. Generally, we use a scanned one for those documents. But the scanned signature usually comes with an unseemly background that needs to remove.
Under this circumstance, how to sign online documents on the computer has become a problem. So it has become necessary to have an online signature background remover. Fortunately, here are many signature background removers available that can help removes the background of signatures.
Top 5 Online Signature Background Removers
1. Signature Background Remover - FlexClip
FlexClip is one of the best and easiest-to-use online tools for removing the background from the signature of the image online. If you have no idea of professional video editing and couldn't afford the time to gain relevant knowledge, FlexClip will be your first choice with powerful features for removing background from any image, including a signature. Furthermore, FlexClip is more than just a transparent signature maker. It offers a range of features that can help you with your photo editing needs, such as changing background colors of images, and removing background from logo.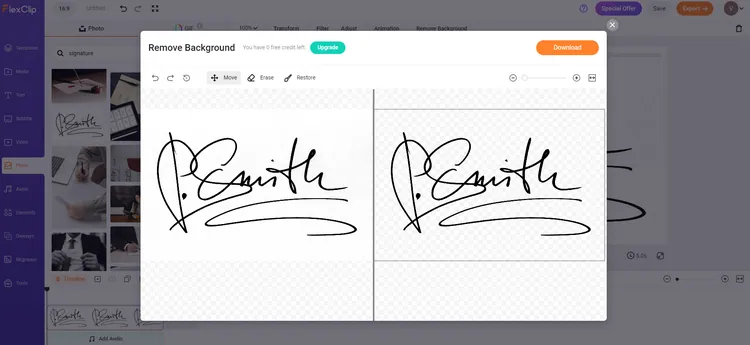 Signature Background Remover - FlexClip
Key Features of FlexClip
Upload signature images or any files from phone and more third-party platforms, like Google Drive, One Drive, etc.
Refine the signature details manually to make sure every detail is perfect
Fast in removing background from signature
If you decide to remove background from a signature image and create you own digital signature for using in multiple documents, FlexClip helps you achieve the goal in 3 steps: upload your image, remove background from the signature image with a click, and then download your signature without background as a transparent png.
2. Signature Background Remover - Erase.bg
Erase.bg is an online image background remover tool that uses AI technology to make backgrounds transparent with more accuracy than traditional image editing software. It can remove the background from almost any type of image, including signatures, within seconds.

Signature Background Remover - Erase.bg
Key Features of Erase.bg
Quick and simple processing
Remove backgrounds from images and photos
No extra editing features
There is no option for manual adjustments
3. Signature Background Remover - Pixelied
Pixelied is an online photo editor that allows you to edit photos and remove background from signature images online. Make your signature transparent so that you can use it in multiple documents. Pixelied is a quick and easy solution to create transparent signatures.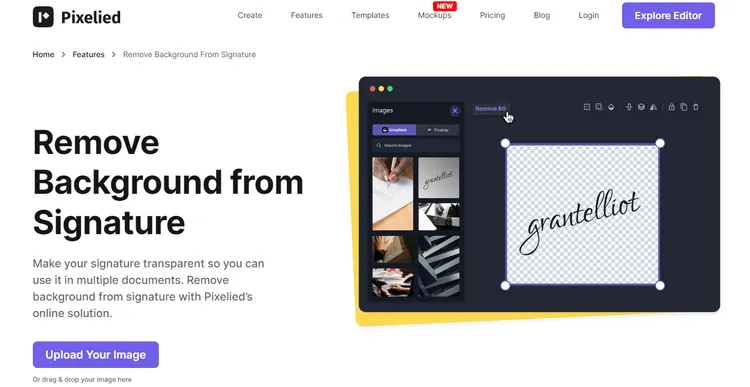 Signature Background Remover - Pixelied
Key Features of Pixelied
Advanced AI makes background removal
More customization about signature background removal
Background removal is not free
Not too many customization options
Advanced edits available in the paid version
4. Signature Background Remover - Simplified
Simplified is another popular tool for signature background removal online and is entirely free to use. Simplified is a very simplistic tool with professional templates and rich libraries. Upload images in any format and in one click can get a high-quality transparent background image ready to be used in all user's marketing campaigns.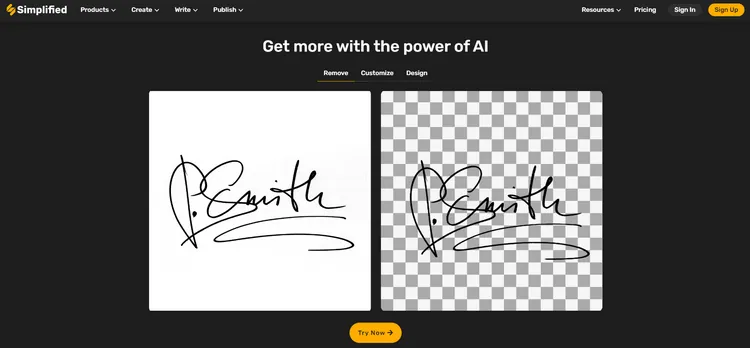 Signature Background Remover - Simplified
Key Features of Simplified
Automatic and Free image background removal in just a couple of seconds
Customized background choice
5. Signature Background Remover - Fotor
With Fotor's free online signature background remover, you can get it done with just one click! Powered by artificial intelligence, Fotor can accurately identify your signature and extract it from the image with a clean cutout, no matter how complex your signature might be. Fotor's AI background remover will detect and extract your signature from the image immediately. The entire process takes just seconds.

Key Features of Fotor
Signature Background Remover - Fotor
Enjoy a high level of accuracy of signature
Signature background removal feature is free to use
Advanced AI makes background removal
Conclusion
Signature is an essential part of personal and professional communication, and it often used to verify the authenticity of a document or email. In my opinion, digital signature is an irreversible trend in the future. FlexClip makes removing the background from signature easy and quick. Along with the other image editing features that it offers, it deserves to be your best option.