Are you also fascinated by the famous photo and video dump on TikTok? Because this popular trend has gathered everyone's love and attention. Only the renowned #photodump has collected over 359.2 million views. This trend initially appeared on Instagram, and TikTokers not only adopted it gladly but was quite creative with it.
A bunch of random pictures and videos are merged to form a photo dump with background music to sync with it. Pictures in a Photo dump video display for 2.5 seconds, but you can make them sync perfectly to the music. There are timer effects, filters, and numerous editing features on TikTok to show off your creativity without any limit.
Despite the trend's popularity, many people are still confused about how to make them. To make a photo and video dump, there are many ways, all of which we will explain below in detail.
How to Create a Photo Dump Video on TikTok
Making a video on TikTok is a simple yet fun-filled task. The same is the case with the photo dump videos. You can play around with the available features, and every time you will come across a different outcome.
Let's see what some of the ways to make a record-breaking Photo Dump Video on TikTok are. Before we proceed further, let's go through some must-to-dos of creating a photo dump video.
Step 1
Get 30-60 photos and gather them all in a folder
Step 2
2.Make sure all photos are in perfect vertical. If not, please make sure the things you want to highlight in the photo or video are in the vertical selection so that the photos are not too big.
Step 3
Pick a cover photo for your photo dump video.
Step 4
Find a sound with a clear rhythm. If you are new to video editing or don't have music to get started, pick a popular TikTok video template.
Method 1. Use Green Screen Sticker
The first way on our list to make a photo dump video is to use a green screen sticker on TikTok. The particular video effect adds a picture on the screen and references them for your videos. There is an option to add several pictures and add yourself to the video.
Here's a step-by-step guide for using the green screen sticker to make a photo dump video.
Step 1
Launch the TikTok App. Open up the app and log into your account.
Step 2
Use the Effects. The record video page has the Effects button on the left corner. Go to the Effects option.
Step 3
Using the Green Screen Logo. In the effects option, you will find a logo of a person gazing up at the green screen logo. Here you will find numerous green screen stickers for use in your videos.
Step 4
Choose an Image. Now you can select the image you wish to see in your video. Add more green screen stickers to create a more impressive photo dump.
Step 5
Bring the image to the video. Once your image is selected, add it as the green screen reference. This image can help you create a commentary effect for the pictures you have added to your video.
How to use Green Screen on Tiktok With Multiple Photos
Method 2. Use Built-in Templates
If the green screen effect doesn't appeal to you, you can go for the second method, which is to use the built-in templates in the TikTok app. These templates are convenient and easy to use. Templates are a great way to get inspiration to create a blasting video even without a set pattern in mind, without restricting your creative flank.
Here's a quick guide:
Step 1
Launch the App. Go to the music icon of TikTok on your phone; if you do not have an account, sign up from the main page. Otherwise, log into your account using your username and password.
Step 2
Create your video. Tap on the + sign in the center of the main screen. A recording screen will instantly appear on your screen.
Step 3
Go to the templates. On the right side of the Story option, you will find a Template option. Go to it and explore the numerous templates best suited to your pictures and videos.
Step 4
Picking up the pictures. When you have picked a template, now is the time to select all the pictures you wish to see in the photo and video dump. Choose the template according to the number of pictures you want to add to your video. All the pictures will appear in the order of your selection.
Step 5
Tap on Ok. Once satisfied with the chosen images tap on the Ok button on the bottom right corner of the screen.
Step 6
Add the magic of Effects. All the Effects are available at the bottom of the screen. You can choose to add or not add the effects to your video. It is an optional step. Some of the other editing effects include:
Templates have a specific sound, but you can change them to replace them with your favorite music. Use the Sounds option on the left side of the screen.
Here you will also find a time effect and visual transitions from the icon next to the Sound option. Add text from the capital A icon at the bottom screen.
Emoji icon allows you to add stickers and emojis to make your videos even more expressive.
Step 7
Make a Final Post. Once satisfied with all the edits, tap on the Next option. Add a caption and hashtags relevant to your video. Tap on the Post button, and the video will be posted to your TikTok account.
What Is A Better Way to Create a Dump Video?
What if we suggest you a better way of creating a Photo video dump for your TikTok and other social media accounts. Mobile phone screens are small and inconvenient to make and edit videos for the most satisfactory results. Therefore, a browser-based video editor is better for editing your videos properly.
The best video editor you should try to make your photo video dump stand apart is FlexClip. FlexClip has made making interesting videos a piece of cake. The reason why we prefer FlexClip is:
You do not need to download hefty software. It's available online and requires no registration.
The software is loaded with
rich transitions
that you can use to animate your pictures.
Free royalty-free music resources let you discover popular music and sounds under one roof.
Automatically adjust your photos and videos to desired aspect ratio.
Sounds interesting, right? Let's see how you can create an aesthetically pleasing Photo video dump for your TikTok on FlexClip.
Step 1: Upload the Media
Go to the official website of FlexClip and sign in to your account. Then go to the Media on your left and upload photos and videos. You can also pick resources from the extensive stock media available at FlexClip. Click on them to use on your storyboard.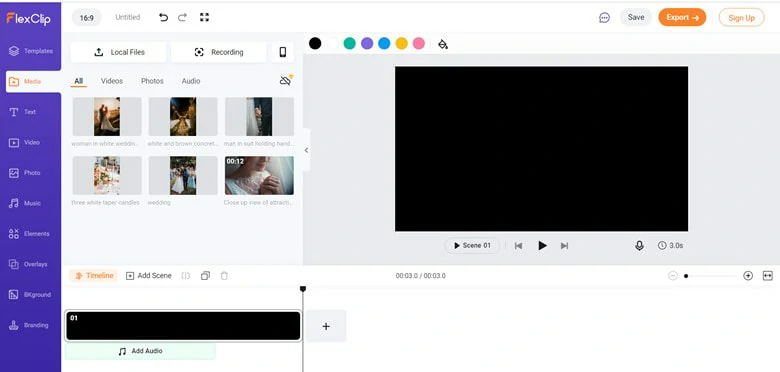 Upload Photo and Video to FlexClip
Step 2: Adjust the Ratio
FlexClip allows you to pick different ratios that you can choose according to your needs. The suggested aspect ratio for TikTok is 9:16.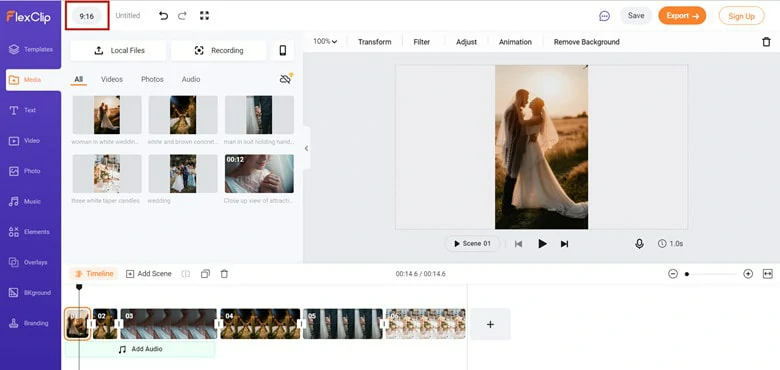 Adjust the Video Ratio
Step 3: Edit the Videos
Adjust each photo's duration and speed and add transitions, animations, filters, and more. Hit the text icon to add text and other special effects to add a personal touch to your videos.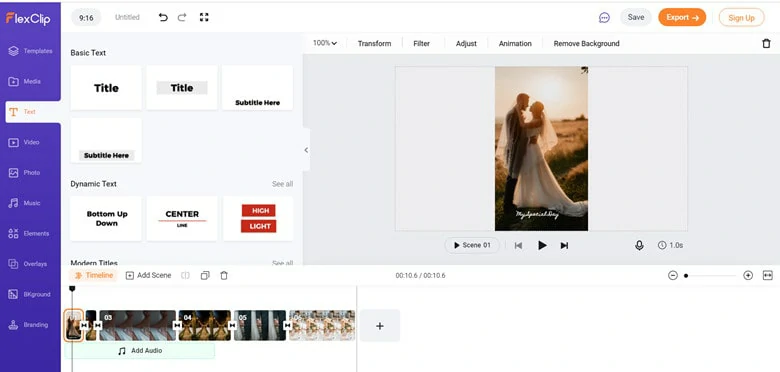 Edit the Video
Step 4: Add Music
Tap on the Music option to add songs to your videos. For a voice-over, you can even record your voice.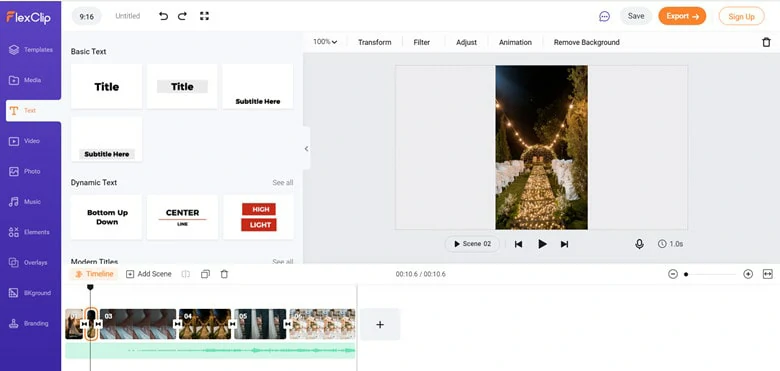 Add Soundtrack to Video
Step 5: Export and Download
Click on the Preview button to enter the live preview window. Download and save the final video to your Dropbox. You can even transfer your video to your phone via Dropbox and share it with your TikTok.
The Bottom Line
Making a photo video dump is a fun way to capture your memories and relive them with a new spirit every time you watch these videos. Using FlexClip to make such videos give you the freedom to show off your creativity and do not compromise on the quality as well. Remember to give it a try!