Briefs: Have no idea of how to create online teaching courses? No worry, this article has everything you need, including tips & free online tools of class screen recorder, video editor & course video templates. Check them out!
Online teaching is a new way of learning. Preparing and making online courses has become a competitive skill for teachers and masters. Whether it's the pandemic time now or the near future, more & more students will choose & take online courses.
If you want to create gripping online courses for your students, this article has collected some excellent tools, ideas and templates to make & upgrade your online teaching videos.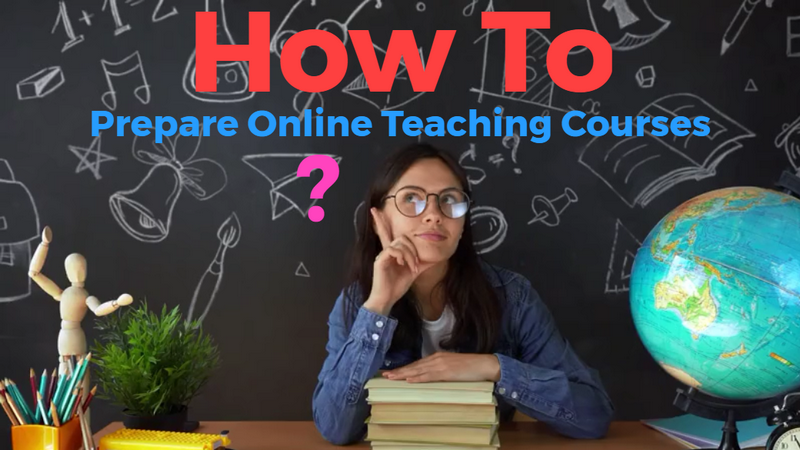 Can't Miss: How to Create a Tutorial Video >
Part 1 - Record Your Teaching Course Easily Free Online
No matter what online courses you are preparing, you'll need to record them beforehand. So, an easy screen & visual recorder will deliver you a hand. We've found you 2 online course recorders that you'll find them easy - FlexClip Screen Recorder & RecordCast Screen Recorder.
FlexClip Screen Recorder VS RecordCast Screen Recorder
Comparison/Parameters
FlexClip Screen Recorder
RecordCast Screen Recorder
Recording Mode
Desktop, Browser tab, App activity
Desktop, Browser tab, App activity
Webcam Picture in Picture
Disallowed
Allowed
Pricing
Free
Free
Editing Features
Speed change, Video effects, Stylish texts, video transitions, etc.
Video Editing Mode:
Storyboards
Add basic texts, logo, audio to video.
Video Editing Mode:
Timeline Track Mode
Extensive Professional Library?
Millions of royalty-free images, videos and music
No
Part 2 - Online Course Video Types That You'll Need
1.Introduction Video Ideas & Templates
When you prepare an online teaching course, an introduction video for your course will help audiences know what they can learn from your online teaching course.
2.Online Course Advertising Ideas & Templates
For online courses, advertising is always necessary. When you make an advertising video for your online teaching course, you can try merging footage of students' review, how they learn, and how happy they are, when they engage in your course learning. Try sharing course's vision, your promise and teachers' expertise.
3.Animation Video Ideas & Templates
Animation is beneficial for education. Students can understand your course more intuitively when you use animation during online teaching. Animation visuals are more friendly to humans.
4.Demonstration Video Ideas & Templates - Using Students' Finished Works
When designing your online teaching videos, devising a film demonstrating students' finished works will be beneficial. Demonstration video is more persuasive, and helps increase sales.
5.Presentation Video Ideas & Templates
If you need to present ideas and knowledge points, preparing presentation video is a better choice. But, how to create wonderful illustration pictures? Free online tools, like DesignCap and FotoJet, can help.
After preparing presentation images for your slideshow video, head to FlexClip slideshow maker to turn these educational images into a presentation video.
Part 3 - Tips for Effective Online Teaching Courses
Indeed, it's easy to make a teaching course video with the above resources. Besides the tool and course video templates, what successful tricks have online teachers used in their teaching videos?
Example: Hot YouTube online course created by WebYoda.
Q: Are there any rules or tips to make a compelling teaching video?
A: Sure. Here are a few tips we've collected for you: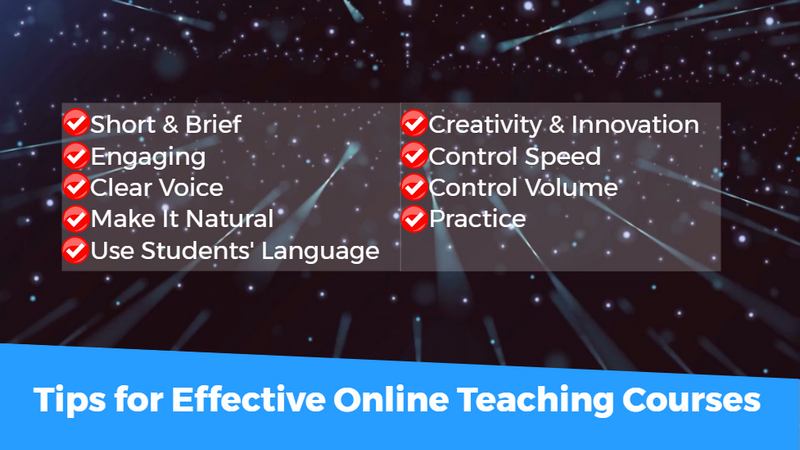 Tips to make a compelling teaching video.
A short/brief online teaching video is better than a lengthy course video.(Simplism)
Try making your online teaching video engaging: Change video speed, use fun pictures/memes, add video texts, or try background music.
Clear voiceover is better than without or a low-quality sound.
Often, you need to merge different course video into one, and natural video transitions are key.
Use a tone and create course contents from your students' angle.
Creativity and innovation can arouse students' curiosity. Using them in your online course will help.
Don't make your online course too slow or too quickly. They are not helpful for study.
Keep your volume in a stable state.
Practice yourself before recording your teaching video.